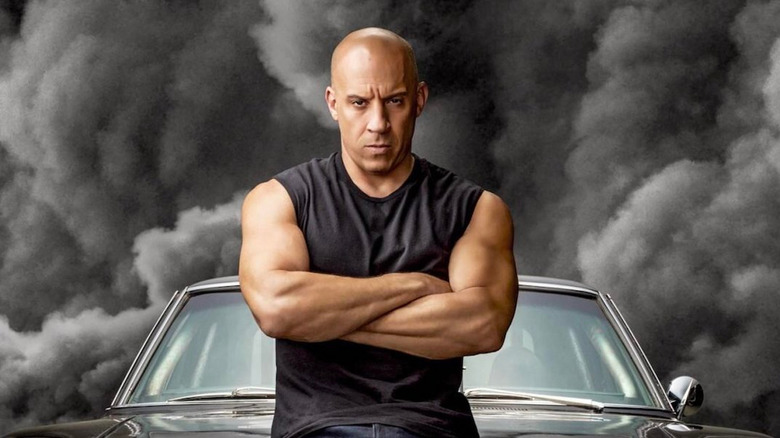 Mr. Vin Diesel has made a name for himself playing monotone bruisers; big guys who look like they want to smash your skull in if you get in your way (Diesel was a bouncer before he became an actor, so that makes sense). But he's also a family man when it comes to the "Fast and Furious" films. He's also been a talking tree, a sci-fi warrior, a mobster, a military grunt in a Steven Spielberg movie, and more. While Diesel seems solely committed to playing Dom in the "Furious" saga these days, we shouldn't forget about his other work, some of which is quite good (and others … not).
To get to the bottom of what Diesel's best role is, we here at /Film asked our readers to weigh in. Then we compiled the results in a special, massive supercomputer (just kidding, it was Excel). The results may actually surprise you. They kind of surprised me! So let's take a look at Vin Diesel's best roles, starting at the bottom.
At the bottom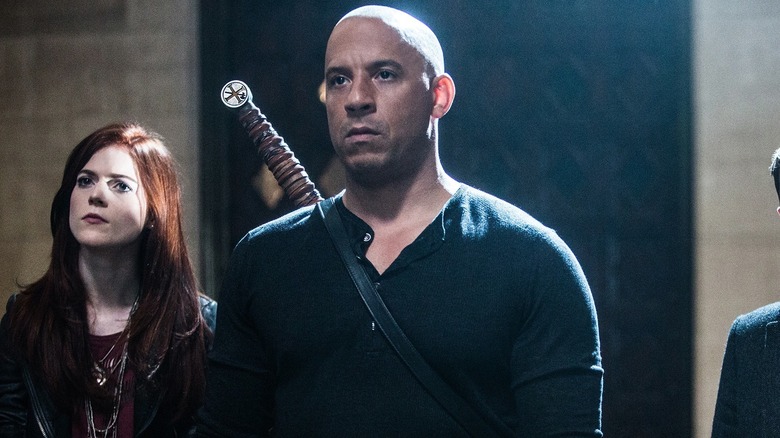 In 2015, Diesel appeared in "The Last Witch Hunter," where he played an immortal guy trying to stop a plague. If you don't remember this movie, that's ok! It seems like most people don't — or at least don't care for the movie at all. It came in dead last in the poll. Next up was "Knockaround Guys," another somewhat forgotten Diesel effort. The film follows the sons of mobsters who try to strike out on their own, only for disaster to follow. I remember seeing this movie when it came out in 2001, but I can't recall a single thing about it. Probably not the best sign. The family comedy "The Pacifier" came in next, followed by the sci-fi flick "Babylon AD." These are not very good movies overall! But as we get closer to the top, the quality improves.
Middle ground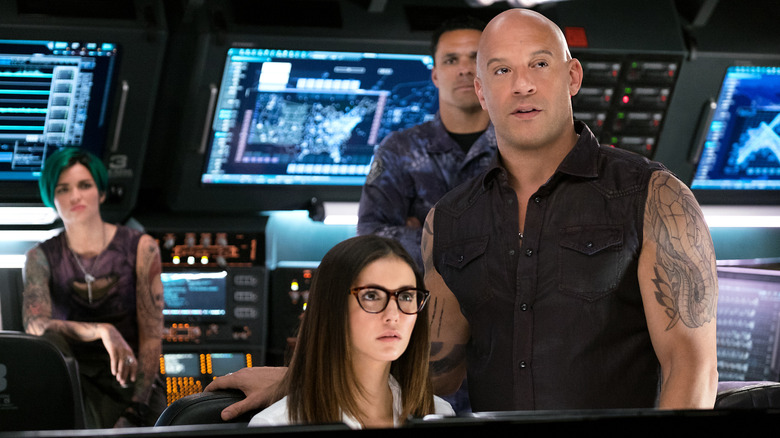 The next role in the poll: Xander Cage. Diesel played the part in "XXX" and the superior, silly "XXX: The Return of Xander Cage," and I personally wish this role had gotten more votes. But I don't make the rules. From there we move on to three movies that came in tied — they each got the same number of votes. First, there's "A Man Apart," an F. Gary Gray-directed thriller in which Diesel played a DEA agent out for revenge. "Boiler Room" is one of Diesel's rare, non-action movie roles — a drama about young Wall Street bros. This is followed by a surprise! The role nestled in with both "A Man Apart" and "Boiler Room" is … Dominic Toretto from the "Fast" films. Yes, even though this is arguably Diesel's most well-known role, it came in low in the survey. What does that say about the "Fast" films? I don't know. Maybe people just don't like Dom that much.
The film that came in next, above Dom? Another Diesel drama role — "Find Me Guilty," where Diesel plays a real-life mobster who defends himself in court. Diesel doesn't have many roles like this, so it's interesting to see it clock in above Dominic Torretto.
Reaching for the top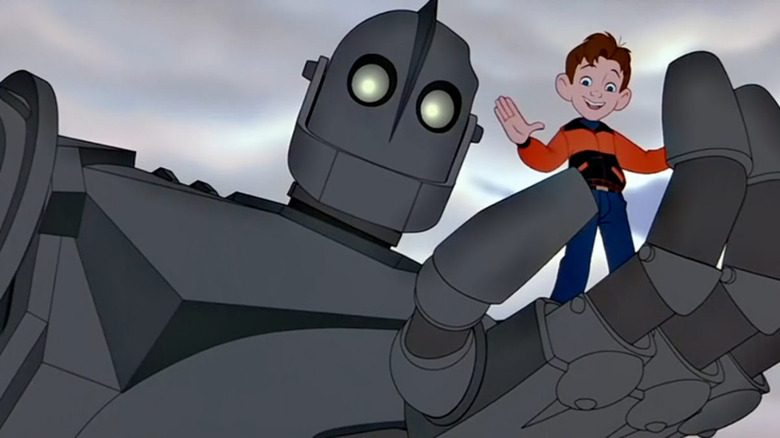 We're entertaining the top 4 films zone, folks. The best of the best. The cream of the crop. And so on. The next two films are two of Diesel's better works, although I'd argue they're not movies immediately associated with him. Coming in at number 4 is the beloved animated film "The Iron Giant," to which Diesel lent his gravelly voice. Diesel should do more voice acting, as he has a very distinct voice, although perhaps he's not emotive enough for roles outside of robots and talking trees (more on that in a moment).
Coming in at number 3 is Steven Spielberg's "Saving Private Ryan," where Diesel played the small but memorable role of Caparzo, one of the first soldiers to be killed as Tom Hanks leads his mission to save Matt Damon's Private Ryan. Diesel is quite good in that part, especially during his harrowing death scene.
Both "The Iron Giant" and "Saving Private Ryan" are excellent movies, but they couldn't quite crack the top two spots on the list.
I am Groot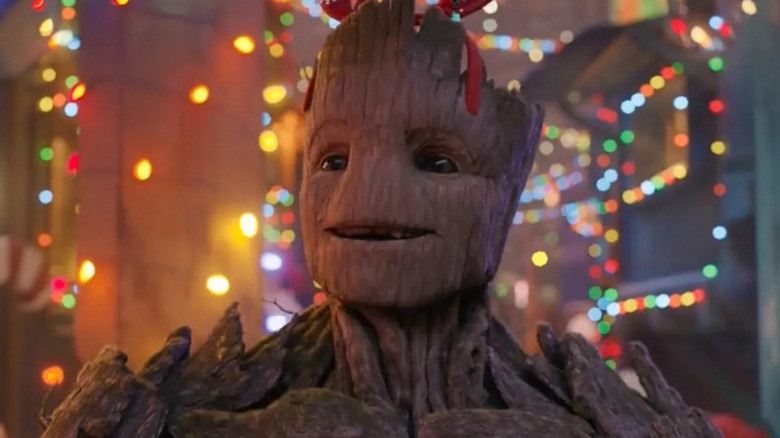 As I was compiling the results of this list, I really thought this was going to be number 1. But not quite. At number 2 we have Groot from the "Guardians of the Galaxy" films. I'm not quite sure what this says about Diesel's work. Outside of a few stray lines here and there, Diesel's role as Groot requires him to do little more than say "I am Groot." Now, to be fair, Diesel does change up the inflections of the words to make it sound like Groot is saying different words that we can't hear. But still, it's amusing that, according to our poll at least, Diesel's second-best role is a talking tree that says one sentence over and over again.
But what about number 1?
And the winner is…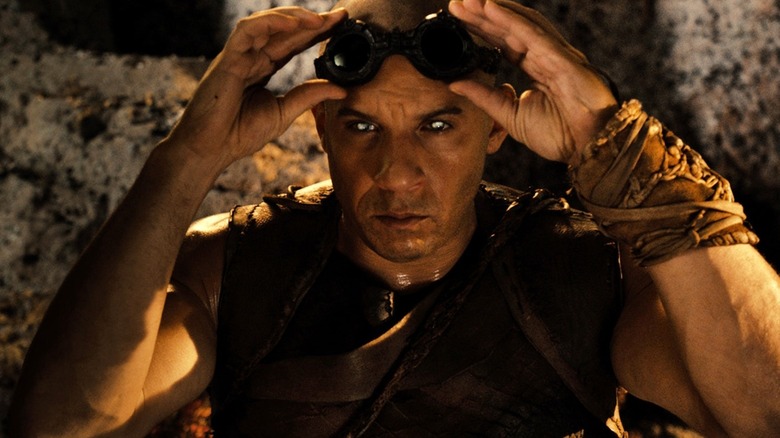 What's Vin Diesel's best role? According to our readers, it's Richard B. Riddick, the character from "Pitch Black," "The Chronicles of Riddick," and "Riddick." It's clear Diesel loves playing this character as he returns to it again and again, and would probably play the part again if they let him. In fact, a script for a fourth film is apparently already complete, although it doesn't seem like there's much more to the project, at least for now. Maybe this earth-shattering poll will change that! Perhaps the powers that be will see this and realize that the world needs, no — wants more Riddick.
In any case, while I'm surprised Dom came in so low on the list, I think having Riddick at number one makes sense. He's one of Diesel's more interesting, complex characters, and "complex" isn't exactly something Diesel does that often with his roles these days. But fans seemingly can't get enough of his morally conflicted sci-fi hero/villain.