Even in the offseason, Golden State Warriors star point guard Stephen Curry is putting up big points with local fans.
Curry surprised a handful of students in Oakland, California, earlier this week with his Eat.Learn.Play. Foundation for an unforgettable day of play — and San Francisco ABC station KGO was there to capture the sights and sounds of the special afternoon.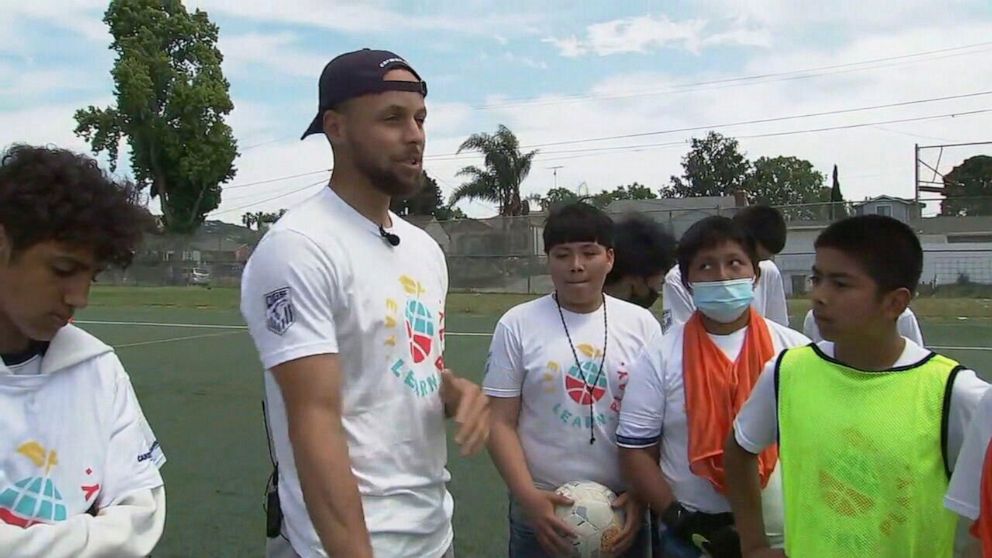 As a group of students from Elmhurst United Middle School posed for a picture in front of the parked Eat.Learn.Play. bus, the four-time NBA champion emerged in the background, yelling, "I'm smiling, say 'cheese.'"
The event represented all three pillars of Curry's nonprofit mission.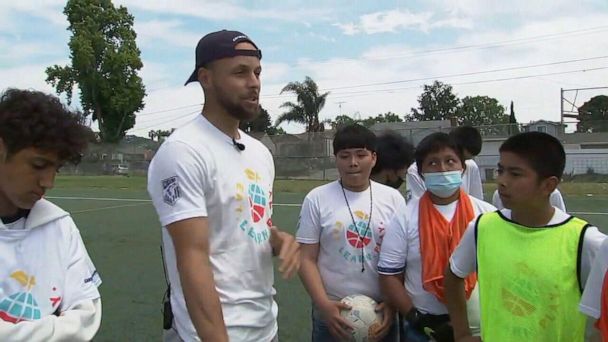 "We're on a playground, so we're gonna play. We've got books, so we'll read and learn. And then we got fresh produce and items they can take home for the eat portion, so we're really hitting all three pillars," he told KGO's Chris Alvarez.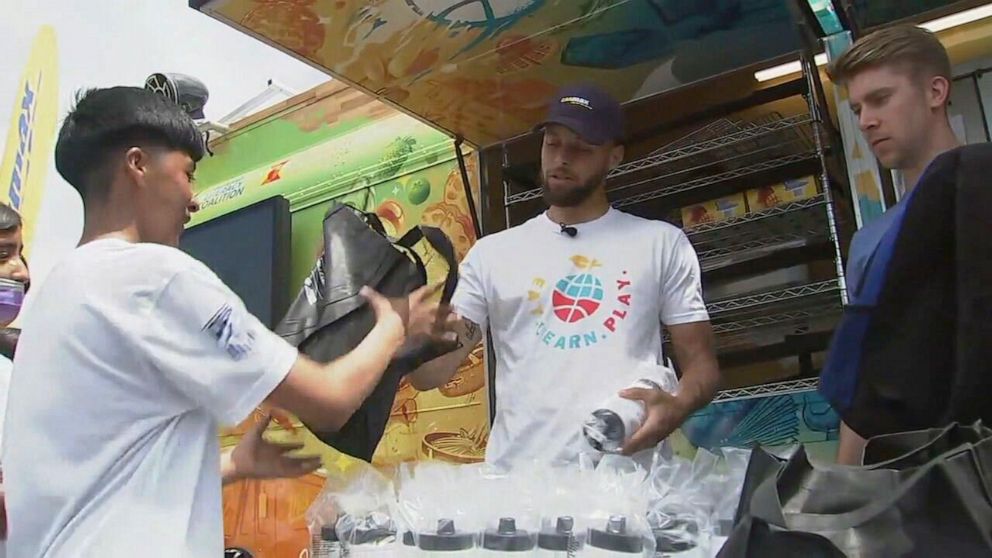 "Whether its 30 seconds or 30 minutes that you spend with a kid, it can change something in their lives," Curry continued. "Whether they feel seen or they've been down and needed a little excitement in their lives or a dance break, maybe they find something that they can see in me and just be able to lock eyes with them, shake their hand or give 'em a high five [to] lift them up … when those moments present themselves, I enjoy to the fullest."
He added, "I had many opportunities when I was growing up where you meet somebody you look up to, or see somebody go out of their way to make you feel seen and feel special, and those are imprints that hopefully last forever."
After the initial surprise, the Bay Area humanitarian headed to the soccer field to get moving and coach the kids with drills and games.
"Healthy, active lifestyles are huge for kids just to have a solid balance and to find their true inner child — that's a big part of identifying your sense of identity, your confidence," he said. "The sense of community and being able to play with other kids from all different backgrounds, different walks of life, different ages, it's just about self discovery."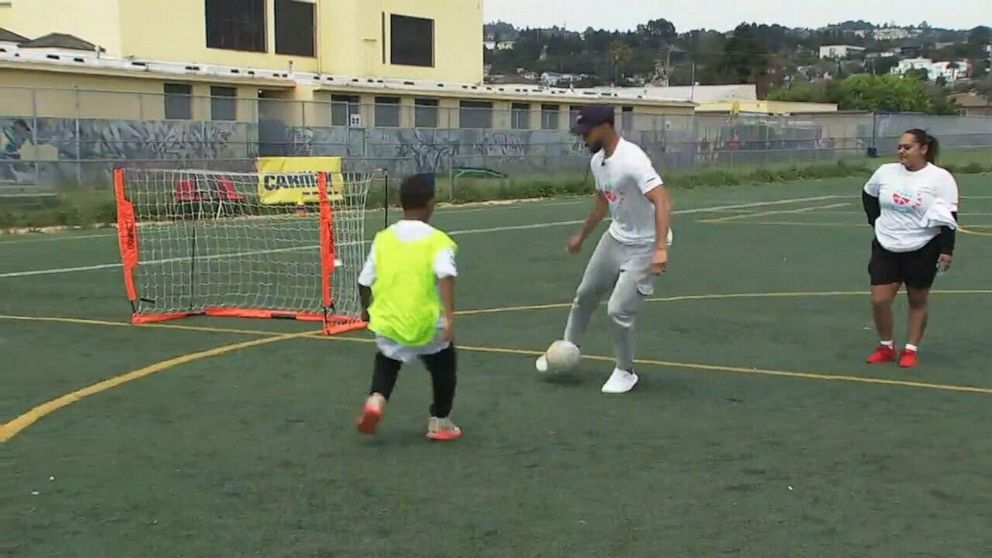 The Akron, Ohio, native also reflected on his own upbringing.
"I was fortunate enough to not have to worry about 'Where can I go to shoot hoops or find kids that were my age that could throw the football around or play baseball with?' … You realize how much you learn in those environments and every kid deserves that," he said. "So, we're trying to find creative ways to implement that here in the Oakland community, whether it's refurbishing playgrounds or sponsoring programs that are providing positive coaching and resources … all those things matter, and I think it's a good balance to make sure these kids have as much fun as possible."
The Eat. Learn. Play. Foundation, which Curry founded with his wife Ayesha in 2019, is filled with like-minded leaders who Curry said are "taking the vision of we want" and "connecting with the community." He said the organization is "most proud of staying true to who we are and what we're doing across those three pillars."
"What we do, we do extremely well, and we know that that's going to continue to change lives and the kids that we want to support," he said.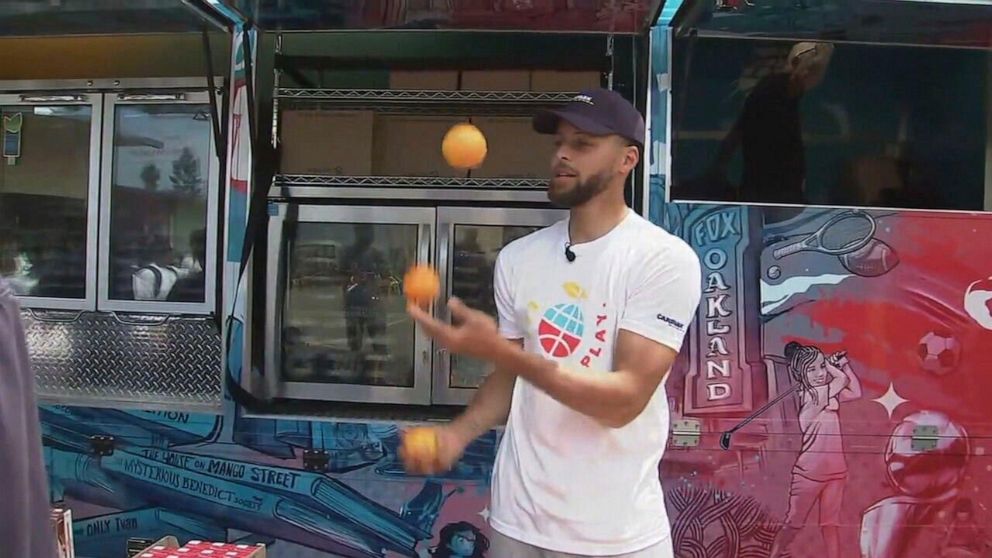 Eat.Learn.Play. has staple events with programming throughout the year from summer through the holidays, including Christmas with the Curry's, a charity golf tournament with WorkDay, and more sponsored events.
"We just have so many people that believe in us and it's not just because of who me and Ayesha are, it's because of the work that we're doing and what the E.L.P. stands for — and I think that's special," Curry added.