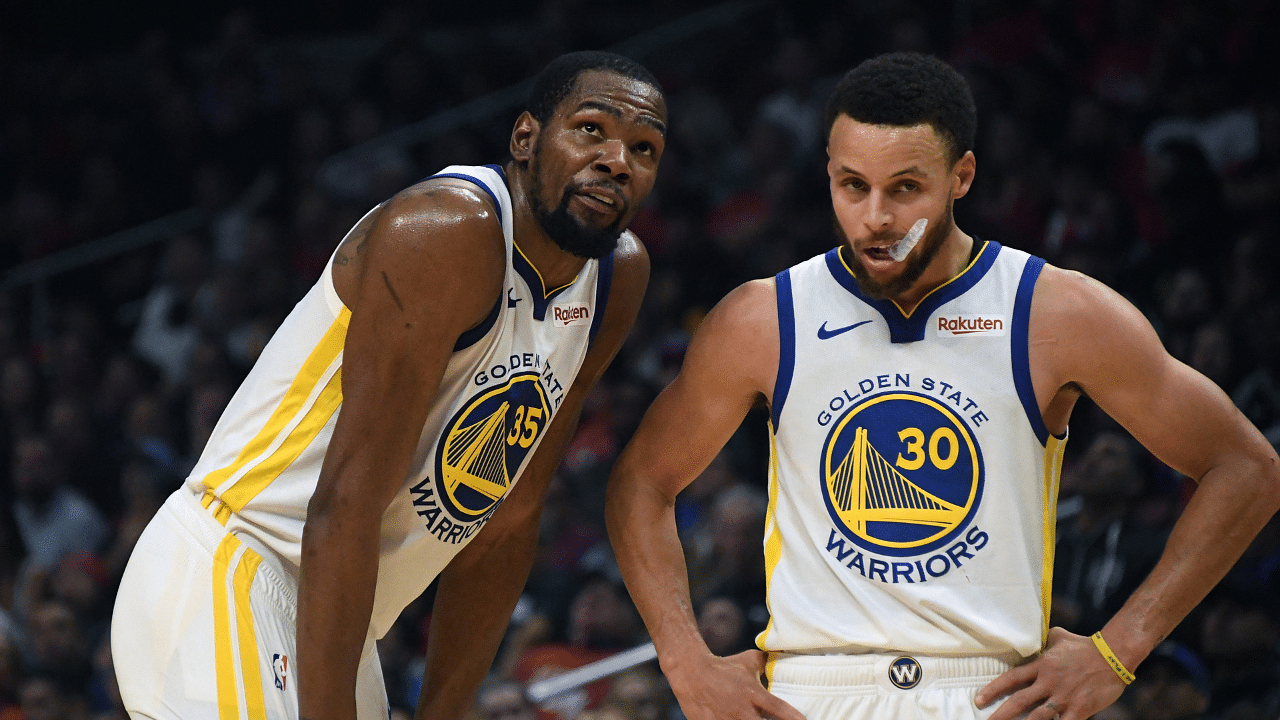 Kevin Durant, one of the NBA's prominent stars, recently found himself entangled in a fiery Twitter exchange with fans. The discussion centered around doubts raised about the validity of Durant's championships won alongside Stephen Curry and the Golden State Warriors. The social media spat shed light on Durant's increasingly active presence on Twitter and the criticism he has faced for his responses.
Durant's history of engaging with fans on Twitter has made headlines before. He has been accused of being thin-skinned and sensitive in his interactions. Additionally, his social media activity has notably surged during the free agency period. These factors set the stage for the recent clash with fans over the legitimacy of his championships.
Doubts Over Validity of Kevin Durant's Championships
It all began with a comment from the parody account Buttcrack Sports, which sarcastically pointed out Durant's decision to leave the Oklahoma City Thunder in 2016 and join the Warriors.
Some accounts highlighted the Warriors' record-setting 73-9 season, leading to fans questioning the impact of Durant's championships on his legacy.
"It definitely does [matter] and it has nothing to do with what u said. Obviously, the NBA is a business, and it's fine that he left, but that doesn't just validate him going to the Warriors of all teams. He literally joined a 73-9 team."
Other fans argued that Durant could have achieved success in a more respectable manner by joining a team that wasn't already an established contender.
"Dude, he could've won in a more respectable manner. He could've left to join a team that wasn't already established as a finals team. That would've never hurt his legacy."
Among the other responses, one fan suggested that Durant's championships with the Warriors had hurt his reputation. Another fan chimed in, emphasizing that Durant had missed an opportunity to win with a team that wasn't already considered a finals contender. The discussion escalated, with fans deliberating on the impact of Durant's decision to join a highly successful team like the Warriors and comparing his legacy to Stephen Curry.
One fan wrote, "Ok take away 2 titles with KD, 2 rings without him [Stephen Curry] leaving KD with 0. What is it u wanting to really argue?"
Amidst this debate, Durant himself took to Twitter to express his frustration, posting a tweet that questioned whether people would spend their entire lives trying to dispute the legitimacy of his championships.
"You're gonna spend your whole life tryna convince people that those chips aren't in the record books ?"
This tweet reflected Durant's exasperation with fans undermining his achievements and his firm belief in the validity of his championships.
Durant's Defense of Lillard's Trade Request
In another recent Twitter exchange, Kevin Durant engaged with a fan who criticized Damian Lillard's trade request to the Miami Heat.
The fan contended that such trades are detrimental to the NBA and its fans. Durant quickly stepped in, defending Lillard and challenging the notion that organizations consider fans when making trade decisions.
"I don't think anybody involved is thinking about the fans when making these decisions. Fans will just deal with it and be happy as usual."
Basically, he pointed out that supporters often have to move on from star players, just as organizations do. Durant further expressed that those responsible for trade decisions rarely think about the fans' perspective, implying that fans must simply accept the outcomes. When the fan raised concerns about the impact of such trades on fans, Durant accused him of playing the victim card, questioning what more he expected from the NBA and its players.
"Why are u playing the victim right now? What more do u want from the nba and it's players?"