The new CBA has completely changed the value of first-round picks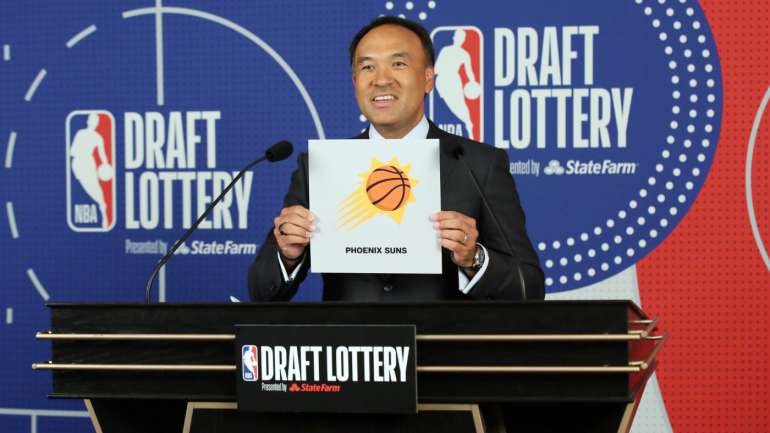 NBA teams have spent the past several years trading first-round picks as often as kids trade baseball cards on the playground. At any given time, there are 210 first-rounders theoretically available for trade. That number represents the league rule stating that teams cannot trade picks more than seven drafts away. Seven drafts times 30 teams equals 210 picks, but at this point, more than a quarter of them no longer belong to their original owner. Out of those 210 first-round picks on the board, 56 are either owed outright, owed conditionally or owed through swap rights to another team.
This is more important than ever because the NBA's new collective bargaining agreement with its players has significantly restricted spending. Bad teams have always needed first-round picks to turn things around, but now, good teams need them just as much to reload their rosters with cheap talent.
Teams are therefore being more judicious in how they wield their picks on the trade market. The days of Rudy Gobert netting five picks are gone. Right now, Portland is struggling to extract anywhere near that amount out of the Miami Heat for Damian Lillard. The Clippers don't even seem enthused about giving up any draft capital for James Harden.
This makes the picks that have already moved all the more important. They changed hands in a different world. Some of them now look like the best trade assets on the market. So with that in mind, let's rank every owed first-round pick in the NBA based on the following criteria, as laid out in last year's rankings:
Protections. This is the most obvious distinction between a potentially valuable pick and a lesser one. In a perfect world, the unprotected pick is almost always going to be worth more.
Point of origin. Is the pick coming from a good team or a bad team? More importantly, where do we expect the team in question to be when the pick is likeliest to convey? A pick's upside is the single most important factor in its value. Virtually any team would rather have a small chance at a very high pick than a guaranteed pick in the 20's.
Year of conveyance. This is a bit more complicated to measure. All things being equal, most teams would probably prefer a pick that is coming in the near future to one that is several years away. There are a number of reasons for this, but the biggest is job security. How many current GMs will remain employed in seven years? Sam Presti and Masai Ujiri can trade for all of the 2029 first-rounders they want. Other GMs are predictably going to be less interested in picks they might never get to use. That said … picks in the deep future hold a very different sort of value. Not only does it give the team in question time to crumble, but it gives the trade market plenty of time to form and reform opinions on that team. If the league perceives that team to be down at any point before the pick conveys, suddenly the pick becomes a much more valuable trade chip. All of this will be weighed in valuing the picks.
Is the pick owed outright or is it owed through a swap? Obviously teams would prefer to keep their own first-rounder, but if the pick is good enough, a swap can be well worth the price. In the case of swaps, the value of the incoming pick will be weighed more heavily, but the value of the outgoing pick will be factored in as well.
One quick note before we begin: while we will be measuring the value of pick swaps, we will not be measuring the value of secondary swaps. This applies largely to the Phoenix Suns, who have offered swap rights on top of their swap rights to a few teams to help restock with second-round picks. So Phoenix's own swapped picks will be ranked, but the secondary swaps they've made with Memphis and Orlando will not be. Now that that is out of the way, let's jump into these rankings.
56. Phoenix Suns, 2024
Currently belongs to: Wizards
Protections: N/A
Owed or swap? Swap
The Suns are one of the best teams in the NBA and the Wizards are one of the worst. Even if Phoenix disappoints or deals with injuries, this swap only has value if their pick is higher than Washington's. The presence of an in-his-prime Devin Booker all but assures that it won't be.
55. Milwaukee Bucks, 2024
Currently belongs to: Pelicans
Protections: N/A
Owed or swap? Swap
The Bucks, like the Suns are among the best teams in the NBA. New Orleans is a good deal better than Washington, and, at one point last season, was the Western Conference's No. 1 seed with a healthy Zion Williamson. Even if they repeat that feat over the full 2023-24 season, though, the Bucks are so good that the swap itself holds little value. There's not much to be gained in jumping from No. 28 to No. 26. More likely, the Bucks are simply the better team.
54. Charlotte Hornets, 2024
Currently belongs to: Spurs
Protections: 1-14 -> 1-14 -> Converts to second-round picks in 2026 and 2027
Owed or swap? Owed
This is the fakest pick currently owed outright to another team. What are the odds of Charlotte making the playoffs over the next two seasons? They're not exactly nonexistent. The Hornets were deceptively good, especially on defense, down the stretch last season. LaMelo Ball will presumably be healthy next season. But Gordon Hayward and Miles Bridges are both on expiring contracts. Hayward's injury history speaks for itself. Terry Rozier is set to turn 30 soon. Youngsters Brandon Miller and Mark Williams have bright futures, but need time to grow. The best-case scenario here is a No. 15 pick. More likely, the Hornets simply miss the next two postseasons and never hand over a first-round pick.
53. Washington Wizards, 2024
Currently belongs to: Knicks
Protections: 1-12 -> 1-10 -> 1-8 -> Converts to second-round picks in 2026 and 2027
Owed or swap?
There's an argument that this pick is faker than Charlotte's, as the Wizards are only now starting a rebuild whereas the Hornets are several years into their own. Still, Washington's pick comes with three chances at conveyance as opposed to Charlotte's two, and the upside is slightly higher with these protections. That helps it nudge past the Charlotte pick, but there is still a real chance that the Knicks never get this pick.
52. Golden State Warriors, 2030
Currently belongs to: Wizards
Protections: 1-20 -> Converts to second-round pick in 2030
Owed or swap? Owed
Purely mathematically, you could argue that this is the pick least likely to convey on this entire list. None of us have any clue what the Warriors will look like in 2030, and the Wizards only get one shot at this pick. That means, once we factor in assumed expansion between now and 2030, that this pick will likely have a 20-out-of-32 chance of never conveying. That's 62.5%. The reason it edges out Charlotte and Washington is that this pick has seven years of runway. That's plenty of time for the Wizards to use it in a trade and get clarity on what Golden State's future looks like. Still, this is a very weak pick.
51. Cleveland Cavaliers, 2026
Currently belongs to: Jazz
Protections: N/A
Owed or swap? Swap
Could Utah be better than Cleveland in 2026? Sure. It's not likely, but the Jazz own some of the best picks on this list, so they'll have the ammunition to improve. However, this pick's value is weak for the same reason that Pelicans-Bucks swap is weak: The Cavs are almost certainly going to be good in 2026. Darius Garland and Jarrett Allen will still be under contract at this point, Evan Mobley will be in the first year of his inevitable rookie extension, and even if Donovan Mitchell is gone, he will have been traded long before this. Barring catastrophic injury, the Cavs are going to at least be decent in 2026, so there's just not much value in swapping picks with them.
50. Brooklyn Nets, 2025
Currently belongs to: Rockets
Protections: N/A
Owed or swap? Swap
Brooklyn isn't quite as good as Milwaukee or Cleveland, but the Rockets aren't quite as promising as the Jazz and Pelicans yet. Their young players may yet mature over the next two seasons, but it's worth noting that Brooklyn's future is relatively bright as well. Mikal Bridges is on an All-Star trajectory at the league's scarcest position, and as you'll see as this list progresses, the Nets have arguably the best collection of external draft capital in the NBA to use in trades. Even if the Rockets are a playoff team by 2025, the Nets probably will be as well.
49. Minnesota Timberwolves, 2026
Currently belongs to: Jazz
Protections: N/A
Owed or swap? Swap
Here's another reason the 2026 Cavs swap isn't all that valuable: it's likelier that Utah swaps with Minnesota, as they can only exercise their swap rights with one of them. Still, the odds for now favor Minnesota over Utah slightly in 2026. Anthony Edwards is better than any player Utah currently has, and while he could ask out before then, most players wait a bit longer to do so. Jaden McDaniels should still be around as Minnesota's defensive ace, Karl-Anthony Towns will either be here or traded beforehand, and while Rudy Gobert will likely have declined significantly by 2026, he will at least be a big expiring salary the Timberwolves can trade. There are bleak long-term scenarios for Minnesota, but they're still probably going to be good in 2026.
48. Denver Nuggets, 2025
Currently belongs to: Magic
Protections: 1-5 -> 1-5 -> 1-5 -> Obligation extinguishes
Owed or swap? Owed
I'm gonna go out on a limb and say that Nikola Jokic's team will be pretty good in 2025. Shocking, I know. Jokic has never missed more than 13 games in a season, and even when he played an entire season without Jamal Murray and Michael Porter Jr., his team won 48 games. There's just no upside here whatsoever.
47. Oklahoma City Thunder, 2024
Currently belongs to: Pacers
Protections: Least favorable of Thunder, Clippers, Rockets and Jazz 2024 first-round picks
Owed or swap? Owed
All four of the picks Indiana could get from Oklahoma City next June have upside. The problem is that the Pacers won't experience any of that upside. They get the worst of the four, no matter where it lands. The Western Conference is so deep that, in theory, there are scenarios in which none of these teams make the top six and suddenly Indiana is staring at a potential lottery pick during the play-in round. More likely? Either the Thunder or Clippers win 50 games or so and hand the Pacers a pick in the 20's.
46. Denver Nuggets, 2027
Currently belongs to: Thunder
Protections: 1-5 -> 1-5 -> 1-5 -> Converts to 2029 second-round pick
Owed or swap? Owed
Denver's pick has slightly more upside in 2027 than it does in 2025 because, hey, weird stuff happens. Maybe Jokic gets sick of winning MVPs and championships and prematurely retires to tend to his horses. More likely? The 2027 Nuggets, like the 2025 Nuggets, are very good and hand over a low-value pick.
45. Sacramento Kings, 2024
Currently belongs to: Hawks
Protections: 1-14 -> 1-12 -> 1-10 -> Converts to second-round picks in 2026 and 2027
Owed or swap? Owed
Sacramento just picked 24th and brought back their entire rotation this offseason. There's some room for slippage—Sacramento was unsustainably healthy last season, for instance—but if the Kings became the old school Kings again, there's not even any upside on this pick to capitalize on due to the protections. In truth, the Kings are probably sending a pick around No. 20 to the Hawks.
44. Denver Nuggets, 2029
Currently belongs to: Thunder
Protections: 1-5 -> 1-5 -> Converts to second-round pick in 2030
Owed or swap? Owed
Our trilogy of Denver picks concludes with the 2029 selection, which only gets top-billing because of how far away it is. Jokic will probably still be on the team, so Denver will probably still be very good. But 2029 is a long time from now, so there's plenty of room for things to go wrong. That's probably not going to lead to a lottery pick so long as Jokic is around, but hey, maybe the Thunder walk away with a pick in the teens.
43. Portland Trail Blazers, 2024
Currently belongs to: Bulls
Protections: 1-14 -> 1-14 -> 1-14 -> 1-14 -> 1-14 -> Converts to second-round pick in 2028
Owed or swap? Owed
The seemingly never-ending pick. It was traded in the winter of 2020 and still has the longest protection of any currently outstanding pick: five years. The Bulls get it the moment the Blazers reach the playoffs. That probably won't be for a few years now that Damian Lillard is presumably headed out. The silver living for Chicago is that the Blazers probably aren't going to jump from the lottery straight into contention. More likely, they sneak into the playoffs as a play-in team first and hand Chicago a pick in the mid-teens. Still, given the uncertainty here and the potentially long wait for the pick, its value is fairly limited.
42. Detroit Pistons, 2024
Currently belongs to: Knicks
Protections: 1-18 -> 1-13 -> 1-11 -> 1-9 -> Converts to second-round pick in 2027
Owed or swap? Owed
There's slightly more upside on this pick than Portland's, and it will probably convey a bit sooner, but it falls under the same umbrella of "frustrating protections coming from a rebuilding team." The slight danger here is that Cade Cunningham, who is currently thriving on Team USA's Select Team, takes an enormous leap this season, gets Detroit into play-in contention, and then, in 2025, has them firmly in the playoffs and handing over a relatively late pick. Still, given Detroit's likelier, slower path, the Detroit selection appears a shade more enticing than Portland's.
41. Houston Rockets, 2025
Currently belongs to: Thunder
Protections: 1-10
Owed or swap? Swap
40. Los Angeles Clippers, 2025
Currently belongs to: Thunder
Protections: N/A
Owed or swap? Swap
We're going to examine these two swaps together, as ultimately, Oklahoma City will only be able to exercise one of them, and it's going to be a fascinating race. The Clippers are definitely better than the Rockets right now. They probably will be in 2025. However, both Kawhi Leonard and Paul George can leave as free agents in the 2024 offseason if they so choose, and there has been no reporting on possible extensions. Houston's pick is protected, whereas the Clippers pick is not. That top-10 protection makes the upside of the Clippers pick slightly more valuable, but in truth, Houston is probably going to land somewhere between 11 and 15 and give the Thunder a decent pick. The chance at a Clippers collapse simply offers an upside Houston's pick doesn't.
39. Brooklyn Nets, 2027
Currently belongs to: Rockets
Protections: N/A
Owed or swap? Swap
At this point, we're far enough in the future that Houston has a reasonable chance at being better than Brooklyn. However, all of the long-term upside points we've made about Brooklyn still remain. It's so far out that we can't quite lump this swap in with some of the other "high pick for high pick" swaps we've discussed, but Houston's best-case scenario here, barring something unforeseen, is probably a jump into the teens or late lottery.
38. Cleveland Cavaliers, 2028
Currently belongs to: Jazz
Protections: N/A
Owed or swap? Swap
Same deal as the Brooklyn/Houston swap in 2027. Utah could conceivably be better than Cleveland by 2028. However, Cleveland is on track to still be quite good at that point, so the upside of this swap is minimal. The one ray of hope for this swap is that Garland's contract expires after the 2027-28 season, so if he is unhappy, he will likely have forced a move earlier than that. For now, there is no reason to believe he'll do so.
37. Boston Celtics, 2028
Currently belongs to: Spurs
Protections: 1
Owed or swap? Swap
Here is yet another example two teams we'd expect to be good making a swap deep in the future. So why is Boston's pick a bit more valuable than Cleveland's or Brooklyn's? The Celtics are the best team of the three for now, but also probably the most volatile. New contracts for Jayson Tatum and Jaylen Brown are going to push this team into the second apron shortly. They are relying on a number of injury-prone players (Kristaps Porzingis, Robert Williams, Malcolm Brogdon). Their young coach didn't inspire much confidence last season. Brown has been the subject of trade rumors his entire career, and if they don't win a championship this season, his new contract won't change that. Boston is simply deeper into its contending cycle than the Cavs, who are just starting theirs, and the Nets, who are still moving toward their own. Therefore, they will be closer to the end of their cycle by 2028, if they haven't been knocked out of it already.
36. Phoenix Suns, 2026
Currently belongs to: Wizards
Protections: N/A
Owed or swap? Swap
Here's where things start to get interesting in Phoenix. The 2026 draft comes after the final year of Kevin Durant's contract, which will be his age-37 season. Bradley Beal will turn 33 right around the 2026 draft. The downside of Phoenix's all-in approach is going to start to make itself apparent by 2026. The trouble for the Wizards is that they won't be in an ideal position to to capitalize on it. If the Wizards are still bad during the 2025-26 season, there just won't be much value to be gained out of this sort of swap. If they're good, however, there's a strong chance they wind up sending their own 2026 pick (covered in the No. 53 slot of these rankings) to the Knicks. If they don't have a pick to use in a swap, they lose access to Phoenix's pick. For that reason, don't be surprised if the Wizards try to reacquire this pick from the Knicks at some point between now and 2026, as the Knicks, without having access to a Phoenix swap, likely won't value it as highly. Until then, however, it has to be considered only a mid-tier pick. The upside is quite high, but the downside is too great to rank this selection any higher.
35. Cleveland Cavaliers, 2025
Currently belongs to: Jazz
Protections: N/A
Owed or swap? Owed
Our first fully unprotected pick that is owed outright rather than in a swap. Either the Cavs will have an older, more experienced version of the young team that just won 51 games, or they will have traded Mitchell by this point, presumably leaning on win-now talent in such a deal. Even in that case, a core of Garland, Mobley, Allen and whatever Cleveland gets for Mitchell should still be a very good team.
34. Phoenix Suns, 2025
Currently belongs to: Nets
Protections: N/A
Owed or swap? Owed
Phoenix is a little better than Cleveland now, and it has a bit more roster certainty for the next two seasons. However, the age and injury risks here are just a little greater, so Phoenix's pick looks slightly more appealing.
33. Milwaukee Bucks, 2025
Currently belongs to: Pelicans/Knicks
Protections: N/A
Owed or swap? Owed
This pick goes to the Pelicans if it falls between No. 1 and No. 4. Otherwise, it goes to the Knicks. However, the knowledge that it will be conveyed no matter where it falls makes it functionally unprotected, and we'll have a far better idea of what this pick will look like in the coming months. Giannis Antetokounmpo becomes eligible for a supermax extension in September. If he signs it? Knock the bucks down a few slots. If he doesn't? Suddenly there's disaster potential on an aging Bucks roster. Let's say Antetokounmpo doesn't extend and then the Bucks disappoint this season. That opens the door not just for him to get traded, but essentially all of his core teammates. No player on Milwaukee's roster is under contract beyond 2026. This roster will be easy to tear down if it comes to that. However, Antetokounmpo has never really done anything to suggest that he'd force a trade with time left on his contract. It seems likelier that if he does want to leave the Bucks, he'd do so through a cooperative sign-and-trade arrangement. Still, the Bucks need to be on high alert. Khris Middleton turns 32 in mid-August. Jrue Holiday is 33. Brook Lopez is 35. This group doesn't have much runway left. They have to have a pivot ready if only to convince Antetokounmpo that winning in Milwaukee is still possible after this group ages out.
32. Dallas Mavericks, 2024
Currently belongs to: Knicks
Protections: 1-10 -> 1-10 -> Converts to second-round pick in 2025
Owed or swap? Owed
Had they not aggressively tanked away their final two games of the the season, the Mavericks could have handed the Knicks the No. 11 overall pick in June's draft. Instead they keep the pick, and are likely to be far better next season. However, given the tight Western Conference and Dallas' unsolved defensive woes, it's also possible that that they land somewhere between 11 and 15 next season and give the Knicks a fairly valuable pick. It will largely come down to how healthy the Mavericks remain and how committed the role players are to defense.
31. Golden State Warriors, 2024
Currently belongs to: Celtics
Protections: 1-4 -> 1 -> Pick becomes unprotected if it has not converted by 2025
Owed or swap? Owed
The upside on this pick is far higher than the upside on the Dallas pick, and we've already seen what a worst-case Warriors season can look like back in 2020, so it has to be ranked slightly higher. However, the likeliest outcome here is that Dallas hands a better pick to the Knicks than the Warriors hand to the Celtics. Golden State's starting five, all of whom are coming back next season, had the second-best point-differential in all of basketball last season at +145. Chris Paul should stabilize their bench units. Golden State has long-term concerns, but for now, the Warriors still look like a very good team.
30. Chicago Bulls, 2025
Currently belongs to: Spurs
Protections: 1-10 -> 1-8 -> 1-8 -> Converts to second-round pick in 2028
Owed or swap? Owed
There's some risk involved in this pick. Chicago's own pick just landed at No. 11, and the Bulls don't figure to get better in the coming years. If the Zach LaVine rumors from the offseason are to be believed, they might be getting worse, and with DeMar DeRozan on an expiring contract, the Bulls seem primed for a rebuild of some sort. If they're in the lottery from 2025-27, this pick only becomes a second-rounder. But the Bulls don't operate as smart teams do. Their obsession with mediocrity likely gets them up to No. 11 at least once in this span. Therefore, the upside of potentially getting a late lottery pick outweighs the risk of getting nothing at all, especially for a team as pick-rich as the Spurs.
29. Cleveland Cavaliers, 2027
Currently belongs to: Jazz
Protections: N/A
Owed or swap? Owed
Everything we've covered about Cleveland thus far holds true here. The Garland-Mobley core will still be under contract at this point, assuming Mobley signs his expected max rookie extension. Unprotected picks are nice, and anything can happen this far out, but Cleveland is in good shape for the next several years and probably won't hand Utah a great pick in 2027.
28. Cleveland Cavaliers, 2029
Currently belongs to: Jazz
Protections: N/A
Owed or swap? Owed
Cleveland becomes slightly more enticing by 2029 just because Garland's rookie extension will have expired by then, and we're so far out that virtually anything is on the table. However, Mobley will still be on his rookie extension at that point, and he guarantees a relatively high floor on defense at least. Assuming the Cavs get a couple of things right over the next half-decade, this pick doesn't figure to have the sort of "top of the draft" upside most unprotected picks deep in the future do.
27. Los Angeles Clippers, 2024
Currently belongs to: Thunder
Protections: N/A
Owed or swap? Owed
This is a tricky pick. The last time the Clippers handed the Thunder an unprotected choice, it turned into Jalen Williams. Of course, Kawhi Leonard missed the entire season that preceded that draft. Leonard will likely miss time this season because, well, he misses time every season, but even in a loaded Western Conference, the Clippers are likely going to at least make the playoffs. A James Harden trade would assure that. There's upside here if Leonard and George go down early, but otherwise, the Clippers are probably not going to give the Thunder a very high pick.
26. Brooklyn Nets, 2024
Currently belongs to: Rockets
Protections: N/A
Owed or swap? Owed
This is a debate between upside and likeliest outcome. The Nets don't have nearly the same downside risk as the Clippers. Mikal Bridges hasn't missed a game since the 2019-20 season. He literally played 83 games in an 82-game season last year. His presence gives the Nets a relatively high floor in the weaker middle of the Eastern Conference. If you want to take the home run swing? Take the Clippers. However, with both rosters now in front of us and a Harden trade possibly coming, taking a Nets pick likely to land between 10 and 20 seems safer.
25. Utah Jazz, 2024
Currently belongs to: Thunder
Protections: 1-10 -> 1-10 -> 1-8 -> Obligation extinguishes
Owed or swap? Owed
This pick has quite a bit in common with the 2025 Bulls pick we covered at No. 30, except the Jazz actually know what they're doing. They're not a playoff team yet, so they will likely hand the Thunder a pick between 10-14 at some point soon, but the organization and coaching staff is simply too competent to pick in the top half of the lottery three years in a row unless they do something drastic like trade Lauri Markkanen. This is going to be a good pick, we just don't know when it will convey.
24. Atlanta Hawks, 2026
Currently belongs to: Spurs
Protections: N/A
Owed or swap? Swap
The Hawks mitigated some of their downside risk when they re-signed Dejounte Murray earlier in the offseason, but the operative word there is some. The Hawks are still an organization in flux. Nick Ressler, the 27-year-old son of owner Tony Ressler, seemingly seized a significant amount of power last season. Landry Fields is about to enter his first full season as general manager. Quin Snyder offers a measure of stability, but Trae Young was in trade rumors last season, and if the Hawks don't improve quickly, he'll remain there. San Antonio likely won't be a fully-formed title contender by 2026, so the swap value here isn't too high, but the Hawks are a team to watch on the "blow it up" front.
23. Philadelphia 76ers, 2025
Currently belongs to: Thunder
Protections: 1-6 -> 1-4 -> 1-4 -> Converts to second-round pick in 2027
Owed or swap? Owed
Joel Embiid-to-the-Knicks rumors have been swirling for years, and he's only added fuel to the fire this offseason. Let's say the Harden situation ends badly and Philly has a disappointing season. If Embiid really does ask out, the Sixers basically have no choice but to enter an extended tank. All they'd have left would be Tyrese Maxey. If Embiid decides next summer that he does not want to remain in Philly, this becomes perhaps the most valuable protected pick in all of basketball.
22. Minnesota Timberwolves, 2029
Currently belongs to: Jazz
Protections: 1-5 -> Converts to second-round pick in 2029
Owed or swap? Owed
Utah certainly isn't complaining about the haul it got for Rudy Gobert, but the top-five protection here is a real bummer. By 2029, it's entirely possible that Anthony Edwards will have forced his way out of Minnesota. It's not as though the Timberwolves have a mountain of assets they can use to retool the roster around him. However, that top-five protection limits the damage that pick can do, and the fact that it doesn't roll over into future years makes it a one-shot deal. The Jazz just have to hope Minnesota picks sixth in 2029.
21. Brooklyn Nets, 2026
Currently belongs to: Rockets
Protections: N/A
Owed or swap? Owed
If Minnesota's 2029 pick was unprotected, it would rank above this Nets pick. However, the lack of protections here gives the Brooklyn selection a slight edge. As we've mentioned, the Nets have every reason to be bullish about their future. Of course, the same was true in 2021 and… well you know what happened from there. When a team that is currently not in contention has an unprotected pick due several years in the future, it should always be considered relatively valuable.
20. Philadelphia 76ers, 2027
Currently belongs to: Nets
Protections: 1-8 -> 1-8 -> Converts to second-round pick in 2028
Owed or swap?
The 2025 Philly pick relies on Embiid forcing his way out in 2024. But this pick? It's valuable either way. After all, Embiid will turn 33 during the 2026-27 season and has a lengthy history of injuries. Maxey will improve between now and then, but the rest of the roster is old and Philadelphia's only real path to reinforcements, for the time being, is cap space in 2024. If Embiid asks out, this is a great pick. If he doesn't? It's still possibly a very good one.
19. Minnesota Timberwolves, 2025
Currently belongs to: Jazz
Protections: N/A
Owed or swap? Owed
If you're projecting the earliest possible demolition of the Timberwolves, this is probably where we land. The Jazz traded Donovan Mitchell after his fifth season, so if Edwards does try to move early, this is probably the earliest we can expect it to happen. That's what gives this pick its upside, because if Edwards is happy, the trio of him, Towns and McDaniels still gives Minnesota a reasonably high floor even accounting for possible Gobert decline. Towns could be traded before this, but if he is, it will likely be for assets meant to help Edwards, not drive him out of town.
18. Atlanta Hawks, 2025
Currently belongs to: Spurs
Protections: N/A
Owed or swap? Owed
Most of the same logic applies here as it does to Minnesota. One more bad year might not blow up the Hawks, but if Atlanta hasn't won a playoff series by 2025, that's when Young trades start to look a little bit more realistic. The only difference is that Young becomes a free agent in 2027, so regardless of what happens, he'll likely start to think more actively about his own future two years away from free agency. The Hawks don't have Minnesota's upside, and they're a bit further along their timeline. That makes their picks slightly better.
17. Houston Rockets, 2026
Currently belongs to: Thunder
Protections: 1-4 -> Converts to second-round pick in 2026
Owed or swap? Owed
The Rockets have been among the NBA's worst teams for three years now. They're still near the bottom of the league. But for the first time since the James Harden trade, they took meaningful steps in the right direction this summer. They have a real coach in Ime Udoka. Fred VanVleet and Dillon Brooks are culture-setters and valuable bridges to the next generation. We don't know how good the Rockets will be in 2026… but it's safe to say they'll be better than they are now. However, Houston's current struggles make this a valuable pick on-paper. If the Thunder wanted to trade it, they could still likely turn it into meaningful value.
16. Milwaukee Bucks, 2026
Currently belongs to: Pelicans
Protections: N/A
Owed or swap? Swap
This pick's value is limited because it is a swap, but it is also from the first season in which Antetokounmpo is not on a guaranteed contract (he has a 2025-26 player option). Lopez's contract expires in 2025. So does Holiday's, and he's said that he plans to retire at the end of this contract. This will be Middleton's age-34 season, and he can leave after 2025 if he wishes. We can't put this pick any higher on the chance that Antetokounmpo re-signs, but if he doesn't? This becomes one of the best picks on the board.
15. Miami Heat, 2025
Currently belongs to: Thunder
Protections: 1-14 -> Pick becomes unprotected if not conveyed by 2025
Owed or swap? Owed
Why is a lottery-protected pick ranked above so many extremely valuable selections? Because those lottery protections are probably going to vanish as part of the Damian Lillard trade. If the Heat want to maximize their tradable draft capital and unlock their 2024 first-round pick from behind the Stepien Rule, they have to work with Oklahoma City to make this an unprotected pick in 2026. As unusual as that sounds, the Heat and Thunder have already altered the protections on this pick once, so don't be surprised when they do so again to facilitate a Lillard deal. So, let's evaluate this pick as an unprotected 2026 selection. Both Lillard and Jimmy Butler will be coming off of their age-36 seasons. Though he is likely to re-sign, it's worth noting that the 2025-26 season is the last on Bam Adebayo's current contract. Caleb Martin's value contract will have expired by then, and while Miami is great at finding hidden gems, there's no guarantee that another Martin is waiting around the corner. With Lillard and Butler making super max money, their options in replenishing their supporting cast will be scarce. In other words, the upside on a 2026 Heat pick is pretty high.
14. Toronto Raptors, 2024
Currently belongs to: Spurs
Protections: 1-6 -> 1-6 -> 1-6 -> Converts to second-round picks in 2026 and 2027
Owed or swap? Owed
The Raptors picked 13th last season. They also replaced one of the NBA's best coaches in Nick Nurse with a first-time head coach in Darko Rajakovic and let 2022 All-Star Fred VanVleet walk for nothing. Oh, and Pascal Siakam has been in rumors all offseason. Toronto is too organizationally competent to fully tank. Remember, even when they landed Scottie Barnes, they did so with the NBA's seventh-worst record. But this team probably isn't making the playoffs and could easily get meaningfully worse next season. The odds of San Antonio getting a pick in the middle of the lottery appear solid.
13. Los Angeles Lakers, 2027
Currently belongs to: Jazz
Protections: 1-4 -> Obligation extinguishes
Owed or swap? Owed
Oh boy. Talk about a high-risk, high-reward pick. By 2027, LeBron James will (probably?) be retired and Anthony Davis, though still under contract thanks to his recent extension, will be 34 and in a different phase of his career. There is young talent on this roster, but no obvious replacement for the star power James and Davis provide, and in an era defined by trades over free agency, the Lakers can no longer rely on their market and money alone to lure their next big name. They could easily be bad in 2027. But if they're too bad? Utah gets nothing. Not even a second-round pick. Do not underestimate the role of luck here. Between 2015 and 2017, the Lakers managed to hold onto three consecutive top-three protected picks by landing at No. 2 three years in a row. That meant that the Orlando Magic didn't get a first-round pick out of the Lakers at all from the Dwight Howard trade. Utah's window is shorter. In their dream world, the Lakers are still a 30-win team or so behind a prime Austin Reaves and the rest of the current young talent. If they're any worse? The Lakers got off of the Russell Westbrook contract scot-free.
12. Minnesota Timberwolves, 2027
Currently belongs to: Jazz
Protections: N/A
Owed or swap? Owed
This is the best pick from the Gobert trade. It comes after Edwards' seventh season, so if he's going to force a move, it will likely have either already happened or be happening at this point. Gobert will be gone and Towns will be overpaid in his 30's. If Minnesota hasn't found a way to retool without their picks by this point? The odds of Edwards sticking around to sink with the ship are likely low, and Utah is set to benefit.
11. Houston Rockets, 2024
Currently belongs to: Thunder
Protections: 1-4 -> Converts to second-round pick in 2025
Owed or swap? Owed
This pick holds the same appeal that Toronto's does, except the Rockets are worse and play in a better conference. From that perspective, the Thunder are probably thrilled to have seen Houston improve this offseason. Without VanVleet and Brooks, they had a very good chance at finishing in the top four for the fourth consecutive draft. However, the Rockets are determined to be competitive this season, and that's exactly how they're going to wind up handing the Thunder a mid-to-late lottery pick.
10. Atlanta Hawks, 2027
Currently belongs to: Spurs
Protections: N/A
Owed or swap? Owed
Young's current contract expires in 2027, so his future will likely be determined one way or another in the summer of 2026. The same is probably true of Dejounte Murray, whose current extension will allow him to hit free agency in 2027 if he so chooses. By then, the Hawks will have a good idea of whether or not this roster is capable of meaningfully contending. If they realize the answer is no, which appears to be the likelier outcome, they'll have to start considering moves involving Young and Murray. If that means handing the Spurs a great pick? So be it.
9. Milwaukee Bucks, 2027
Currently belongs to: Pelicans
Protections: N/A
Owed or swap? Owed
Everything we wrote in Milwaukee's 2026 blurb holds true here, but this pick is the more valuable of the two. It's owed outright rather than as part of a swap. The trio of Middleton, Holiday and Lopez will almost certainly either be gone or beyond the All-Star stages of their careers. Milwaukee's best young player right now is… Marjon Beauchamp? The future isn't bright here, and even if Antetokounmpo is still around, he will be 32 at this point. Given his lack of a jump shot, it's fair to wonder how well he will age. Even if he just slips from MVP-caliber to All-Star-caliber, that dip is enormous.
8. Los Angeles Clippers, 2026
Currently belongs to: Thunder
Protections: N/A
Owed or swap? Owed
7. Los Angeles Lakers, 2024
Currently belongs to: Pelicans
Protections: Unprotected in 2024, but Pelicans can defer pick to 2025
Owed or swap? Owed
We're going to examine these two Los Angeles picks together as they both represent the crown jewels of blockbuster trades made in the 2019 offseason. If you were to guess which pick would be the highest between the Lakers in 2024, Lakers in 2025 and Clippers in 2026, the smart money would probably be on the Clippers in 2026. Even if Leonard and George are still around by that point, 2026 will be Leonard's age-34 season and George's age-35 season. They don't have an Austin Reaves-level bridge player to get them to their next star either. Of the 10 highest-paid Clippers, eight are already in their 30's. They'll only get older, and Terence Mann and Ivica Zubac aren't carrying anyone anywhere. A Harden trade would only exacerbate these issues.
But there's a reason only one pick in the entire NBA comes with a deferral right. It is the single most powerful tool a team can attach to a pick for trade purposes. The Pelicans don't need the Lakers to be bad in both 2024 and 2025. They just need them to be bad once. That feels very, very doable with James set to turn 40 during the 2024-25 season and Davis missing 44% of his games over the past three seasons. If everything breaks right for the Lakers this season, they'll be contenders. What are the odds of everything breaking right twice in a row? They've already given the Pelicans one mid-lottery pick back in 2021. This pick has even higher upside. Meanwhile, the Steve Ballmer Clippers have never really tanked. They easily could have back in 2019, and perhaps they even tried with their midseason Tobias Harris trade. But that team won 48 games with no superstars. There is an organizational competence here that, when combined with Ballmer's spending, insulates the Clippers against most worst-case outcomes. They can be bad. The odds of them handing the Thunder a top-five pick don't seem especially high. For that reason, the deferral right makes that Lakers pick slightly more valuable.
6. Phoenix Suns, 2028
Currently belongs to: Nets
Protections: N/A
Owed or swap? Swap
5. Phoenix Suns, 2027
Currently belongs to: Nets
Protections: N/A
Owed or swap? Owed
We've reached the top six and four Phoenix picks remain. That's not an accident. Let's go over everything that makes these Suns picks so tantalizing point-by-point:
Durant's contract expires in 2026. Beal's contract expires in 2027. Durant will be nearing his 37th birthday when his deal expires. Beal will turn 34 right after his deal expires, and his statistics have trended down over the past two years already.
ESPN's Kevin Arnovitz wrote an illuminating profile of general manager James Jones in 2022 detailing just how little the Suns invest in the draft. They believe in importing veterans. Well… how easily will they be able to do that without picks to trade?
Mat Ishbia is spending money like a drunken sailor… right now. If it leads to championships, he might keep doing it. But if Phoenix maintains its current spending habits, the 2026-27 season could be its fourth consecutive above the second apron. That's when frozen draft picks start to really matter, and what's more, the repeater tax became significantly more punitive in the new CBA. Ishbia is rich, but he's not Ballmer rich. History suggests he will eventually settle down.
Isiah Thomas is… involved? The Suns are adamant he has no official title. All reporting suggests that he is at least a meaningful voice in the room. Chris Paul

suggested as much

, at the very least. This matters because in his five years running the Knicks, Thomas would trade picks that eventually landed at No. 16 (Kirk Snyder, 2004), No. 9 (Joakim Noah, 2007), No. 9 again (Gordon Hayward, 2010) and No. 2 (LaMarcus Aldridge, 2006). Thomas has a track record here.
Booker's contract expires in 2028. Right now, he has every reason to be excited about a future in Phoenix. The Suns could easily win the championship this season. Whether they do or don't, their post-Durant/Beal future is relatively bleak. There is a meaningful chance that Booker looks around in a few years and decides he can't win in Phoenix. If Booker is gone after Durant and Beal age out and the front office has traded most of their picks? The Suns might be the worst team in the NBA to end the decade.
Maybe all four Suns picks eventually wind up being great. Maybe only one of them does. But Booker turns 34 in 2030. Durant and Beal will be out of the league by then, and based on their outgoing assets and current brain trust, it's just very hard to believe that Phoenix will be able to adequately rebuild on the fly. There are going to be lean years in their future.
4. Dallas Mavericks, 2030
Currently belongs to: Spurs
Protections: N/A
Owed or swap? Swap
3. Dallas Mavericks, 2029
Currently belongs to: Nets
Protections: N/A
Owed or swap? Owed
Okay, we bundled the two Suns picks above. Might as well take care of the two Mavericks picks that follow. Here's why Dallas ranks so high on this list:
ESPN's Tim MacMahon reported that the Mavericks are worried about Luka Doncic forcing a trade as soon as the summer of 2024. We have reached DEFCON 1 in Dallas. If the Mavericks don't start competing for championships now, Doncic is going to force his way out.
The original Doncic trade was a masterstroke. Jalen Brunson was taken in the same draft. Besides those two, who was the last Mavericks draft pick to grow into a consistent, starting-caliber player in the NBA? That would be Josh Howard all the way back in 2003. This is not a team that should be trusted to rebuild.
Kyrie Irving's track record. His exits out of Cleveland, Boston and Brooklyn speak for themselves. He's missed roughly 35% of his games over the past eight seasons. There are just so many ways this can end badly for Dallas, and even if it goes well, he turns 32 this season. Doncic can become a free agent in 2026, when Irving's contract expires. If they don't win a championship or come close soon, Doncic might see Irving's decline and might seek an escape down the line.
Jason Kidd has coached Giannis Antetokounmpo and Luka Doncic for six combined seasons. His teams have gone 239-236 in that time. In both cases, they overperformed in his first season: Milwaukee jumped from the NBA's worst record to .500 in 2015, while Dallas won 52 games and made a surprise jump to the Western Conference Finals. And then all four of his remaining teams underperformed thereafter. Milwaukee went 44-38 in Kidd's final season, and then went 60-22 in its first season without him. It's entirely possible that the Mavericks simply picked the wrong coach, yet because of his standing as a team icon, firing him should it ever prove necessary would not be easy.
You could credibly argue that the two Dallas picks belong ahead of all four Phoenix picks or behind all four of them. We're splitting the difference here. Phoenix's long-term outlook appears a tad bleaker because Doncic is a better player than Booker and because Dallas has retained more of its own draft capital. However, those first two Phoenix picks come earlier than these two Dallas picks, and it's least feasible that Booker keeps the Suns reasonably competitive in those years. On a level chronological playing field, though, Phoenix's deep future picks look slightly more valuable for one reason.
The Mavericks owe their 2024 first-round pick to the Knicks. They then control their own first round pick in the four following drafts before handing over selections to Brooklyn and San Antonio thereafter. That's a four-year tanking runway if needed. So let's say Doncic forces his way out of Dallas in the summer of 2024. Obviously Dallas would prefer this didn't happen, but with four years of safe tanking in front of them and youngsters like Dereck Lively, Josh Green and Jaden Hardy on the roster, they at least have a pathway to a rebuild before the bill comes due on these picks. If things fall apart in Phoenix and Booker is gone before these picks start conveying? The Suns don't have that same flexibility. They can't tank, and their future would start to look very, very grim.
2. Phoenix Suns, 2030
Currently belongs to: Wizards
Protections: N/A
Owed or swap? Swap
1. Phoenix Suns, 2029
Currently belongs to: Nets
Protections: N/A
Owed or swap? Owed
We've covered the worst-case outcomes for Phoenix already, so let's explore the other end. What would it take for the Suns to survive the end of this decade and hand the Nets underwhelming draft picks?
It probably starts with what happens right now. The easiest way to convince Booker to stick around for the long haul would be to win a championship or two. If Phoenix does win it all, Deandre Ayton probably played a pretty big part in it, and if Ayton did play a pretty big part in it, it presumably means that he settled whatever beef he has with the organization and blossomed into the star the Suns hoped he would be when they picked him No. 1 overall. Frank Vogel has a great history with big men. If anyone is going to maximize him on defense, it's going to be Vogel.
The offensive fit is easy, it just requires buy-in. If Ayton stops settling for jumpers and hooks and starts rolling harder to the rim and forcing his way to the free-throw line, the Suns go from a great offense to a completely unguardable one. This is all on the table for Phoenix. There is a version of the next seven years that sees Durant and Beal gracefully hand the team over to a Booker-Ayton tandem that can lead contenders for years to come.
Yet the Suns top this list anyway because… well… all of that stuff is relatively unlikely. If Ayton was going to fundamentally change what he wants to do on the court, wouldn't that have happened by now? Caesars Sportsbook currently has the Suns at +650 to win the championship, representing implied odds of 13.3%. That number might look small, but it ranks only behind the Nuggets and Celtics. Even the best team in a given season struggles to build championship odds greater than 20%. Basketball is a random sport. Players get hurt. Good shots miss and bad shots go in. Everything has to break right for any team to win the title, and if anything at all breaks wrong for Phoenix in the next few years, the Suns are staring down the barrel of several lost lottery picks.
Notes
Ultimately, these rankings are entirely subjective. There's little that can be taken as fact from them. However, I think there are three important points worth covering.
First of all: three of last year's four highest-ranked picks belonged to the Nets: their selections in 2025, 2026 and 2027. Those picks, in chronological order, ranked No. 50, No. 21 and No. 39 this time around. So what changed in that time? Last year's Nets were built around two old superstars. Both of those superstars were traded. Not only did the Nets get a young All-Star back in Mikal Bridges, but they also picked up four of the six highest-ranked picks on this year's list. They managed to skip over all of the ugliest parts of a rebuild and set themselves up to build another winner in relatively short order. It's a tough break for the Rockets, but a lesson for the rest of the league. Manage your transitional periods correctly and your future can be just as bright. Just ask the Thunder, Jazz and Spurs.
Hey, speaking of which, let's try to answer this question: which team has the best haul of incoming draft picks? The Nets, Thunder, Jazz and Spurs are our candidates. Together, they own 35 of the 56 picks listed here. Here are the rankings of all of the picks each of them hold off of this list:
| TEAM | PICK RANKINGS |
| --- | --- |
| Nets | 34, 20, 6, 5, 3, 1 |
| Jazz | 51, 49, 38, 35, 29, 28, 22, 19, 13, 12 |
| Thunder | 46, 44, 41, 40, 27, 25, 23, 17, 15, 11, 8 |
| Spurs | 54, 37, 30, 24, 18, 14, 10, 4 |
Oklahoma City and Utah have the more imposing collections by sheer volume. Having so many picks creates more opportunities for something unexpected to happen that gives them a couple of extra higher picks. However, based on these rankings alone, it would seem as though San Antonio and Brooklyn win out by quality. The Nets have four of the six-highest ranked picks on the list, while the other three teams have just one. Their lowest-ranked pick is 34, 12 spots better than any of the other teams.
Of course, some of this is the result of their own moves. Their six picks come from the Suns, Mavericks and 76ers. They've traded all three of them an aging superstar within the past 18 months. Those players aging out is part of what gives those picks so much value. Regardless, at this stage, it would appear as though any of those four teams could credibly win a picks-based bidding war against any of the others depending on the preference of the acquiring team. Any team outside of that group of four would likely struggle to win a bidding war against those four teams, though it should be noted that Brooklyn is weakened by all of their own picks they sent to Houston to land Harden in the first place.
Finally, we should address a few hypotheticals, as both the Heat (Lillard) and Clippers (Harden) may trade picks for superstars before the end of the offseason. Where would those hypothetical picks land?
Miami's 2024 pick is the easiest to slot. It would be the worst fully unprotected pick on this list, ranking in the high-30's. A team with Lillard, Butler and Adebayo would be awesome, and Miami's infrastructure protects the Heat against all but the most drastic of health outcomes. Their picks in 2028 and 2030 are a bit harder to rank. The upside is higher than the 2025/26 pick we ranked No. 15. However, their sheer organizational competence makes it hard to rank them ahead of unprotected picks from lesser organizations like the Hawks and Timberwolves. Despite the ages of Butler and Lillard, these two picks would likely come in between the 2027 Lakers at No. 13 and the 2027 Timberwolves at No. 12. Some teams might be comfortable enough betting against the Heat to rank them higher. Betting against the Heat rarely goes well. They'll have Adeabyo for the long haul, and they'll presumably still have Spoelstra. That's enough of a start to assume they'll probably at least be decent at the end of the decade.
But those Clippers picks in 2028 and 2030? They don't have an Adebayo-caliber buffer. The last time they added two stars, one came through free agency and the other came through a historic trade haul. The Clippers will likely have neither option available to them after Leonard, George and Harden age out of stardom. That's part of why they're clinging to their post-2026 picks so desperately. They are their lifeline to post-Kawhi competence. If they gave one or both of them up for Harden, either would have a credible case for the top six. Ballmer's money and the Los Angeles market would ultimately nudge them in between the top six and the 2024/25 Lakers at No. 7.
One last note: this list was 47 picks long last offseason. It's up to 56 now. Perhaps the new CBA will curb pick trading, but in all likelihood, trades of Lillard and/or Harden push the list up to 60 before opening night. More picks are getting traded now than ever, and extracting the right ones in those deals is going to be the difference between winning and losing championships for the foreseeable future.