Prefabricated house, It is another house design that is increasing in popularity nowadays. Due to the time spent in construction and installation is not too long. The budget is not too high, can control the escalating budget because there is already a ready-made model. And most importantly, at present there is a development and design of prefabricated houses to be more beautiful and livable.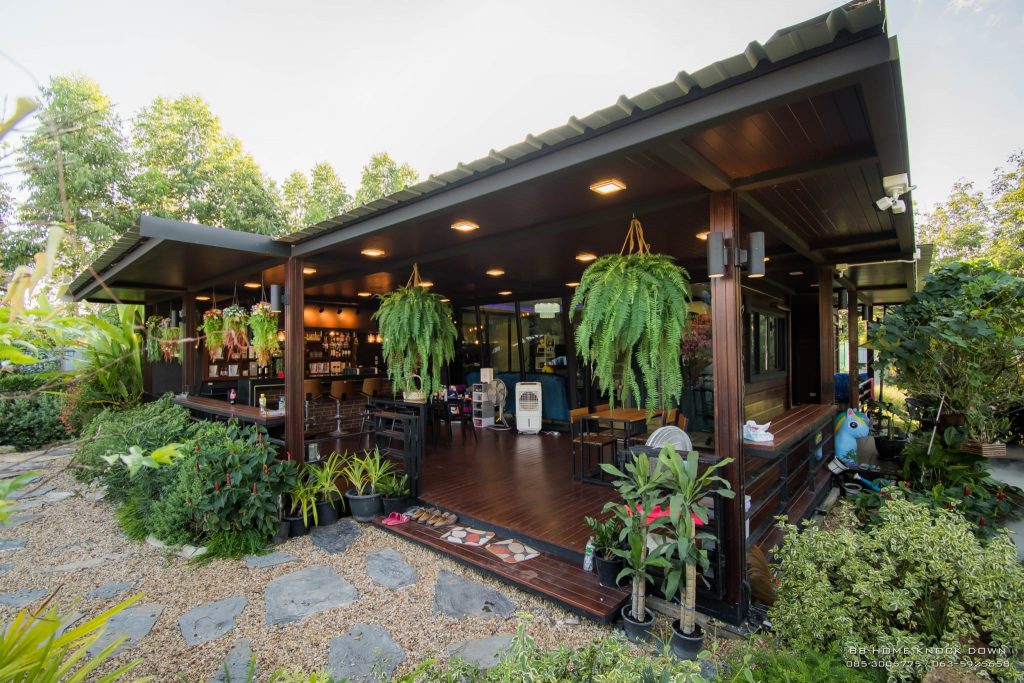 One-story prefabricated vacation home, steel frame, decorated with artificial wood, dark brown tone, budget 1,670,000 baht.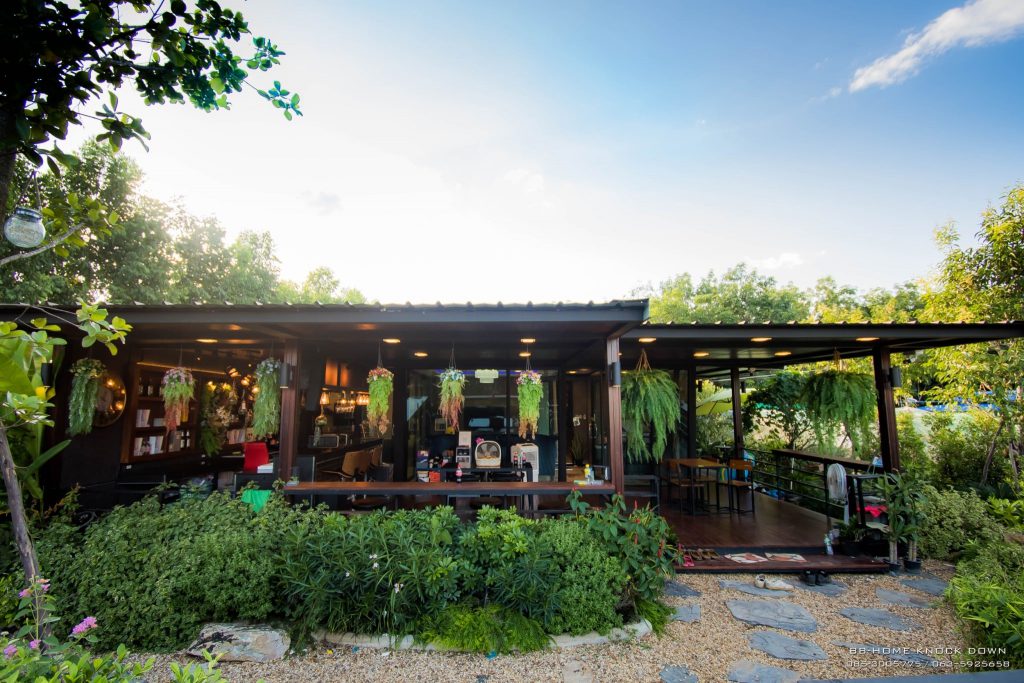 There are 2 bedrooms, 1 bathroom, 1 living room, 1 living room, 1 bar counter and a balcony.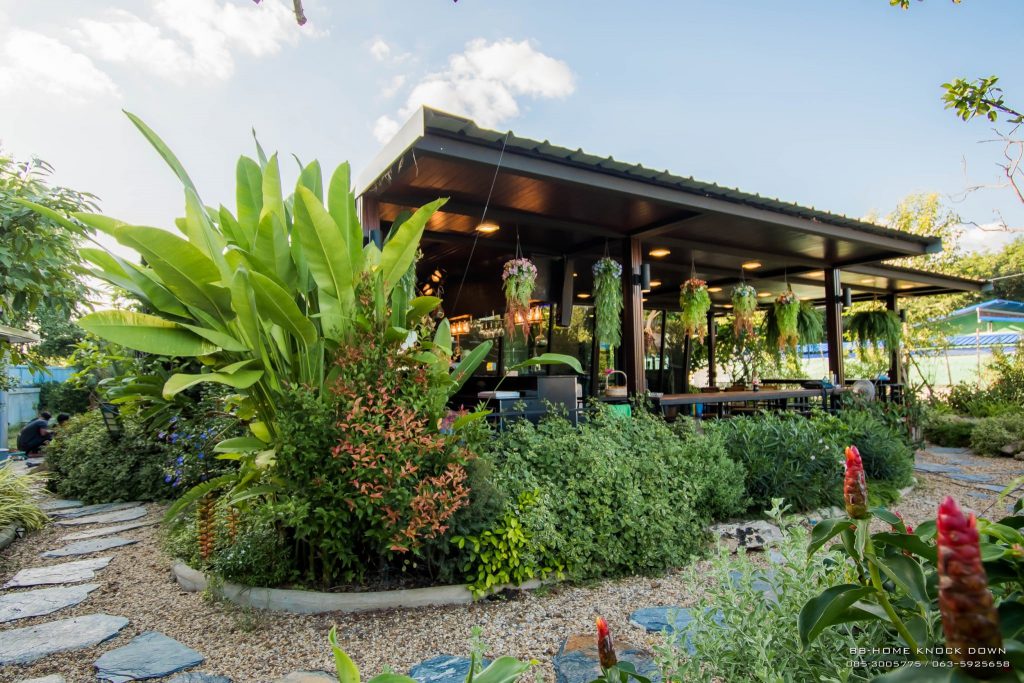 Decorate around the house with various types of ornamental gardens and stone paths.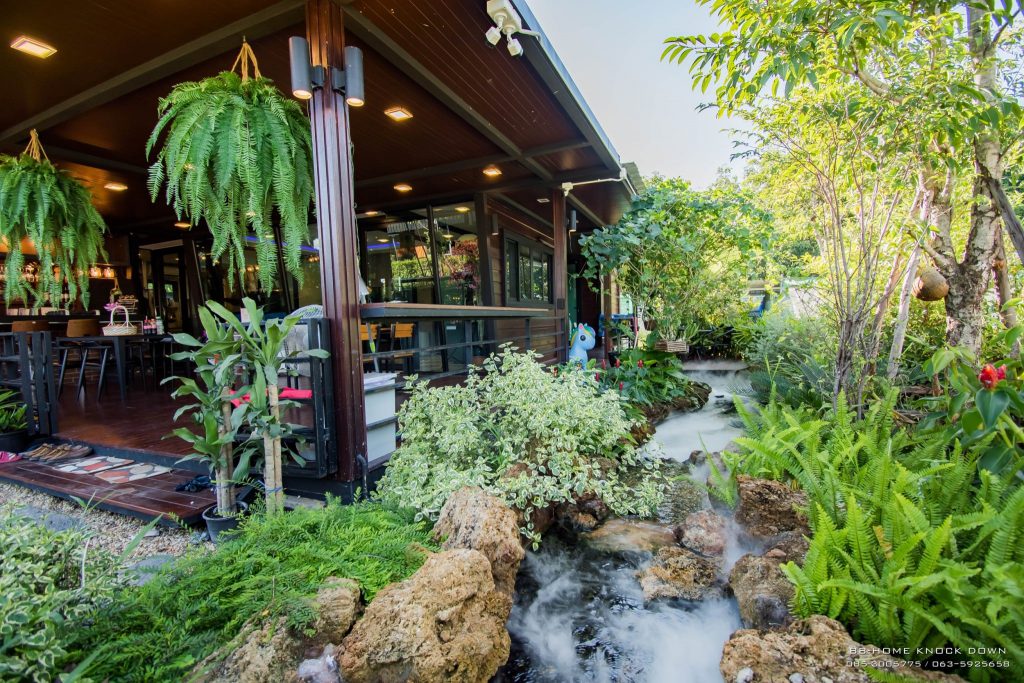 Tropical garden with small waterfall. There is a fog that adds a filter like resting in the middle of a beautiful forest.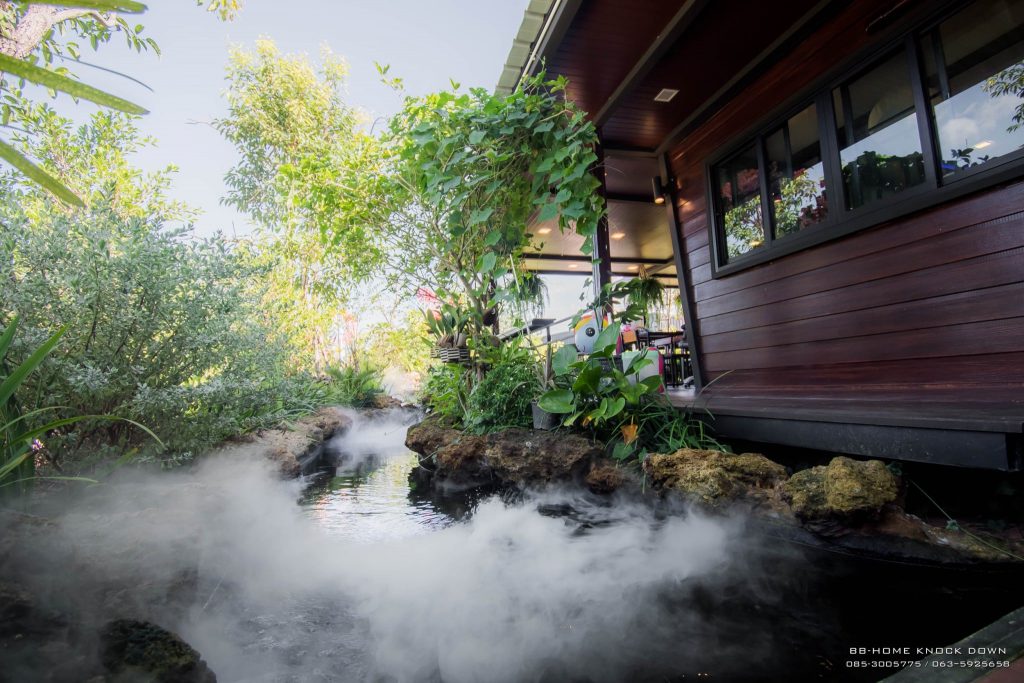 Enhance natural atmosphere to the house.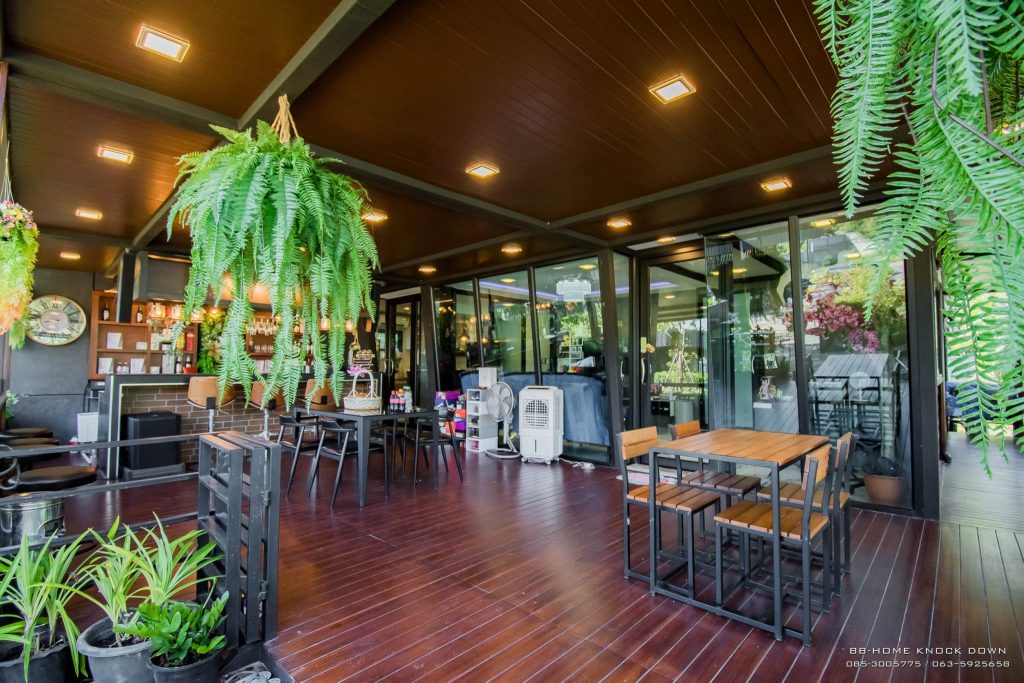 There is a wide open balcony in front of the house. Paneled with wood to decorate the floor and ceiling. Install modern square-shaped downlights.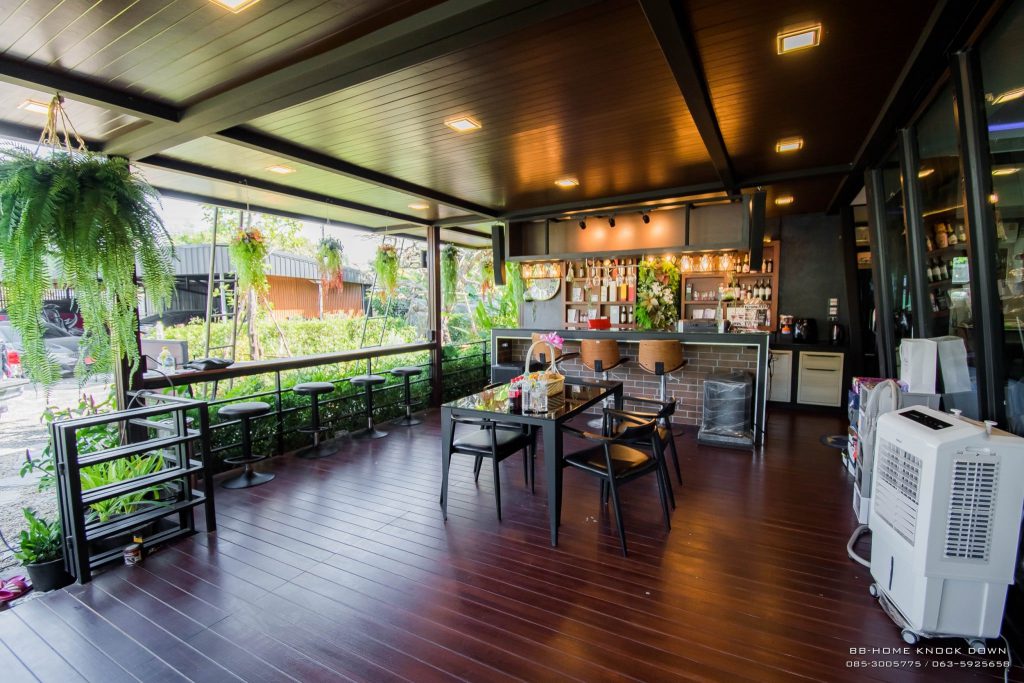 The balcony railing is decorated as a bar table to sit and admire the garden. Can be made into a restaurant or cafe comfortably.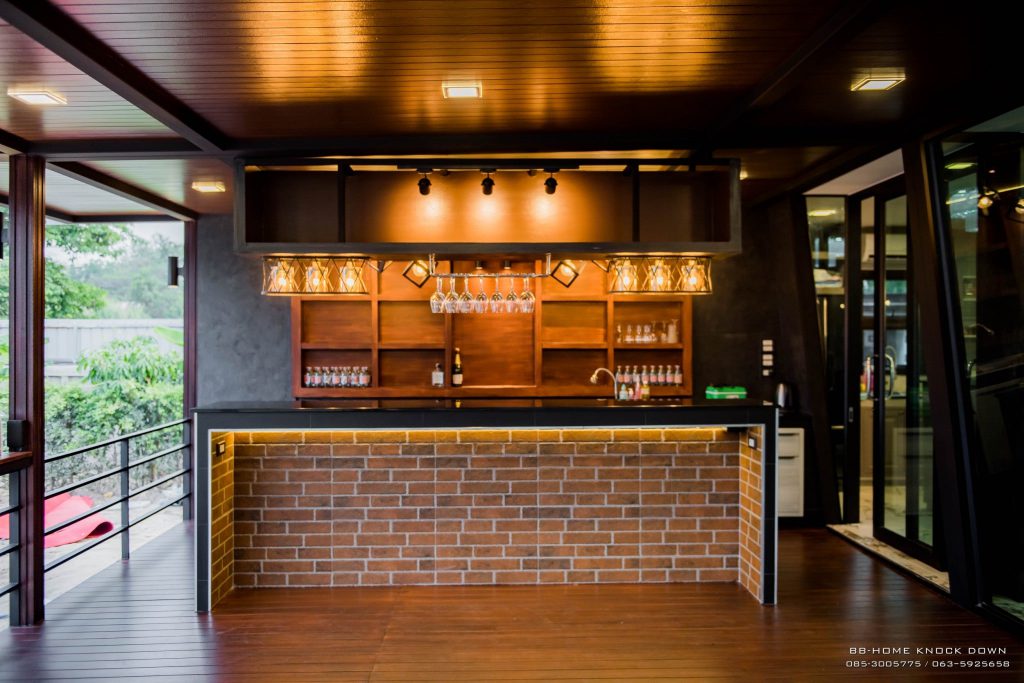 Bar counter and wall shelf behind Modern Loft Style The counter wall is a brick pattern showing the line.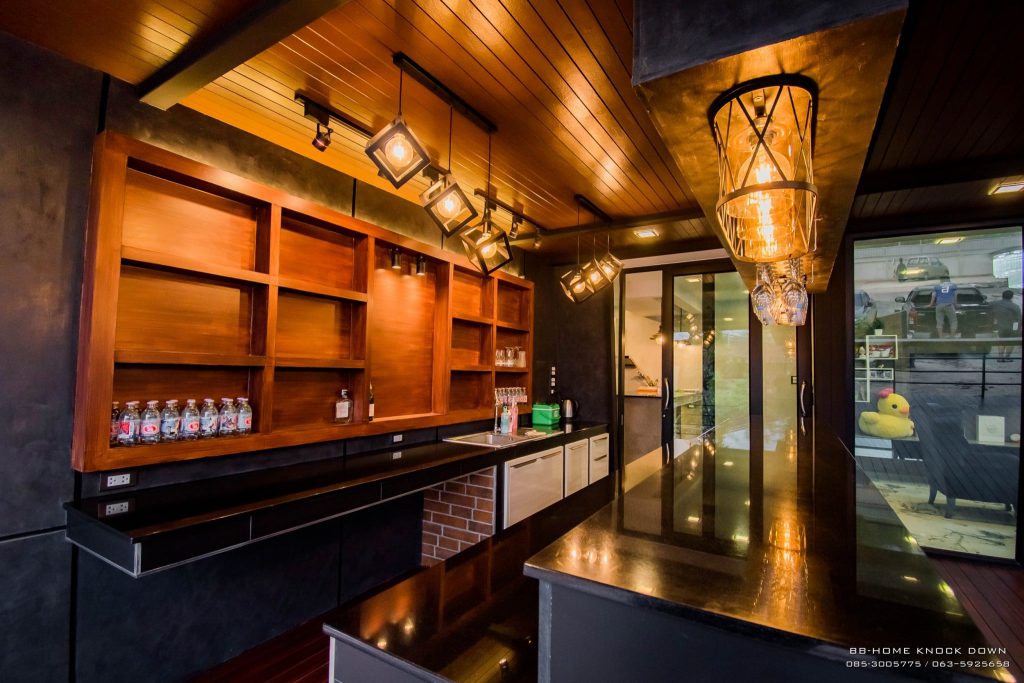 The wall shelf is built-in wood as a square box for displaying items.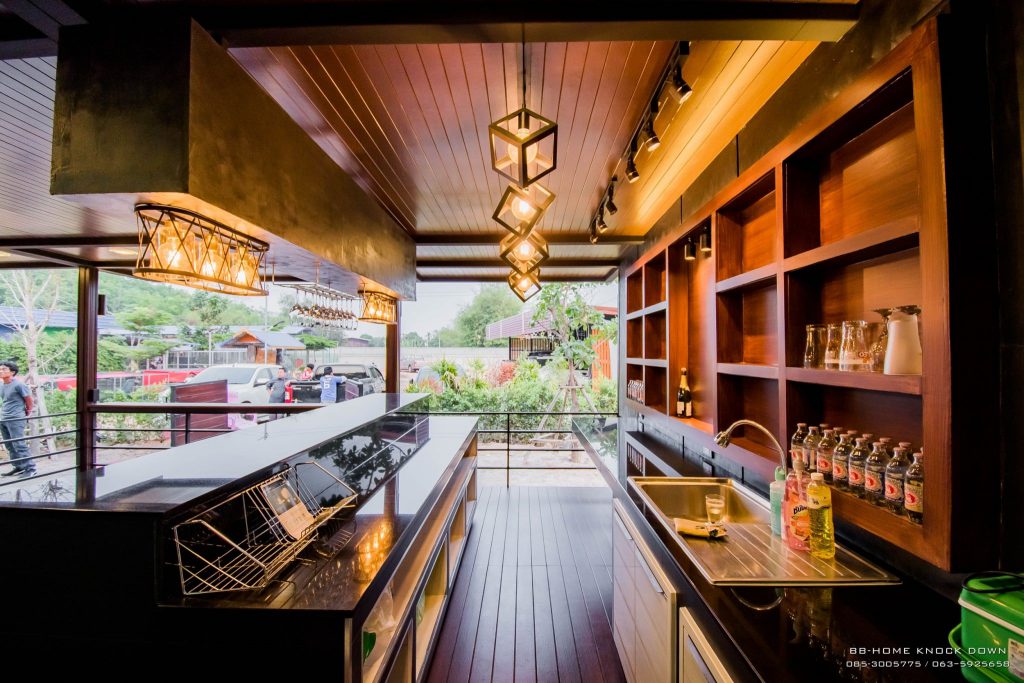 Install a loft industrial style pendant lamp. There is a sink counter for cleaning equipment.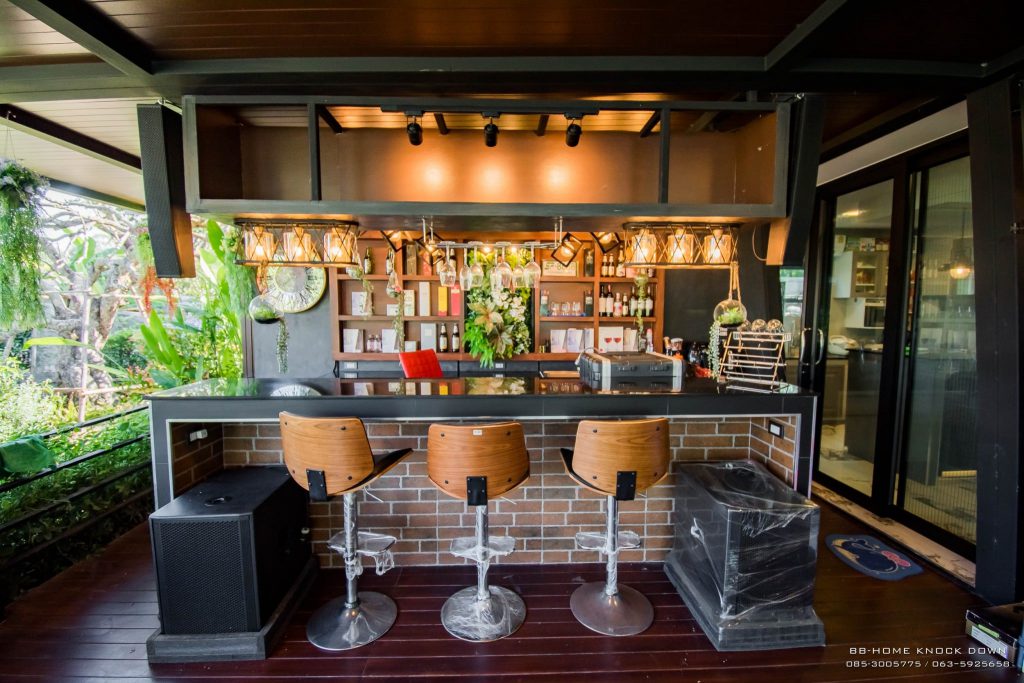 decorated and arranged beautifully It's a bar counter table. There is a high chair to sit and sip a drink.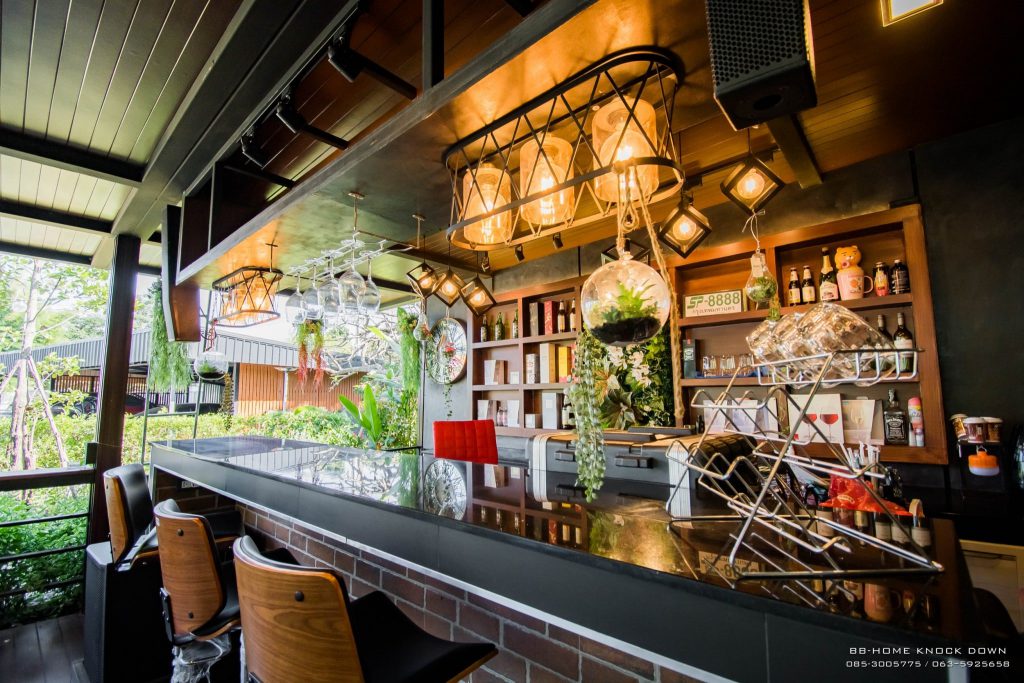 Turn on the warm yellow light Like being in a cafe loft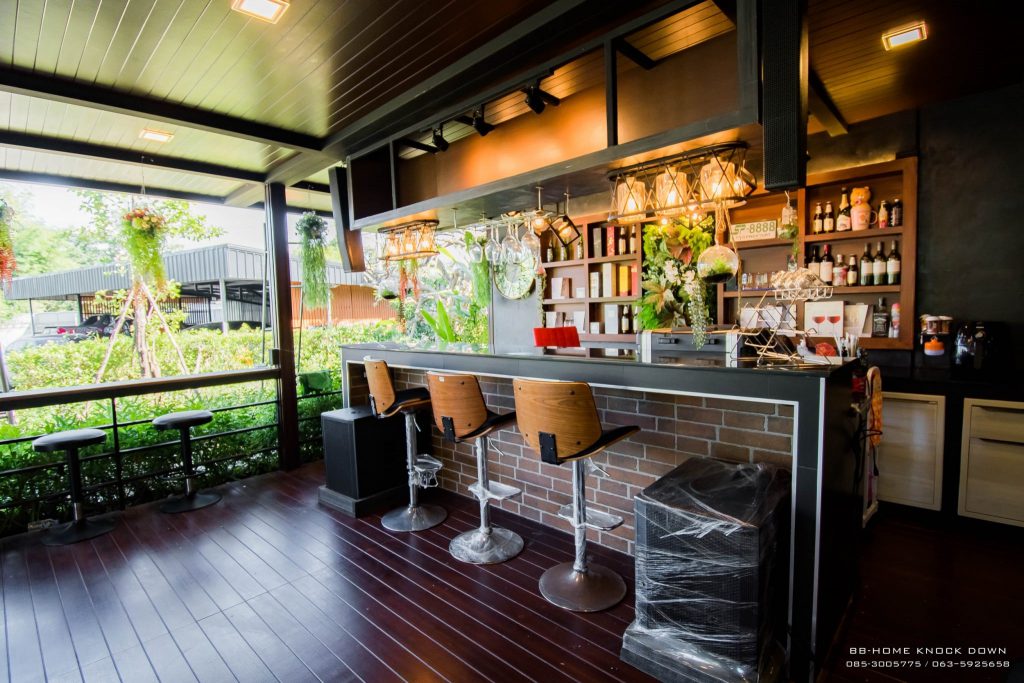 Beautiful atmosphere in the midst of the nature of the front garden.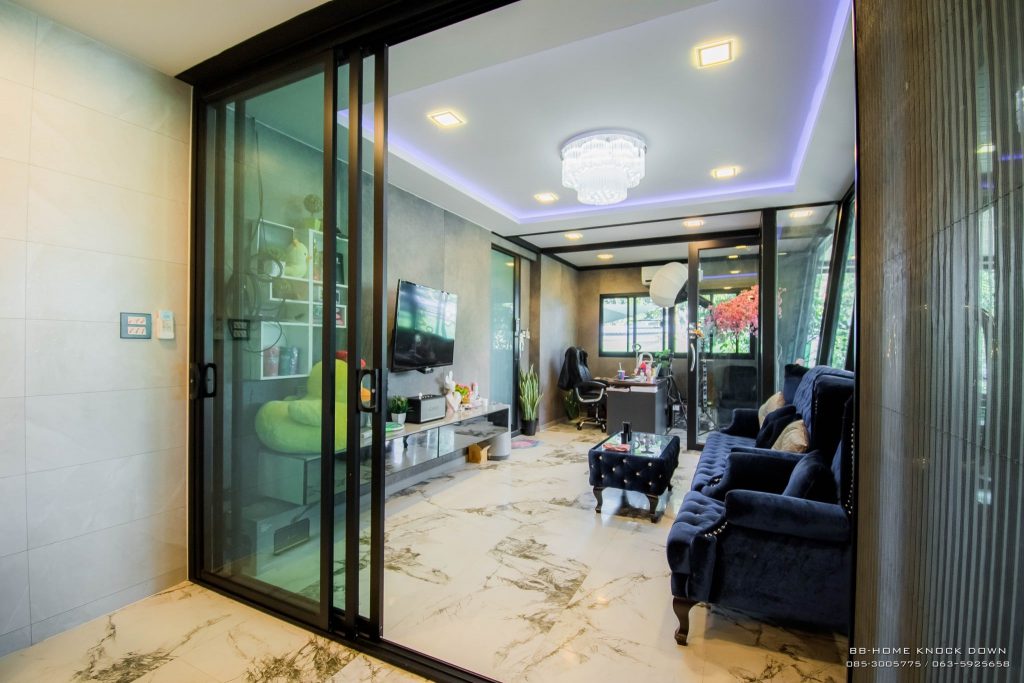 Living room, size 3.00*6.00 meters, exterior wall decorated with wood paneling patterned vinyl flooring smooth plastered ceiling aluminum window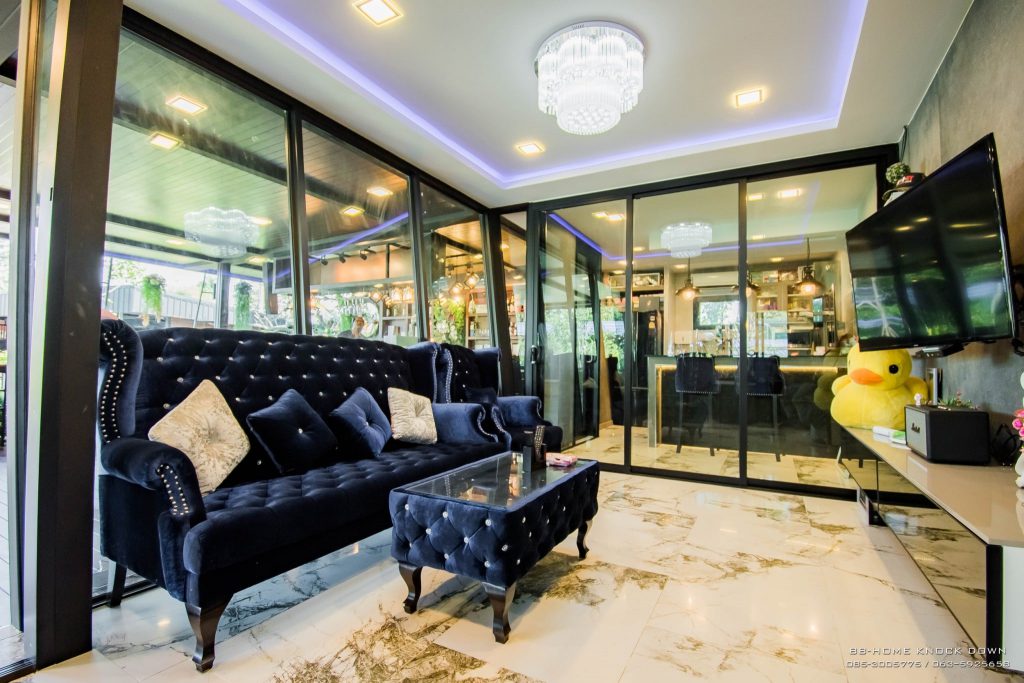 The owner of the house decorated it with Louis-style velvet furniture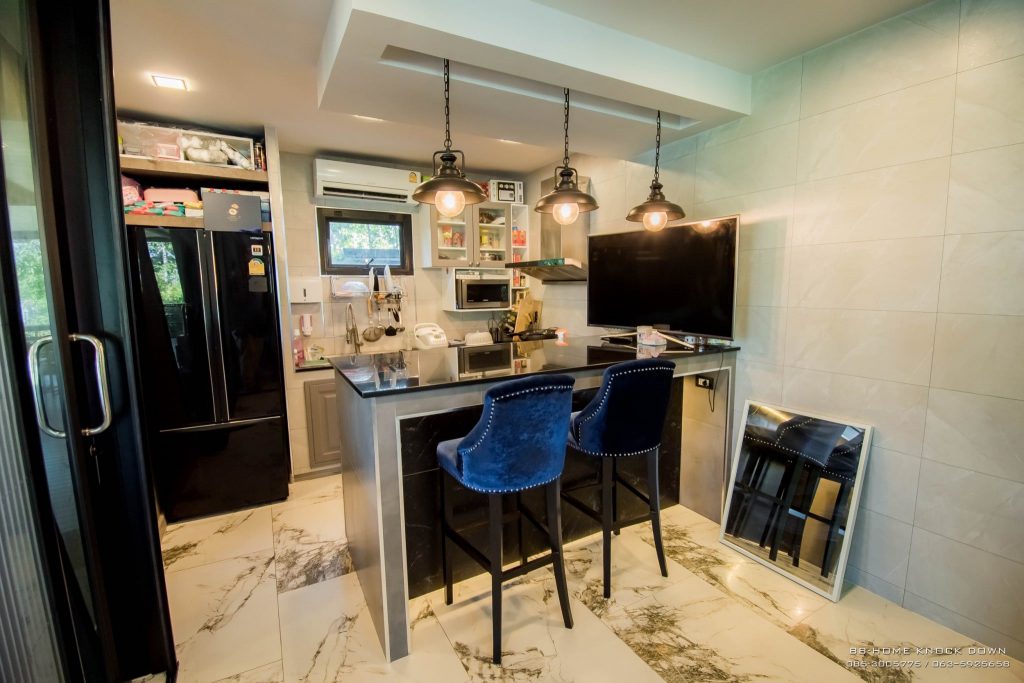 Small kitchen corner, size 3.00*4.10 meters, tiled wall Tiled floor with counter pattern, finished furniture, top black granite 1 hole sink, smooth plastered ceiling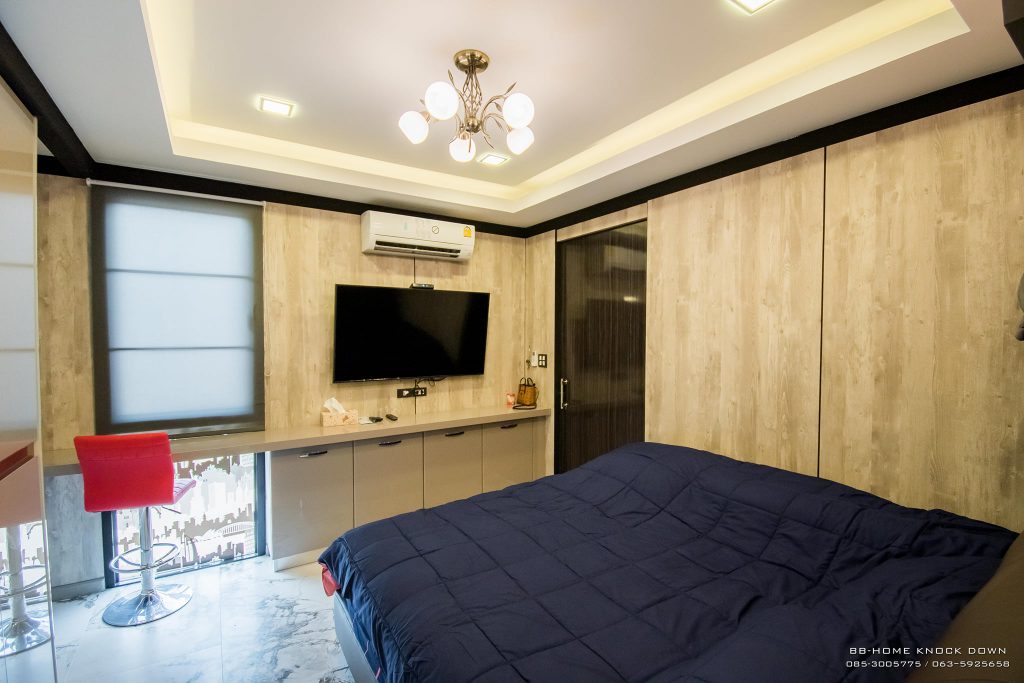 Bedroom 1, size 3.50*3.60 m. and Bedroom 2, size 3.00*5.10 m., with synthetic wood paneled exterior walls. Laminated interior walls The interior floor is tiled or vinyl flooring has a pattern. smooth plastered ceiling aluminum casement window furniture sliding door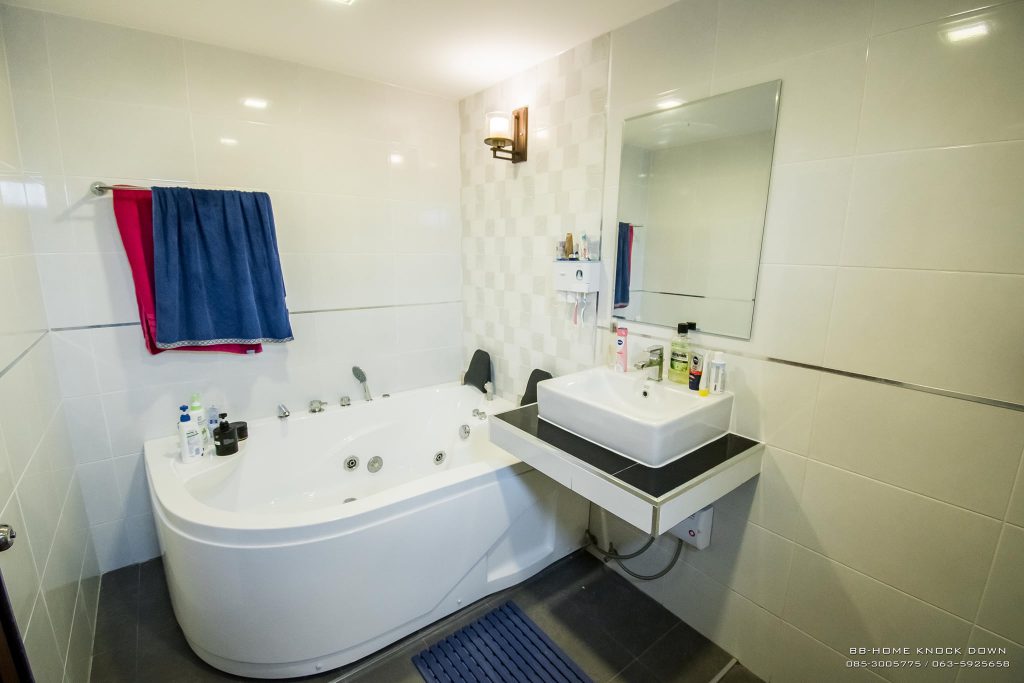 Bathroom, size 2.00*3.00 m., the interior wall is tiled patterned tiled floor Matt (rough face) ceiling, smooth plaster. The washbasin is placed on the concrete slab. Sanitary ware, flushing hose, UPVC door.
.
Credit: bb-homebanknockdown