Kevin Durant was among those in attendance for the second open practice of Washington Commanders training camp Friday.
The NBA star now playing for the Phoenix Suns grew up in the area in Seat Pleasant, Maryland, not far from the team's home stadium. Durant took in practice on the hottest day of the year so far from the suites atop the newly constructed bleachers on the sideline and was followed out by a group of fans, many taking photos or video and yelling, "KD!"
"It´s great to have KD here," coach Ron Rivera said after practice. "I know he´s a local guy. I know how much of a Washington Redskins/Commanders fan he is. Great to have his support."
Durant´s presence is the latest positive sign of the Commanders in the spotlight since the new ownership group led by Josh Harris and including basketball Hall of Famer Magic Johnson took over last week, when the NFL approved the $6.05 billion sale from Dan Snyder.
"It´s great to have the fanbase back," Rivera said. "This has been really cool the last couple days. It has. This is exciting. To have guys like KD come back and show their support means an awful lot to us."
Friday was the second consecutive day more than 3,000 fans braved the heat for practice at the team's practice facility not far from Dulles International Airport.
Phoenix Suns NBA basketball player Kevin Durant, right, watches a Washington Commanders NFL football practice at the team's training facility, Friday, July 28, 2023, in Ashburn, Va. (AP Photo/Stephanie Scarbrough)
"It feels good," safety Kam Curl said. "Everybody´s coming out to practice, all the stuff on social media. You feel the excitement, and that just gives us motivation to come out and play harder."
Running back Jaret Patterson, like Durant a Maryland native, said Thursday that seeing so many fans at practice reminded him of his days attending camp as a kid when the lines of Clinton Portis and Santana Moss were playing for Washington.
"It's a fresh start, new era," Patterson said. "It kind of gave me flashbacks. … Seeing the food trucks, seeing kind of a packed house and stuff like that, it´s kind of dope. It´s like reliving my childhood."
Phoenix Suns NBA basketball player Kevin Durant, right, watches a Washington Commanders NFL football practice at the team's training facility, Friday, July 28, 2023, in Ashburn, Va. (AP Photo/Stephanie Scarbrough)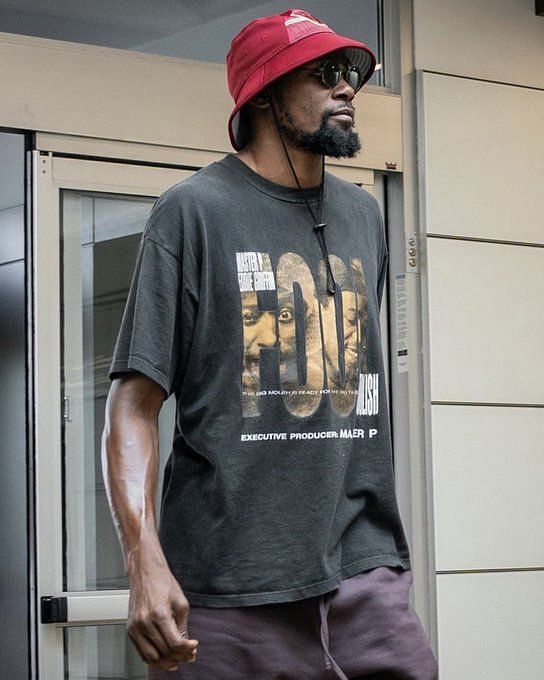 Now it's given me the extra edge. Too much of anything is never good, I needed to get back to the grind and hustle of going after something again. I love the chase and right now I'm chasing and I'm looking forward to getting my title back. She's got a brand new title and it's shiny and cute so I want it.
AM: I remember you had more of an edge in NXT, a bad guy, that's what people would say. You really found your groove as the person everyone can root for, kids look up to you, do you feel more comfortable that way?
BB: It's funny because in NXT with the Bianca Belair there I found my groove then and I loved it. But then when I came to Raw and Smackdown I felt like I found another groove that was inspiring to others and I saw how it was touching others and it wasn't just me impacting people inside the ring, I was impacting people outside the ring and that's what stuck with me.
I loved it and I still love it. So right now I feel like I'm a bit in between. I'm still in the groove I found when I got to main roster but there's a little bit of the NXT Bianca Belair coming back. I feel like I've been playing by the rules, but then I'm seeing other people that aren't and it's like, wait a minute, hold up, let's figure some things out.
AM: Speaking of inspiring, your entrance at WrestleMania blew people away and then we learnt the significance of it too and there was barely a dry eye in the house. How was that to be able to do that on such a stage and make it so special for her too?
BB: That's what it's all about and why I love my position in WWE and what I can do. It's not just about me, I want to use my platform to inspire and uplift others and give them that representation and I was able to do that at WrestleMania.
+8
View gallery
Belair became the longest-reigning Raw women's champion in history before losing her title at Night of Champions
+8
View gallery
She's now bidding to win her belt back after bursting onto the scene on the main roster
My favourite thing is to see the mini ESTs. I was at a meet and greet one day and there were so many, and it was like, they're a part of this, I need to figure out a way to make them part of WrestleMania, so I found the dance group in California and I had a lot of help. Everyone hearing about her story, giving her that special day, it was just special and everyone felt it and I want to do things that make people feel.
AM: John Cena said he found it hard to turn because it meant so much to him doing those things like Make a Wish and influencing those children. Similar feelings?
BB: Very similar feelings. It's a feeling that sticks with you outside the ring. We can't be inside the ring every hour of the day. Those are the things that mean the most to me, the impact I have outside.
I have the same feeling that he felt. I hear everybody like turn heel and I'm like, hmmm.
AM: Let's talk about some of the feuds. You and Becky, you and Charlotte. There seems to have been that respect that's really developed. They say battling alongside each other makes good friends. How's that been for you getting to the main roster and having these major programmes with people that have been there a while and led the women for the last decade or so? Not only have you risen to superstardom yourself but you're earned their respect and become friends with them.
BB: I've been very blessed and fortunate to work with amazing women. Especially when I came to main roster, one of the four horsewomen I first worked with was Bailey. I learned so much from here and still am. I think she is so amazing with what she does for herself and who she steps into the ring with. She contributes so much to this division and is so selfless.
Becky Lynch. I've learned so much from her. When I came in I feel like I just wanted to be led, and I was comfortable with that so I could share these amazing stages. Hopefully I get to work with Charlotte Flair more in the future and I think the position they are in is amazing.
+8
View gallery
Belair was involved in a year-long feud with Becky Lynch, who is now considered a good friend
+8
View gallery
She's now working with Charlotte Flair (pictured) and Asuka and could face the duo at SummerSlam
I can't wait until I get to that position where I have so much equity and have done so many things and have had so many title reigns where I can start giving back and doing for others what they've done for me. I feel like I'm working my way towards that position and developing these friendships with them. Becky and I, we didn't start on the best of terms, going all the way back to SummerSlam, but respect builds and got develop friendships along the way.
AM: At SummerSlam there were so many fans mad about it. But the story that ended up getting crafted from it, everyone could argue you ended up richer for it. Was that a learning thing for you as well, telling the story the long way?
BB: I will say initially it was hard. Like, why is this happening, did I do something wrong? John Cena was there that night and he shared some words with me and helped me see the bigger picture. His words will always stick with me.
I was thinking about 26 seconds SummerSlam the other day, and I got to main event WrestleMania. That did a lot for my career, but the 26 seconds did just as much and in the long run it really worked out.
I'm so proud of the work Becky and I did. A full year storyline that we brought full circle and she advocated and worked for that. It really worked out for me.
+8
View gallery
Belair said she was star struck by Kelly Rowland at the Kids' Choice Awards and was able to introduce herself
AM: I have some quick fire… When was the last time – and who were by – you were star struck?
BB: It was at the Kids' Choice Awards and it was Kelly Rowland! I feel like I have to tell that story. I grew up watching her and I passed her in this doorway and I went to talk to her and I was like, wait, she don't know me. So I just kind of did this weird point. And she looked, but later I got to see her and I was like, hi really weird earlier but really big fan, and I got to introduce myself.
AM: Is there anything you hate about the gym?
BB: I do not like dead lifts, even though I can dead lift a lot. I have a bad back. And I'm not a fan of snatches, all that weight over my head, and I do not like cardio, stationary, same pace cardio. No.
AM: You had all these records in NXT?
BB: Dead lift was one of them!
AM: If someone breaks it will you go back?
BB: Nope. Records are meant to be broken so please break my record. I will break other records.
AM: Who is your best friend you've made in wrestling?
BB: My husband is my best friend, hands down, all day, every day, inside and outside of WWE.
+8
View gallery
She aid that husband and fellow WWE star Montez Ford is her best friend inside and outside of WWE
AM: He should be! A joker in the dressing room?
BB: Bayley. She is funny and Shayna is very funny.
AM: Any other jobs you've had that aren't wrestling?
BB: I used to work in high school at a rec centre, and then I used to sell direct tv in Walmart. I worked at the bank, I was bank teller, then I was a receptionist, then I sold flavours. That was my job before I got into WWE.