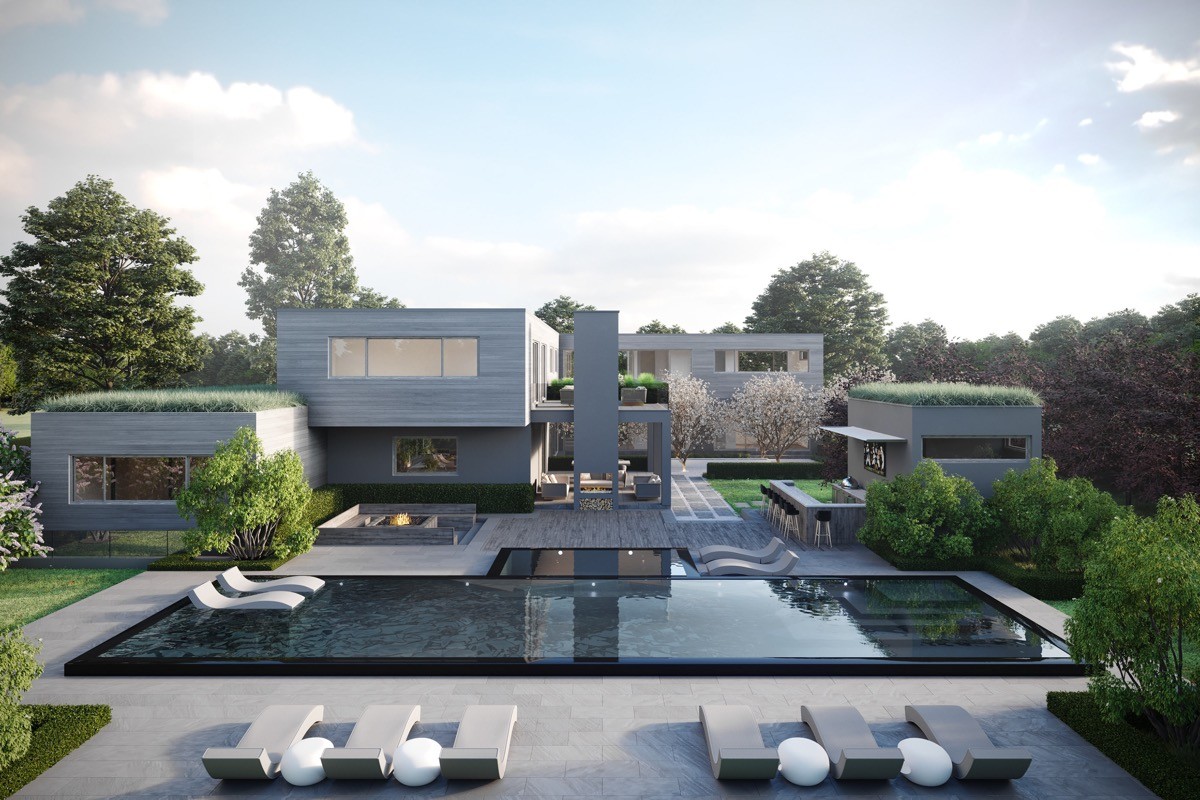 |
Architect: Jason Thomas
Visualizer: The Craft
A complex of cuboid volumes land around an impressive terrace for entertaining. A covered outdoor lounge is attached to the main mass, whilst an exposed fire pit nestles into a niche created by two volumes and an outdoor bar hooks up to the pool house. Green roofs on the outermost volumes integrate the build into the gardens green borders.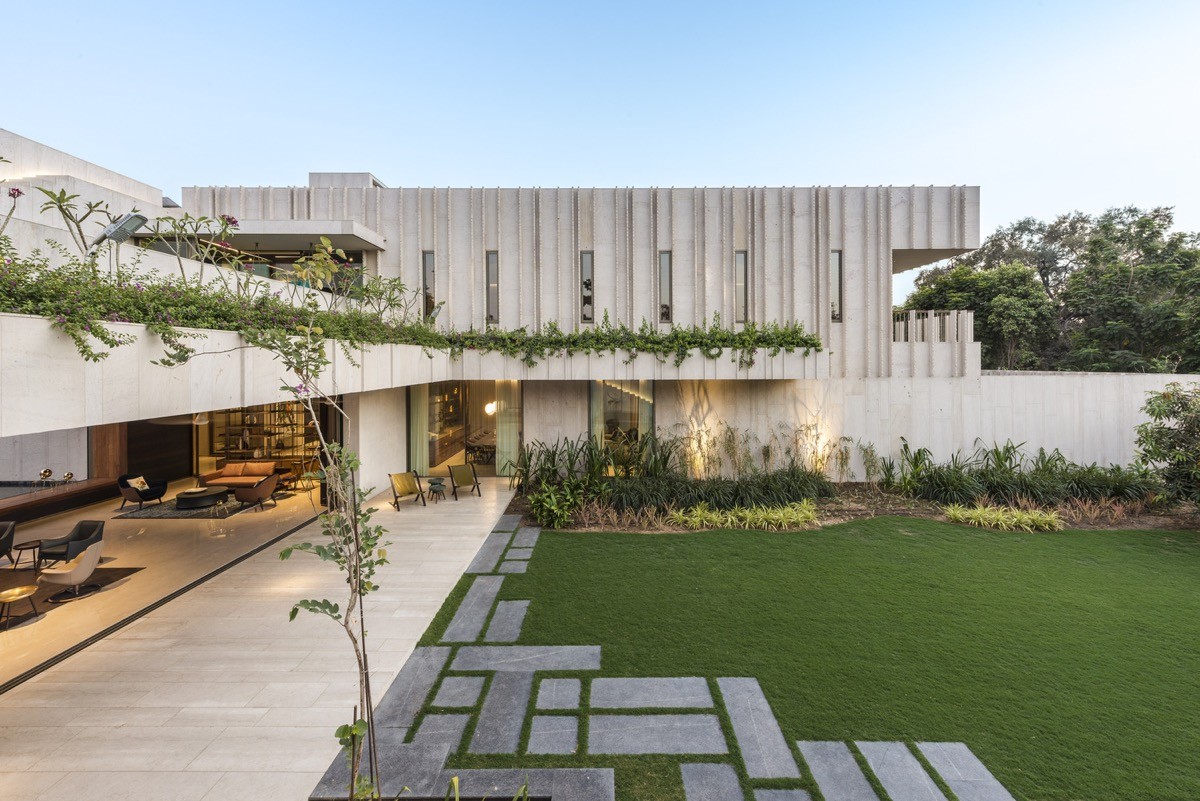 Speaking of green borders, this ribbed sandstone house design includes a lengthy planter fused along the whole length of its upper floor.
|
Visualizer: Igor Miranda
Cantilevered from the cliff, raised on stilts from the rockface, great linear slabs push out into the blue. Exterior lights beam to highlight the split between floors and canopies.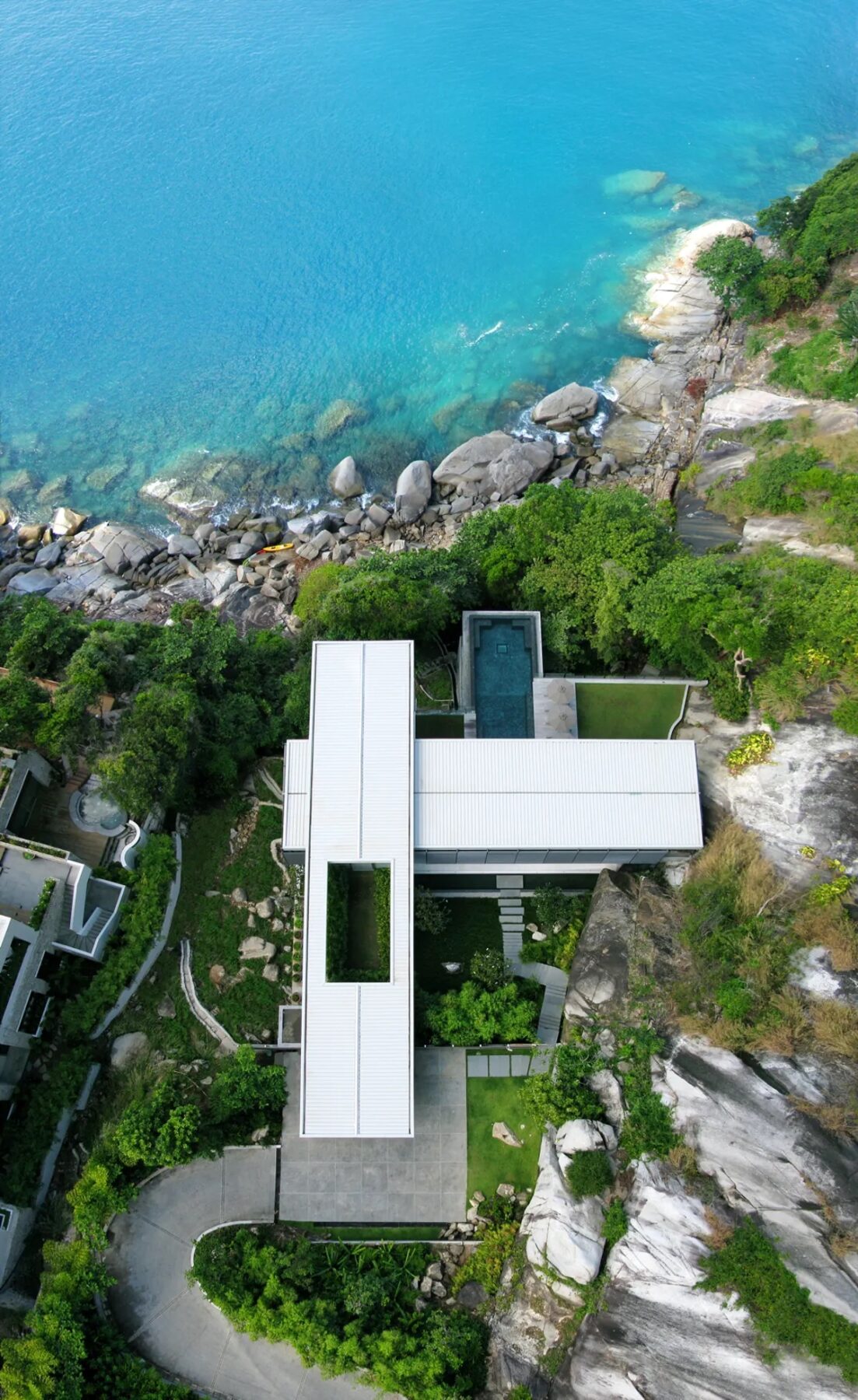 |
Architect: Original Vision
Villa Amanzi looks out over a cliff in exclusive Cape Sol in Thailand. Its swimming pool probes forth on the landscape, seeking to join the sea. See more pictures here.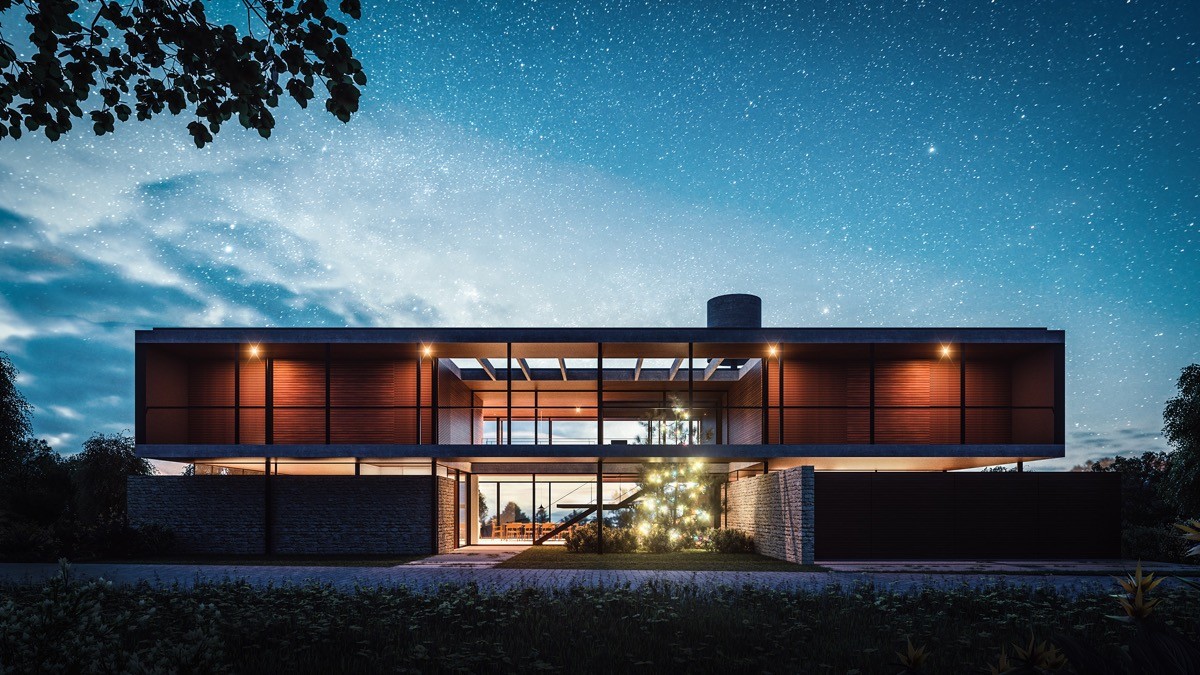 |
Visualizer: Torquatoregis
This chic modern house exterior uses glass to reveal the heart of the home, and to open the upper floor up to the stars. Privacy walls cover the glazed lower wings of the house, whilst wood clad interior walls hide away private quarters on the second story.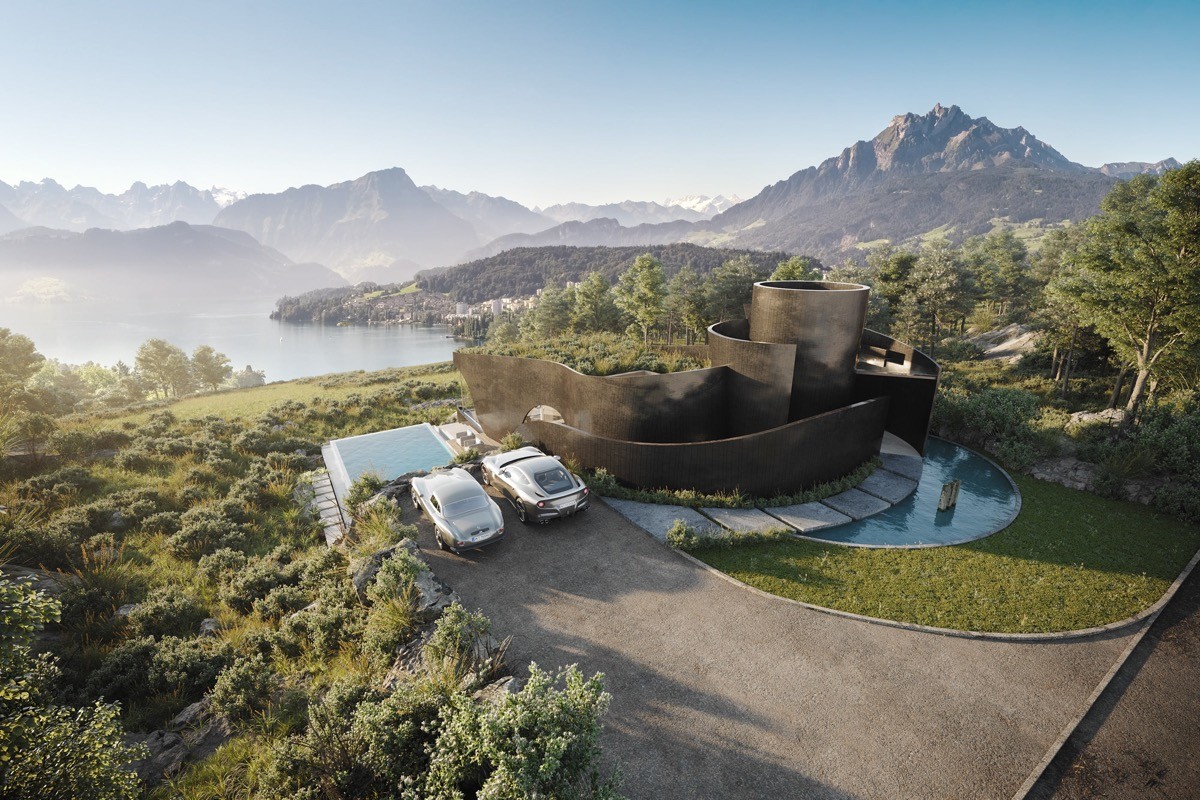 Swirling, curling lines draw a welcoming driveway, a rounded reflection pool and a curvaceous abode that embraces itself and its stunning setting.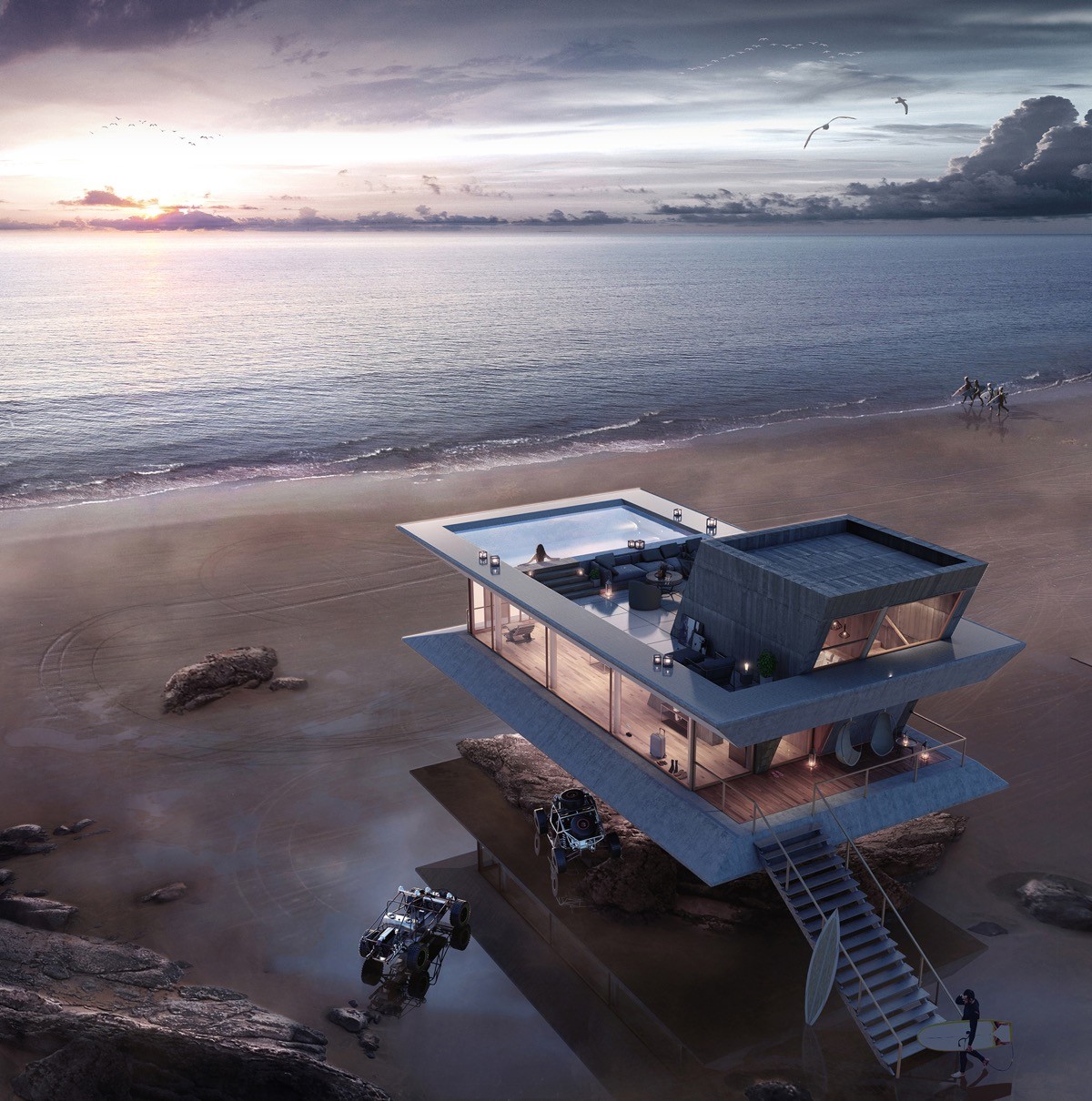 |
Visualizer: Ioan Ralea-Toma & Vlad Andrei Popa
Like a souped up lifeguard lookout station, this luxury beach home surveys the sea and coastline through four sides of glass. The rooftop pool deck is more reminiscent of a luxury yacht, complete with 'control room'.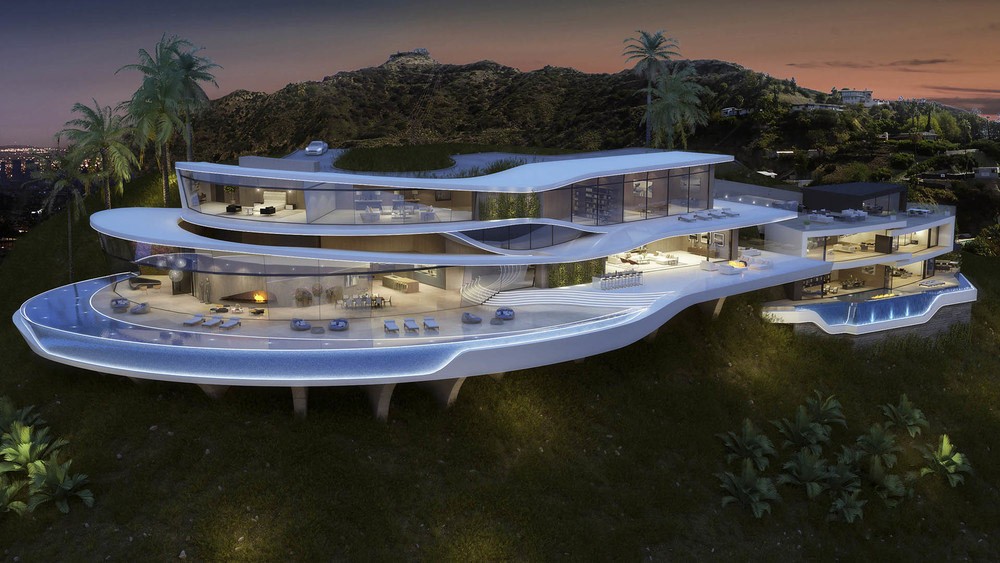 |
Visualizer: Vantage Design Group
From yacht to Starship Enterprise, this sweeping futuristic concept includes a horseshoe pool and living area, and a rooftop driveway.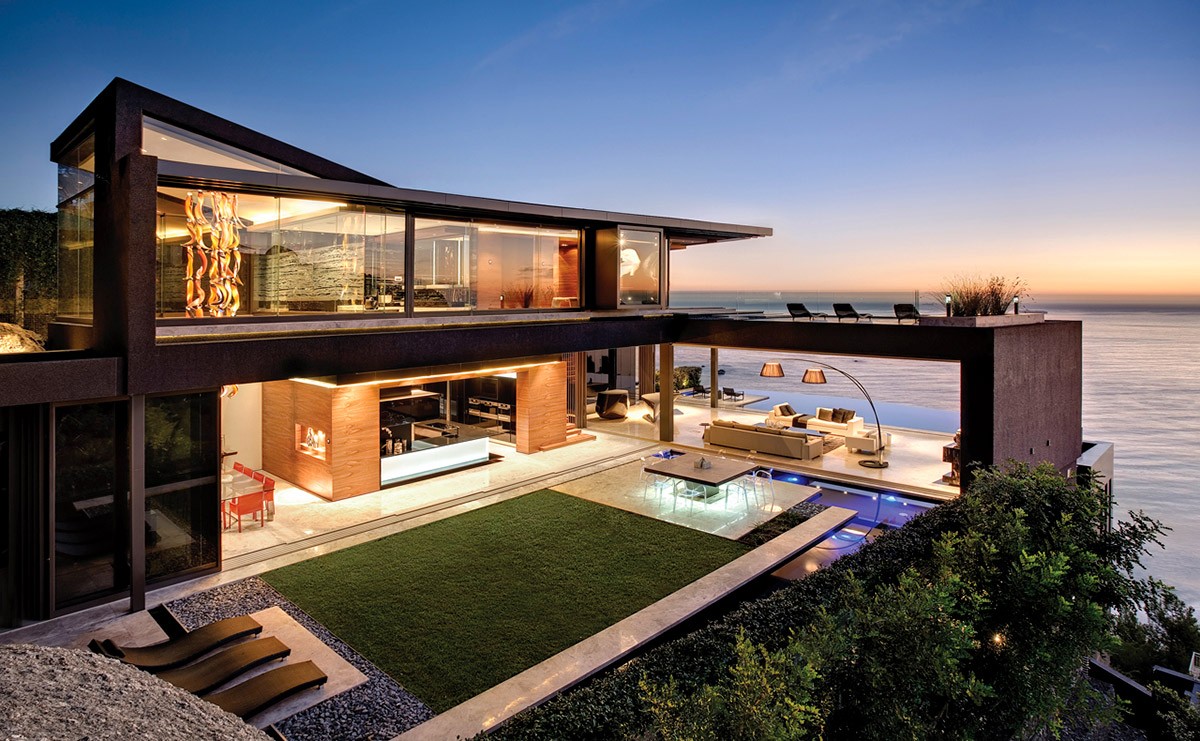 As though one massive garden room, every wall of this L-shaped living space retracts to adjoin with its green outdoor space or breathtaking view over the front terrace.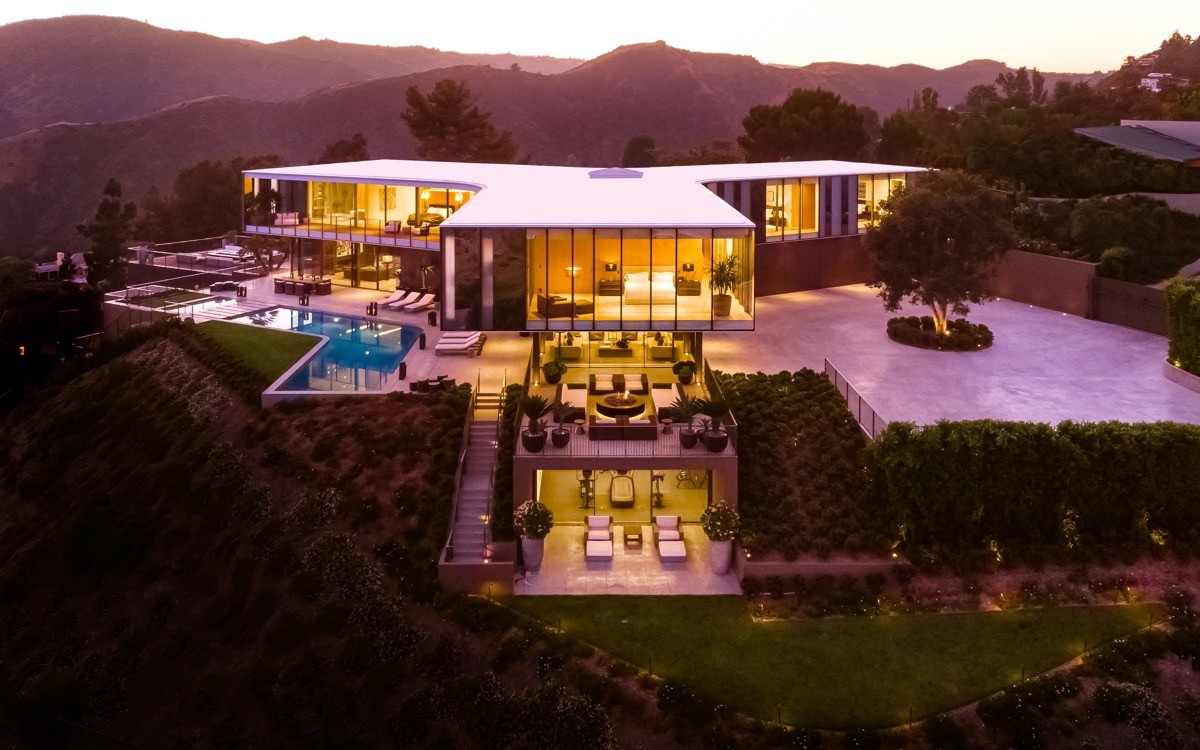 The Orum House stands on a 1.6 acre lot. An impressive swimming pool and 6000 square feet of covered terraces & outdoor decks increase the indoor living space of a central Y-shaped mass. More images here.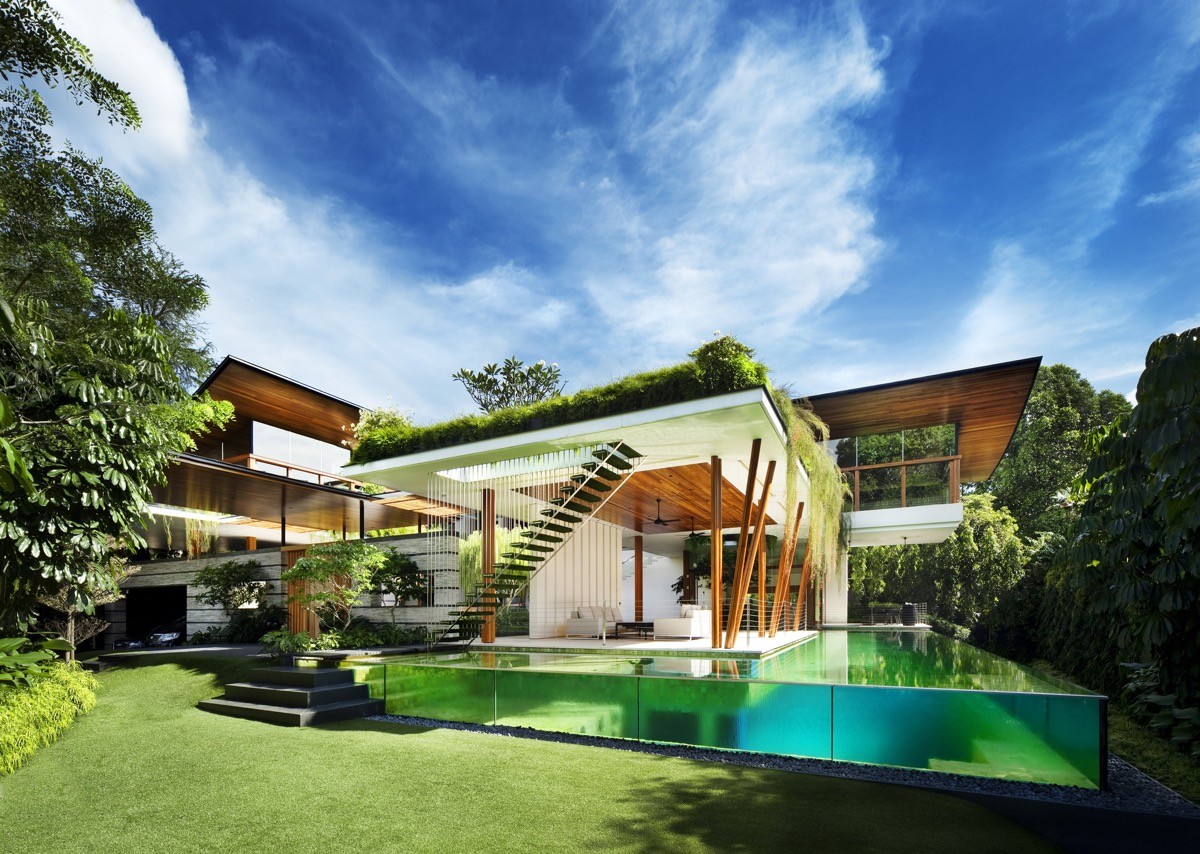 |
Architect: Guz Architects
An exterior staircase is suspended on string-like balustrades into a verandah living room with an acrylic sided swimming pool. Open sided outdoor rooms were designed to encourage interaction between family members and to embrace the tropical climate of Singapore. A rooftop garden crowns the lush urban oasis. More images of this beautiful home here.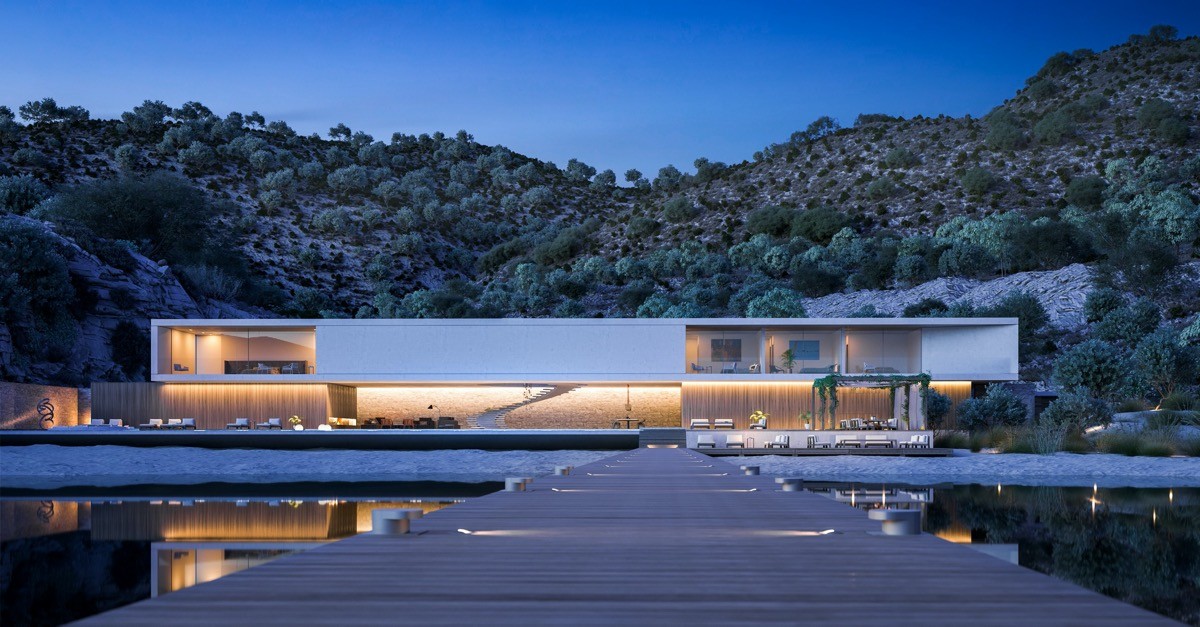 Slick linear architectural form echoes the pristine coastline. Bedroom suites line up to enjoy the viewpoint from second story glass cubes.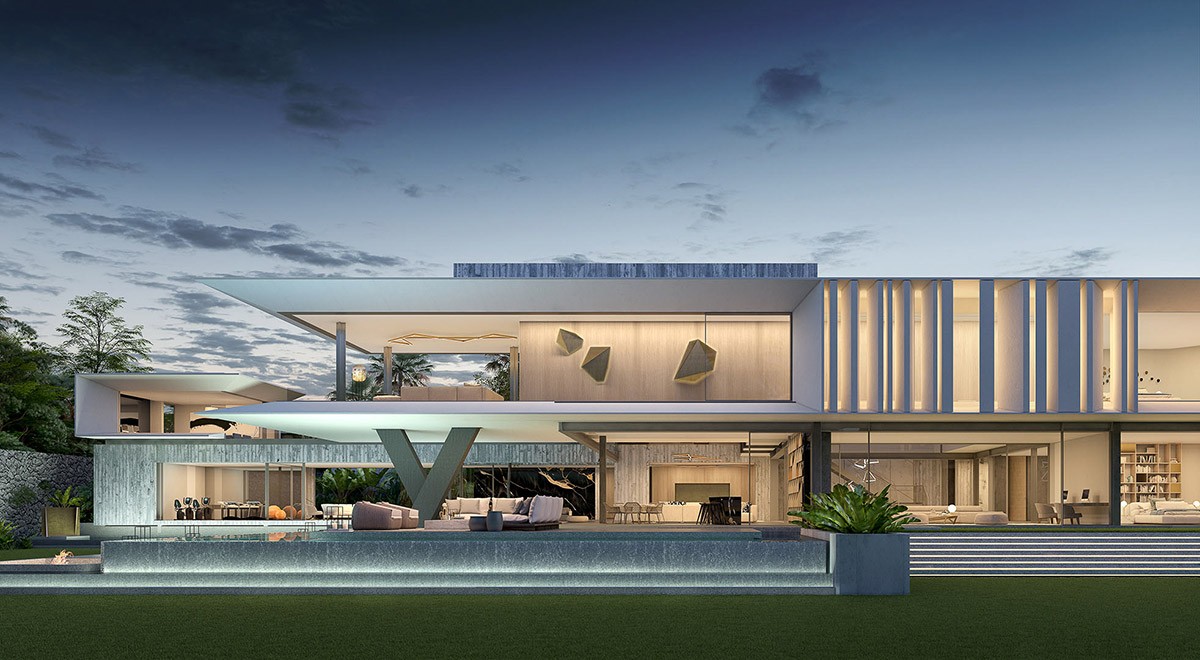 An enormous V frame holds up the open top story of this spectacular abode, which melds into a shuttered volume of bedrooms. Sharp overhanging eaves shelter the living areas from direct sunlight.
A massive pool floods around the perimeter of this tropical home design, making outdoor living areas into peaceful rafts.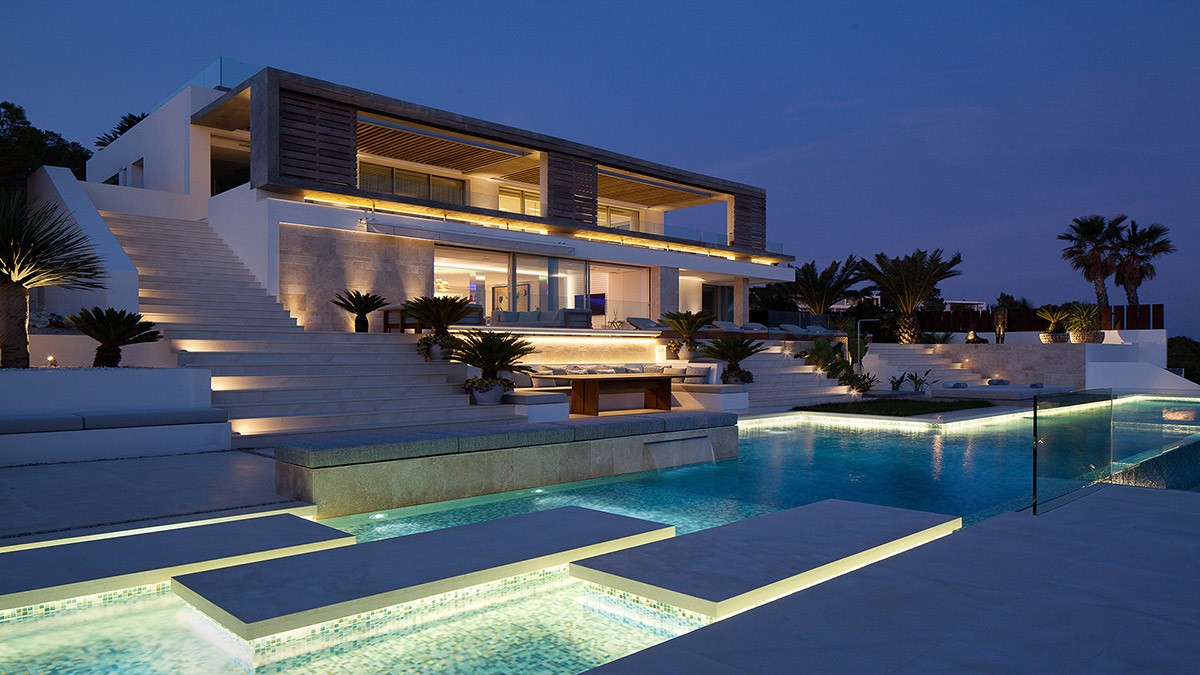 Concrete steps cascade to a glowy crossing of stepping stones. Theatrical, magical, and monumental.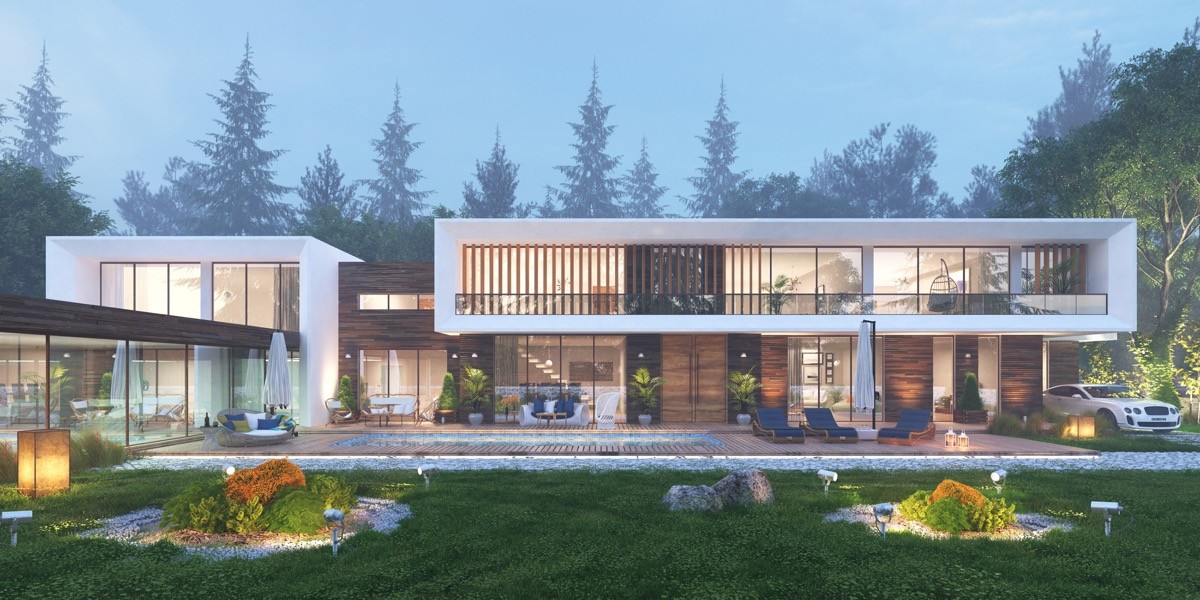 |
Visualizer: Massar Studio
Wooden planes cut through white structure, and hang a warm backdrop for an elongated sun terrace.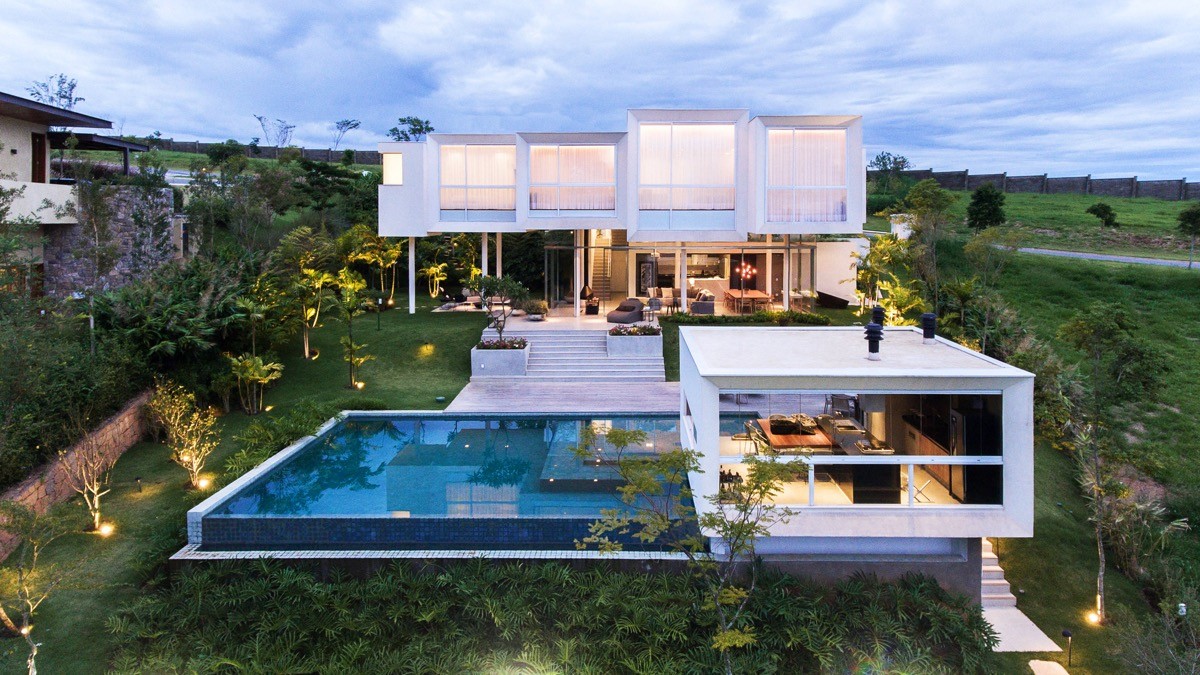 |
Architect: FGMF Arquitetos
Pretty boxes on the hillside, stacked, tacked and tucked back from a second family living space built by the pool.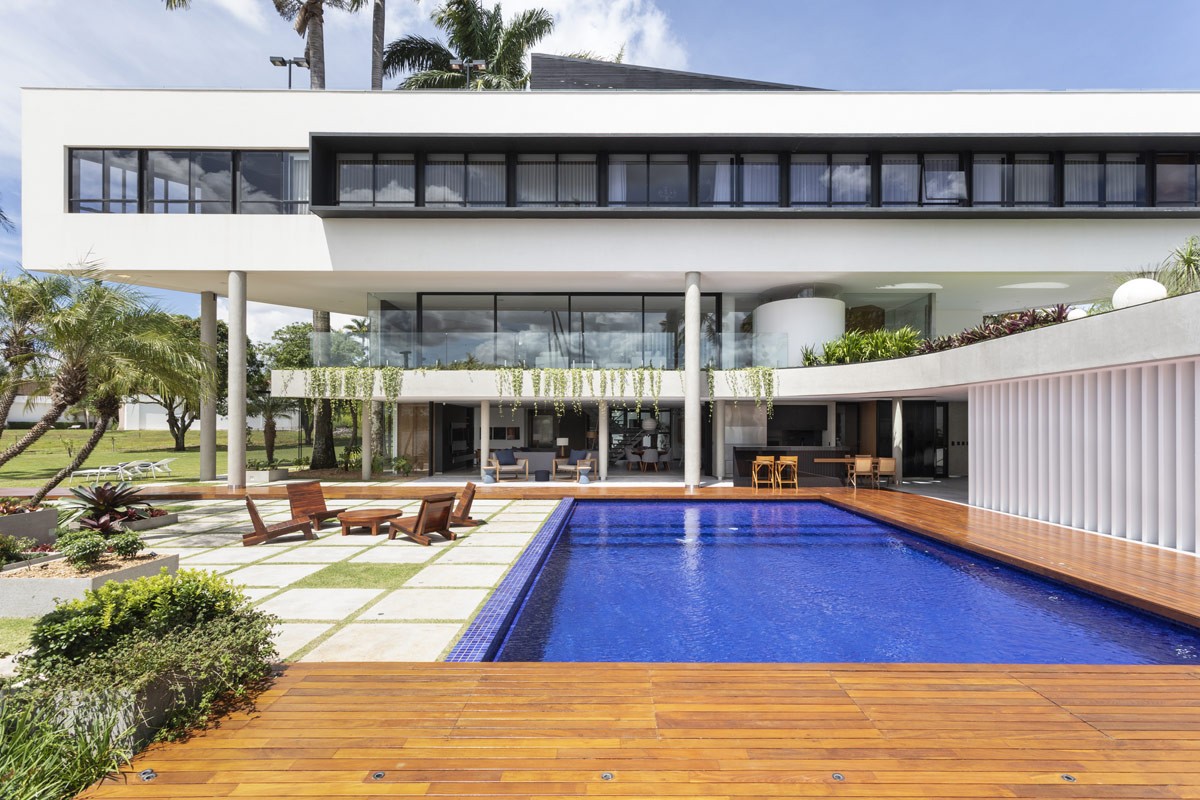 |
Architect: Estúdio Cláudio Resmini
The 1200 square metre South Lake House renovation project in Brazil preserves the original triangular form of the uppermost floor, held in structural independence from the rest of the house. See more of this impressive mass renovation project here.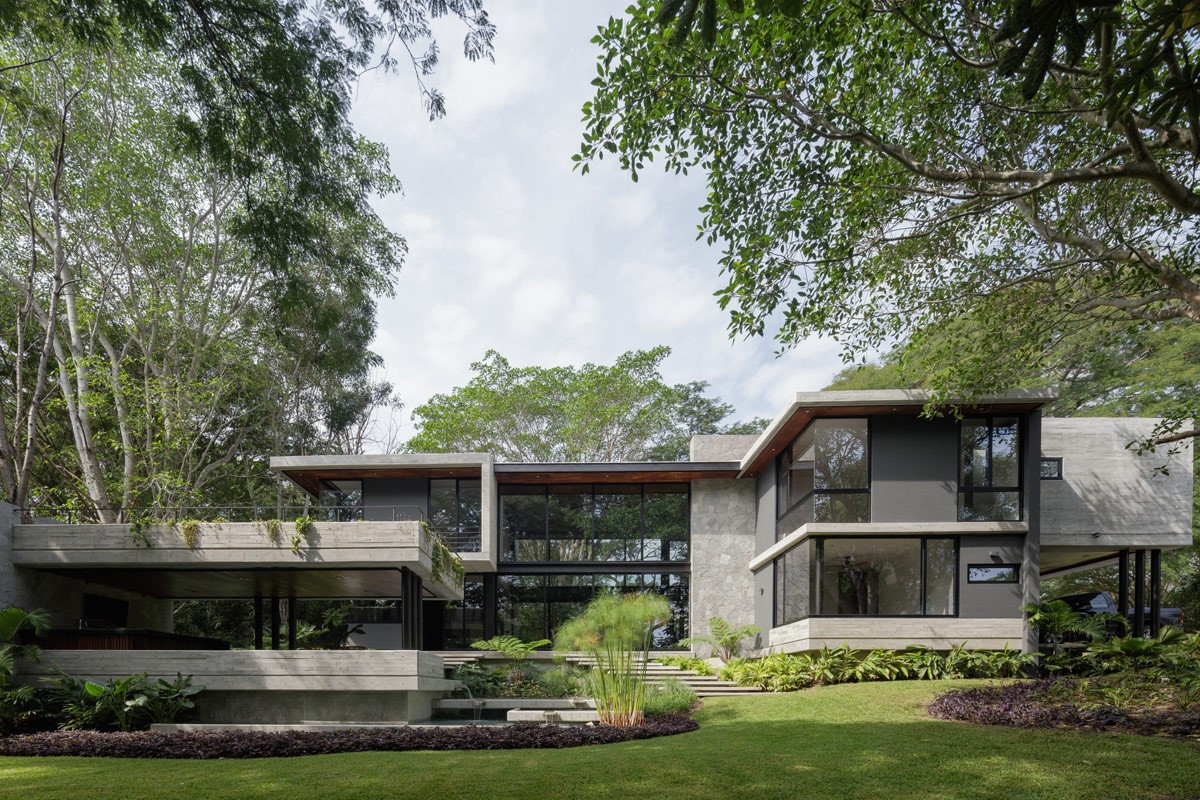 |
Architect: Di Frenna Arquitectos
Man-made in nature, Casa Entreparotas was built on a site with existing plantlife and a babbling stream in México. The jungle atmosphere inspired a palette of stony colors for the home exterior, like a lost ruin. A series of routes were incorporated to circulate the vast house and wild borders. Explore more of this home here.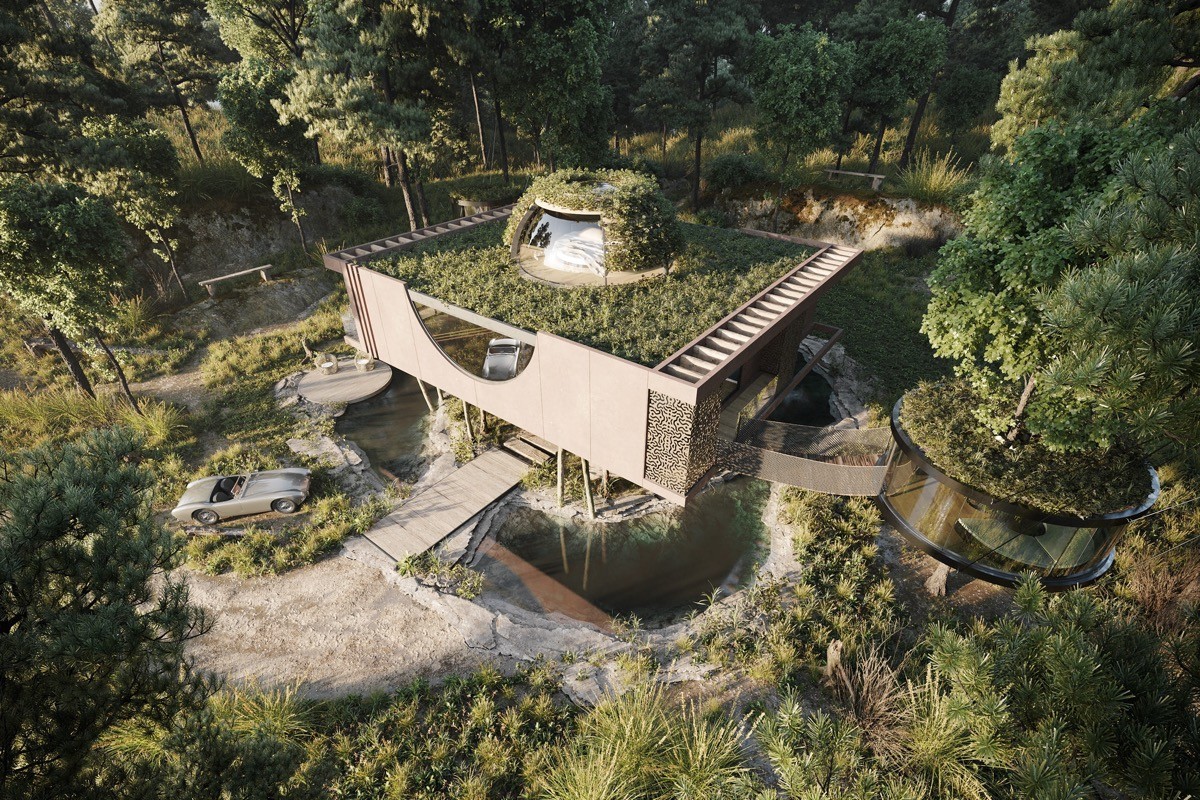 However, if you really want to blend with the natural habitat, you can't go much further than rooting a huge tree right on your roof.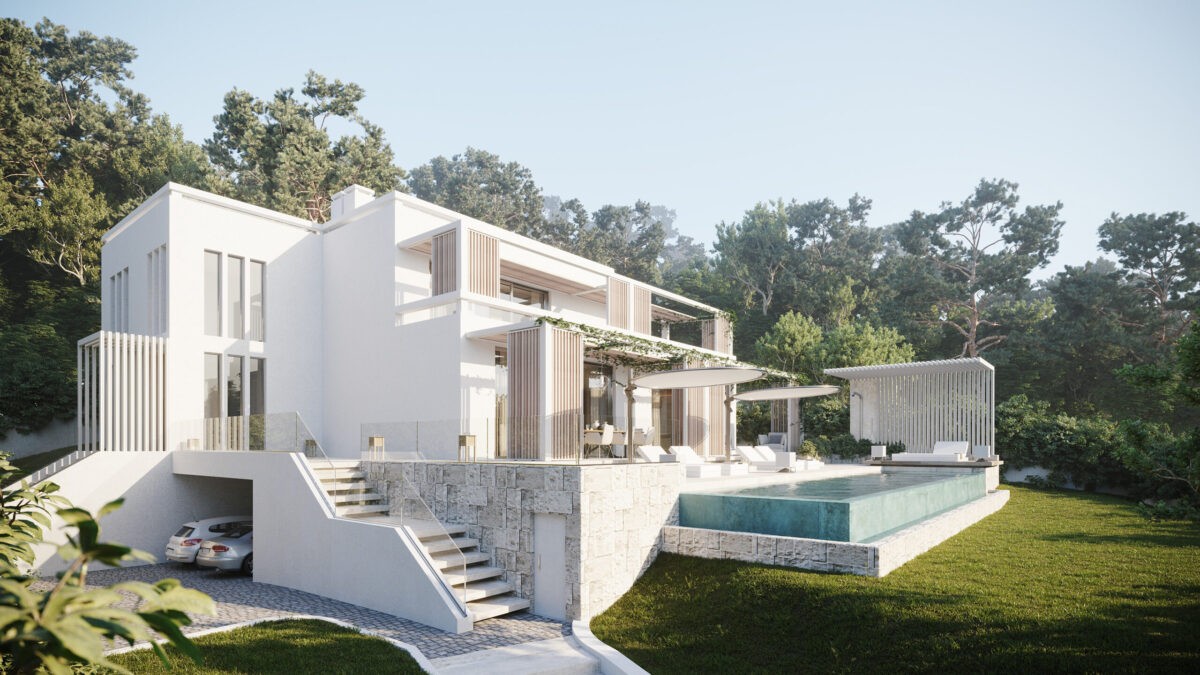 Like a modern play on a colonial home, this home exterior is imposing and dignified. Its elevated position puts it up on a pedestal, right where it belongs.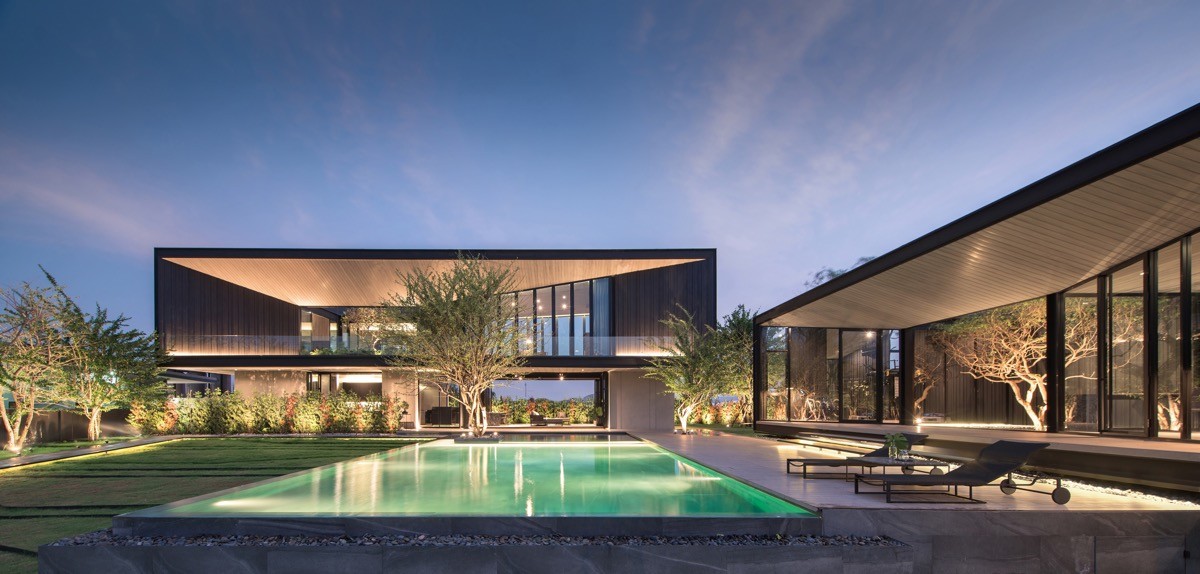 |
Architect: Octane Architect & Design
Architects had complete freedom to design this unique house as if it were their own. External walls and ceilings were converged into oblique angles, so that rainwater pours toward the centre of the roofs before rushing down into the courtyard like a waterfall. Read more about this special design here.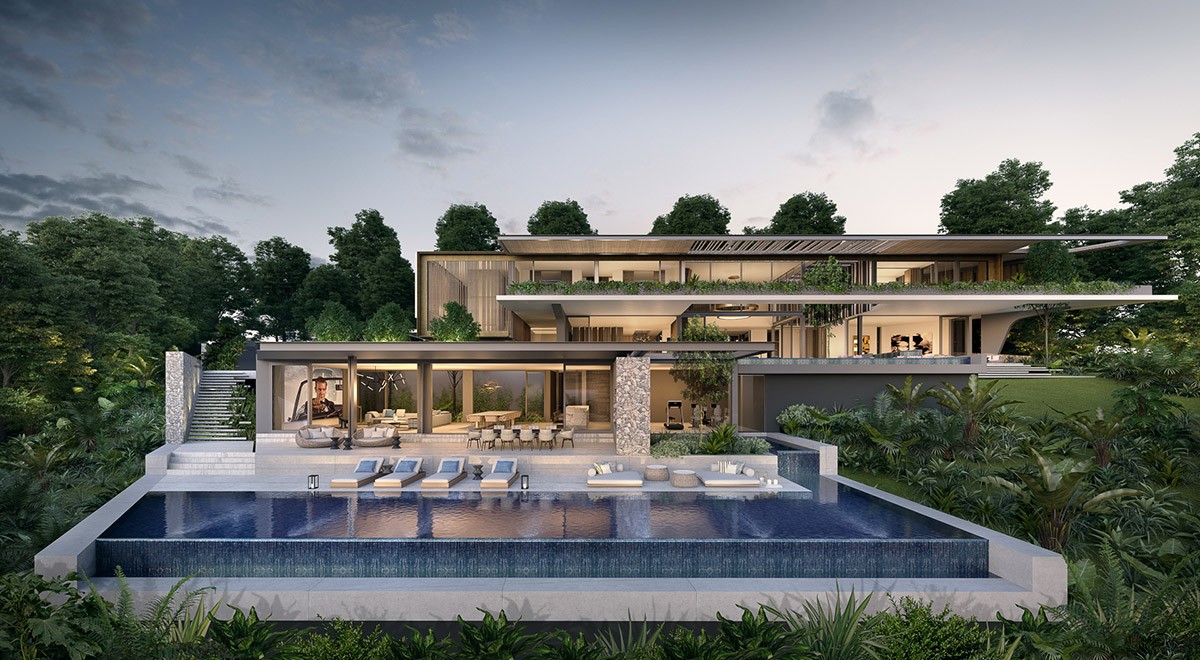 Long lines look sublime, especially when accentuated with a straight and stretched outdoor pool.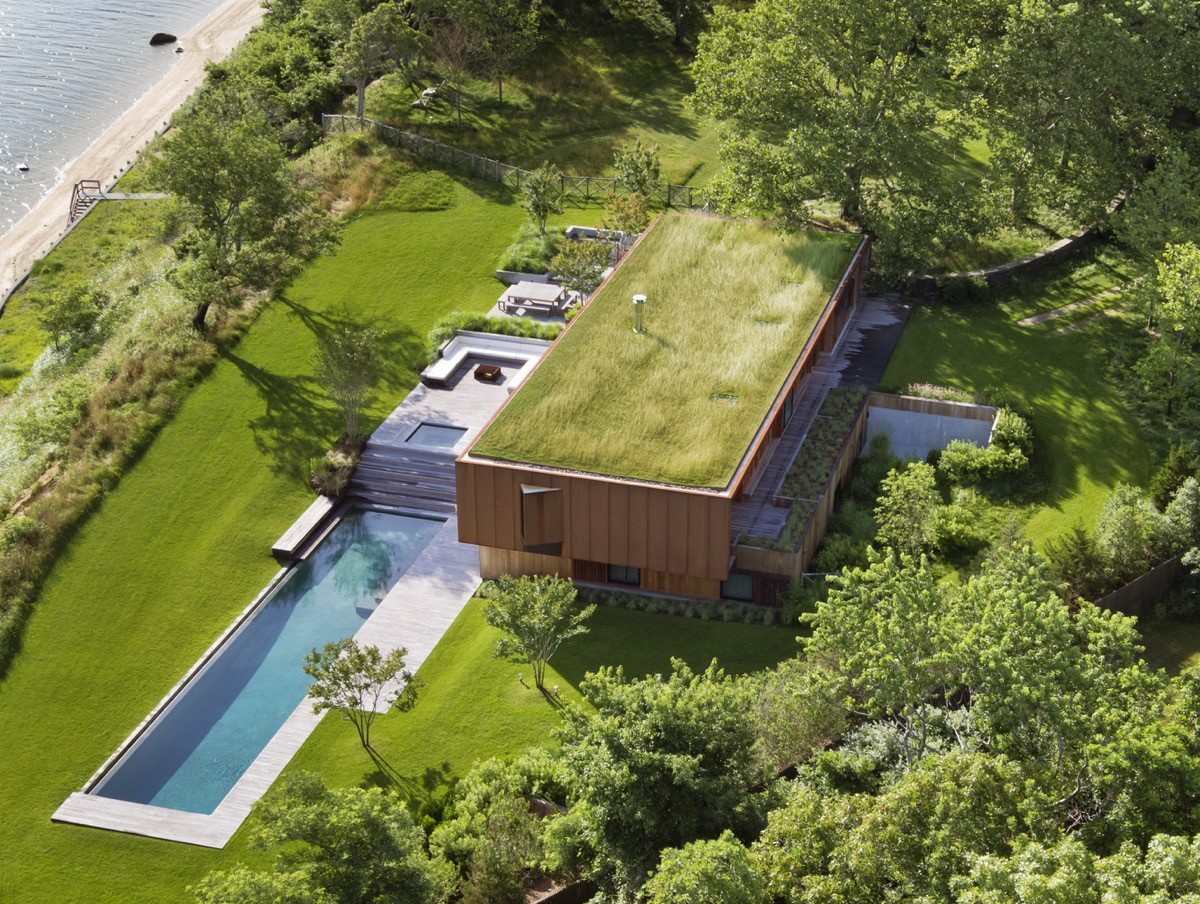 The layout of this 4000 square foot family retreat in Hampton Bays incorporates the latest strategies in sustainable design. The existing tree arrangement and natural fauna of the site was protected, and a green roof helps pay back a chunk of what was removed. More images here.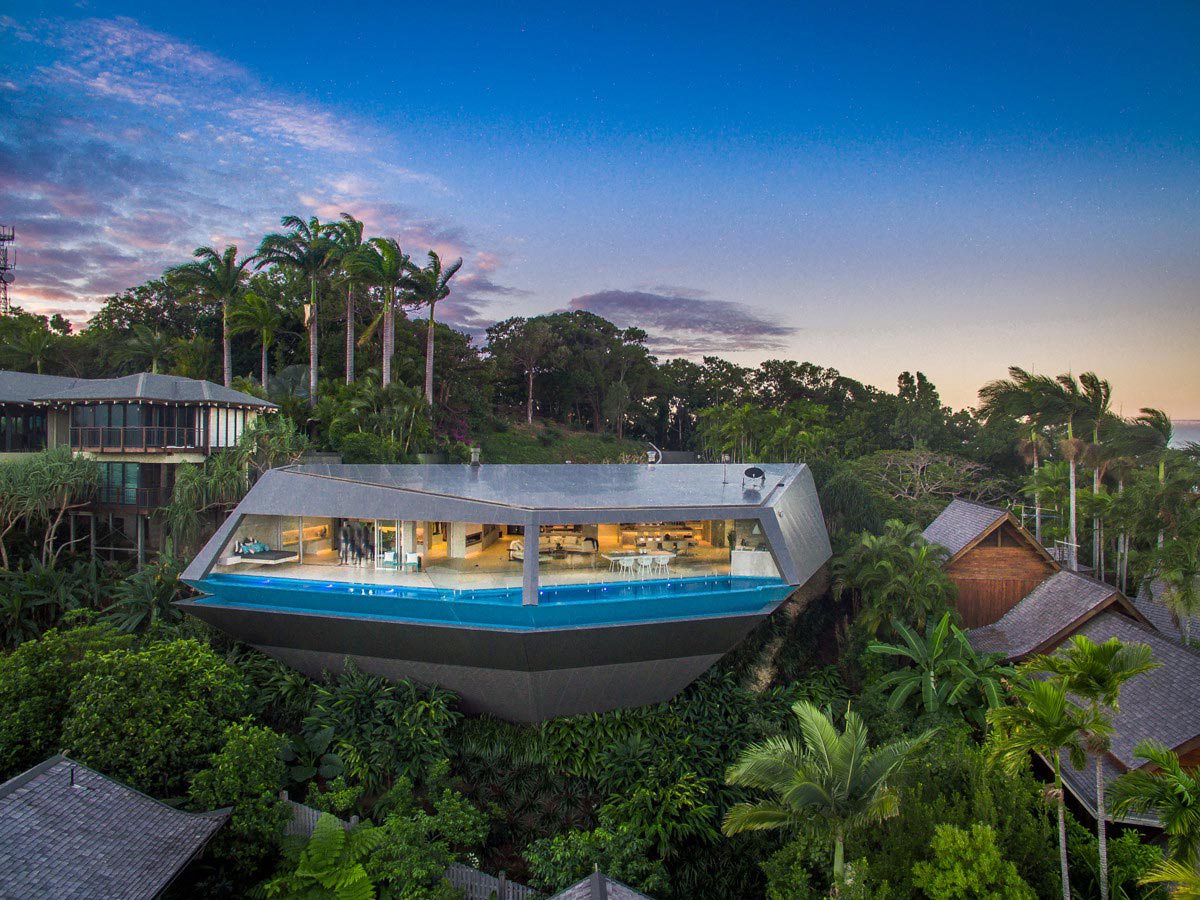 |
Architect: Charles Wright Architects
A terrific take on a treehouse, this geometric marvel skims the top of tropical palm trees.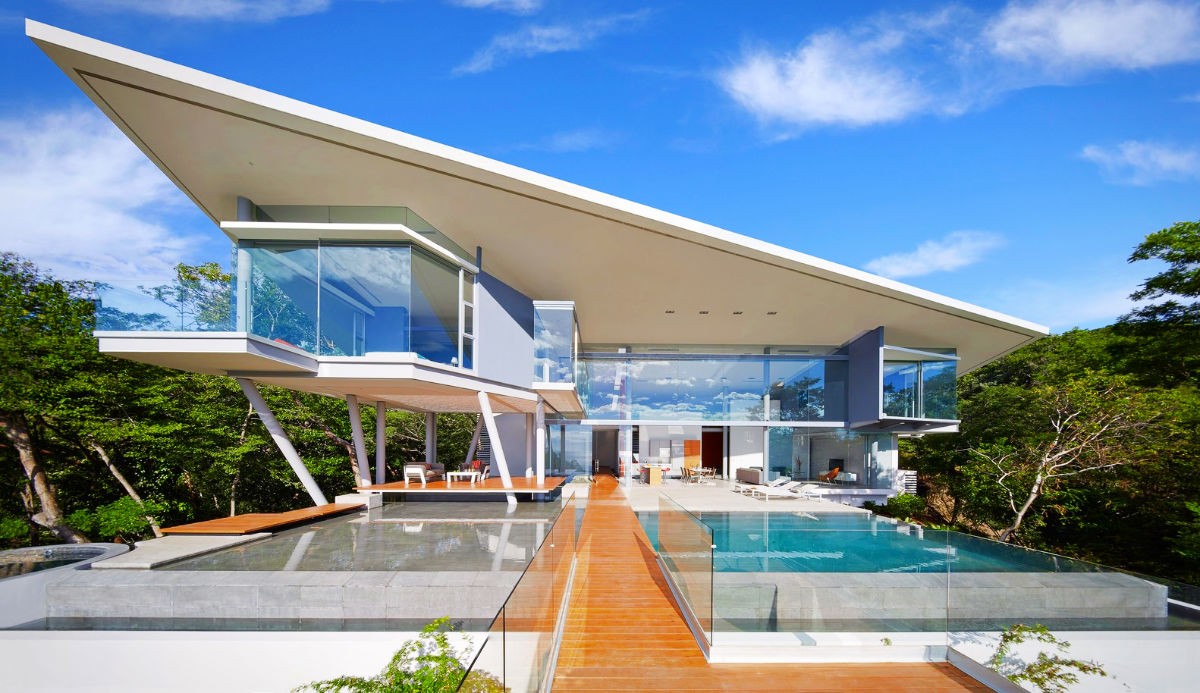 |
Source: The Pinnacle List
Differences in heights, scales and views allows residents of this stunning modern house to revel in the sun and sea breeze, and views of the ocean and forest.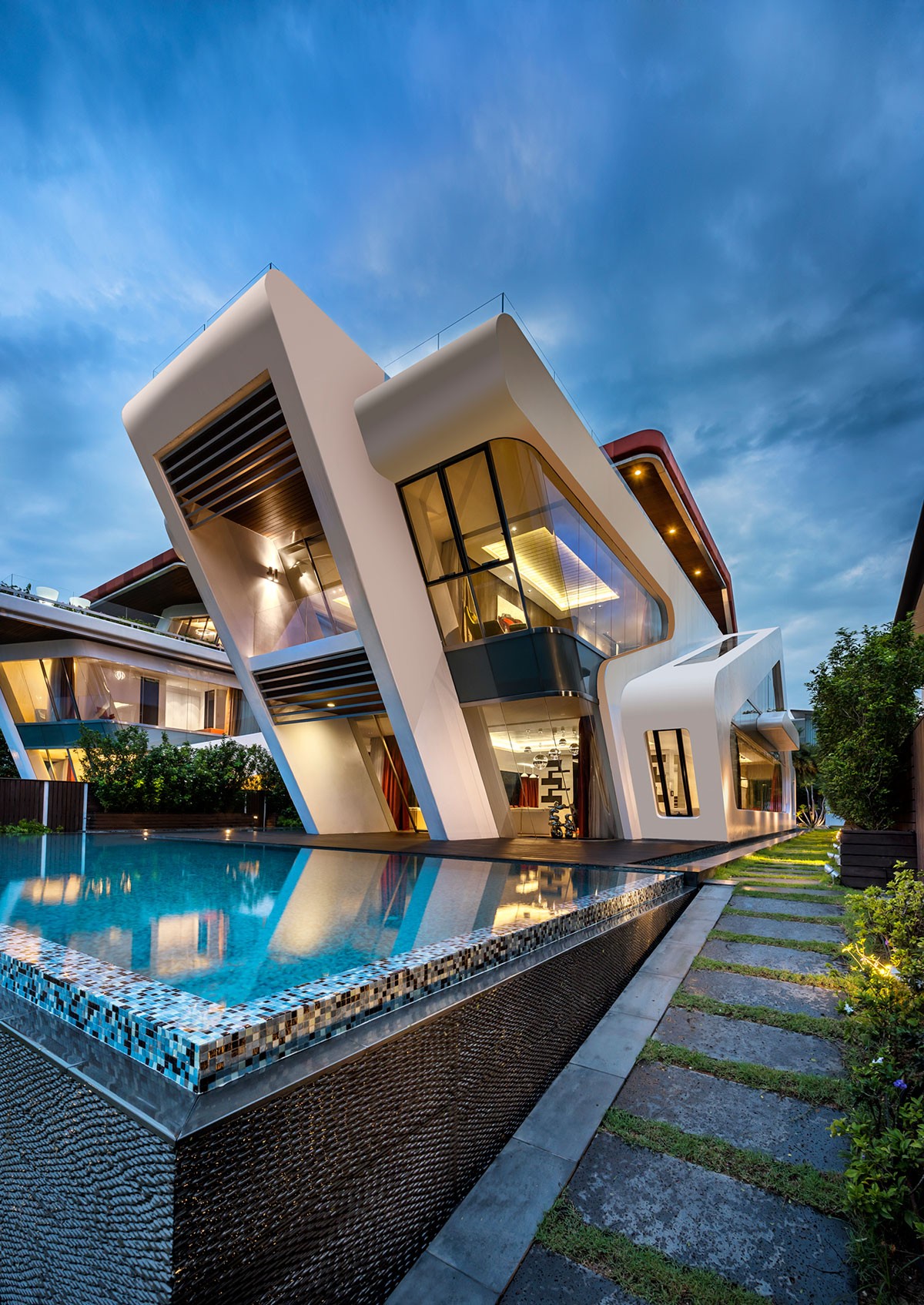 |
Visualizer: Mercurio Design Lab
This amazing concept pulls the entire house into a dramatic lean over its own pool area.
Ebony black and dark walnut volumes wedge against a rugged rock face. A man-made waterfall sets the soundtrack.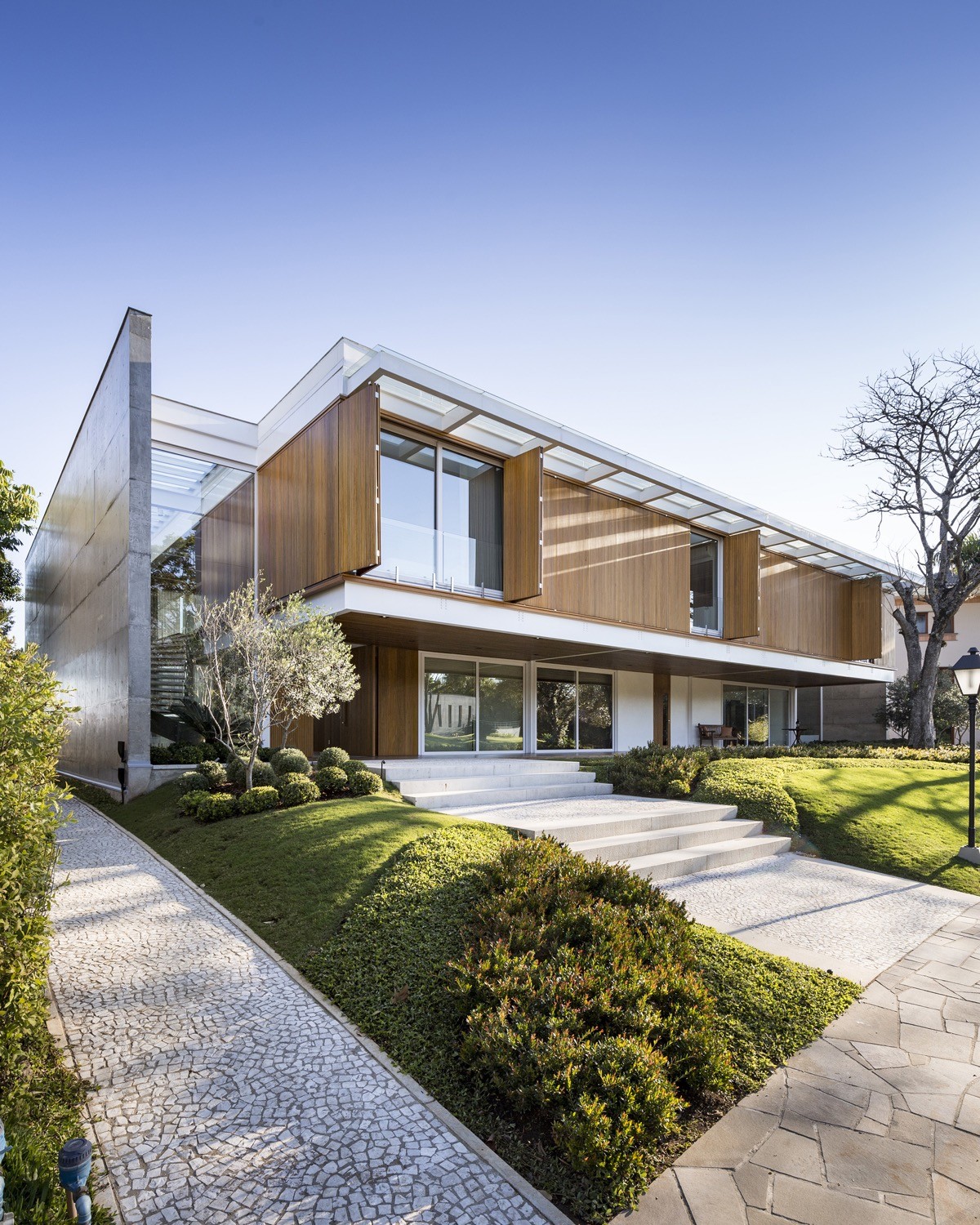 Peekaboo. Wooden shutters can either open up this house, or put on its armour.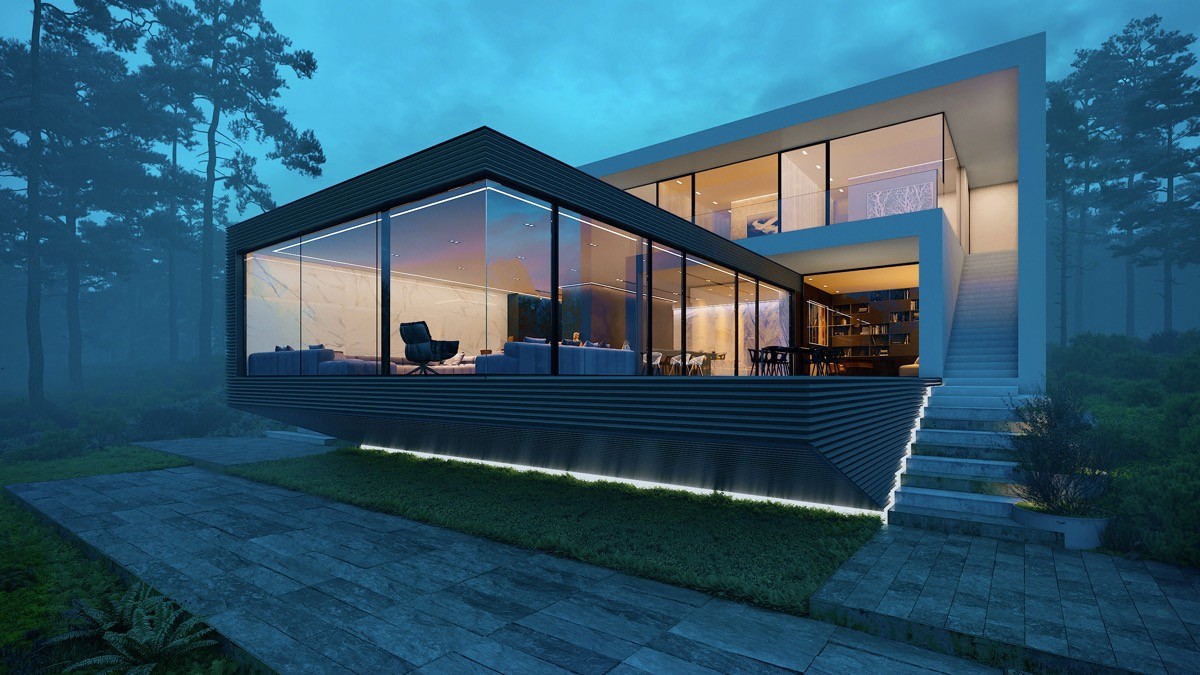 |
Visualizer: Alexandar Zhidkov
Pushing the envelope, this outstretched living space teeters on a wedge.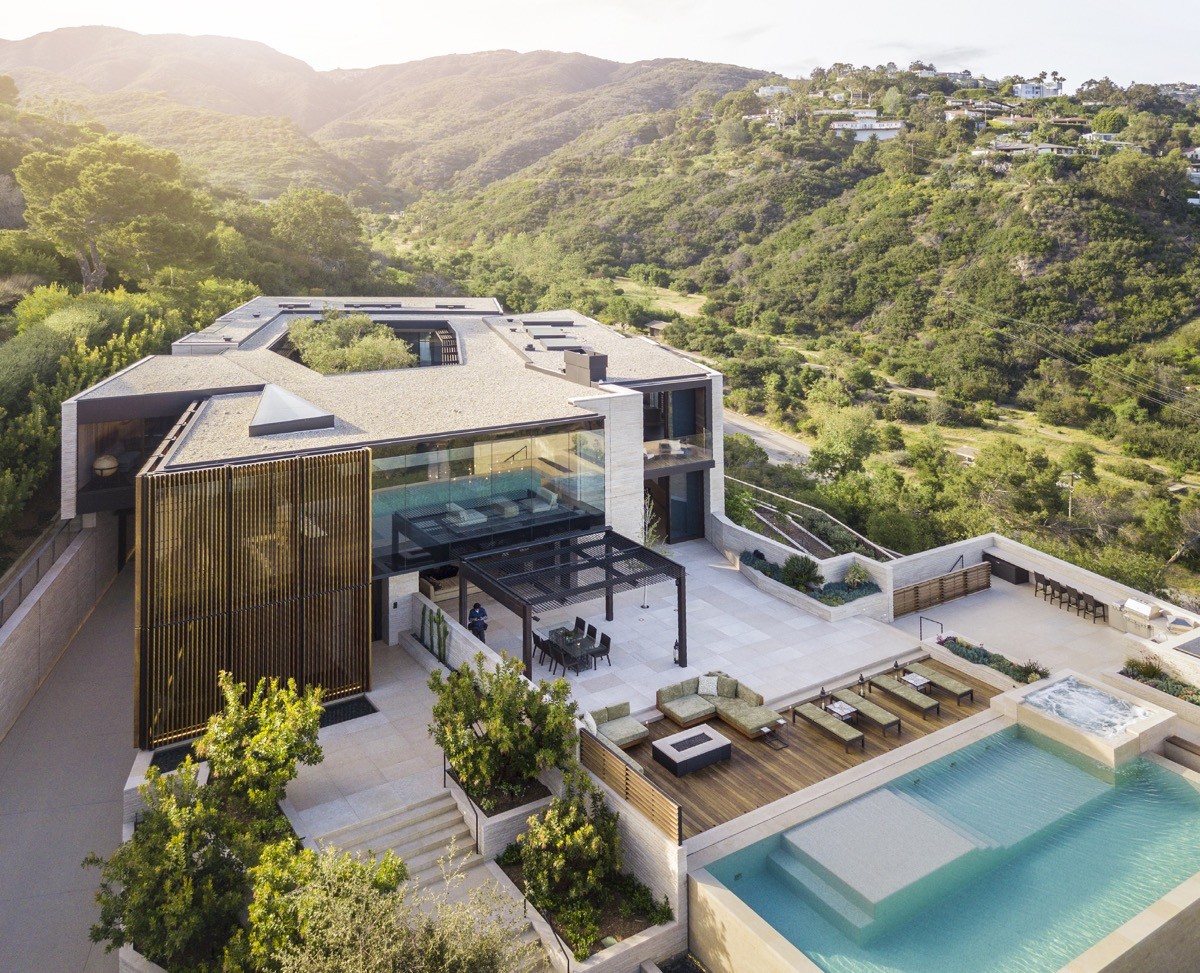 |
Architect: ShubinDonaldson
Colossal and concealing a courtyard, fully touring this home could take quite a while.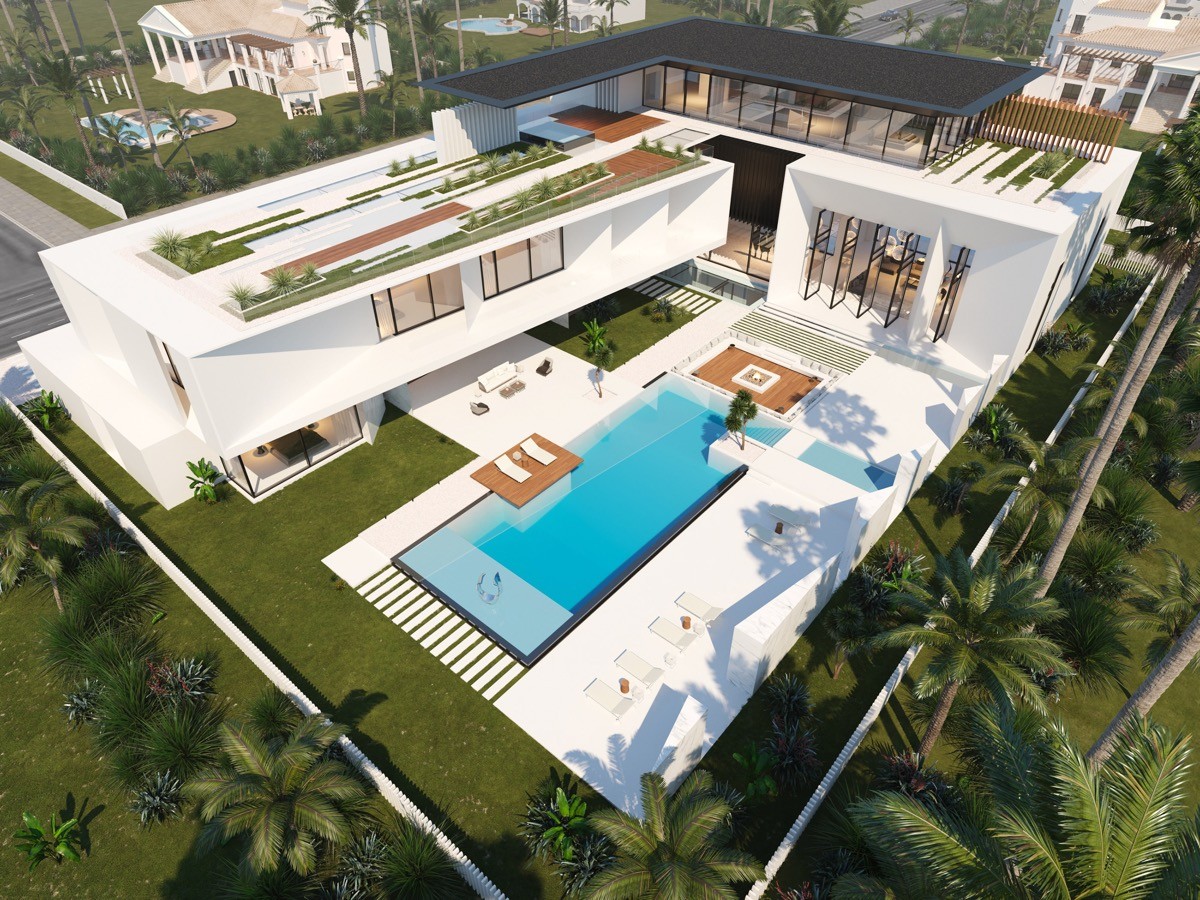 |
Visualizer: Ruslan Latypov
Neat as a pin, white, wood and greenery slice around each other to form multi level decks and living spaces.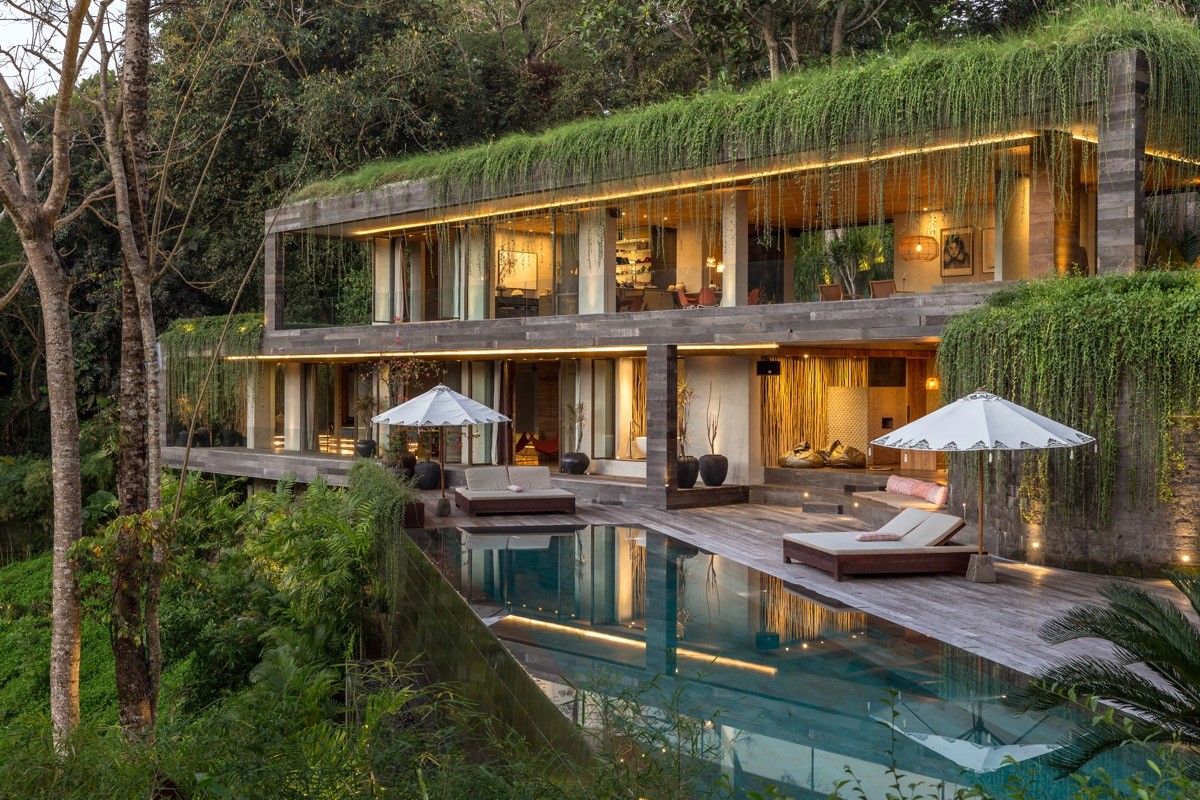 |
Photographer: Daniel Koh
Vines reclaim the forest atop a structure of stone columns, wooden decks and glowing light.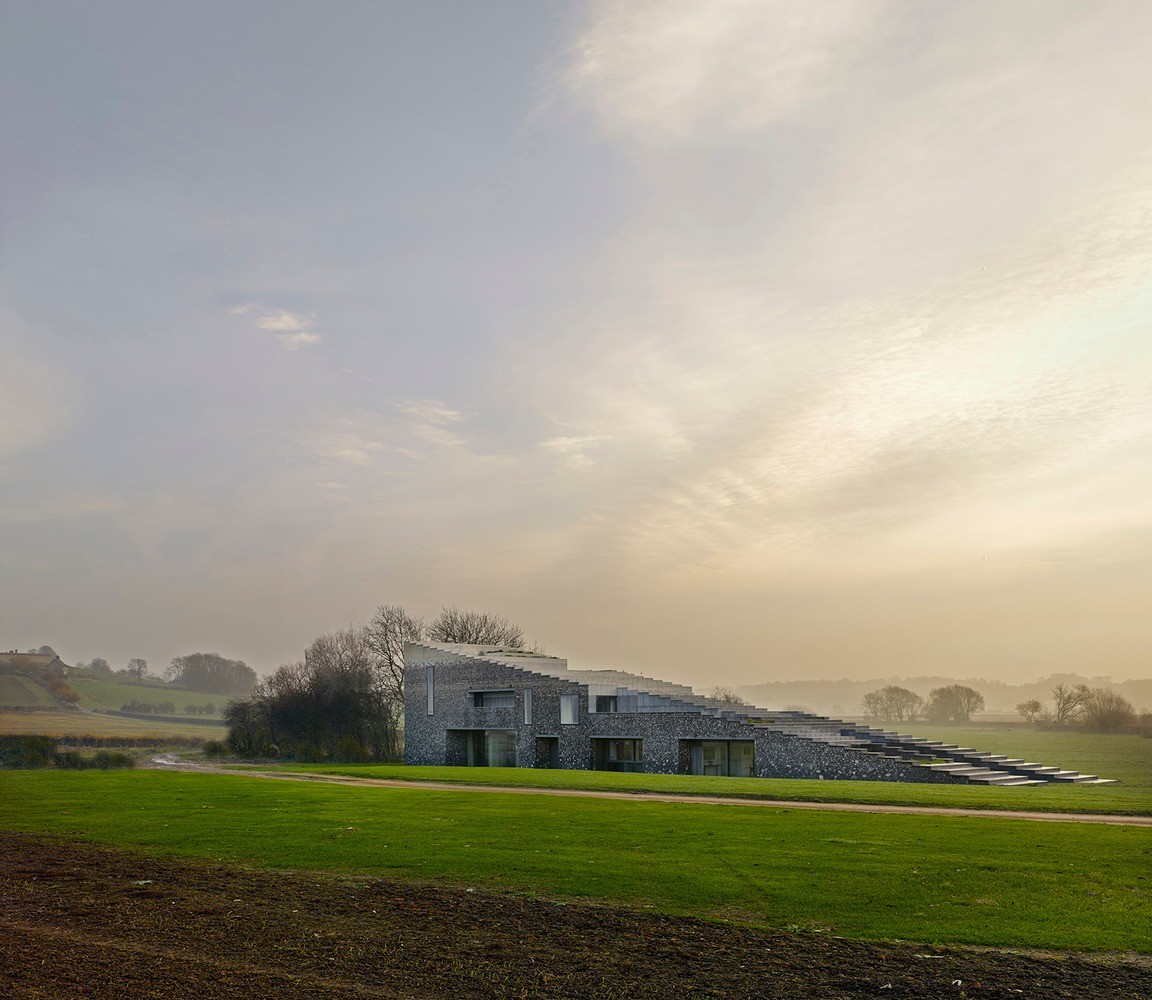 |
Visualizer: Skene Catling de la Peña
Named Britain's House of the Year by the Royal Institute of British Architects, the Flint House adapts to its landscape with an extraordinary stepped profile and a rugged material composition. More images here.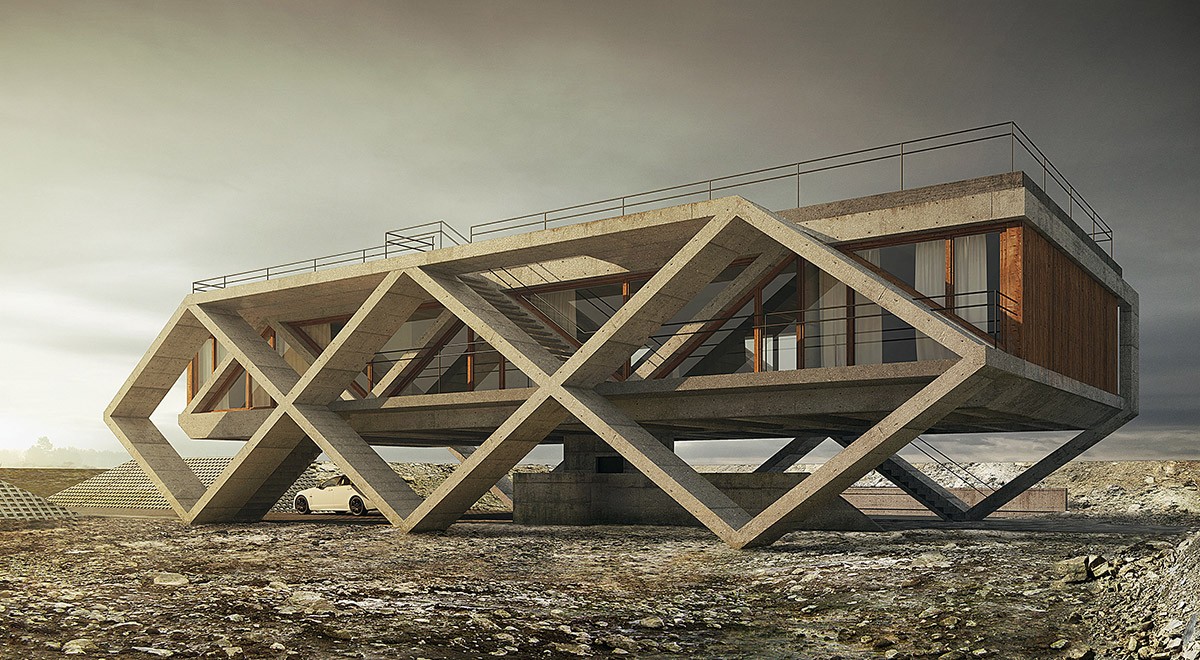 |
Visualizer: Adam Spychała
This brutalist house exterior is elevated on a remarkable concertina base. Warm wood panelling peeks out of the concrete diamonds.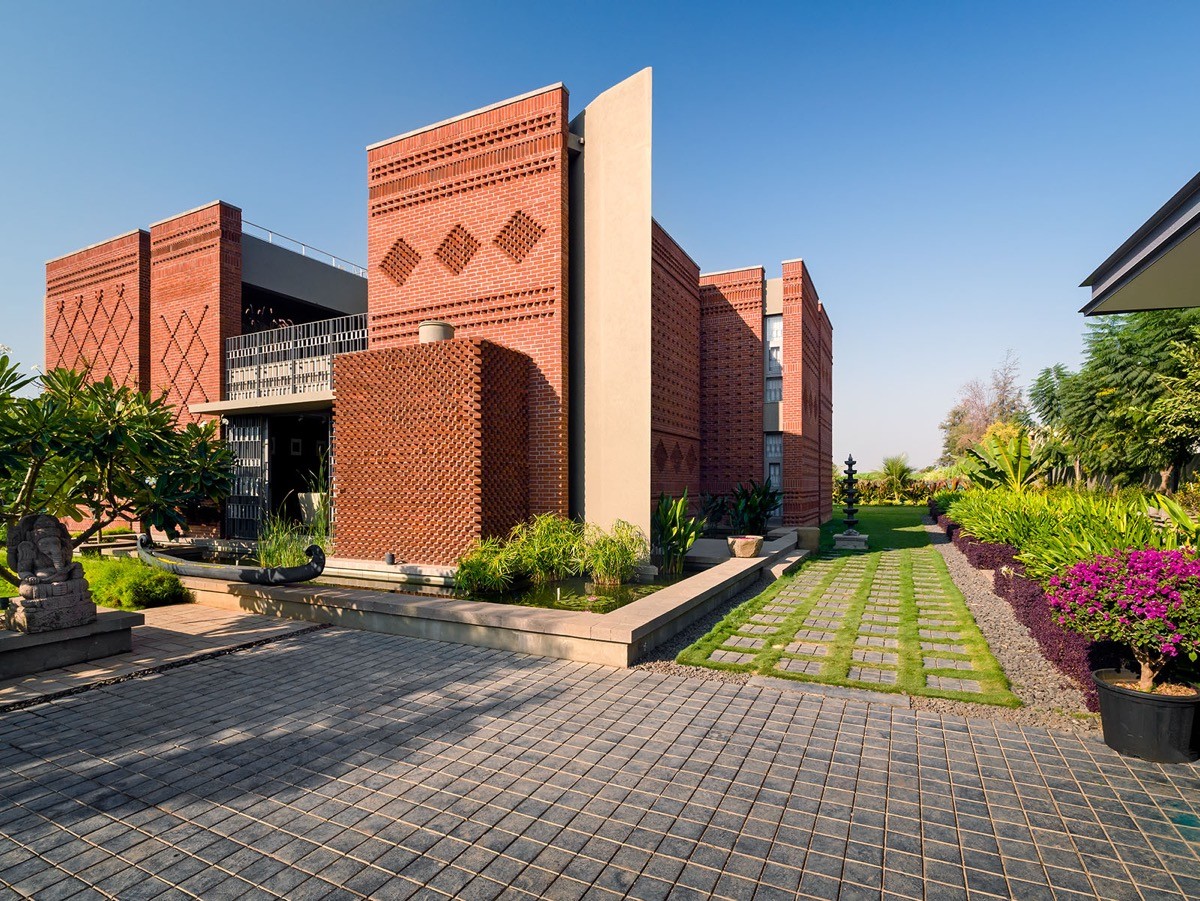 |
Architect: Studio Hu'mane
Not all modern exteriors have to be concrete/white/stone. Traditional red brick is still in business.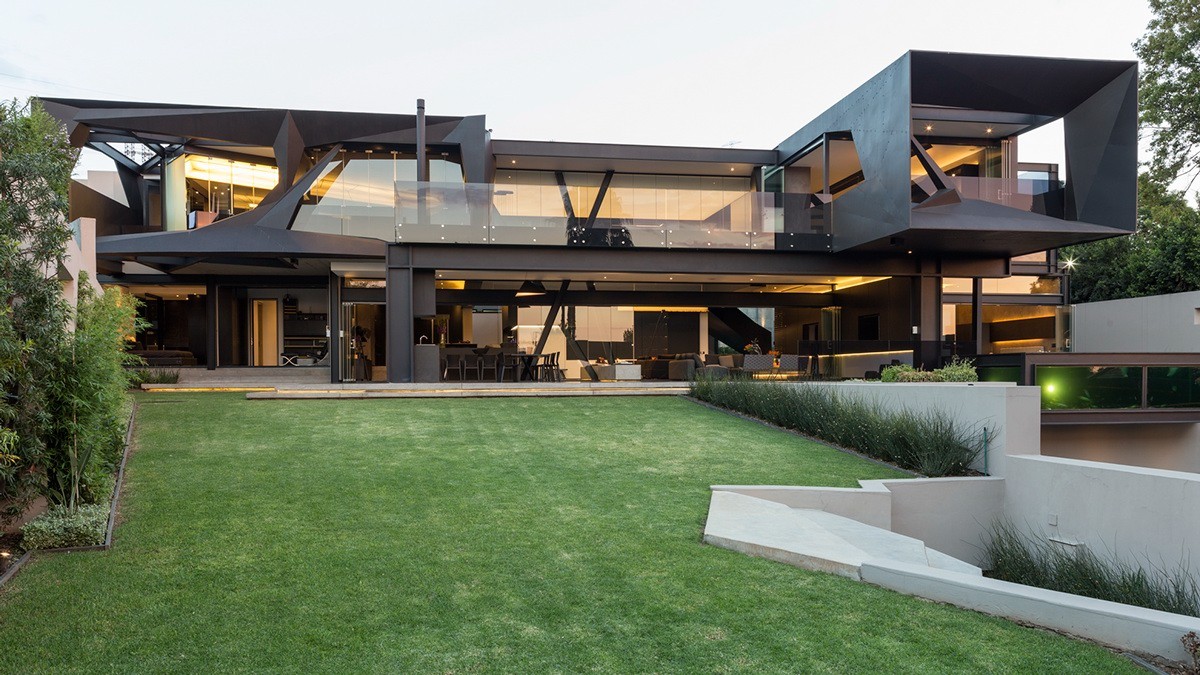 |
Visualizer: Nico van der Meulen Architects
A sculptural house exterior of morphed steel maintains a sense of open simplicity. More of this here.
|
Visualizer: Andrea De Cet
The pool beats a blue carpet to the front of this house, where we glimpse a tree growing through the living room ceiling.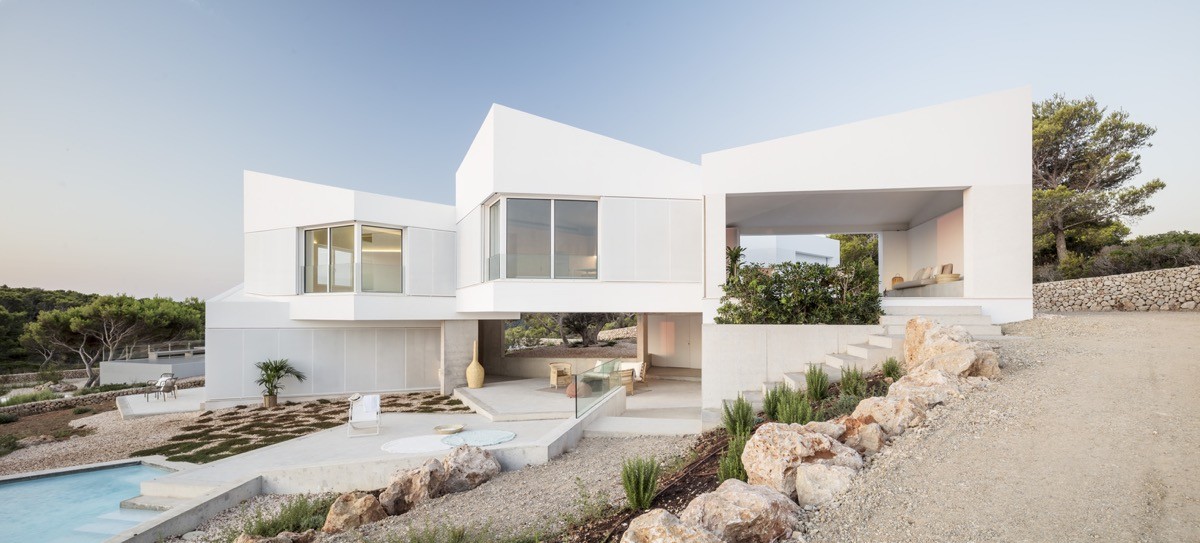 Like sails on a boat, crisp white volumes appear to turn in the open breeze.