If you're ready to add some greenery to your décor whether inside or outside your home, the best potted plant arrangement ideas will help you use nature as a stunning decorative theme. Do you feel that your home is missing something? Perhaps there is not enough color, but you aren't fond with going for anything too vibrant and loud. Well, that is what makes flower pot arrangements so compelling for decorating purposes. There is already a healthy variety of plants you can use depending on your personal preference or if you want your potted arrangements to better suit the room theme at hand. You can go bold with deep or bright colors. Or you can stick to the more natural theme and just use strictly greenery without any type of flowers. Either approach can leave a lasting impact on a room, brightening it up and adding more life to it than it had before.
22 Stunning Flower Pot Arrangements to Give New Life to your Décor
Another great thing about using potted plant arrangements as décor is that the pot itself can assist with the style. You can find pots that lean more rustic and others with a contemporary appearance. Perhaps you want something smaller to save space or you have the room to go big and tall with your potted plants. This is ideal if you want to cover a good portion of previous empty space. Perhaps the best thing about using plant arrangements in pots for your décor is that it works in just about any room. Plus, you can utilize this theme both inside and outside your home. Set some gorgeous potted plants up on your patio or deck to easily add pops of color.
Potted plants make all the difference when it comes to admiring a space. So, if you are at all curious about adding more flair to your home décor, consider checking out some of our favorite potted plant arrangement ideas.
1. Cool Multi-Styled Potted Plant Idea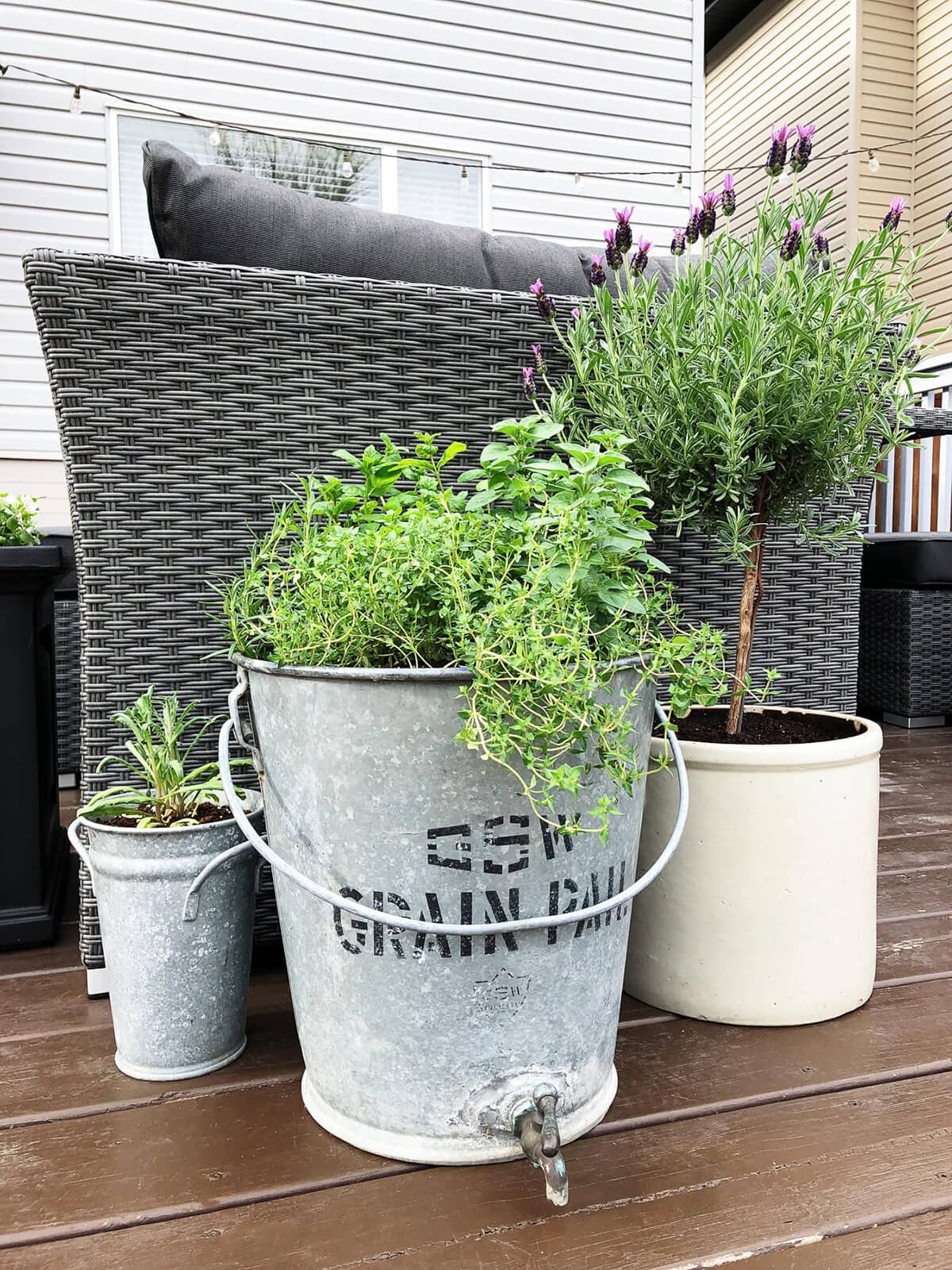 Source: aprettylifeinthesuburbs.com
Blend rustic with modern with these creative potted plant arrangements. Two of these arrangements opt for a more vintage approach what with using the buckets. Meanwhile, the solitary white pot is what keeps things a touch modern. It is fun to use different plants within each one too, creating a bold look that will capture and hold attention. Plus, these plants take up a small footprint. So, you can freely set them up in any room or even a smaller setting like an apartment.
2. Rustic Herb Wall Hanging Planter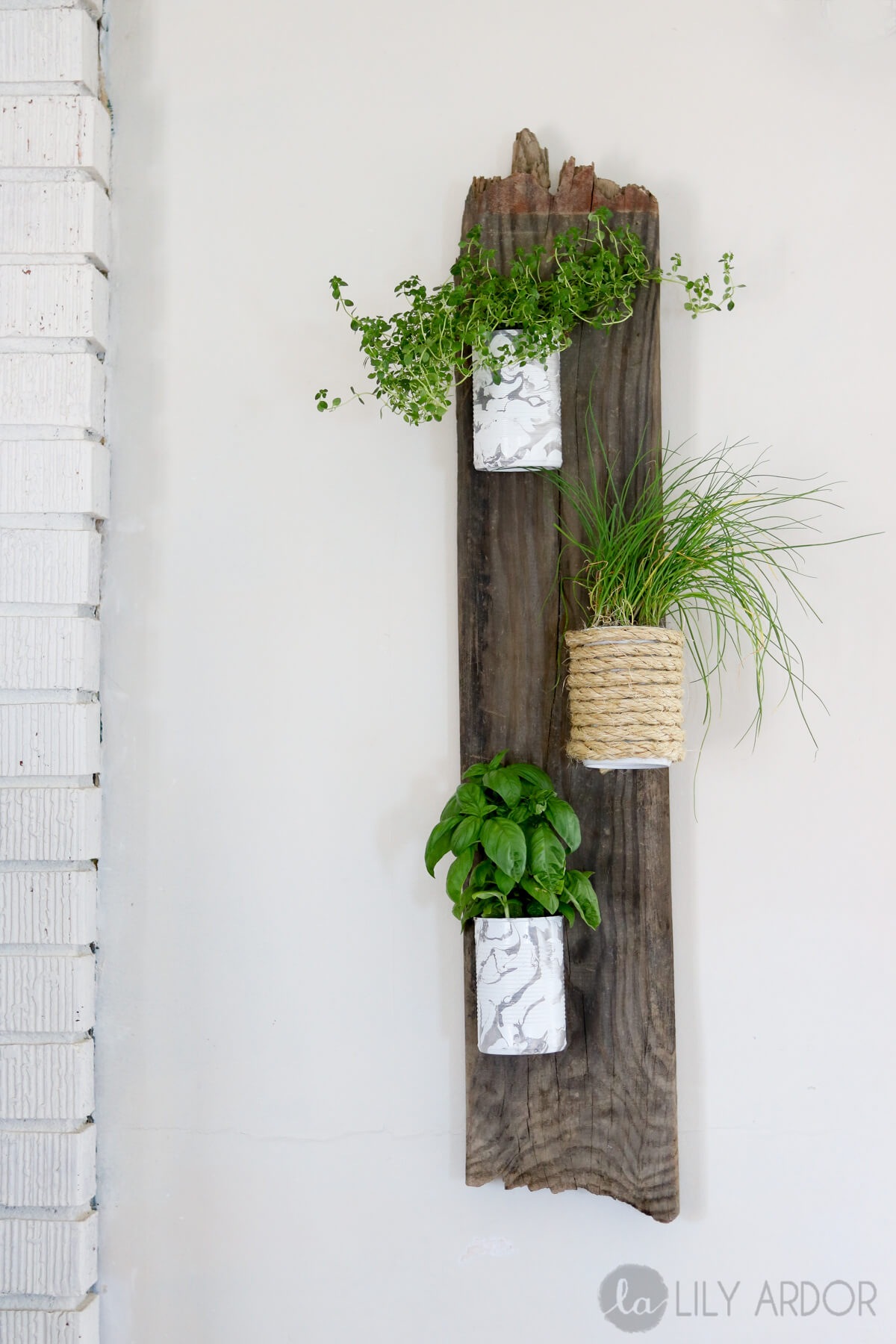 Source: lilyardor.com
Do you want to decorate with potted plants, but don't really have the space for them on the floor? Or maybe you just want to take over some empty wall space? Whatever the reasoning, this herb wall planter is the solution. It is a charming size with a wooden base that helps lean more heavily into the natural theme. The dark wood also contrasts nicely with the boldness from the potted herbs. If you want to truly stick to the theme, then you can go for similarly colored planters.
3. Charming Wood Round Floating Plant Shelves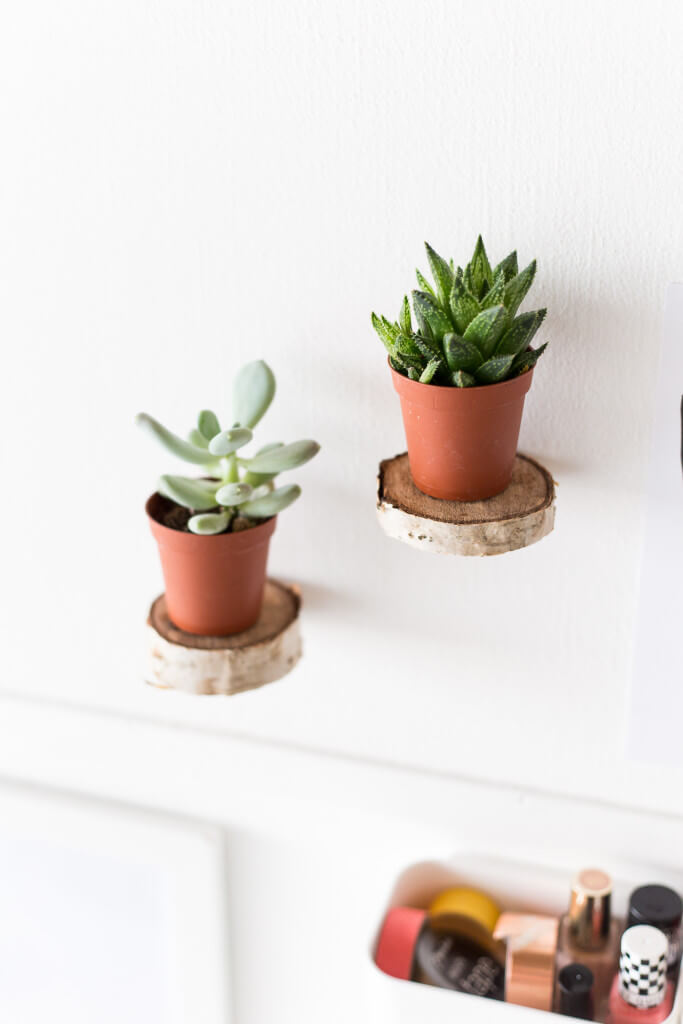 Source: fallfordiy.com
Who knew that plant arrangements in pots could look this cute? The use of wood rounds as floating shelves is unique and an instant attention-grabber. Thanks to their compact nature, you can install these in various areas in your home that have free wall space. They can further help connect you to a rural or farmhouse-like design. Seeing they are this small, perhaps these floating shelves work best to support smaller plants like succulents and maybe even herbs.
4. Homemade Hexagon Wall Shelves for Plants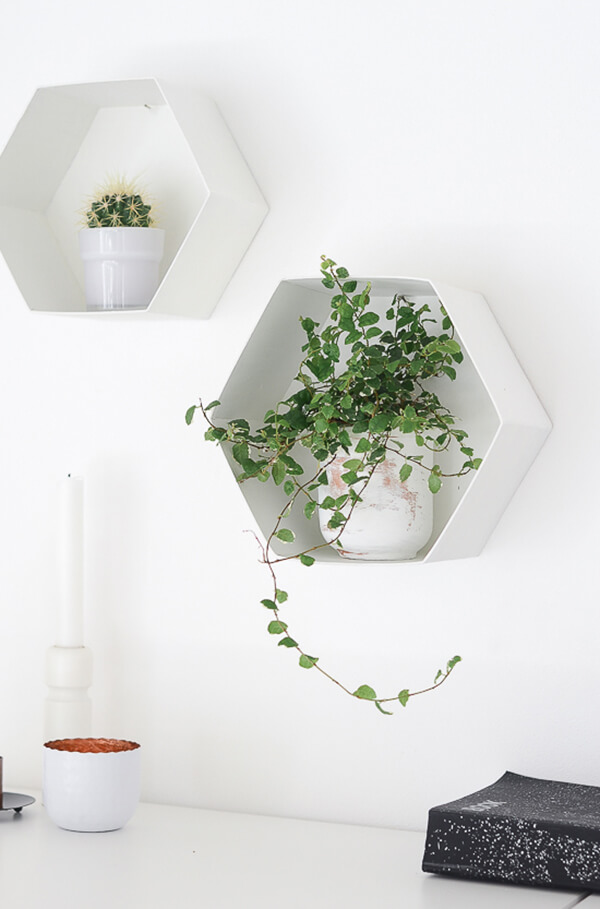 Source: passionshake.com
When you want that contemporary look, you can't go wrong with a hexagon wall shelf. They have a an appealing, attractive look that makes them so popular. Their nook is absolutely perfect to support your potted plants. Best of all, you can use the floating shelves for plants medium-sized and smaller. This can free you to mix and match your setup, creating a gorgeous, green-themed wall that will add vibrancy to any room you decide to hang them in.
5. Stacked Hand-Painted Flower Pot Design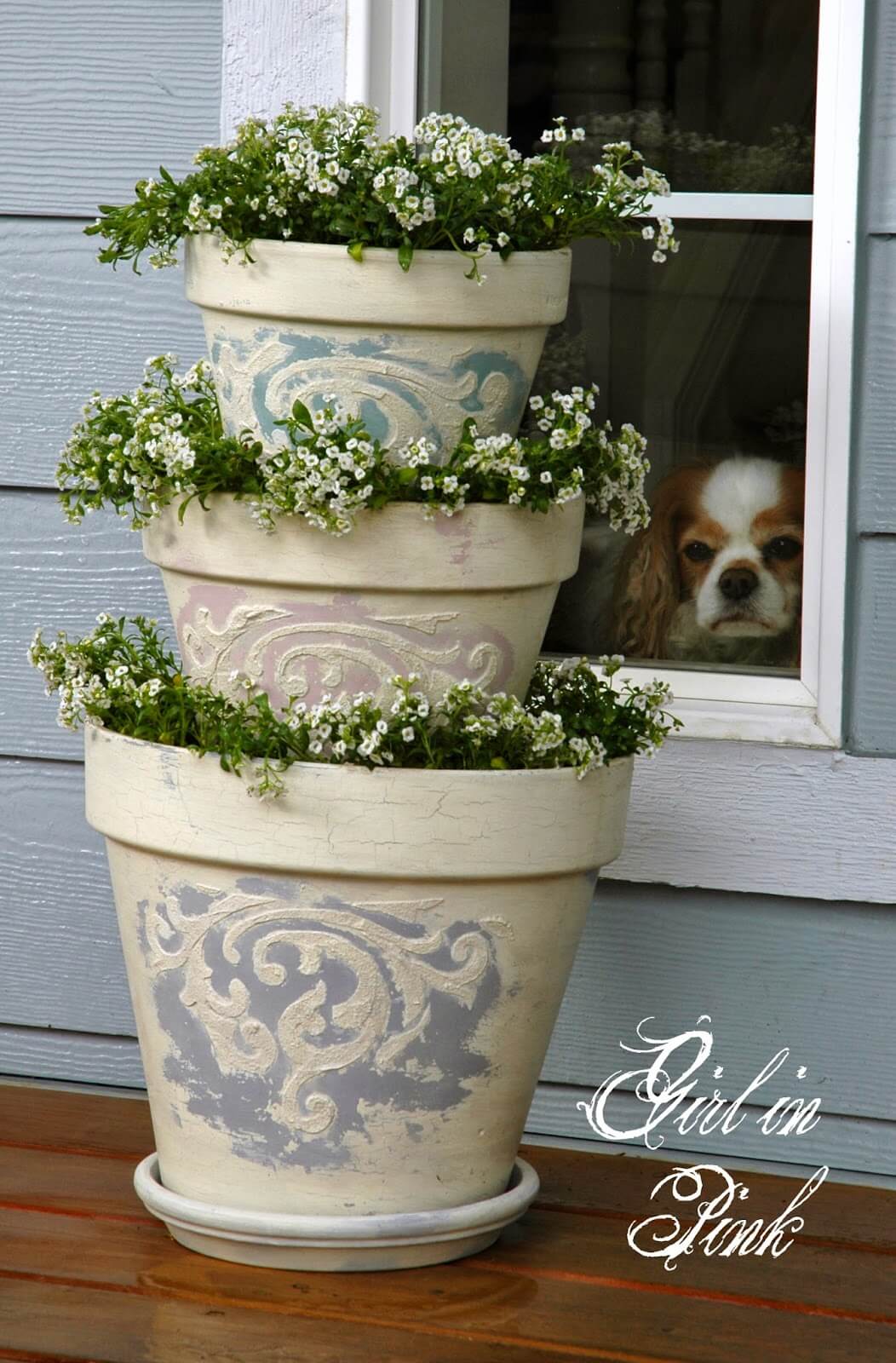 Source: onegirlinpink.blogspot.com
Great for an outdoor setting, these stacked flower pots give off the illusion of a much larger plant. The tiered display is breathtaking, more so as the flowers on the bottom too are able to grow out in a distinctive design. If you want to really sell this display, consider adding your own finish and paint job to the flower pots. This can let your personality shine and blend better with whatever greenery you decide to grow inside of the pots.
6. Paint Can Wall Hanging Herb Garden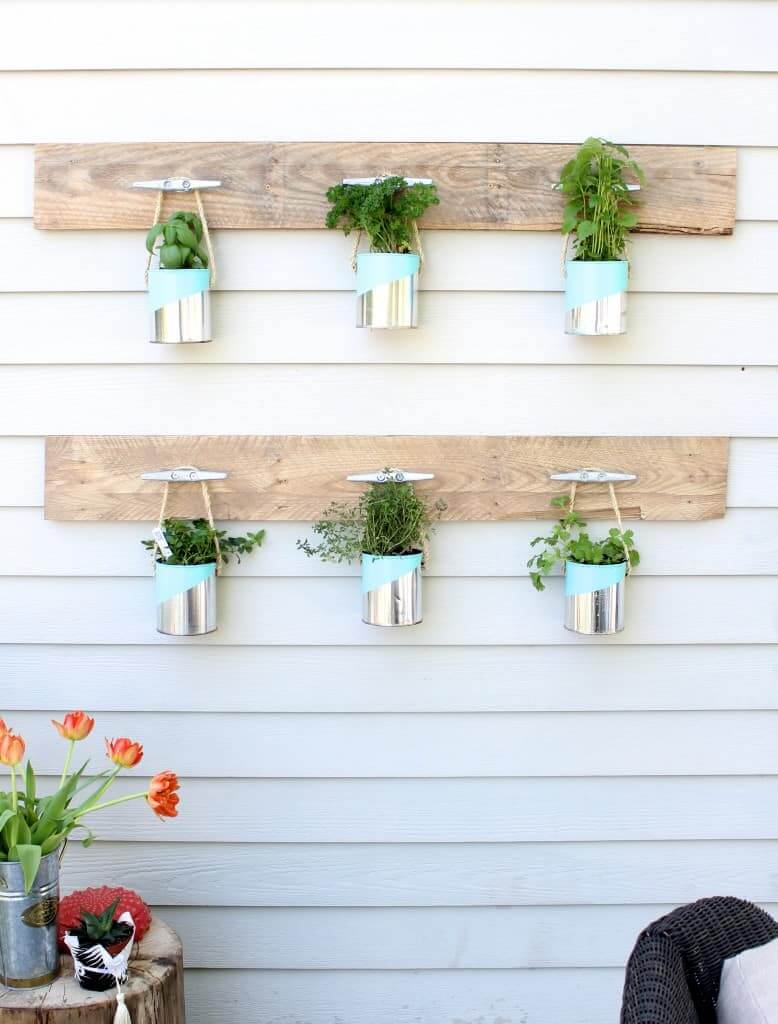 Source: simplestylings.com
Leave a more creative space for your herbs with this wall hanging planter display. It is a home project that just about anyone can complete, so if you want to get those artistic juices flowing, this is the design for you. The wooden piece makes for a wonderful base. It allows for the paint cans to stand out more. This display has minimalistic in mind as there isn't too much going on to really detract from the herbs. A simple splash of paint on the cans is all that's needed for this potted design to leave an impact.
7. Cute Newspaper Flower Pot Design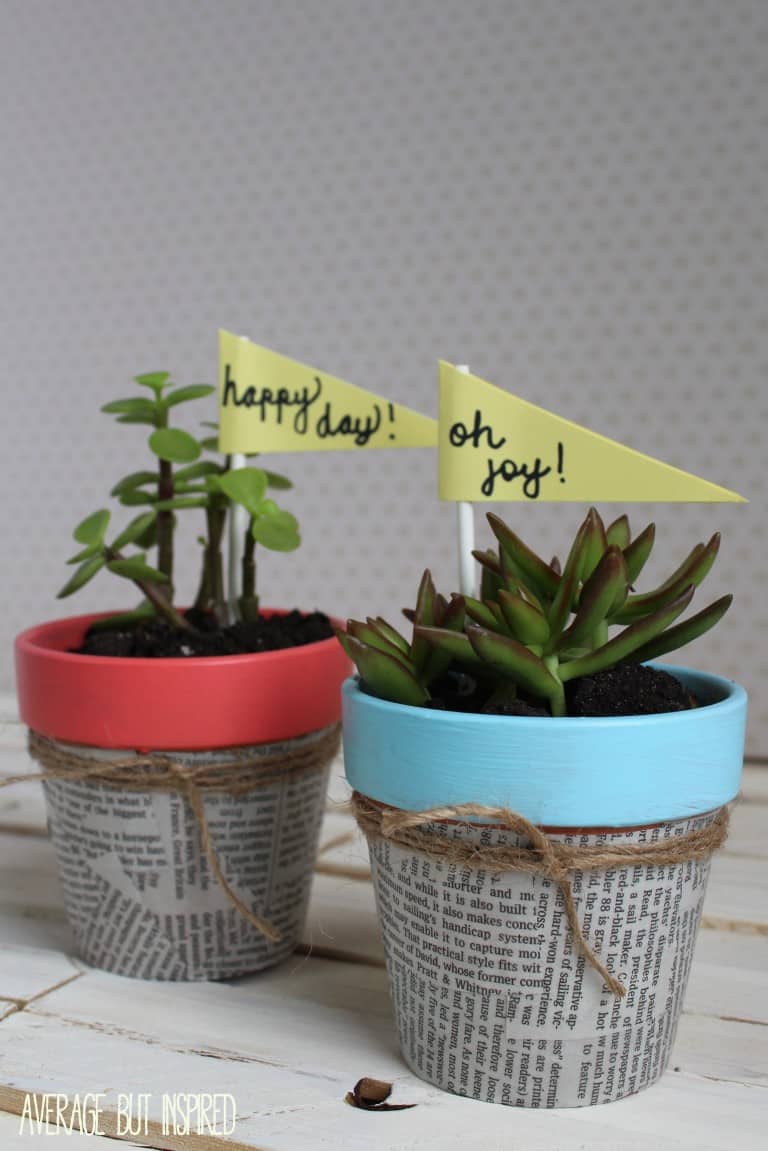 Source: averageinspired.com
When it comes to flower pot arrangements, simple is sometimes better. In this case, you don't have to buy an elaborately decorated pot or do one yourself. Instead, you can use something as unassuming as newspaper to create a distinct design on the flower pots. This helps gives them far more texture without them coming across as too loud to take away attention from the plants themselves. Additionally, you can easily add little embellishments along the way for that extra pop.
8. Tall Multi-Styled Porch Potted Plants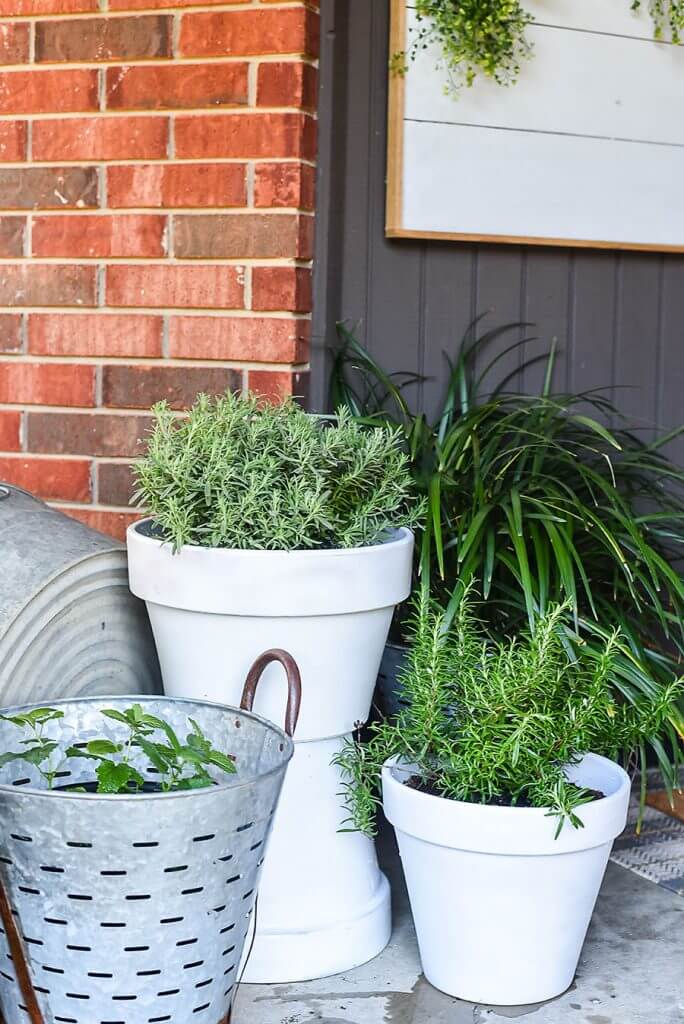 Source: ourhandcraftedlife.com
Is your outdoor area feeling a touch bare? Well, you can fill it up with these cool potted plants. Although the planters are all a nice size, it is even more appealing to aim for different sizes. This way, there is a nice sense of flow to your setup, allowing the eye to travel freely to fully take in the display. As these work wonderfully outdoors, you can opt for steel planters that suit an outdoor theme or even classic ones to build on a modern style.
9. Shabby Chic Cloth Styled Planter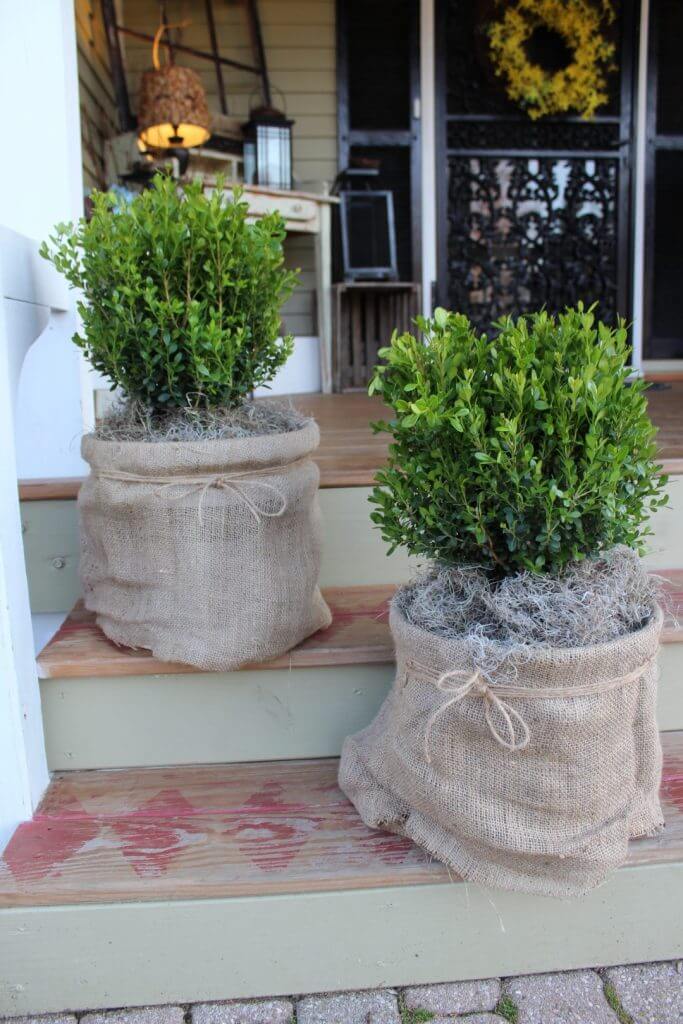 Source: perfectlydestressed.com
If you want a planter that toes the line between rural and sophisticated, this cloth planter can serve just that purpose. With its large design, it may be better suited for when it comes to outdoor potted plant arrangement ideas. This comes across as a sack with its baggy style. It can pair wonderfully with both taller and shorter greenery. Thanks to the size, this design serves as a great way to enhance your deck, porch, or even the outdoor stairs.
10. Wall Hanging Steel Mesh Planter Holder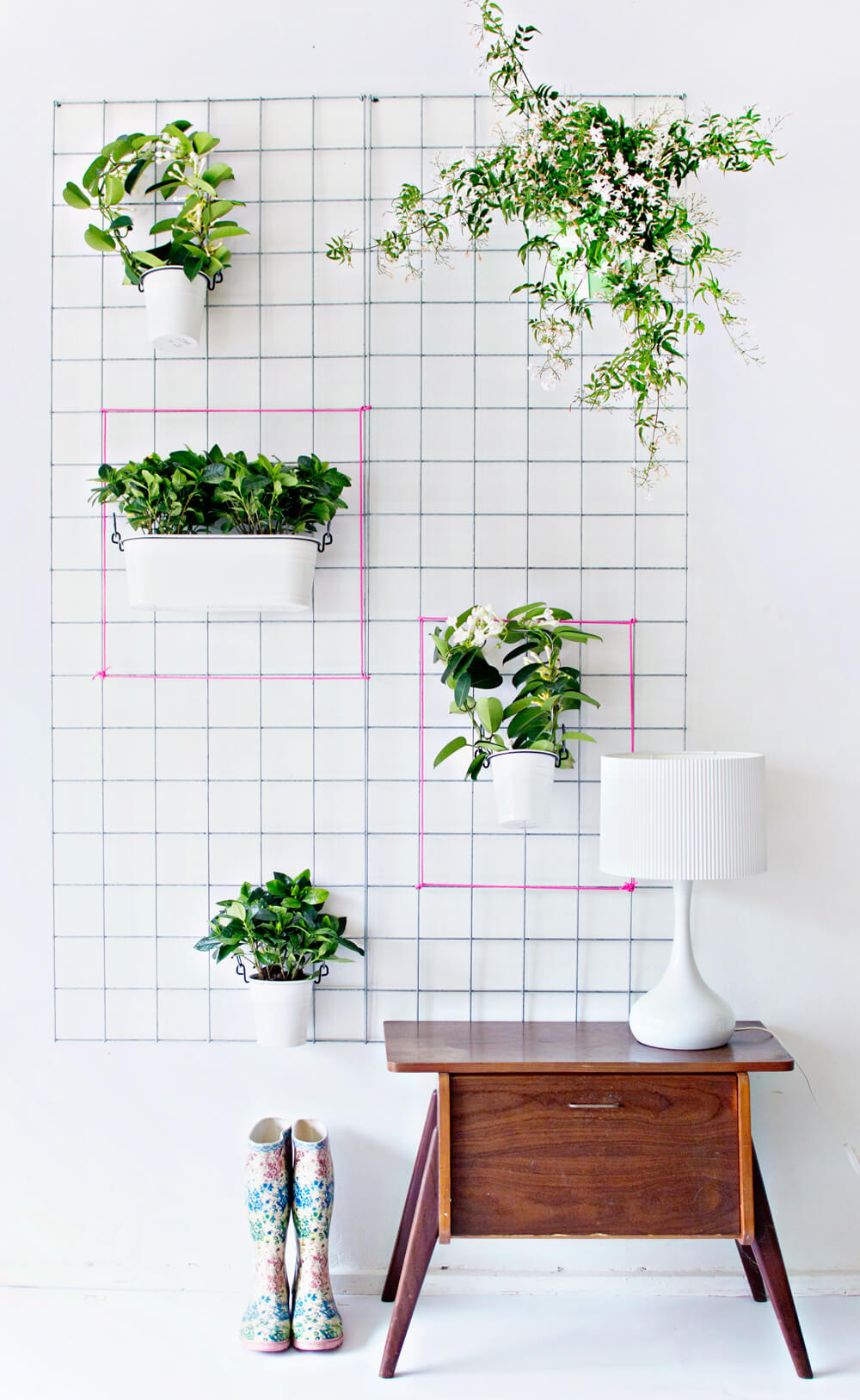 Source: lanaredstudio.com
There are different ways that you can approach wall hanging designs. If you want something more unique than floating shelves, consider using a steel mesh. There are several areas for you to hook on planters, allowing you to hang multiple ones up to create a wall-centric garden. It is a fun way for you to decorate a lot of empty wall space with bold and bright colors depending on what type of plants and flowers you want to use.
11. Big and Small Planter Combo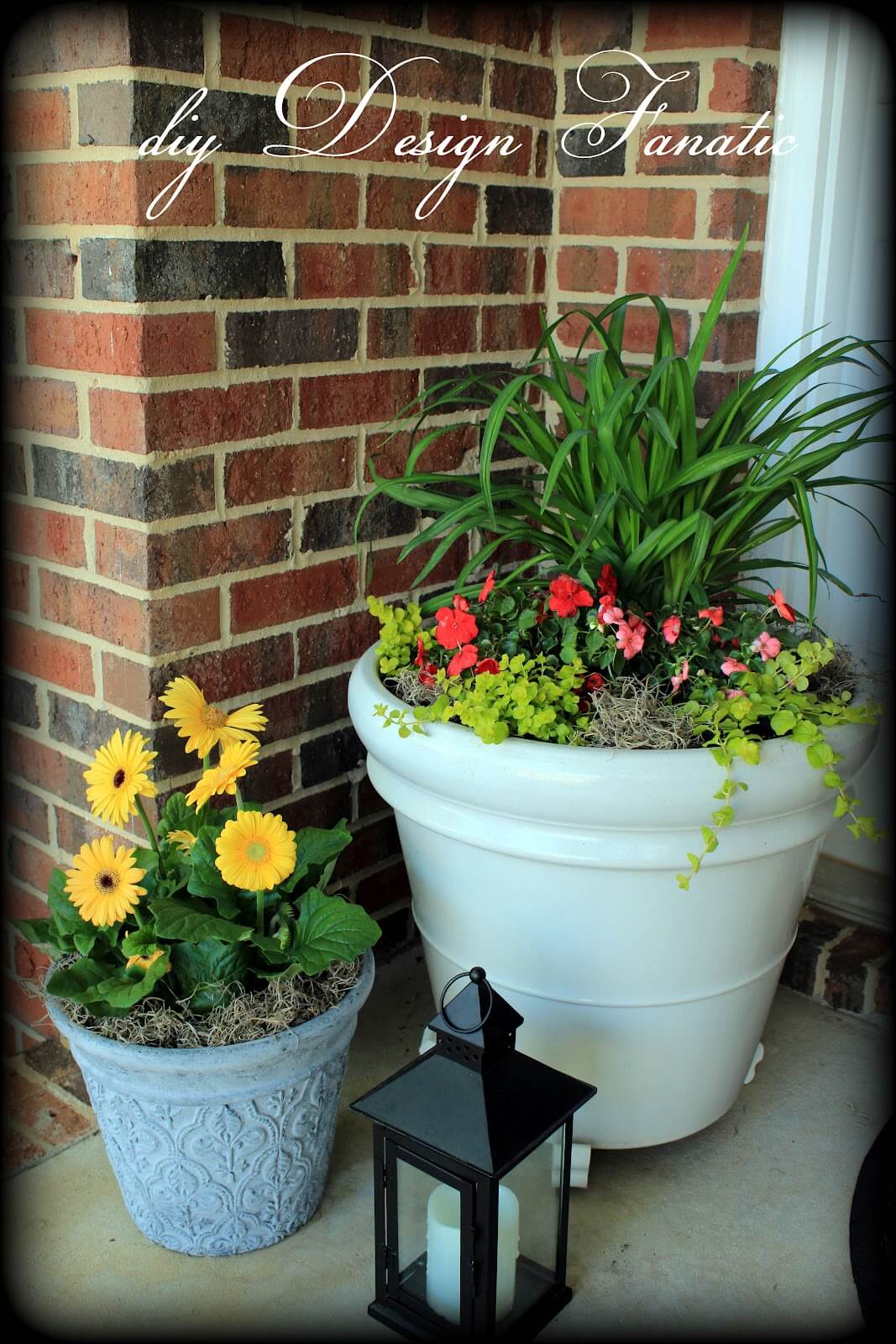 Source: diydesignfanatic.com
Why settle for a big container or a small planter when you can just have them both? If you have the room for them, that is. It may be why such a setup is ideal for patio décor. By placing such contrasting planters side-by-side, you can capture attention at once. From there, you can let the design of the planters and the greenery itself do the talking. Color goes a long way with this type of approach as it allows the eye to soak in both planters equally.
12. Terra Cotta Tiered Planter Design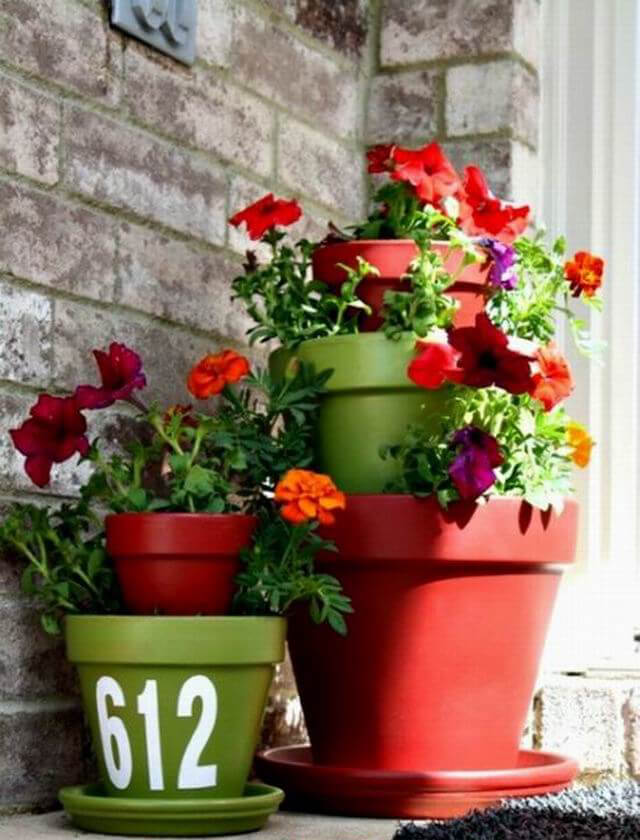 Source: mommyskitchen.net
Terra cotta are as traditional as they come for planters. However, you can still help them stand out and enhance your home décor with a tiered layout. This type of design adds far more personality and style to your greenery, and this can look good inside and outside the home. Plus, since you are using terra cotta that don't take up too much room, you may even use this in smaller-space living like in a townhome or an apartment.
13. Wall Hanging Mason Jar Planters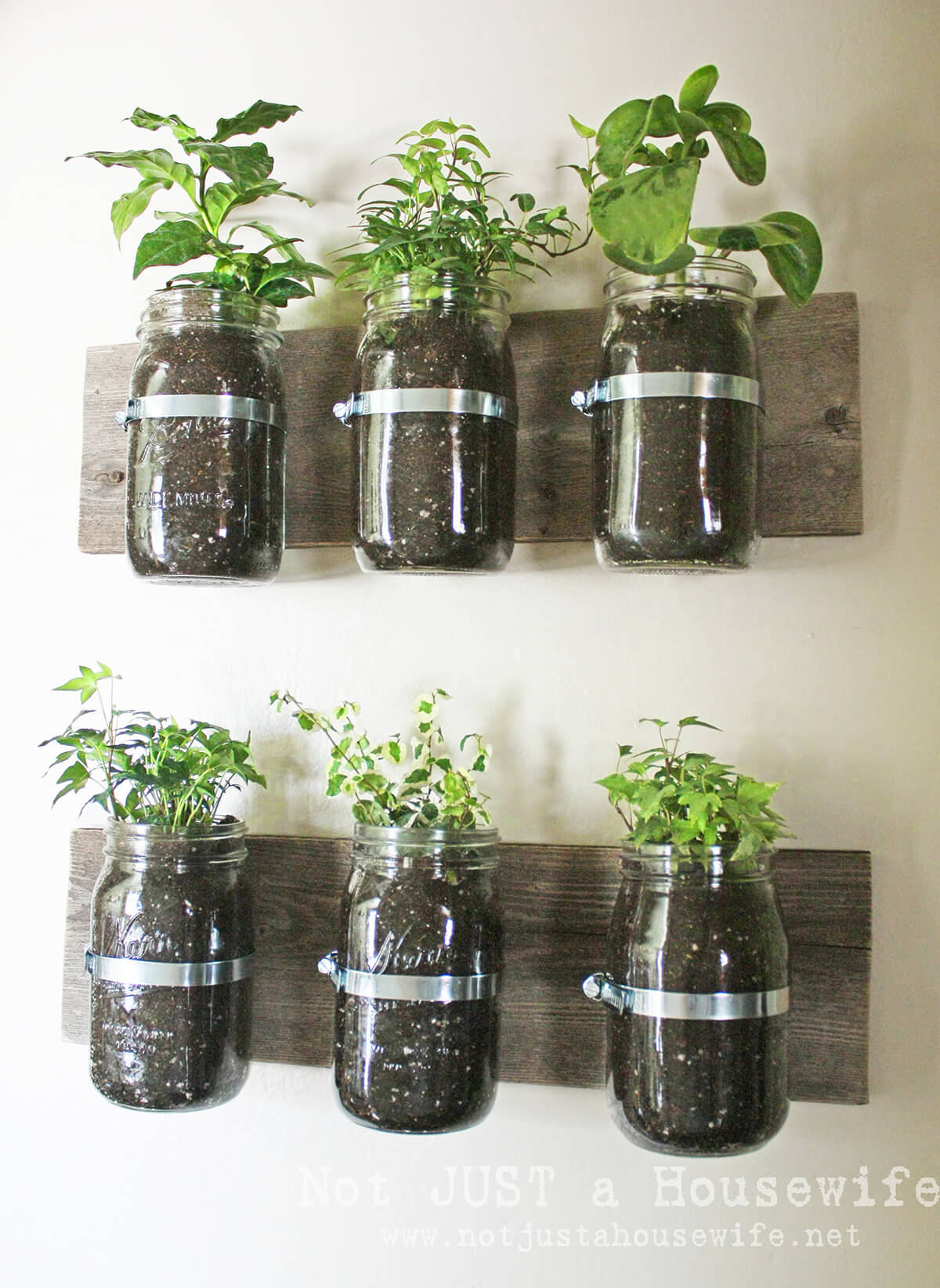 Source: notjustahousewife.net
Pairing mason jars with a wooden slab is such a perfect way to capture a farmhouse feel. Plus, this ensures that the greenery is not the only thing that adds style to your otherwise bare walls. With the clear look from the mason jars, even the dirt offers a pleasing, rustic aesthetic. Besides general greenery, this design may be most ideal if you want to have your own mini herb garden. The wall hanging style makes them remarkably easy to reach whenever you need them.
14. Handmade Vertical Herb Garden Planters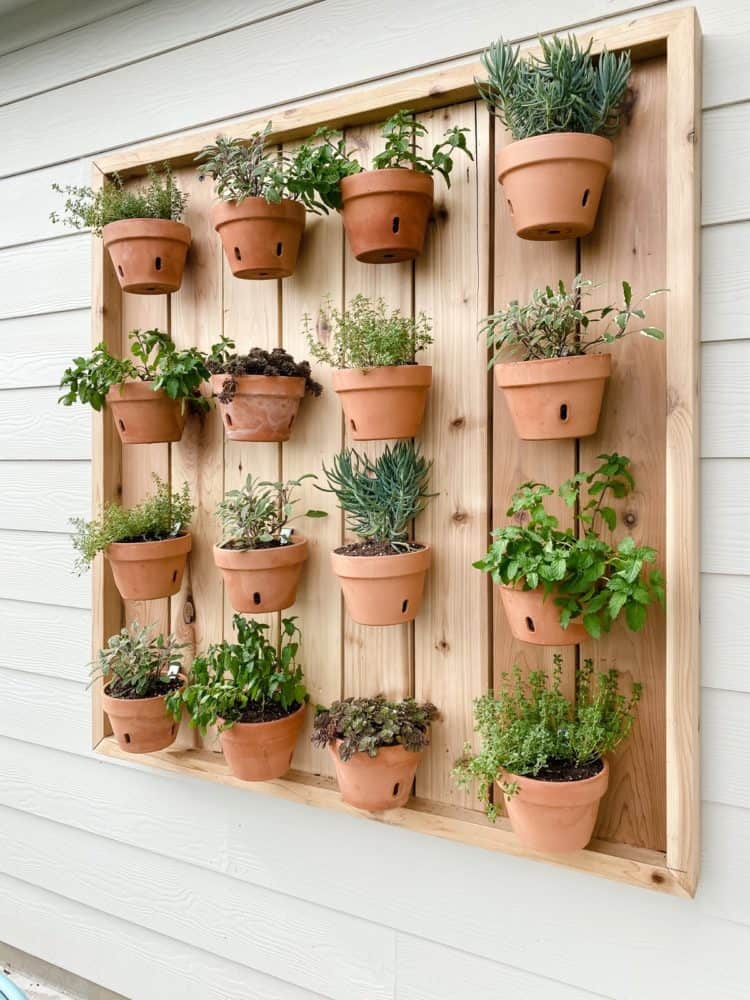 Source: loveandrenovations.com
Sometimes the outside of your home needs the right amount of love too, and not just with towering planters on the patio. Instead, look to the side of your house if you want to spice things up a bit. All it takes is some wood for you to get a jump on creating an awesome vertical herb garden. There is plenty of room on the boards so that you can hang multiple types of herbs. Keeping them right on the side of the house ensures plenty of sunshine too.
15. Elegant Floral Themed Potted Plant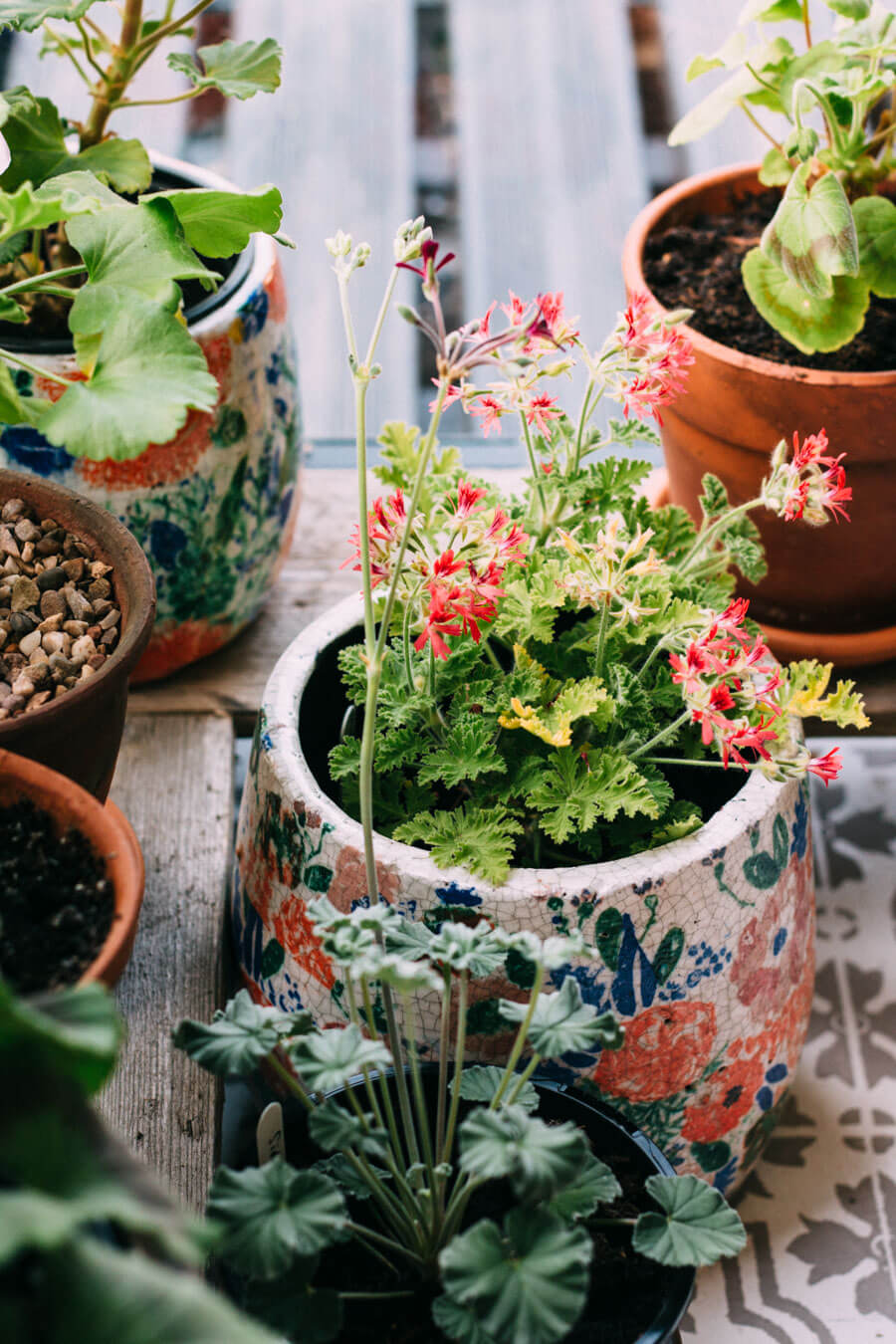 Source: lobsterandswan.com
If you're already planting flowers, why not go full-circle with the theme and use a floral planter? This works out well when you want a look that leans toward the gentle and elegant. The planter is a lovely, petite size to suit indoor usage. So, feel free to stick tuck these near a windowsill, especially in the kitchen if you want some pops of color or even a miniature herb garden. It works with any type of greenery too thanks to how well the floral painting along the container blends in.
16. Vintage Galvanized Bucket Potted Plants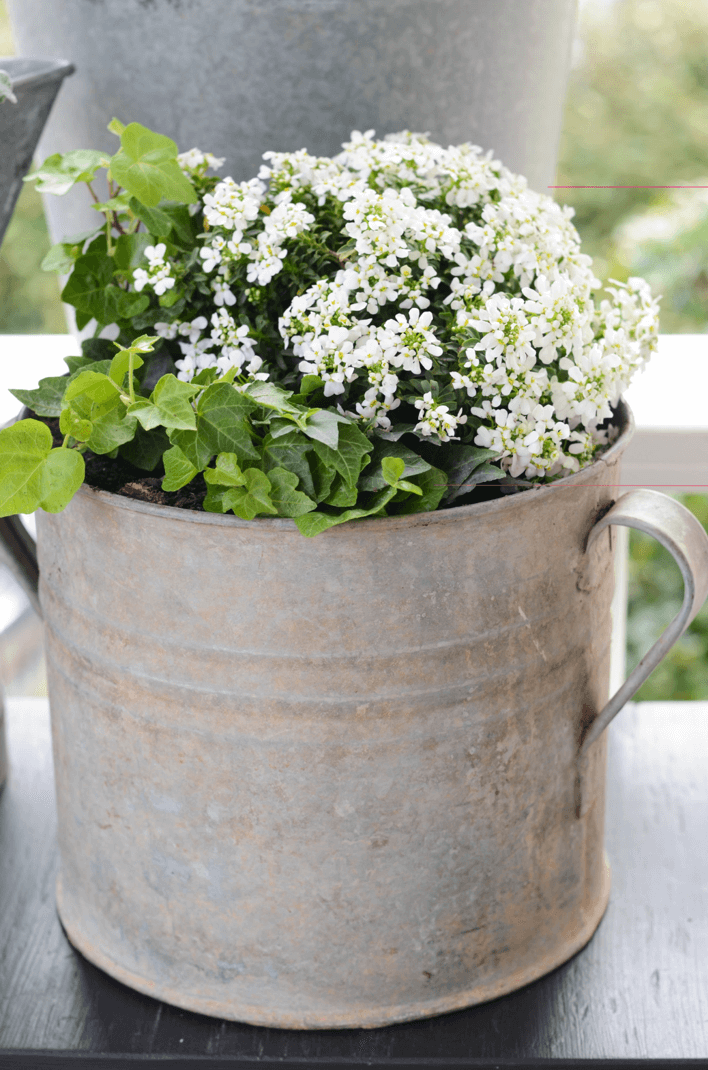 Source: thehandmadehome.net
For that classic touch, you can always find yourself some gorgeous, vintage containers like these galvanized buckets. If you gather some of different sizes and designs, all the better. It leads to a more well-rounded display. Alongside that, the brightness of the greenery or flowers chosen contrast incredibly with the old-school look offered by the buckets. They serve as distinctive plant arrangement in pots that will leave any guest inspired.
17. Metal Hairpin Leg Plant Stand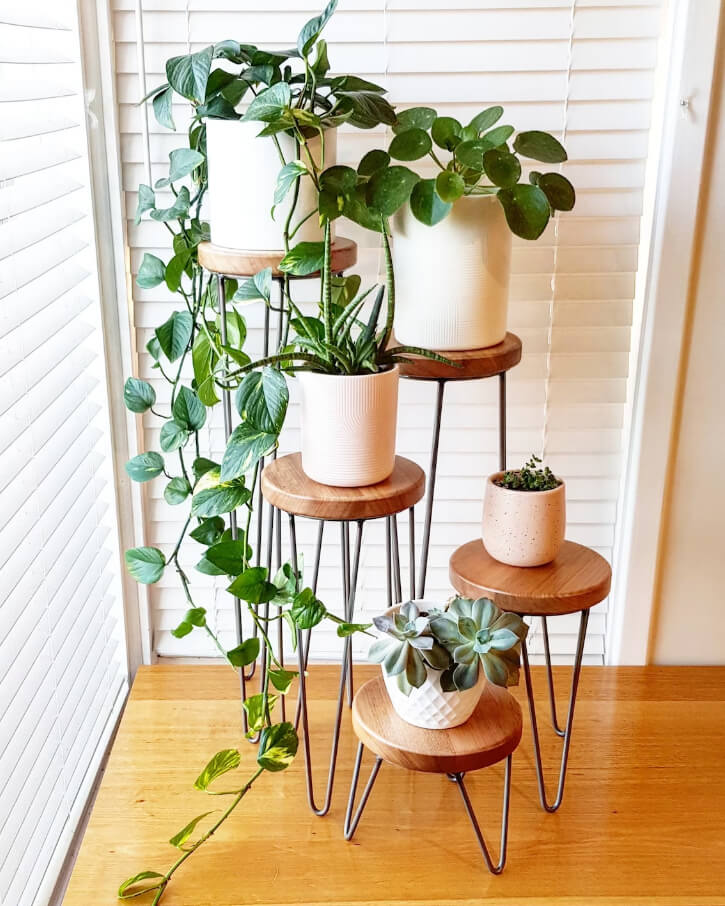 Looking for something unique and sophisticated to rest your potted plants on? Then consider these gorgeous hairpin leg stands. They come in numerous colors, heights, and wood top options. This way, you can easily customize the stand to best suit your room's design. You can even get a set and mix and match, setting off a corner of the room for a gorgeous multi-plant display. Thanks to the water-resistance on the wood, you can readily use these to support real plants without worrying about any long-term damage.
18. Artificial Succulent Garden in Dough Bowl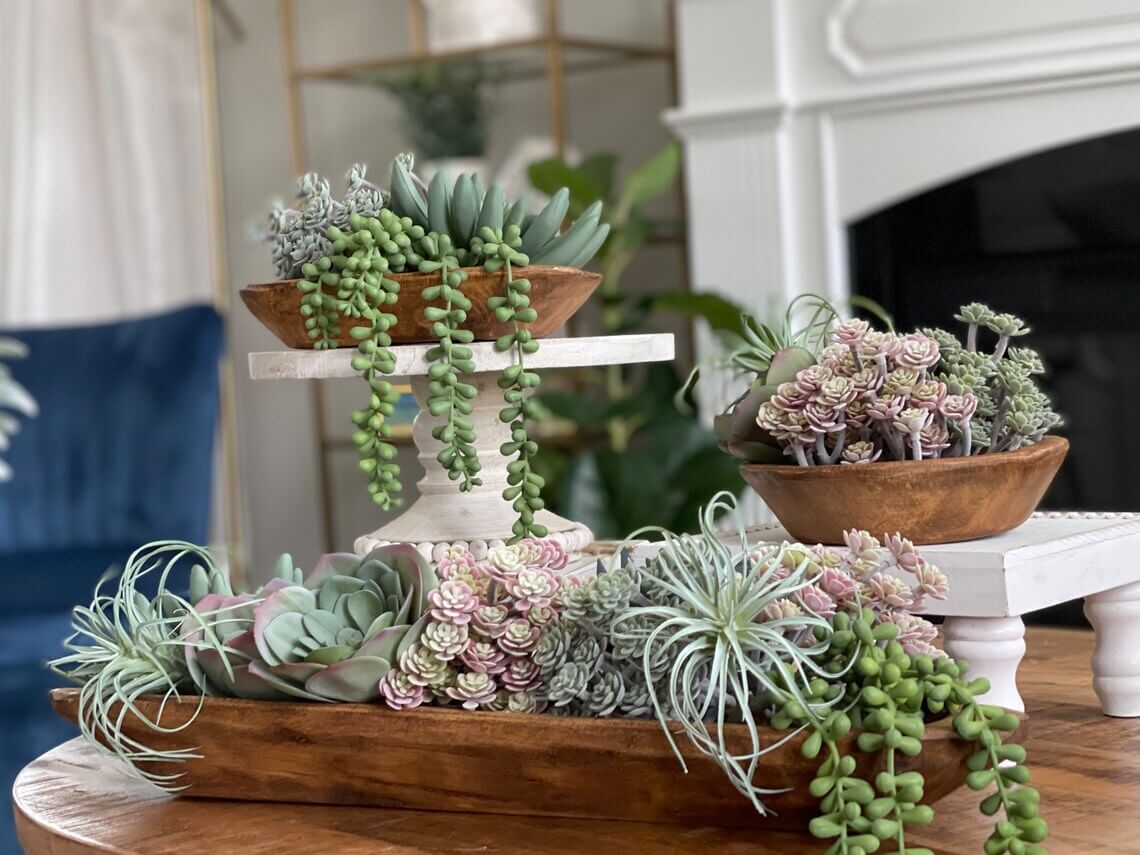 Are you not interested in having real greenery to care for, but you still want to have the aesthetic plants offer? Well, you can enjoy this artificial succulent garden instead. They rest in a beautiful, hand-carved wooden dough bowl that you can get in three different sizes. It is a charming display, and no one would ever even be the wiser that the succulents are faux. There is such vibrant coloring from them while the wooden bowl gives off a blend of modern and rustic style.
19. Live Succulents with Reclaimed Wood Planter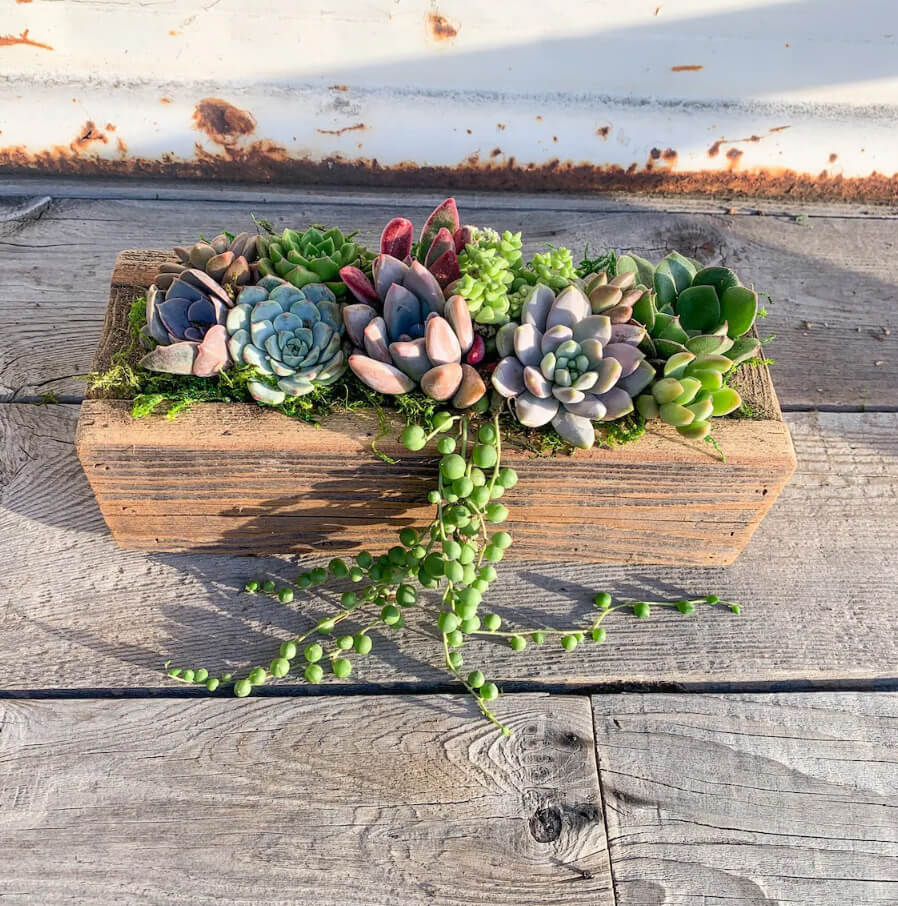 Get yourself a charming succulent garden that is eco-friendly. The wooden box is made from reclaimed wood, and as such, not one box is the same. You can choose from a variety of lengths, however, so that you can have a planter that works with your space. Meanwhile, the succulents you receive vary, but they are very much alive. This is an easy way for you to get not just an attractive succulent garden, but an awesome place to store them.
20. Sweet Heart Shaped Succulent Garden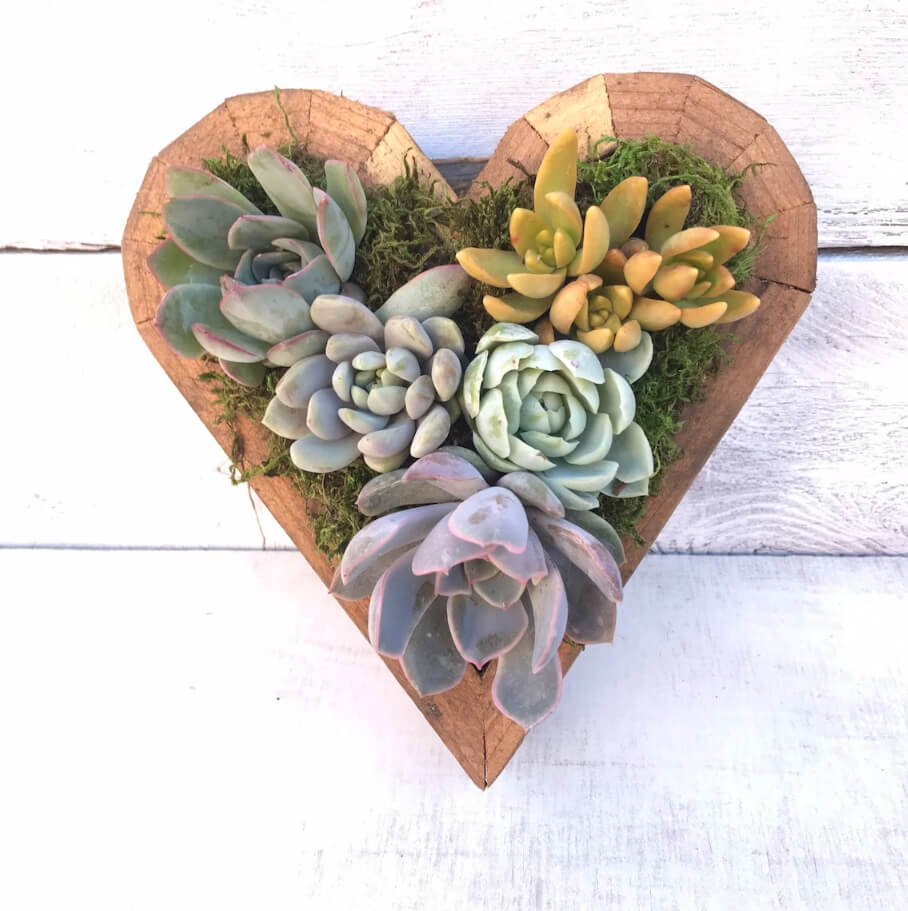 Succulents are always fun to work with, especially if you want a nice potted plant display in your home. If you are still unsure what to do, consider getting this live succulent garden. The succulents vary order by order, but you will receive several as there are several inside of the display. Speaking of the display, the heart shape is what truly seals the deal here. The heart shape makes it fitting not just for décor, but to send off as a gift to someone who you know and cherish.
21. Funny Ceramic Face Potted Plants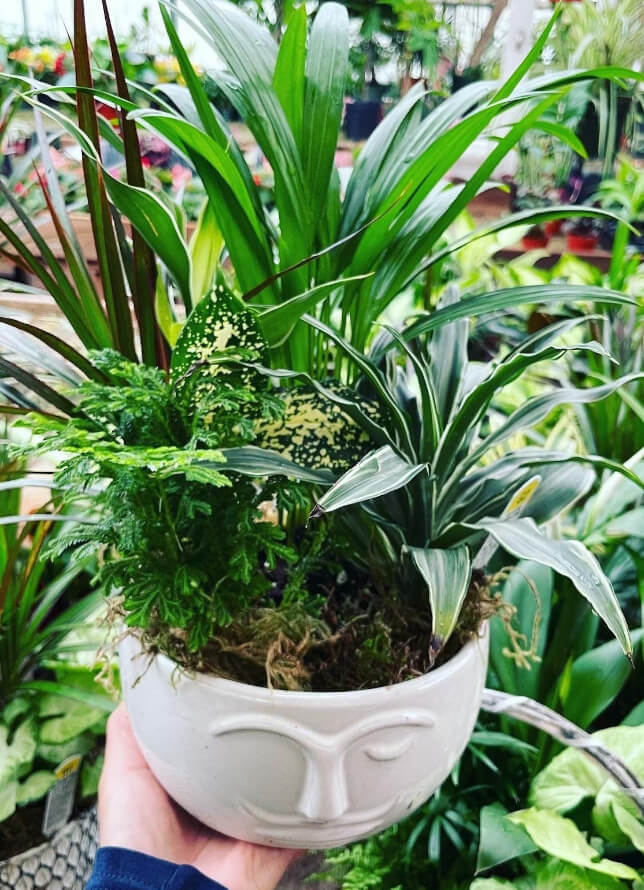 If you want to get a live plant arrangement, you can't just settle for anything. Why not use this amazing ceramic bowl that just so happens to have a face carved into it. This is a nice difference than just painting something directly to the bowl. Instead, you get this incredible planter that looks well with the succulent color style. As you already receive some type of plant with this bowl, you are off to a strong start to decorating your living room.
22. Round Birch Living Succulent Display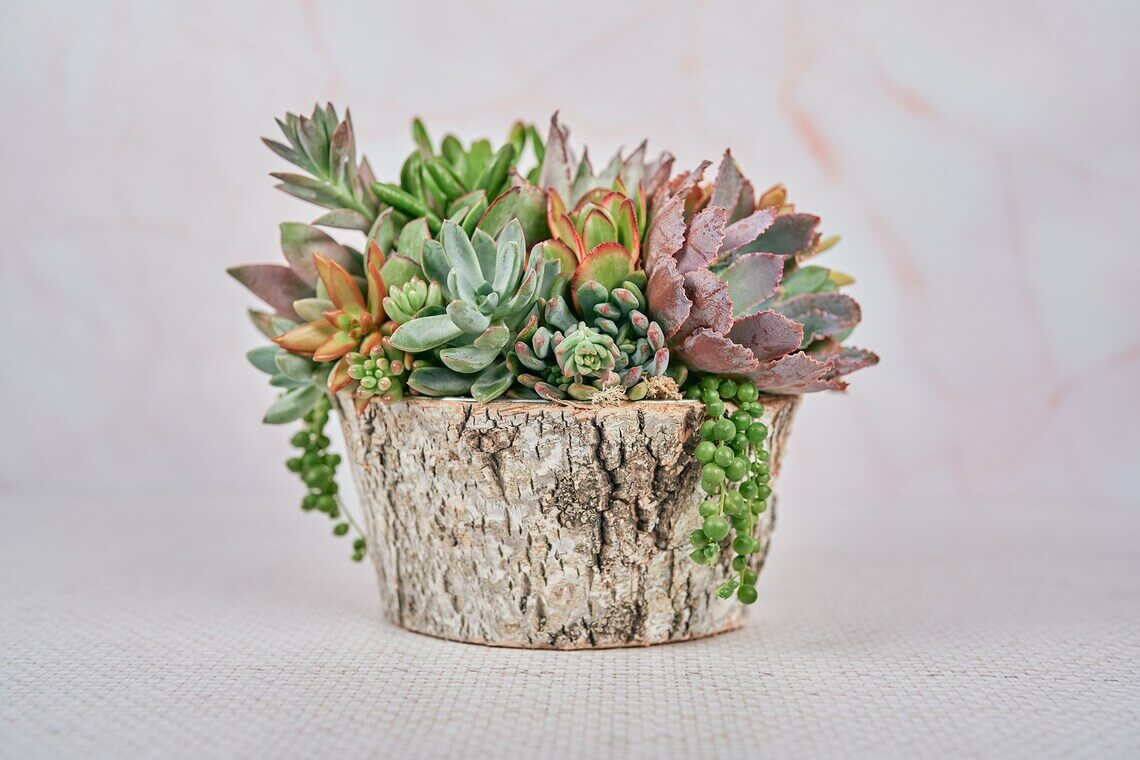 Nothing can pull you into nature as hard as wood being used for decorative sake. This succulent display proves that point well. The round birch offers an incredible farmhouse, rustic style. It's also nice how the main splashes of color come from the succulents that are all different in shapes and sizes. This can be used just about anywhere too from centerpieces to simple décor on a shelf. Let your creativity and imagination go wild as you plan to set this gorgeous piece up.
22 Beautiful Plant Arrangements in Pots for Creative Home Décor
There are plenty of benefits to having potted plants throughout your home. For decorative sake, they look good. There is a variety of plants and flowers you can choose, finding ones that best fit your color theme. Even the pots themselves can leave a statement behind. From decorative to simple, you can always find something that best suits your style personality. You can even mix and match different pots and vases, blending things to create a unique theme.
The only thing left for you to do is to decide how you want to decorate a room (or several) with potted plants. You can suspend some in the air, use floating shelves so they adorn the walls, or go the more traditional route of simply standing them up. If you have the space for it, there are some beautiful, towering plants that can leave a lasting impact. At the same time, there are also incredible potted plants that are more compact and space-saving that still serve the same purpose.
There is no shortage of ways you can approach decorating with plants, but if you are ever conflicted, you can always refer to our top picks for the best potted plant arrangement ideas.