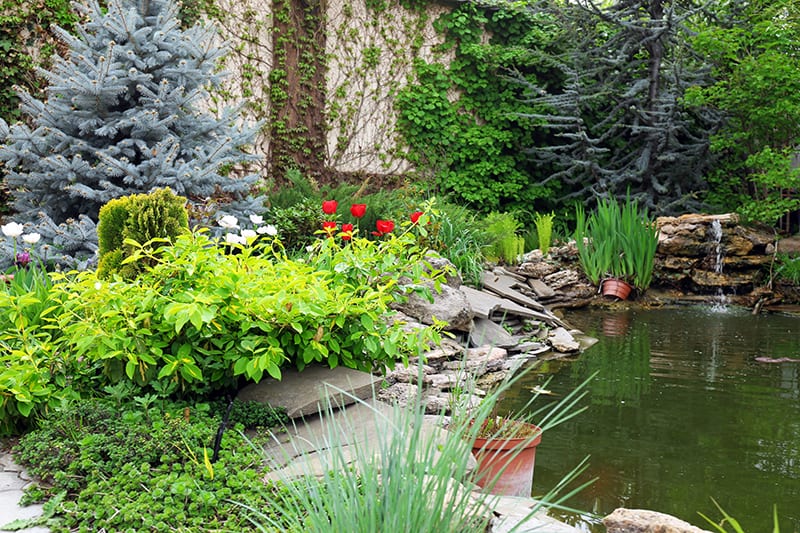 There was a time when there was a very limited choice when it came to backyard ponds, but nowadays, there are so many options for creating a pond or water feature in your garden that you can be sure there are a style and maintenance type that will suit anyone.
Find an inspiring list of 23 backyard pond ideas you can start this weekend below.
Benefits of Having a Backyard Pond
Encourage Wildlife
There is no better way to encourage wildlife to come to your garden than by introducing a pond. Ponds provide a natural habitat for many creatures, including frogs, toads, newts, and a wide variety of insects. These are a joy to observe in the garden, and can also be a great educational opportunity for children to discover new beings and learn all about them.
Improve Relaxation
Backyard ponds are known to create a relaxing environment that can help you to de-stress. Incorporating water fountains or running streams into your space provide sights and sounds that encourage serenity and calm.
Fill Voids
You don't need a large backyard to have a pond, and actually, even the smallest gardens can accommodate a pond if you can just get imaginative and creative with the room you have. But if you do have a big space, then a pond is a great way to fill some of that space and create an interesting feature in an otherwise bland expanse of lawn. A pond can help to break, your backyard into defined sections, and make it feel more structured.
1. Cyclical Pond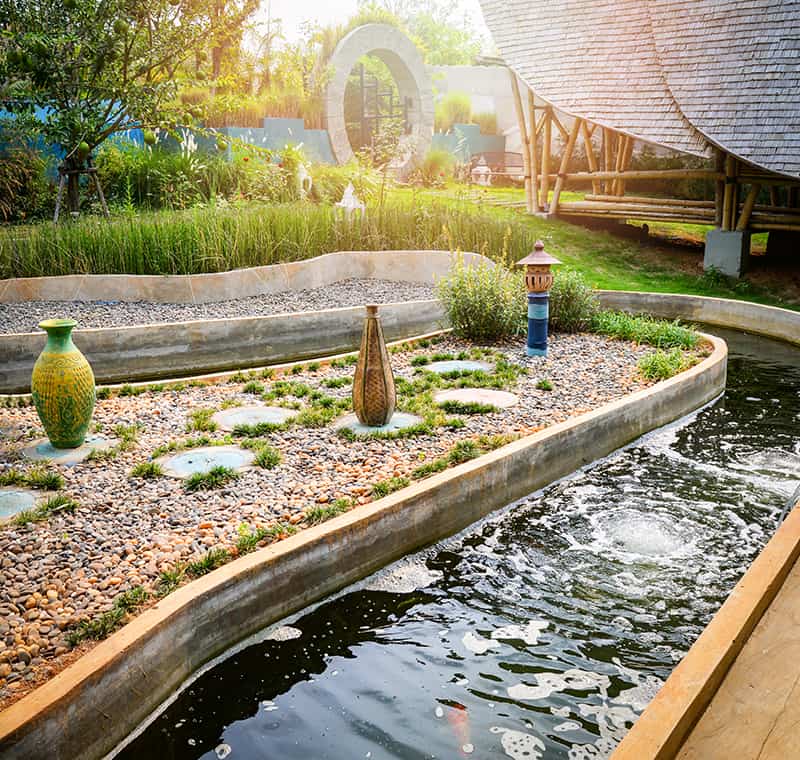 This is an elaborate pond that would be a beautiful feature in a larger garden. It is a loosely oval shape with gently curving edges that give it a natural feel. The pond runs in a ring, with solid ground left remaining in the center, so that the water is seeming to be running in a circular river. For a pond like this, it's a good idea to create a low maintenance garden on the central reservation, as it is an area that may not be easily accessible to carry out regular irrigation, weeding, or other garden tasks. In this instance, the central land has been designed with gravel stones and empty decorative planters to provide interest while also not requiring any upkeep.
2. Multi-Level Pond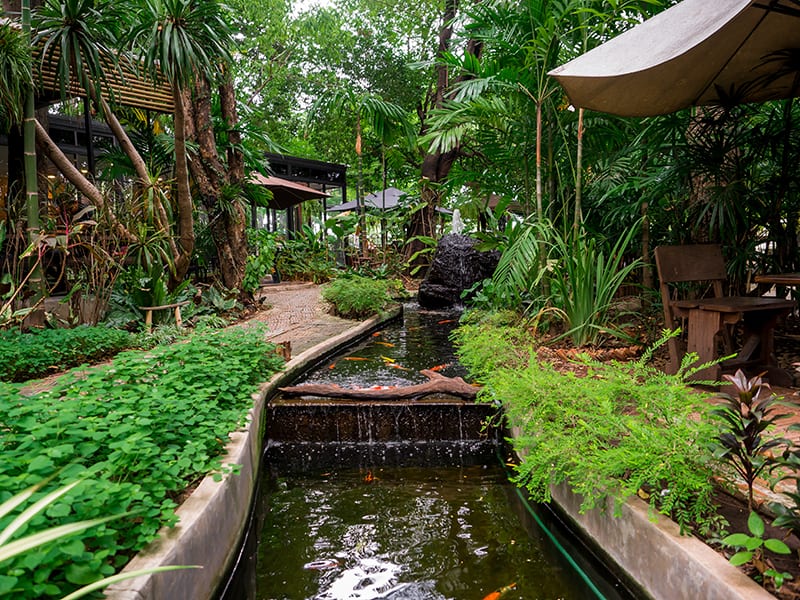 This pond has been created with two levels, where the upper level can flow into the lower level. Though this is a more complex and expensive design to install, it creates a more visually interesting look, but will also produce waterfall sounds that can be very relaxing to listen to in the garden. This sort of feature in a pond will also help to create a more realistic environment for the fish in the pond, which is more similar to what they would find in their natural habitat, as opposed to a still pond with water that does not move.
3. Bridged Pond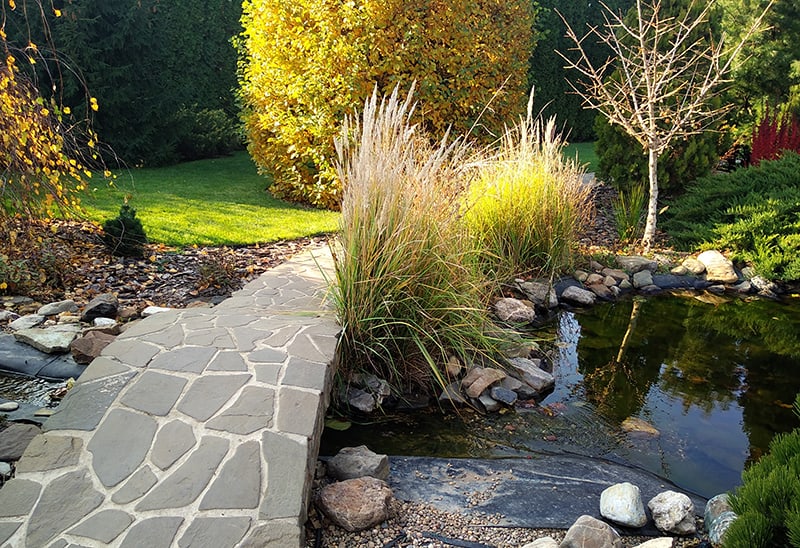 This pond has a shape that fits in with the natural curves and flow of the landscape, rather than having a defined, symmetrical shape. This gives it an organic feel that is consistent with the habitat. This pond also benefits from a walkway that takes the form of a bridge going over the pond. This is an interesting feature that adds an extra dimension to the pond and allows the water feature to be appreciated from different aspects. Be careful to ensure extra attention is paid if you have children or pets visiting your garden, who could fall off of the bridge and into the water.
4. Layered Water Feature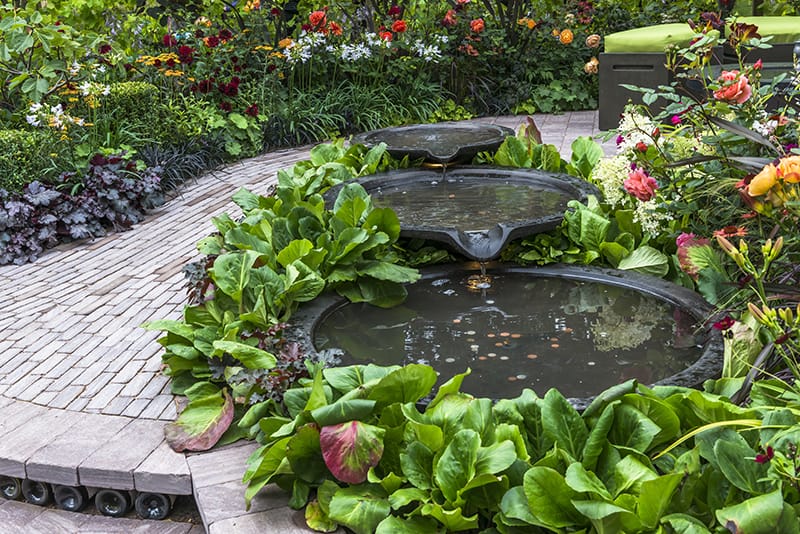 Having several containers of water positioned at varying heights adds great dimension to a garden. Visually the water trickling down between each layer is very interesting, but the sound is also a great feature, adding a feeling of serenity and calm. In this instance, the water feature takes the shape of a pond, but it does not contain pond life. Instead, the owners have treated it as more of a wishing well, and have thrown pennies into the water feature. If you like the idea of a pond but don't want the hassle of having fish or other live animals inside it, there's no reason you can't have an empty pond and simply enjoy the presence of the water.
5. Modern Koi Pond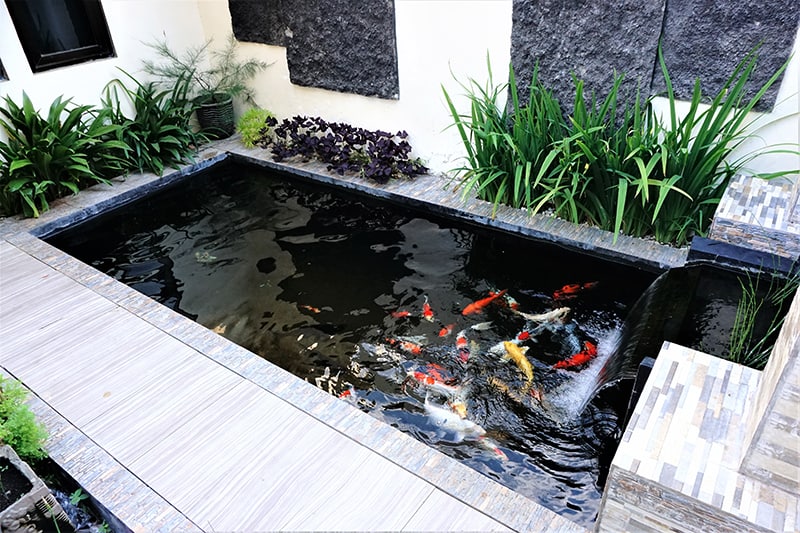 This angular pond is architecturally stunning and works perfectly with a contemporary style home. The harsh shape gives it a modern feel, and this is enhanced by the use of trendy and elegant materials that surround the pond, such as the wooden effect tiles and the miniature mosaics. The plants that surround the pond have been kept neat so that they don't intrude over the edge of the pond, and this helps to keep the lines neat and defined. To achieve a modern style pond like this, maintain clean lines and focus on neutral materials that have straight edges and sleek textures.
6. Stone-Lined Pond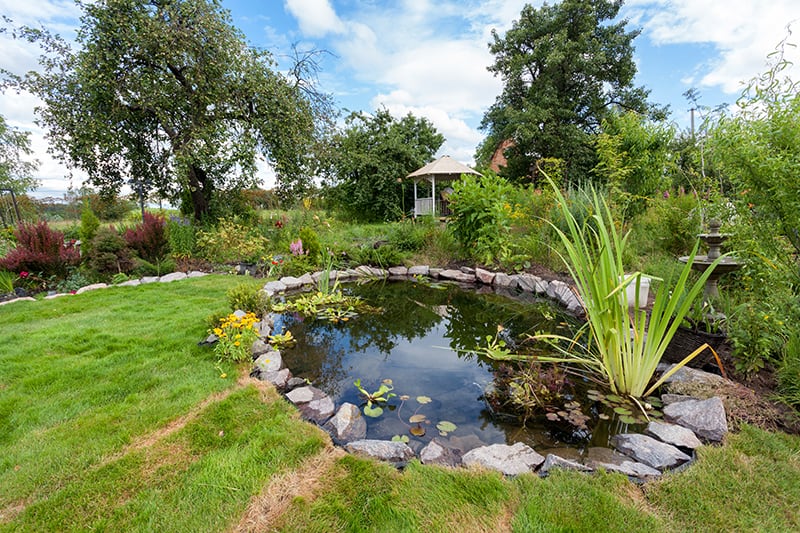 This large pond has a quaint country style. This has been achieved by the use of natural materials and an array of aquatic plants that give the pond a more lived-in feel. The pond has been lined with large, rustic stones, which help to define the feature and also add to the traditional look of the space. The lily pads on this pond provide habitat and natural shelter for wildlife, and also give the pond an organic, less cultivated look. The benefit of creating a pond like this is that the natural growth pattern of plants adds to the style, and so it doesn't need a lot of maintenance to keep it in good shape.
7. Hexagonal Pond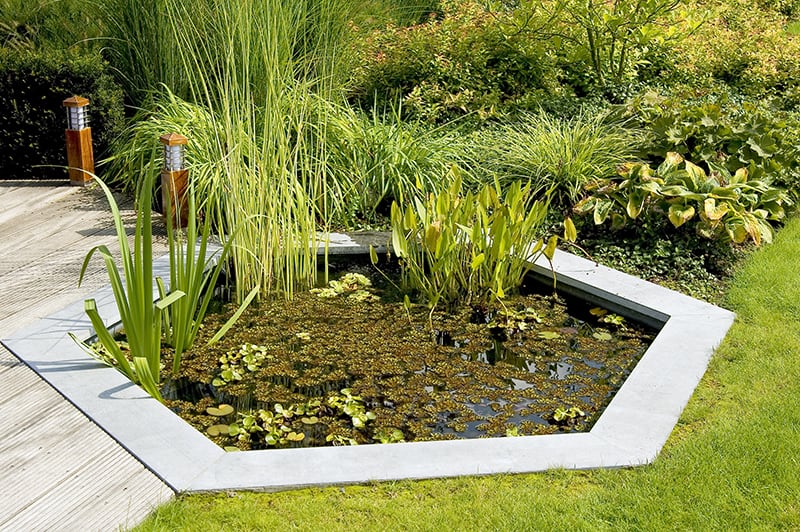 This pond has been made using a concrete hexagonal frame and is surrounded on one half with decking planks, and on the other half with a neatly maintained lawn. These simple materials with clean lines give a modern style to the garden. Though the pond is quite small, the design of it ensures that it makes a big impact, proving that you can have stylish ponds or water features even in small gardens. The reeds growing in this pond add to the architectural look of it, adding height and texture. This type of pond would be ideal in a contemporary style garden and works well against a backdrop of shrubs and foliage plants.
8. Flowing Pond Stream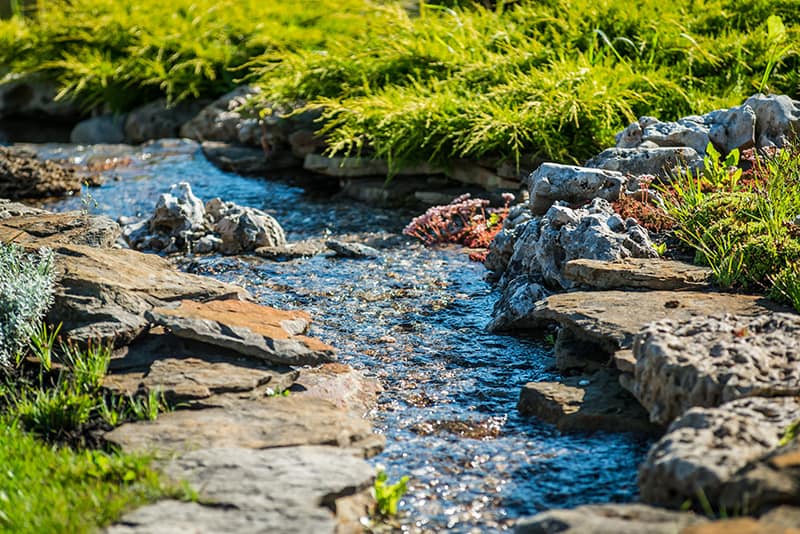 If you are somebody who loves to relax to the sound of flowing water, then creating a flowing pond in your garden might be something you would like to do. You can do this by trenching out a stream, and fitting a pump under the water to push the water around the circuit. This will create a constantly flowing stream of water around your garden, where both the look and sound of the running water will add texture and depth to the space.
9. Raised Pond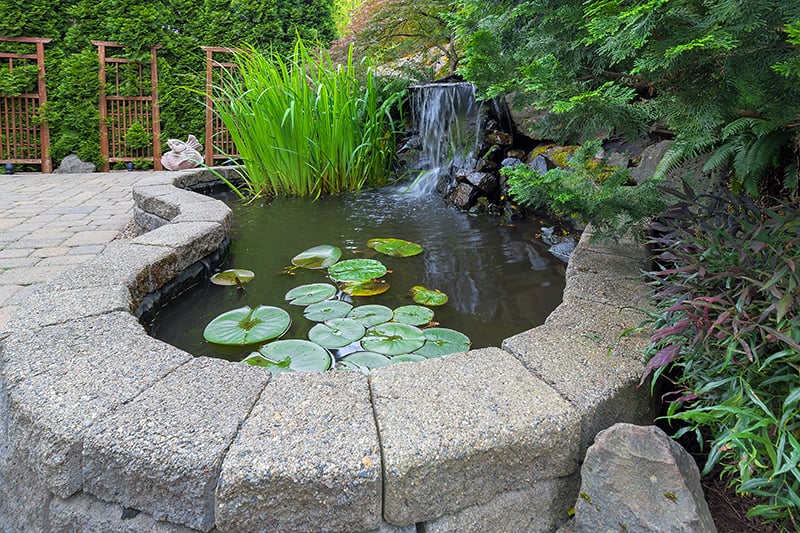 Digging a hole to create a pond in your garden isn't always possible, especially if you have a paved area, you don't want to wreck, or a concrete surface that would simply be too much hassle to consider breaking up. However, this doesn't mean you can't have a pond or a water feature. Instead of an in-ground pond, you could create a raised pond. In this example, the owners have opted for a pond built from large bricks, laid in a coffee bean shape. They have also chosen to add a waterfall at the far end, which could be included whether your pond is in-ground or above ground. It works particularly well in this instance, though, as the exterior wall of the pond has been extended around the back of the structure, where the waterfall can flow from. To help a raised pond fit in with the surroundings and not look out of place, it's a good idea to cover one edge with plants, as in this image. Ferns are a great choice of plant to use around a pond. They have an exotic look, and they thrive in humid and moist conditions, which are created by water features.
10. Half-Sunken Pond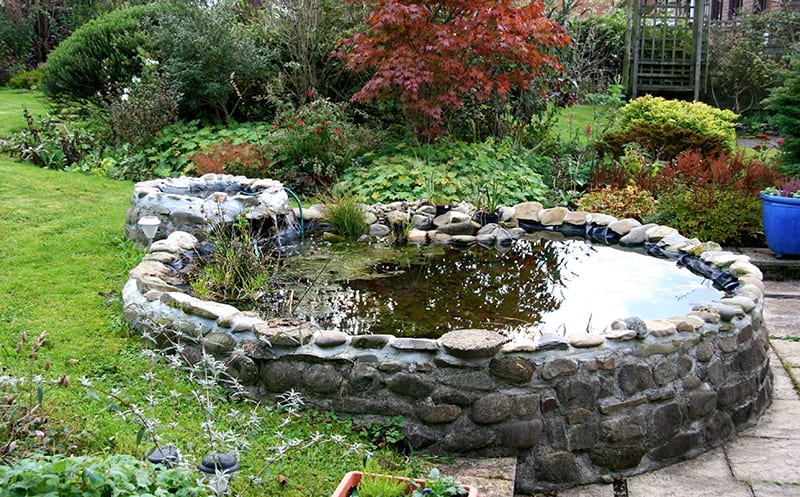 If you have sloped land in your yard, then this is a good opportunity to make a feature out of it. Create a pond that has been sunken into the land on one side and raised on the other side. This pond has been constructed using cobbled bricks that give the pond a traditional look. A smaller pond that is raised at a slightly higher angle than the pond has been built at one side, with an opening allowing the water to flow into the larger pond. This creates a trickling effect similar to a waterfall. To achieve this, you will need a pump, pushing the water back to the upper level so that the water can continue to flow.
11. Stepping Stone Pond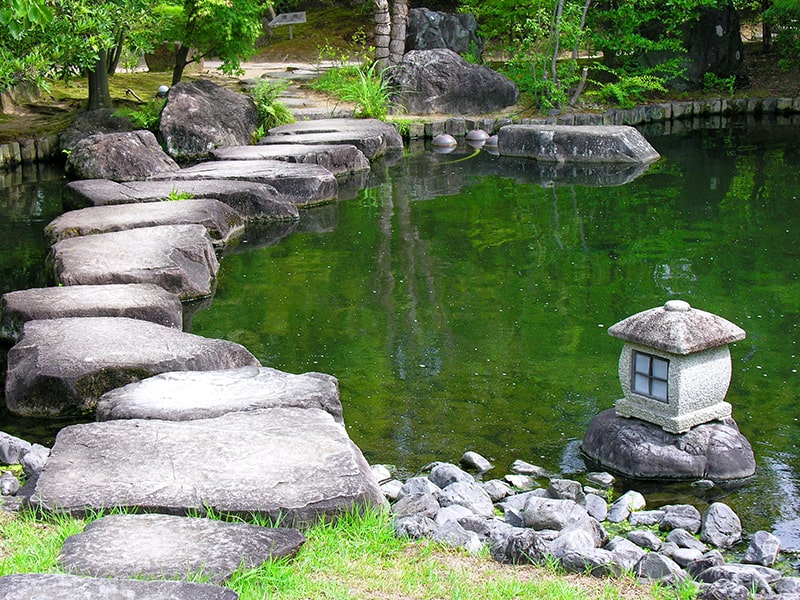 You can create a zen garden by filling a large portion of your space with water. A large, still pond brings a feeling of calm and serenity, which is ideal for anyone who likes to sit and enjoy their space rather than making physical use of it. If you turn your garden into a large Japanese style pond, then fitting large stepping stones across it is a good way to create useful pathways so that you can access the back areas of your garden while maintaining the natural look of the design. These stepping stones have been chosen for their unrefined shape and rough texture, which are in keeping with the zen style of the space.
12. Japanese Ornamental Pond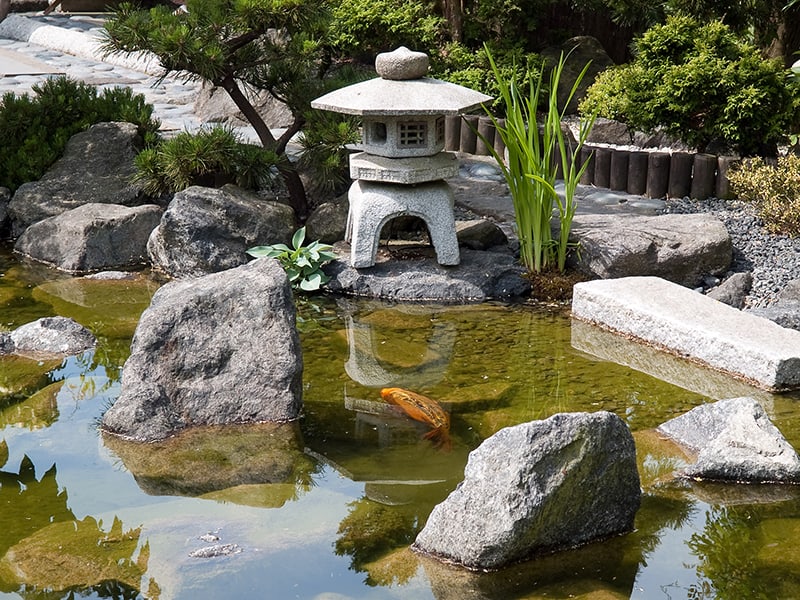 This is a shallow pond that is characterized by its use of gray stone. As well as the naturally cut rocks, this pond benefits from an ornamental pagoda in a Japanese style, which helps to define the space as tranquil and peaceful, as Japanese water features are synonymous with these ideals. By sticking to a color scheme of gray materials and green plants, the look of this pond is kept simplistic, which is also key in creating a zen-like space.
13. Decorative Pond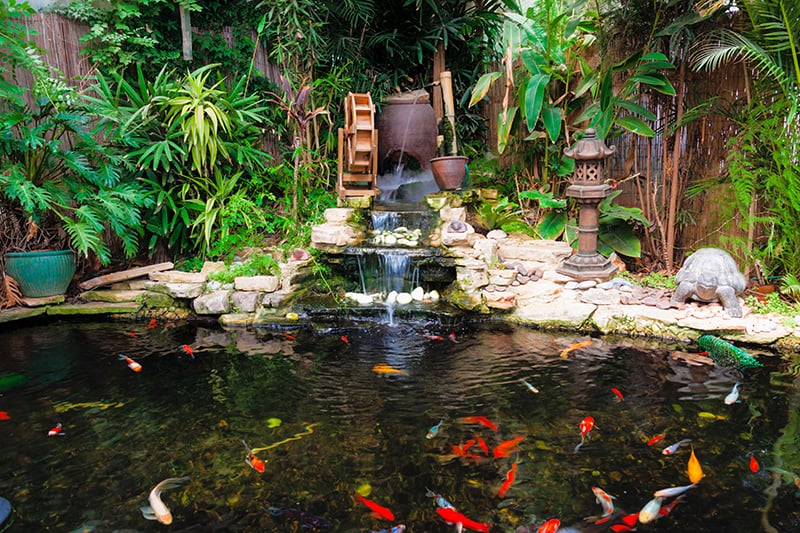 Minimalist styles and clean lines don't suit everyone's tastes. If you prefer a more decorative design, a pond like this could be more, your style. This pond has incorporated several different features, including ornaments such as a stone turtle, a decorative pagoda, a water mill, and a waterfall. There is also a barrel, planters, and stacked stones to add texture and interest to the look. By selecting neutral colors, a decorative look has been achieved without making the space look too busy or overwhelmed. The use of tropical and exotic plants has added further interest to the space. By selecting foliage plants over flowering plants, the designer of this pond has again prevented the space from becoming too messy and kept the focus on the water feature itself.
14. Minimalist Pond

This pond is the ultimate luxury and relaxing garden goal for anyone who appreciates minimalist design. The straight edges of the pond and angled corners create an architecturally interesting look that is both simple yet makes a big impact. Modern and minimalist materials have been used in the space surrounding the pond, in keeping with the design and to further add to the simplistic yet luxurious style. Simple materials don't necessarily mean basic, and when designing a minimalist space like this, it's important to select high-quality finishes to achieve the right end look. A sitting area has been constructed alongside the large pond, which provides a perfect space to sit and enjoy, your calming garden. This yard has plenty of greenery and plants around the perimeter of it, but these have been kept set back from the pond itself so that they don't intrude on the clean lines of the pond. This is a clever way to add texture and depth while maintaining a minimalistic water feature.
15. Traditional Structured Pond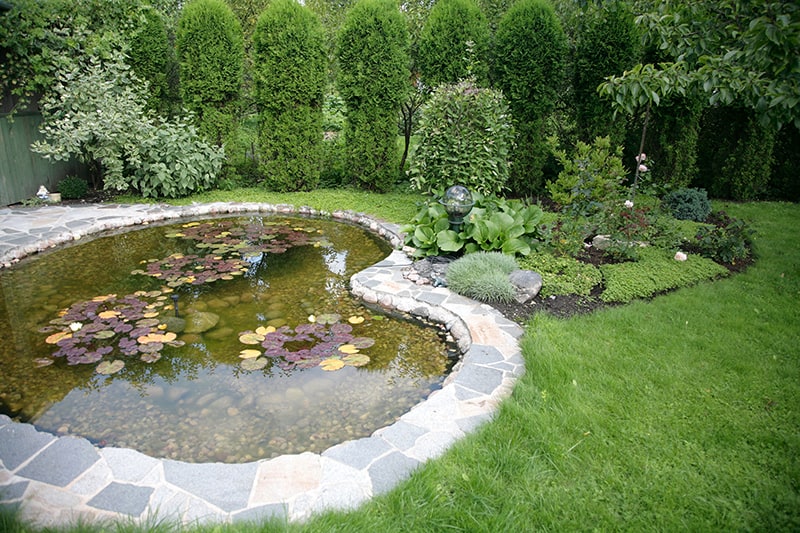 This pond takes center stage in this well maintained, manicured garden. The curved edges of the pond match the shapes of the curved flower beds, which helps to tie in the pond to the design of the rest of the garden so that it doesn't look out of place. The walls of the pond have been made using stones that have a smooth finish, which is in keeping with the polished look of the garden. From this image, we can learn how the materials we choose make a huge difference in the final look of our outdoor spaces. Roughly textured rocks in misshapen pieces would have been at odds with the remainder of this garden. They would have provided a nice contrast but given the pond an entirely different feel.
16. Low Circular Pond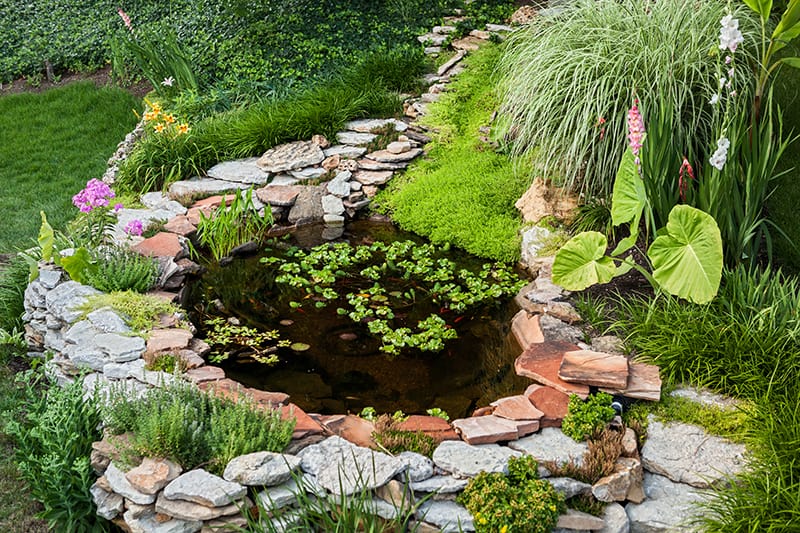 This pond has been slightly raised out of the ground and surrounded by small, layered stones. One of the benefits of having a raised pond is that if you have pets or children, they are much less likely to accidentally fall into the water, compared to a sunken pond. The chunky edge of this pond made from many stacked stones also sets it further back from passers-by, making it even safer. However, if, you are at all concerned about the hazard a pond poses to children or pets, it would be best to avoid building one. This pond has been created in a rough circular shape, with plants growing amongst the stones that help it to look like it fits naturally into the environment. Aquatic plants also further add to the natural style of this pond.
17. Pond Amongst Lawn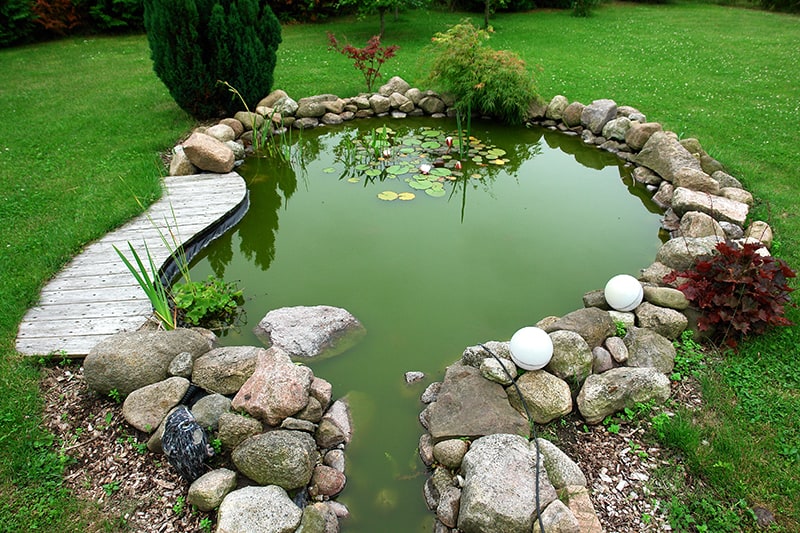 This pond has been set amongst a large and lush lawn. The lack of surrounding plants makes this pond a focal point in the garden, and the eye is immediately drawn to this calming water feature. The pond has been edged with varying sized boulders, with the exception of a small portion that has been decked with wood. This is a good idea if, you want to create a perch to set chairs or stand on, to admire, your pond, or sprinkle food into the water for the fish. This pond benefits from a few select lights around the edges, which will illuminate it during nightfall. If, you spend time in, your garden during the evening, then it's a good idea to consider lighting options for, your pond, which can further enhance its beauty during darker hours.
18. Lush, Lively Pond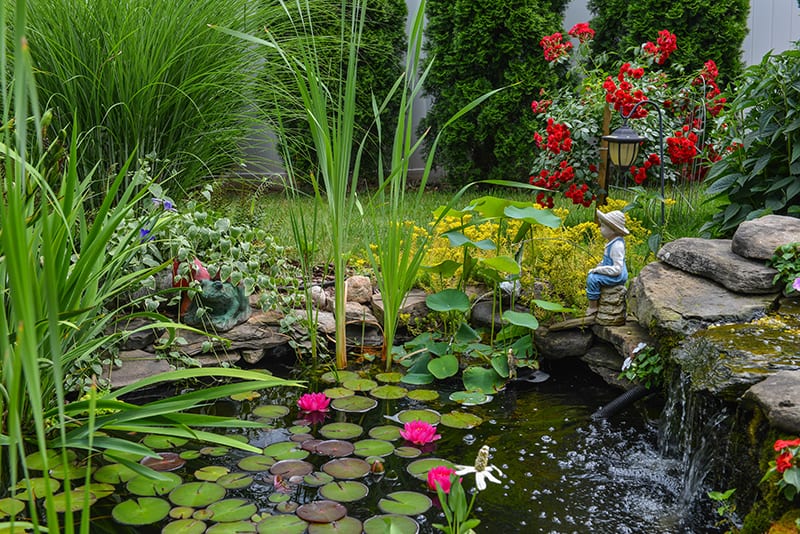 This pond is absolutely thriving with plants that are both growing inside and around the exterior of the pond itself. These plants help to bring the pond to live, increasing oxygenation and creating a lush look. The water lilies growing in this pond bring a wonderful splash of color to a space that is otherwise very green, and the choice of pink flowers makes for a great contrast. This pond also benefits from a waterfall, which keeps the water moving and prevents it from looking stagnant. This is quite a busy looking pond, which also has statues and lighting, but it is a style that works within the context of the garden. To achieve this sort of look, you should plant a range of flowering and foliage plants around the pond, and allow them to flourish. Resist heavy pruning, which would look too polished in this design.
19. Terracotta Colored Pond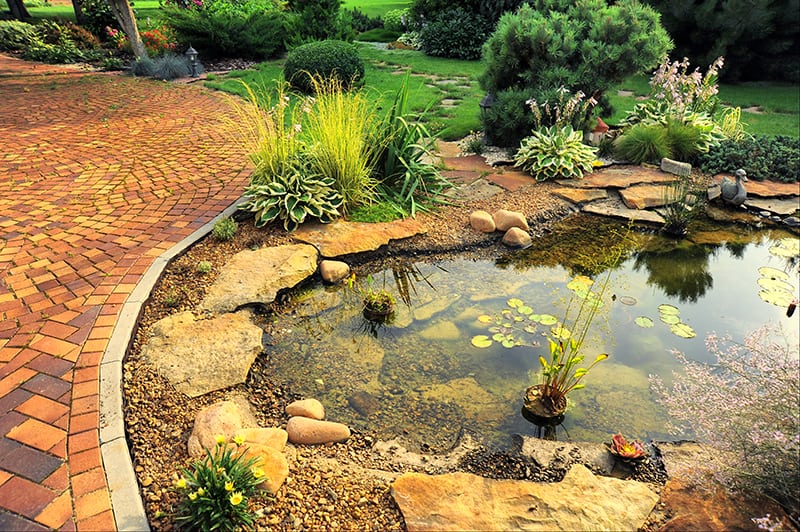 When choosing materials to build, your pond with, or dress it with, you should consider what else is already existing in, your garden. Choose materials in colors that are consistent with other colors in, your yard, or choose intentionally contrasting colors. In this image, the pond has been surrounded by rocks in a shade of terracotta, which helps the pond to seamlessly blend in with the patio paving that has been done in an orange hue. Terracotta is a popular choice in gardens because it has a natural tone that doesn't look out of place in the outdoors, but it also contrasts well against the green of lawns and foliage, helping plants to stand out and look even more lush by comparison.
20. Cascading Water Pond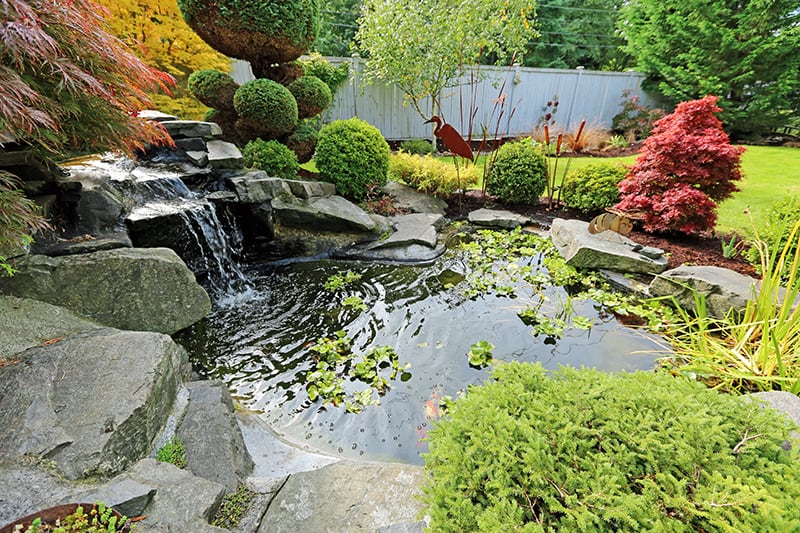 This pond has taken inspiration from a tropical setting, and incorporates a cascading waterfall, with water travelling over carefully positioned rocks. The rocks, though they have been manually situated, have been arranged in such a way that they look as though they could have been there for millenia, guiding water through a tropical stream. The pond has been surrounded by a wide selection of plants, including Japanese maple, which bring an array of colors and textures to the design. The choice of using evergreen plants around the pond ensures that it will continue to look lush all year round.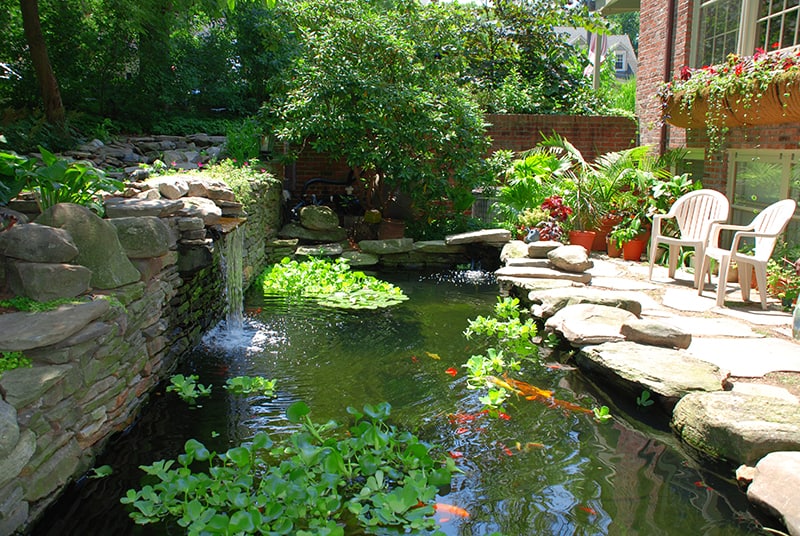 The different ground heights in this backyard could have presented a problem, but instead the owners of this garden have utilized them, turning them into a feature. A pond has been created at the lower level, while the upper level acts as the top of a waterfall, allowing water to trickle down from several feet above. This provides both an interesting visual aspect to the water feature, and also a splashing sound as the waterfall hits the pond, which can be soothing and invigorating. Creating a terraced area alongside the pond is an ideal way to enjoy, your new water feature, and provide a relaxing space where, you can watch the water flow, or observe the fish in, your pond.
21. Mosaic Patio Pond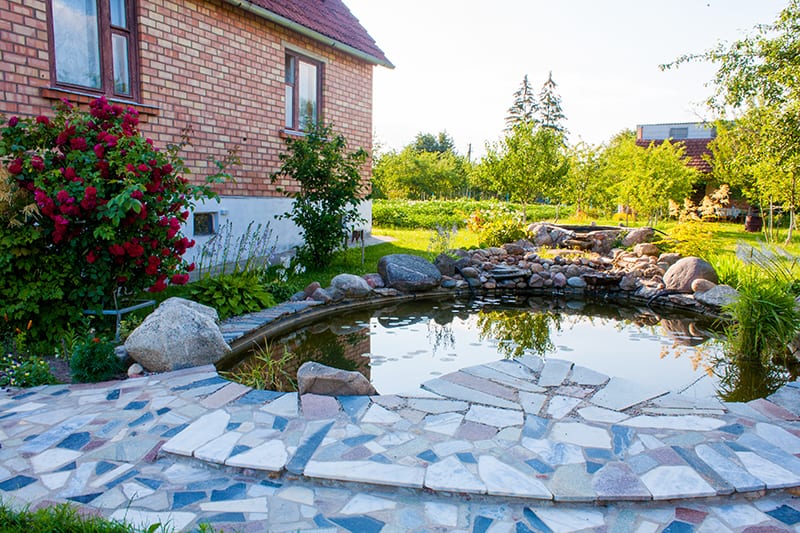 This coffee bean shaped pond is bordered on one side by a rockery, and on the alternate side by a smooth, mosaic patio. The variation of neutral colors in this patio gives it a natural yet polished look, accented by how level the finish of it is. The patio provides a walkway surrounding the pond, and also a place to stand and observe the water feature and any fish, you might choose to house inside it. The way plants are growing throughout the rock garden help to settle the pond into the landscape and ensure it doesn't look out of place, and also bring added interest to the area.