Most of the greatest players in the game are nearing the end of their careers, which means the future will be controlled by the young stars in the league.
The world of professional basketball is about more than just stunning slam dunks and impressive three-pointers; it's a realm where the most illustrious athletes etch their names into the annals of history. Among these titans of the sport are LeBron James, Kevin Durant, and Stephen Curry, whose awe-inspiring talents have captivated fans and redefined the game itself.
However, every exhilarating play and legendary season inevitably leads to one inevitable question: when will these iconic players finally hang up their sneakers and retire from the hardwood? In this article, we delve into the realm of speculation, data analysis, and conjecture to explore the factors that might influence the retirements of these NBA greats.
By examining a range of variables – from age and injury history to personal motivations and career milestones – we aim to venture a glimpse into the crystal ball, attempting to predict the future of these basketball legends. Only NBA superstars 30 years or older will be considered, as that indicates the crop of players who are nearing the end of the tunnel leaving room for the youngsters. While exact retirement dates may remain uncertain, the journey to unravel this intriguing puzzle promises to offer insights into the twilight years of some of basketball's most remarkable careers.
Honorable Mentions
---
Russell Westbrook – 37 Years Old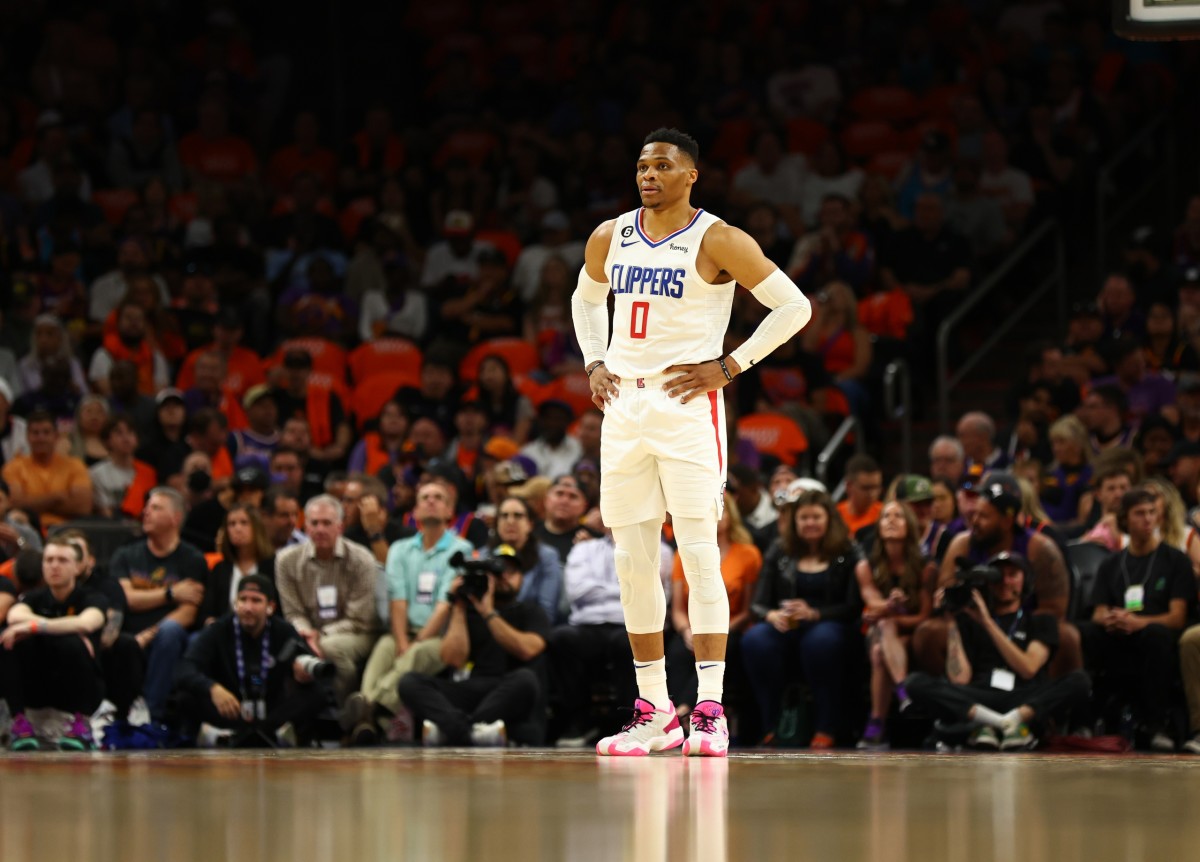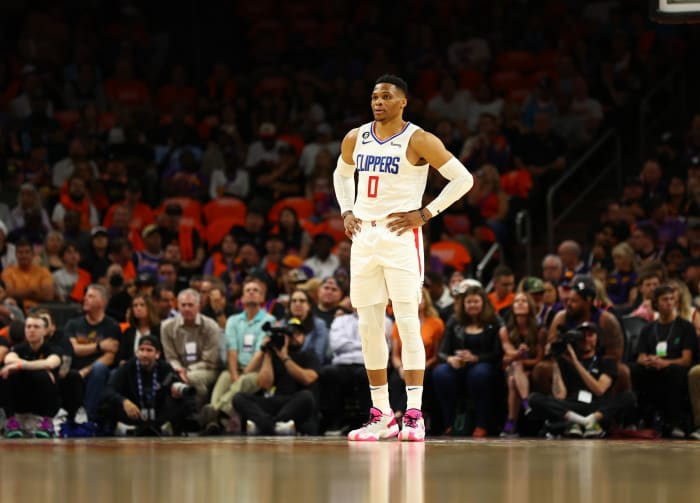 Russell Westbrook has had an incredible career since getting drafted No. 4 overall in the 2008 NBA Draft. From his explosive athleticism to his relentless drive on the court, Westbrook has earned a place among the league's most formidable players and has achieved numerous accolades and milestones throughout his career, including nine All-Star selections, nine All-NBA Team honors, and an MVP award in 2017 when he became only the second player in NBA history to average a triple-double for an entire season.
At 34 years old, Westbrook has two years on his contract with the Los Angeles Clippers, and after that, it will be difficult to see a long-term future for the point guard. Westbrook has never been an elite shooter, averaging only 30.5% from three over his career, and that won't cut it in the modern NBA. As his athleticism wanes, Westbrook won't find many suitors at 36 years old and near 37. Considering he will sign a one-year deal after that, Westbrook could retire at 37 years old after three more seasons.
---
CJ McCollum – 36 Years Old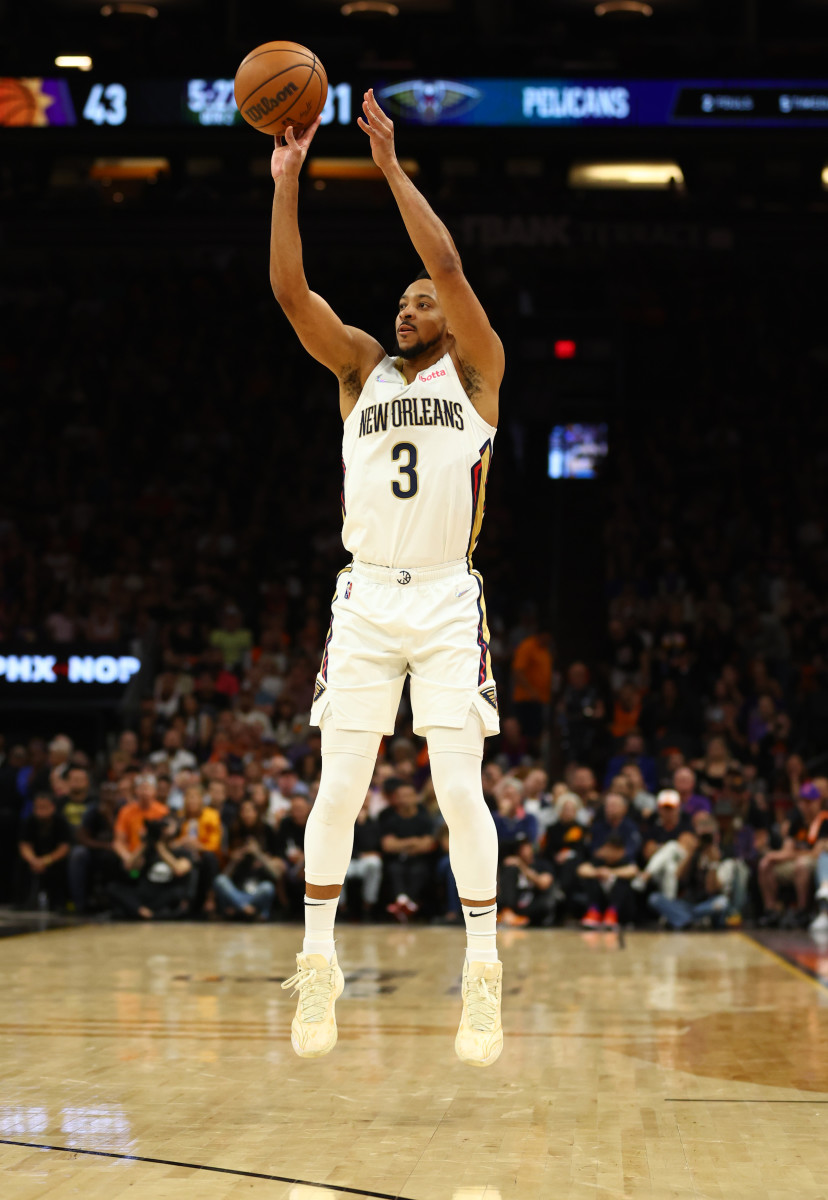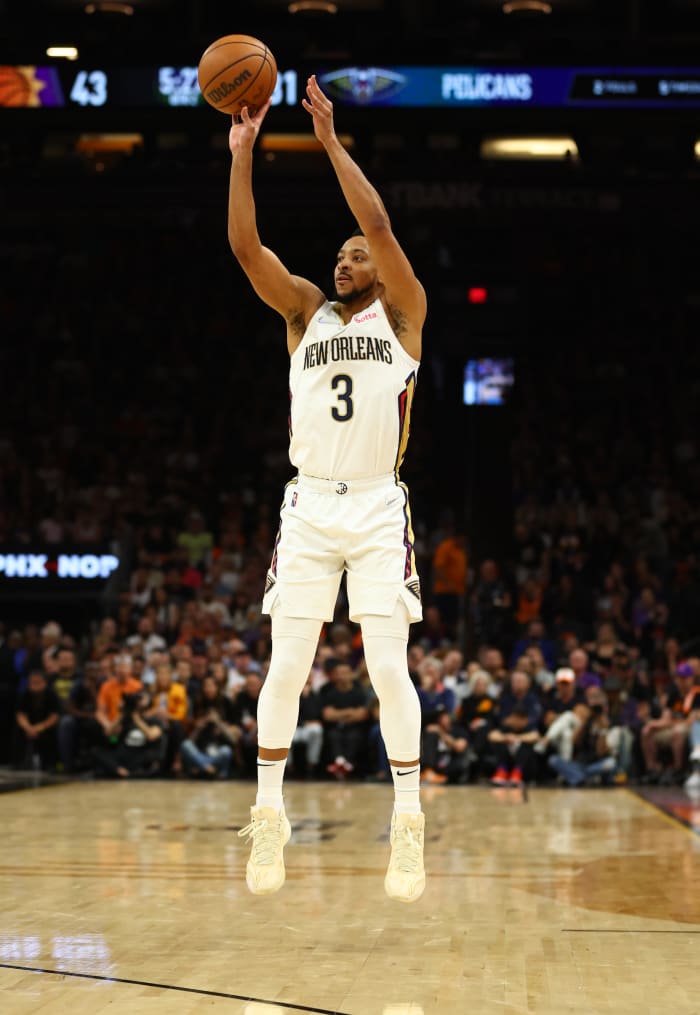 CJ McCollum is an absolute baller, but he might be interested in stepping into a new realm as an NBA analyst. The shooting guard has stayed relatively healthy over his career, playing under 65 games only twice in his career, not including the first two of his career. McCollum can score at will, and while he is best suited as a secondary option on a championship team, his skills cannot be denied. Considering he is 31 years old and counting right now, McCollum could have five more years left in him.
CJ would become an exceptional analyst because his appearances on popular sports shows yielded some very interesting conversations. He knows how to speak about the game, clearly has a high basketball IQ, and can provide insight into the inner workings of being a professional basketball player. As a result, as CJ gets older, finding a new career path could be on the horizon for him.
---
15. Rudy Gobert – 36 Years Old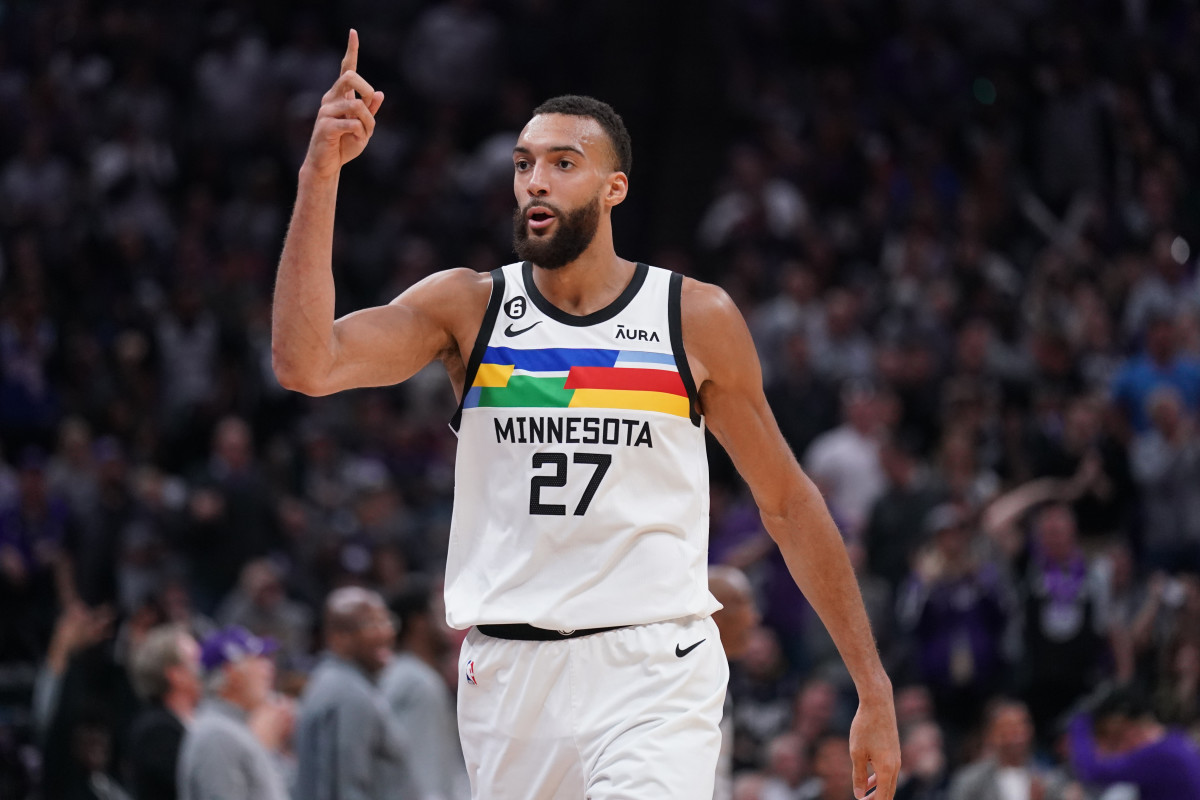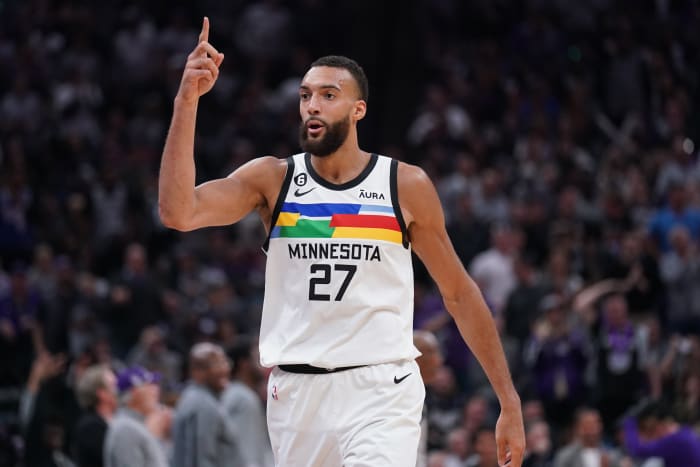 Rudy Gobert is an old-school center which means his value will deteriorate as he loses the ability to recover on defense quickly. He can't shoot a lick and is devoid of any offensive moves, so he might have only five years left in the league. Gobert hasn't declined yet, but his numbers might start falling as he reaches 34 years of age.
That means the three-time Defensive Player of the Year could retire at 36 years old. At 7'1" and 258 lbs, the center is carrying a lot of weight, and it is only natural he will start feeling some of it going forward. Gobert is still in his prime, so he should just focus on continuing to protect the rim and rebound with the Minnesota Timberwolves because the team could be better next season.
---
14. Chris Paul – 40 Years Old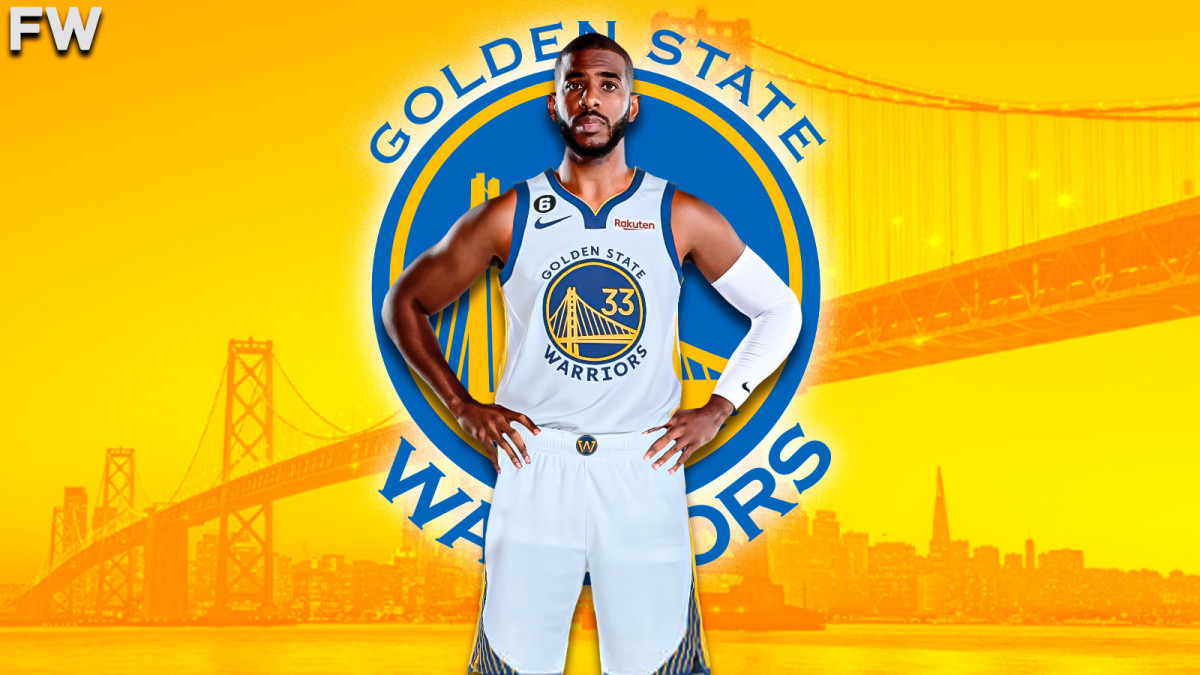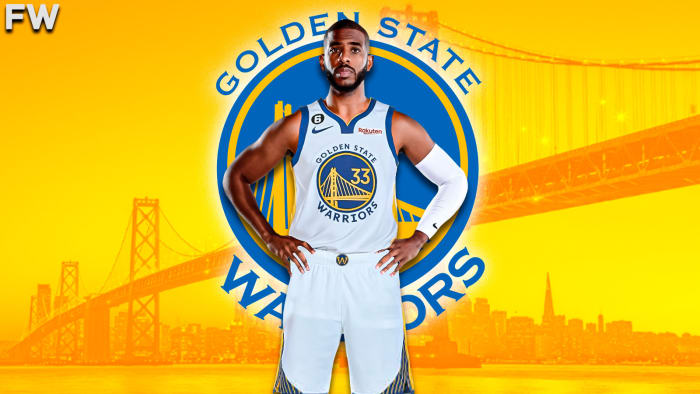 Chris Paul is 38 years old, and that means he is nearing the end of his Hall of Fame career. Making a whopping 12 All-Star and 11 All-NBA Team appearances, Paul has accomplished nearly everything in his career beyond an NBA championship. He has the best chance to win his first ring in the upcoming 2023-24 season.
Unless the "Point God" can win a title this season with the Warriors, the writing could be on the wall for the legend's career. He has come close to winning a title in 2021 with the Phoenix Suns but has since dealt with countless injuries. His body is breaking down, and two more years could be in the cards for Paul.
---
13. Khris Middleton – 37 Years Old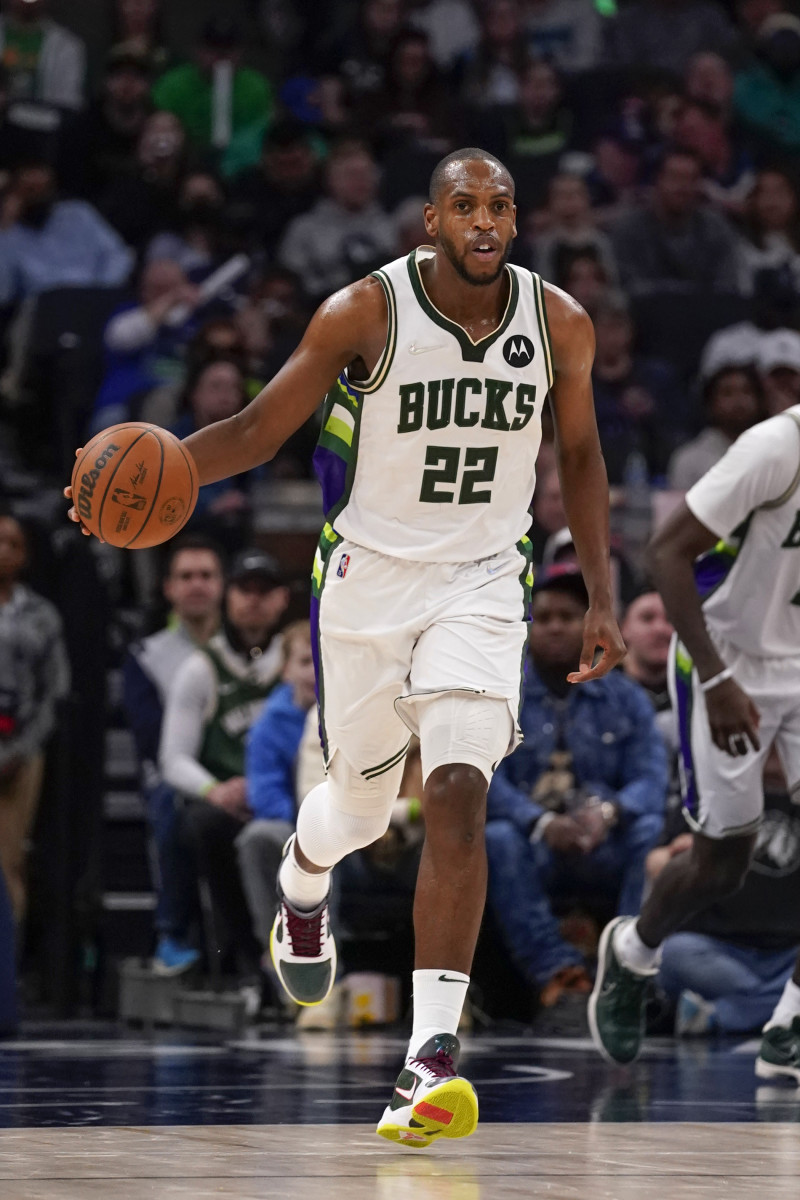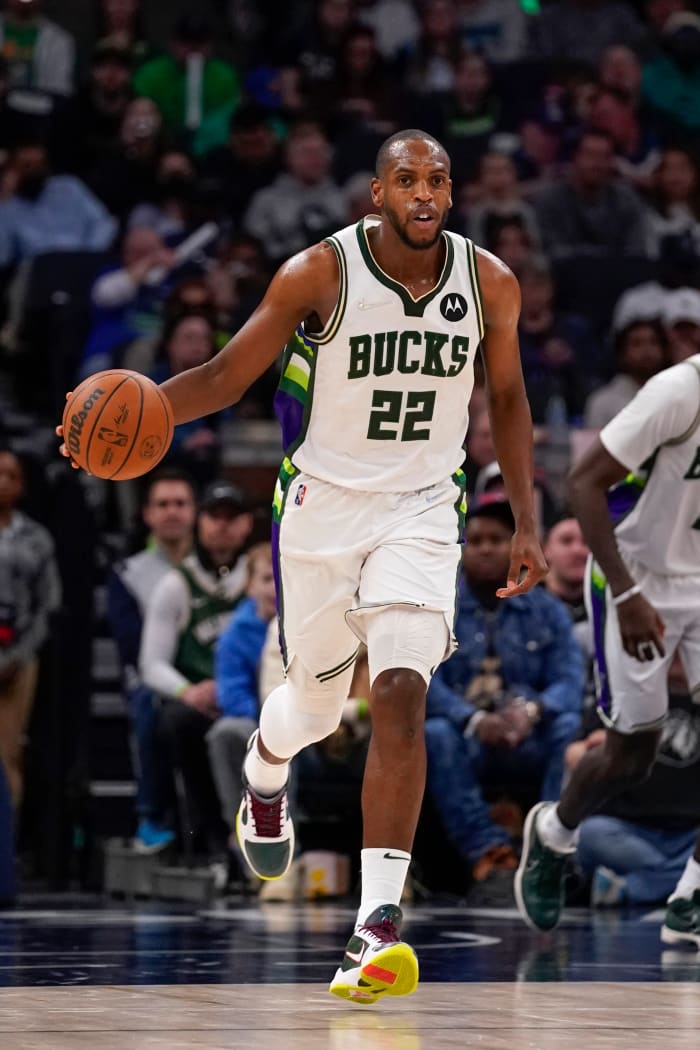 Khris Middleton only played 33 games in the 2022-23 season, and while that could be an anomaly, it is obvious the two-way All-Star isn't going to get healthier going forward. He is 32 years old, and while he is still in his prime, the next few years will be pivotal for him. Still, the Milwaukee Bucks offered Middleton the final large deal of his career. Giannis Antetokounmpo's sidekick was brought back for $102 million, and that means the Bucks are running it back for the next few years.
That could also mean that Middleton will probably have to accept earning a mid-level deal going forward, as he could retire at 37 years old. The reasons the Bucks extended Middleton are for three points: he shoots over 38% from three, defends at a high level, and is a shot-creator. By the time Khris hits 37 years of age, he could decide to walk away from the game and look back positively on his career as an NBA champion.
12. DeMar DeRozan – 37 Years Old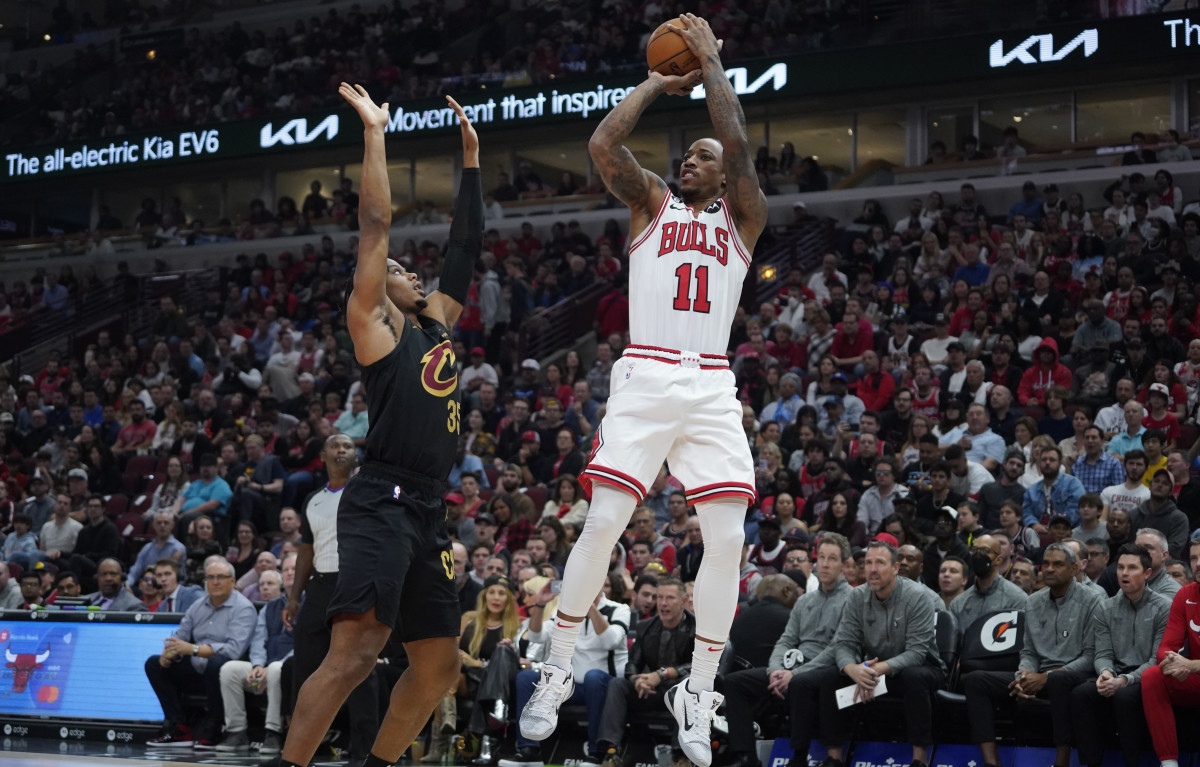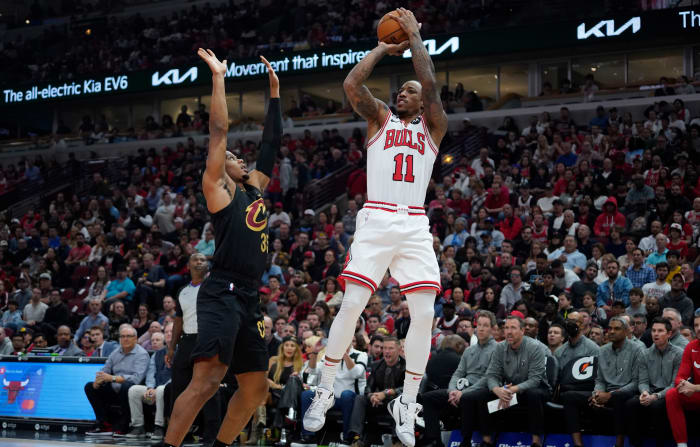 DeMar DeRozan has an outside shot to make the Hall of Fame if he can keep adding more All-Star selections to his resume. DeRozan is currently a six-time All-Star with a career average of 21.0 points per game, and if he can add at least two or three more All-Star appearances, he could feel that he did enough to walk away from the game with his head held high.
Currently, the Chicago Bulls star is 34 years old, and as he continues to score the ball at a high level, he does not seem to be declining. However, as we know from history with regards to shooting guards, 36 years old is where the decline seriously starts. As DeRozan declines, his athleticism will slowly disappear since he only shoots 29.1% from three for his career, and won't be willing to be a role player by most accounts. Therefore, DeRozan could walk away at 37 years old.
---
11. Klay Thompson – 38 Years Old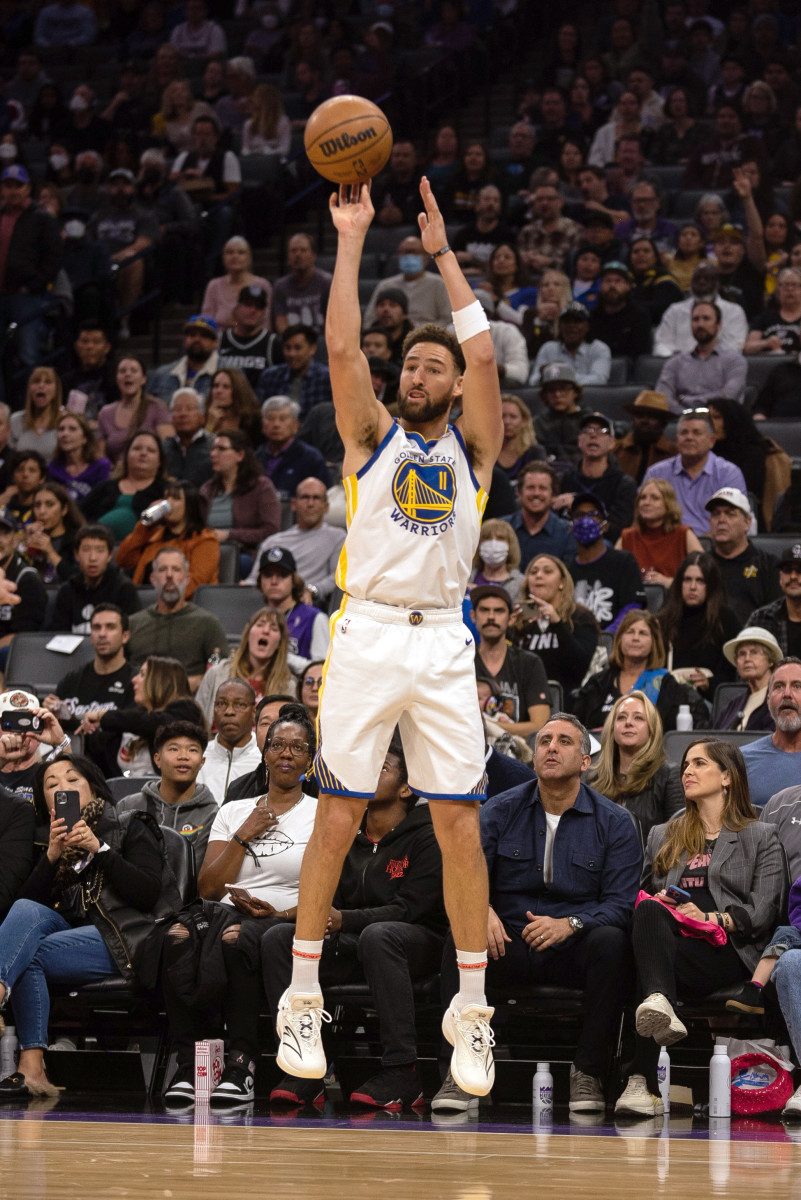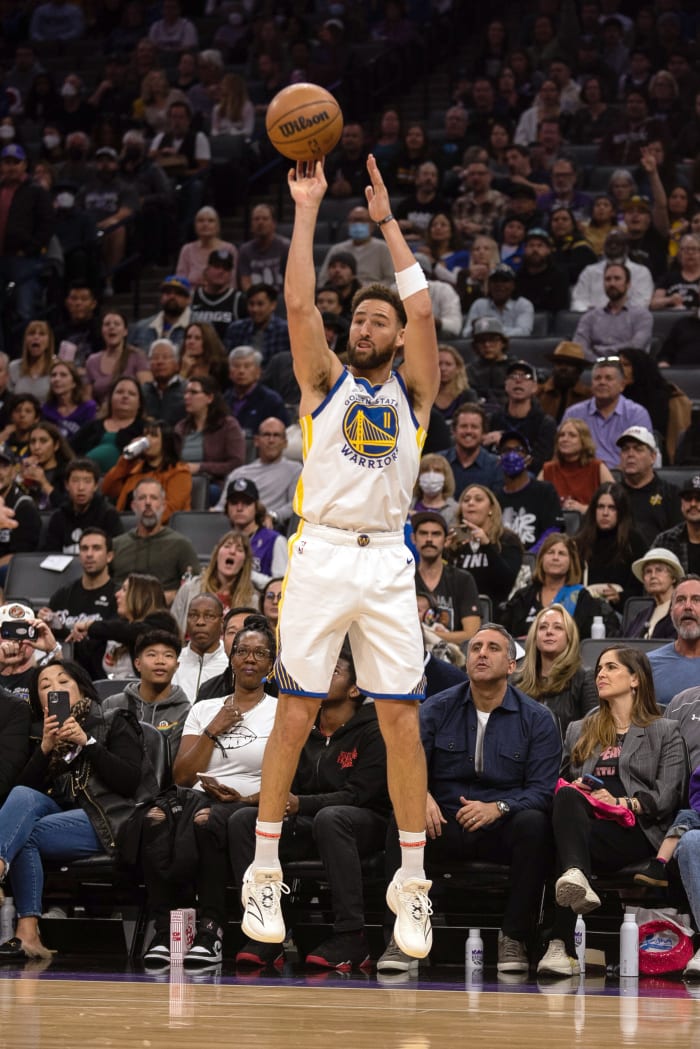 The Golden State Warriors are trying to win more rings, as evidenced by the fact Draymond Green was retained for $100 million over four years while Jordan Poole was shipped out. Since the core is retained, Klay Thompson could be in the long-term plans for the Warriors. However, Thompson is declining even if he can still get hot and shoot over 40% from the three-point line in the Warriors system.
Even if Klay isn't retained with this contract, due to expire in 2024, he will likely sign another three or four-year deal to become a sharpshooter. Thompson is regarded as a top-three shooter ever, so in the game of shooting, he will be able to last longer than expected. Unless Thompson's body breaks down far more than expected, retiring at the age of 38 seems very reasonable.
---
10. Paul George – 37 Years Old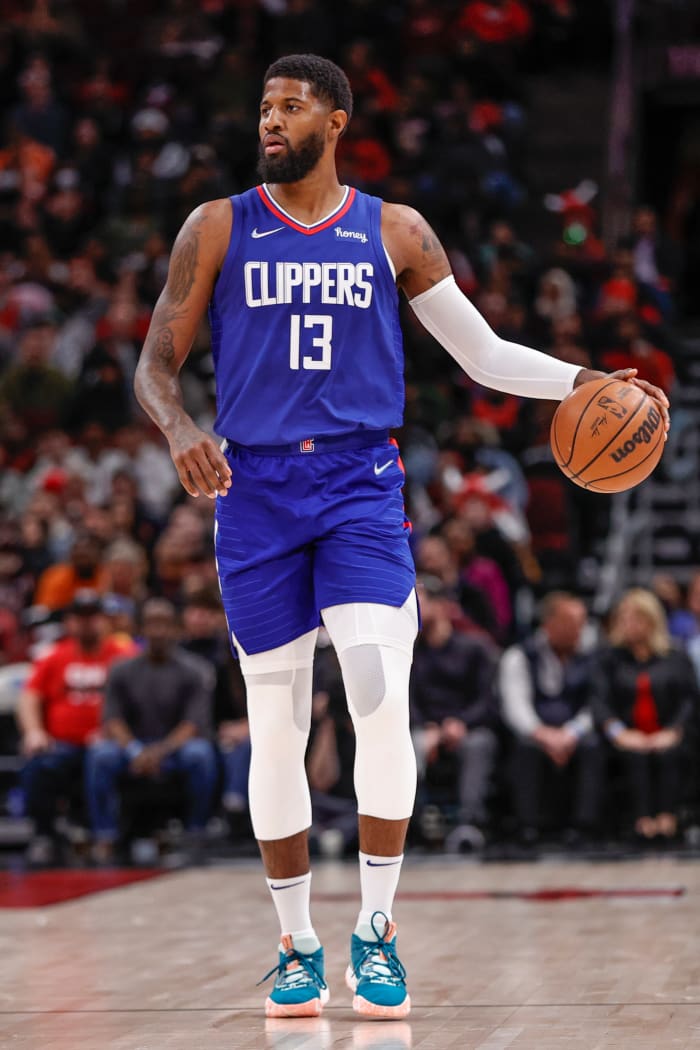 Paul George's durability has been the major problem over the past few seasons. After suffering a horrific leg break in 2014, George has done well to return to an All-Star level and continue performing as an elite two-way player. However, as soon as touching down in Los Angeles with the Clippers, he hasn't played at least 60 games once. In fact, George has played his highest number of games with the Clippers this past season, with 56 played.
Assuming George averages 55-65 games per season going forward, the All-Star might have no choice but to retire after five seasons. While that would be better than most would expect, George has the type of game that could end up being more useful as the years go by, even if he loses athleticism. George could retire after four seasons, but five more years seems the right number at this time.
---
9. Kyrie Irving – 36 Years Old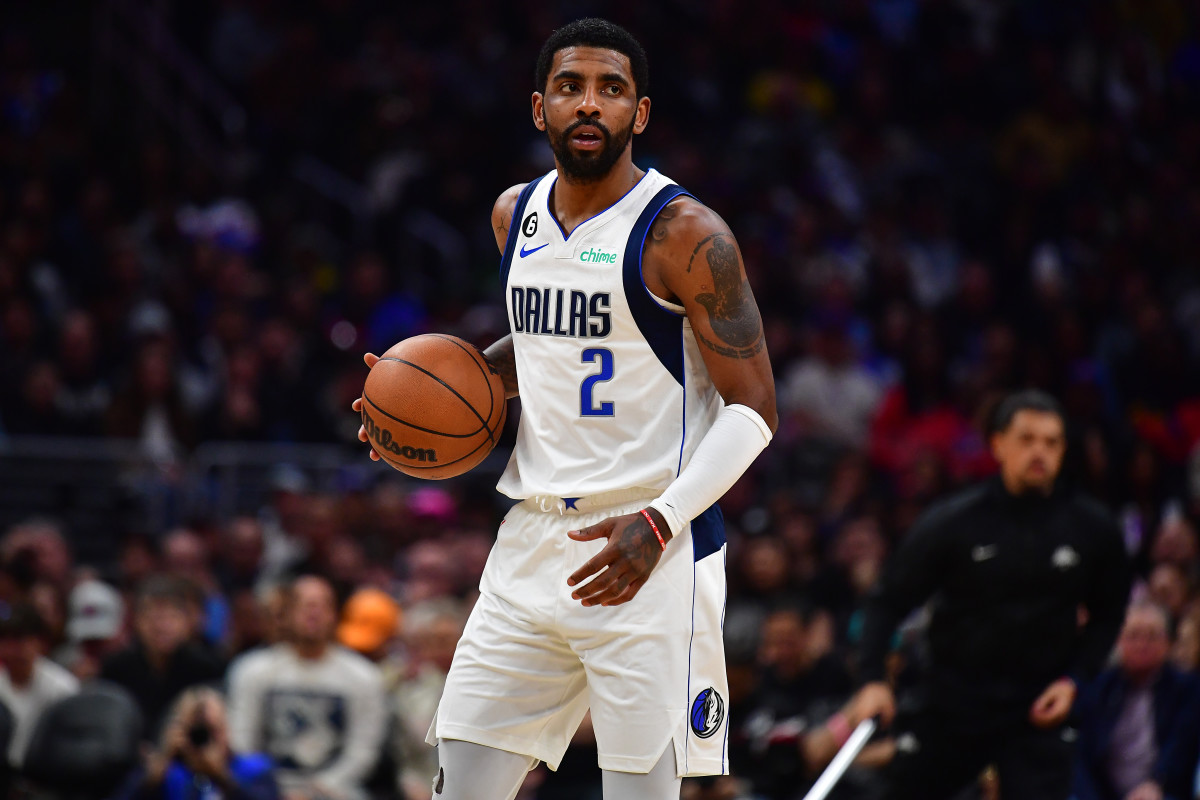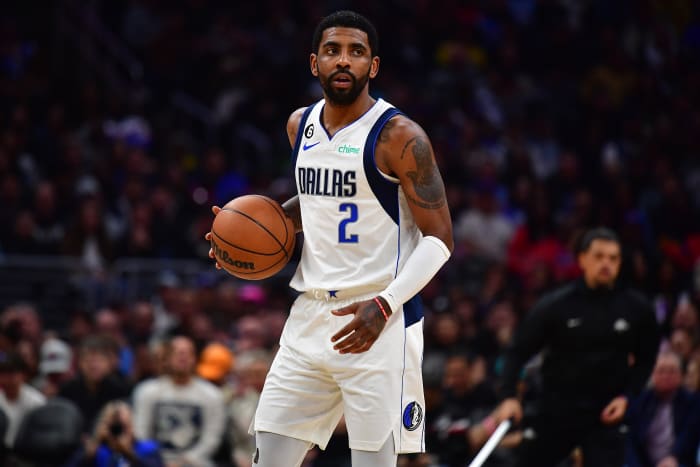 Everybody was saying how Kyrie Irving was done with basketball after the drama he caused in Brooklyn with the Nets. However, it seems the point guard is happy in Dallas alongside Luka Doncic and simply wants to win another championship. While that is the best-case scenario, it doesn't mean that Irving will play until 40 years old.
Rather, Irving will probably lose interest in the game over the next few seasons. Kyrie is 31 years old, which means he is still in his prime and relatively young compared to other players on this list, but his dedication will be heavily scrutinized if he loses focuses in the upcoming season. Time will tell how Kyrie's path changes, but retirement after five years is more than reasonable.
---
8. James Harden – 37 Years Old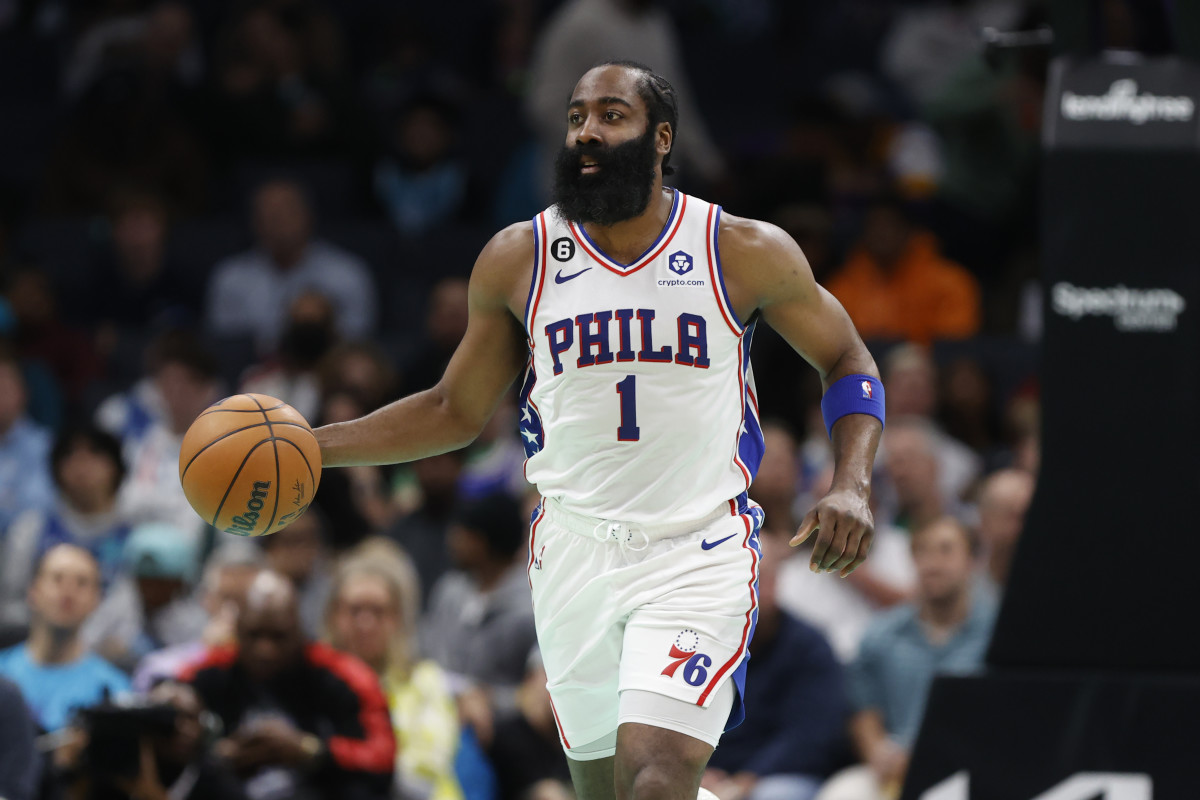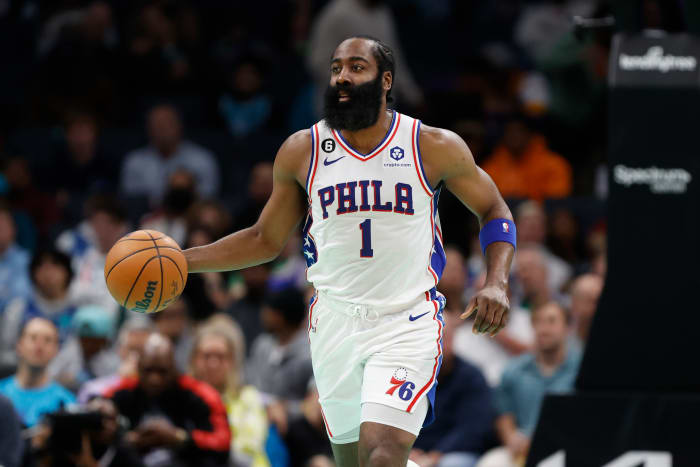 James Harden is declining heavily when compared to how dominant he was with the Houston Rockets. The Beard is no longer capable of attracting triple teams, and while he is still an elite playmaker, his scoring will come and go. After the most recent trade request, teams are concerned with how The Beard will act if he becomes "unhappy" all of a sudden.
Harden has forced his way out of the past two situations, and it seems he wants to do it again with the 76ers without any evident reason. James wants to earn as much money as possible as that is his priority because life outside of basketball is very important to the future Hall of Famer. Assuming teams won't be willing to take a James Harden gamble in the future, he could walk away in a little over three years.
---
7. Damian Lillard – 38 Years Old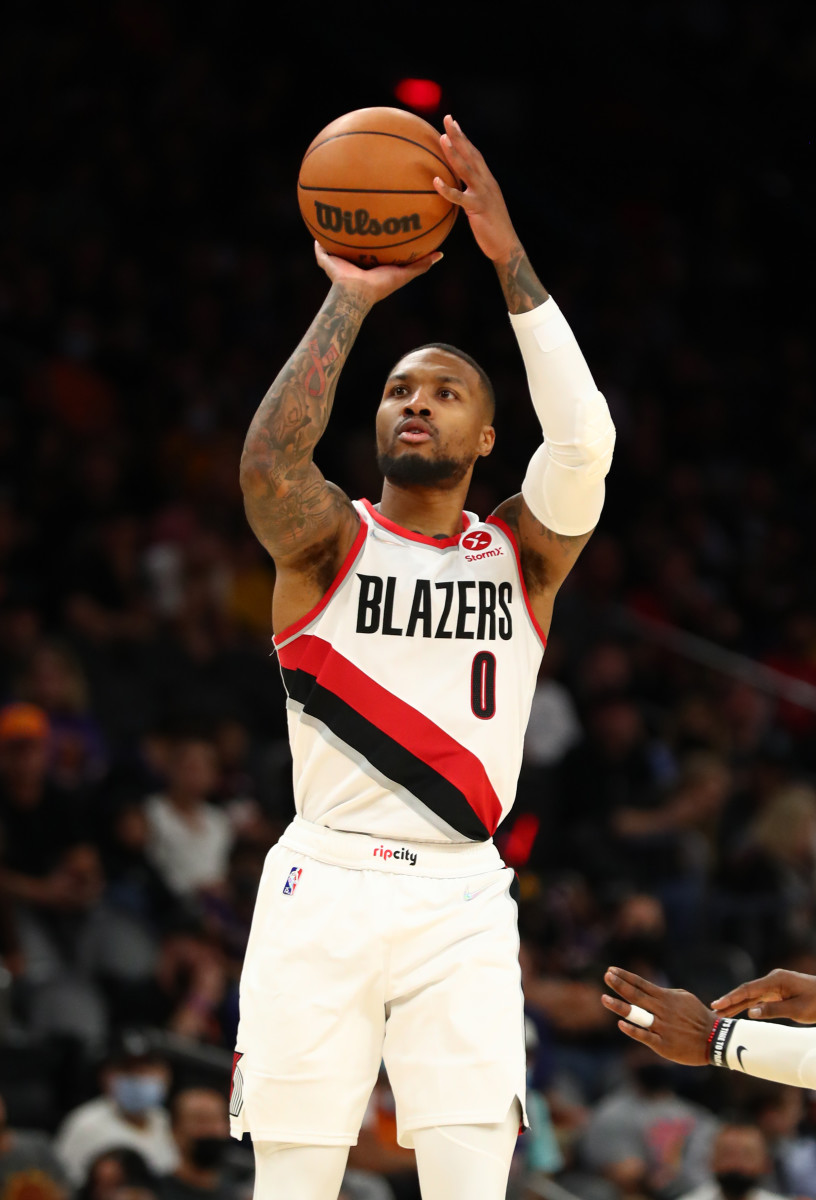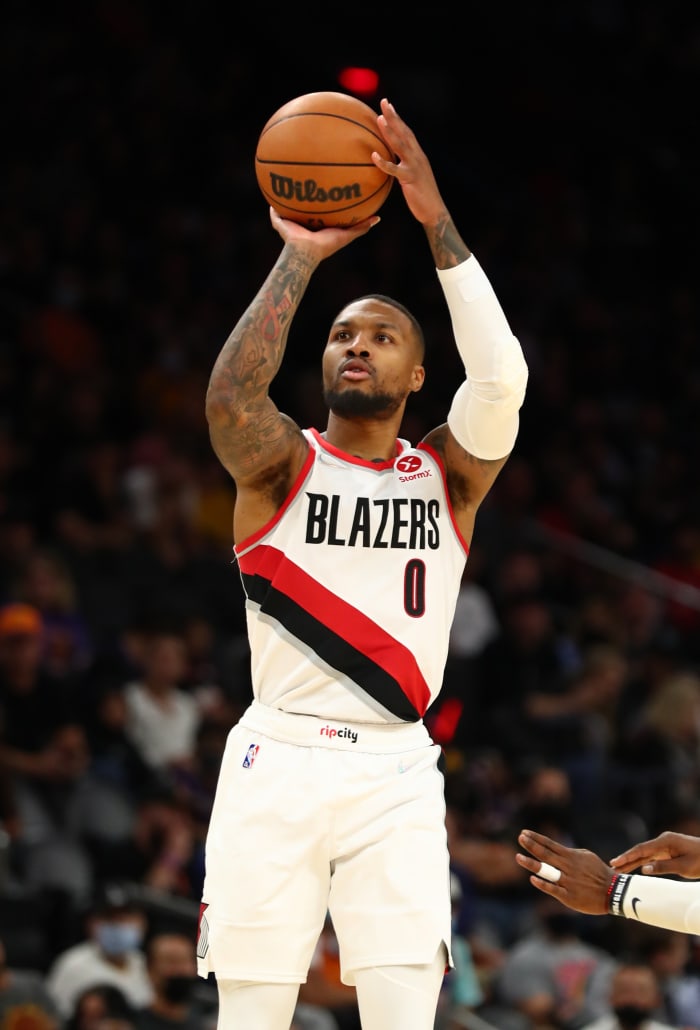 Damian Lillard can realistically play as long as he wants because if he is healthy, his sharpshooting will be invaluable. Unfortunately, Dame has struggled with injuries far too much in recent seasons, as he only played 87 games over the past two seasons combined. For a superstar point guard, that isn't the best look, and that is why he might retire in four or five seasons.
However, Lillard is still only 33 years old and is in his prime. The superstar can nail shots from three, averaging over 37% from deep over his career, which means he can always be a spot-up threat as he ages. Again, Lillard is three more years away from the decline really affects him, although we could see a decline in explosiveness over the next two seasons. If Lillard can actually get to Miami in what could be a blockbuster deal, he has a chance to make use of his prime years.
---
6. Kawhi Leonard – 36 Years Old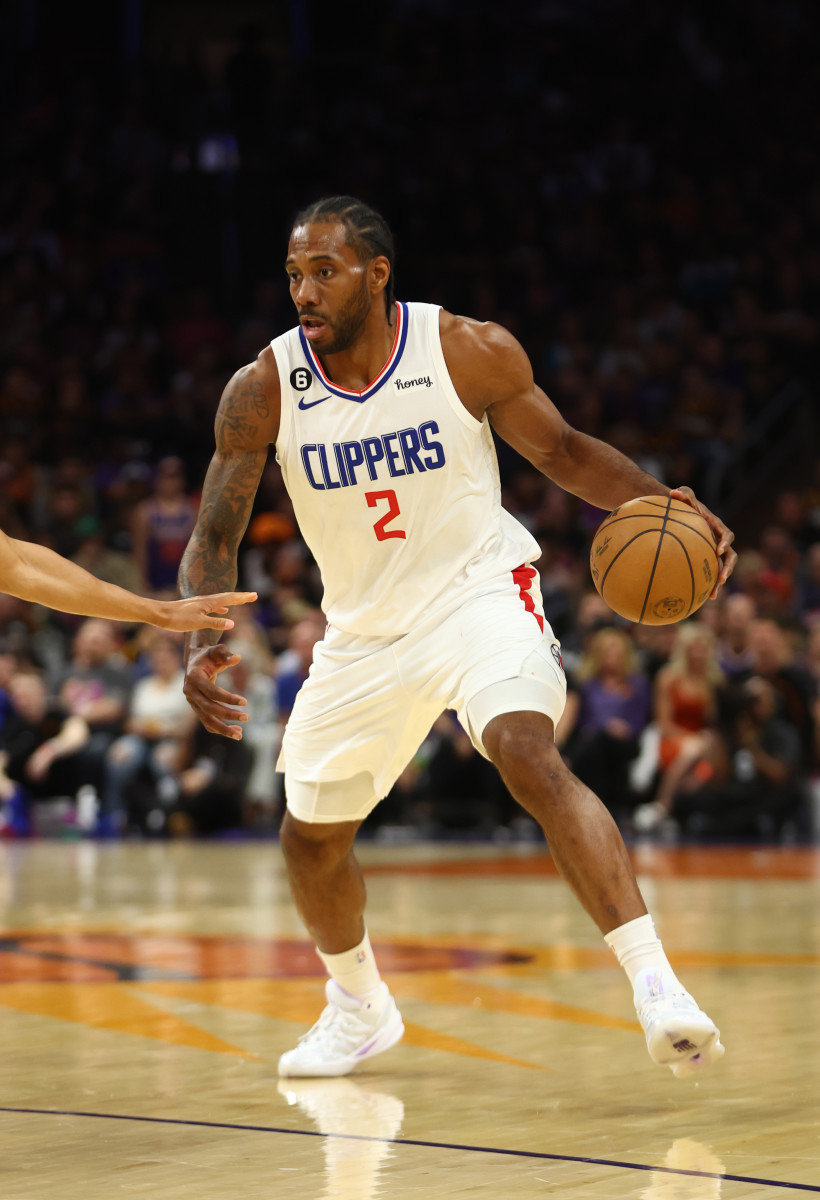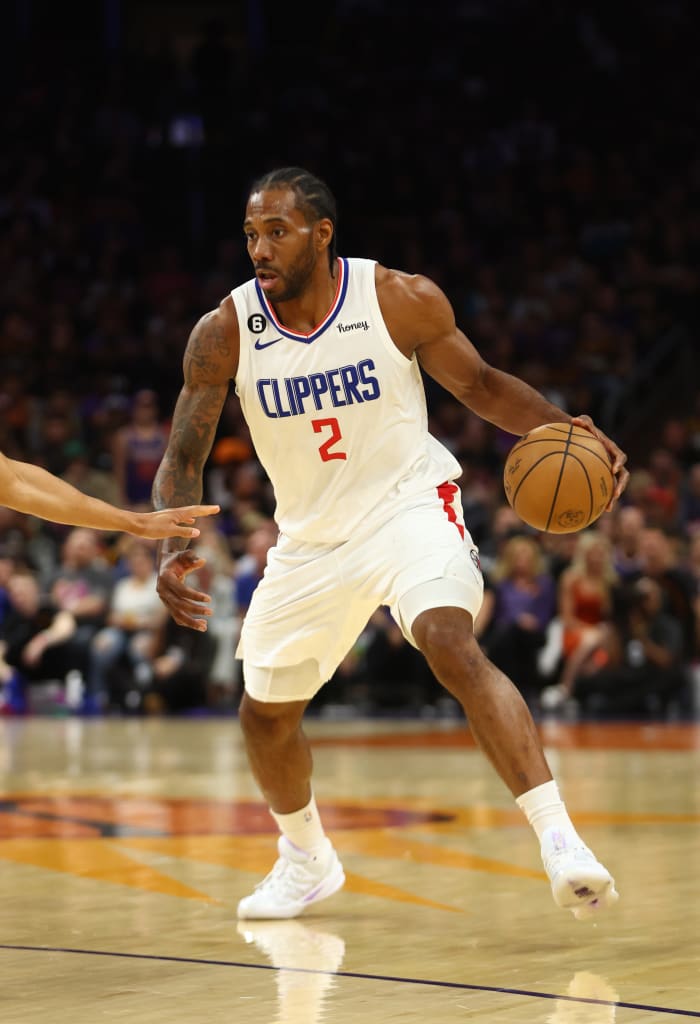 Kawhi Leonard's durability has come under question year after year. No other superstar in history has been criticized for being as unhealthy as Leonard has been because playing under 65 games for six straight seasons despite making superstar money is very concerning. In fact, since arriving in Los Angeles, Leonard has only played 161 games over three seasons, excluding the 2021-22 season, which he missed due to an ACL injury.
As Leonard is 32 years old, he has time to get back on track and return to being in the conversation of the best player in the world. However, considering how Kawhi values his body and probably won't like it when he starts losing his athleticism, assuming he retires at 36 years old isn't out of the question. Leonard has four seasons to win another title and boost his legacy in the all-time rankings, or else he will have to accept only being remembered for winning a championship with the Toronto Raptors as his last great achievement.
---
5. Anthony Davis – 36 Years Old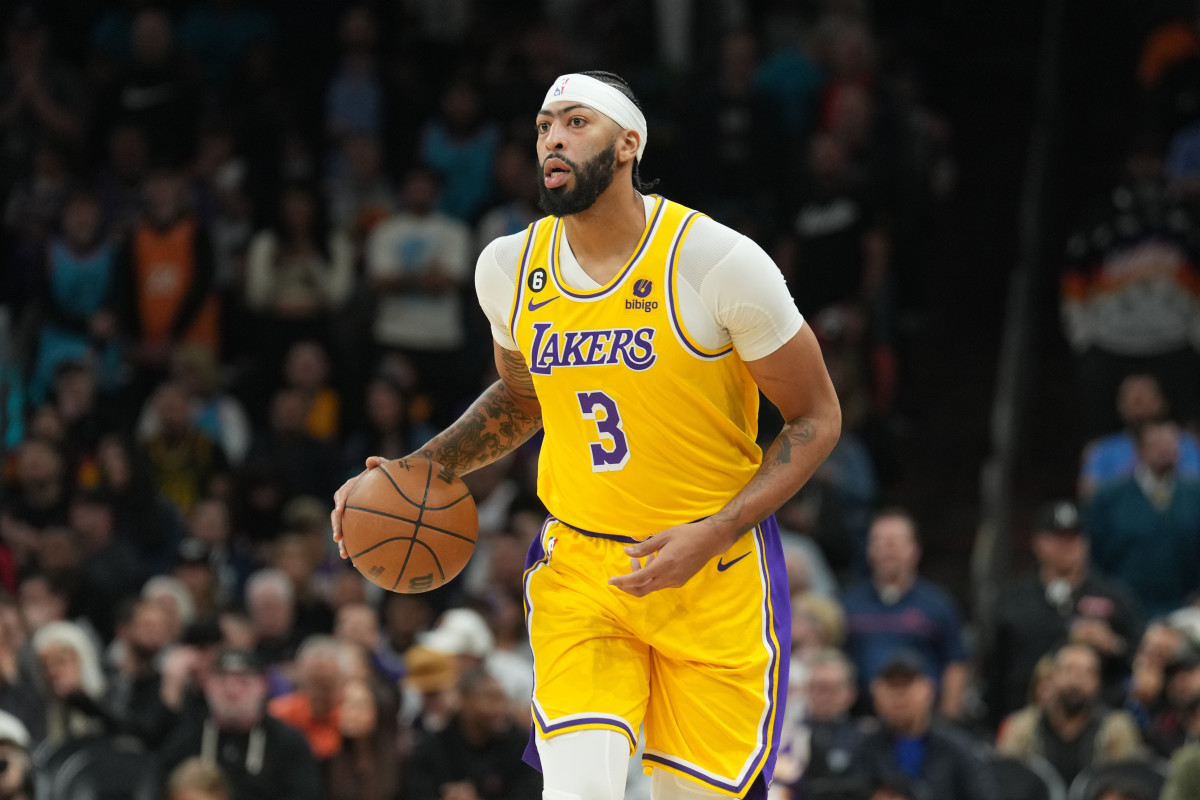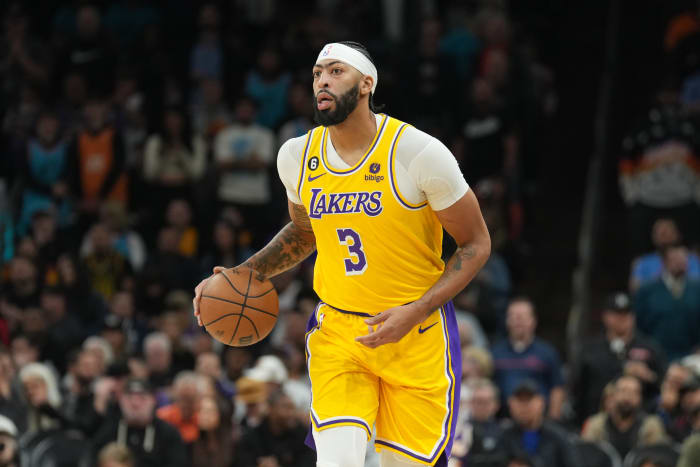 It might shock everyone, but Anthony Davis is only 30 years old. That's right, he is smack in his prime after posting a career-high in rebounds with 12.5 rebounds per game this past season with the Los Angeles Lakers. That is the major reason why the Lakers extended an unbelievable contract extension with the big man at over $60 million per season. Considering the big man is still in his prime years, it isn't the worst deal unless you focus on his injury history.
Davis' health and durability have been the major criticism heading the Lakers' way. The big man hasn't played at least 65 games in four straight seasons and seems to get hurt in the worst moments when his team needs him most. Assuming Davis completes his contract with the Lakers, it won't be long after that the big man simply gets hurt too much. It won't be out of the question if the former No. 1 overall pick retires shortly after his 36th birthday.
---
4. Jimmy Butler – 37 Years Old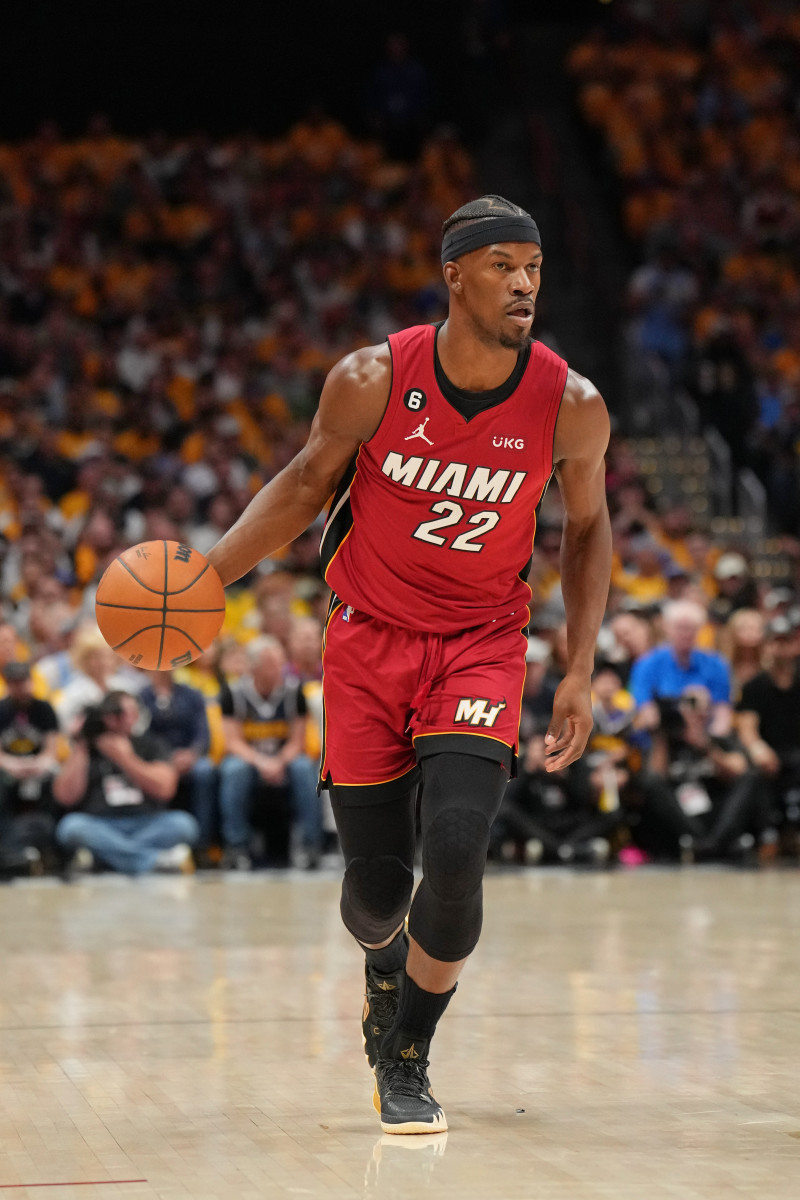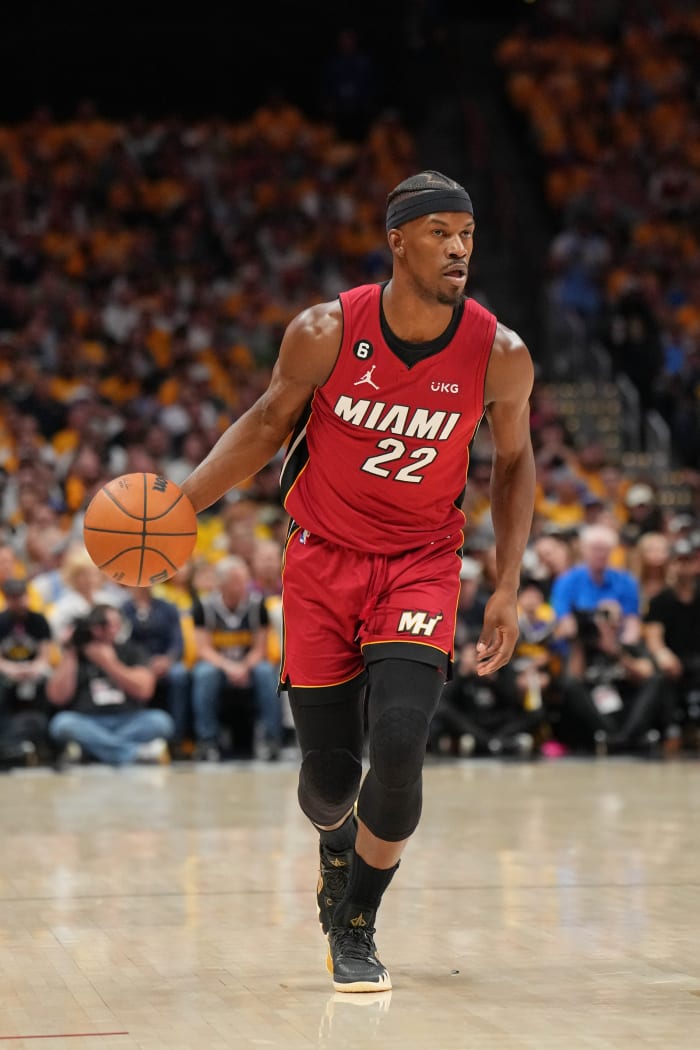 Jimmy Butler is a professional who loves the game of basketball, and that fact alone could keep him going for another four or five seasons. Butler has wear and tear on his body after fighting to become an All-Star in the NBA after being disregarded as a former No. 30 overall pick. Jimmy literally had to use blood, sweat, and tears to get to his status, and it has paid off.
Butler has made two NBA Finals appearances with the Miami Heat, and even if he has lost both, assuming the underdog role has made him a fan-favorite and respected figure in NBA circles. Jimmy can retire today and possibly get a Hall of Fame berth, as he is an elite two-way player with six All-Star selections and five All-Defensive selections. However, the championship remains elusive, and Jimmy will play as long as he can fight for that trophy.
---
3. Stephen Curry – 38 Years Old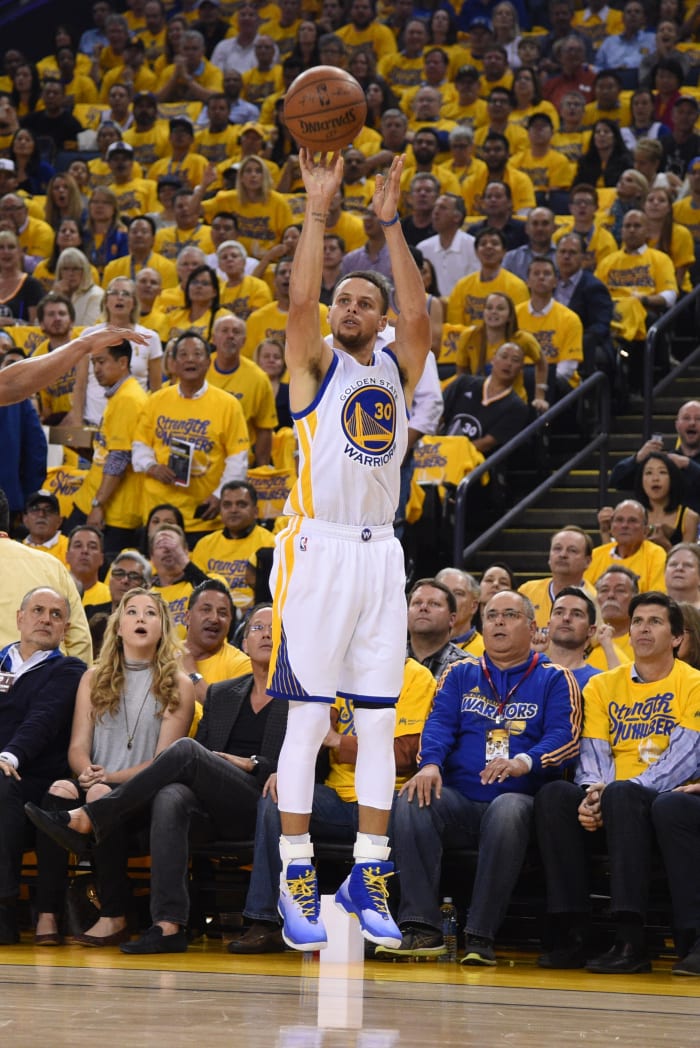 The greatest shooter on Earth is 35 years old, which means he might not be able to play at a superstar level for much longer. By much longer, that means three more seasons. Stephen Curry has struggled with injuries more than ever in recent seasons, and it is expected that will catch up to him as he hits 38 years old.
As long as he can shoot, he will be able to come off screens and get the job done because playing elite defense has never been his calling card. Curry will always hover around 40% from three, so he will have a job with the Golden State Warriors for at least three more seasons. Curry has made it clear that he is aware of the fact the end could be near, so winning at least one more title would be great to boost his legacy as he tries to chase Magic Johnson's shadow.
---
2. Kevin Durant – 39 Years Old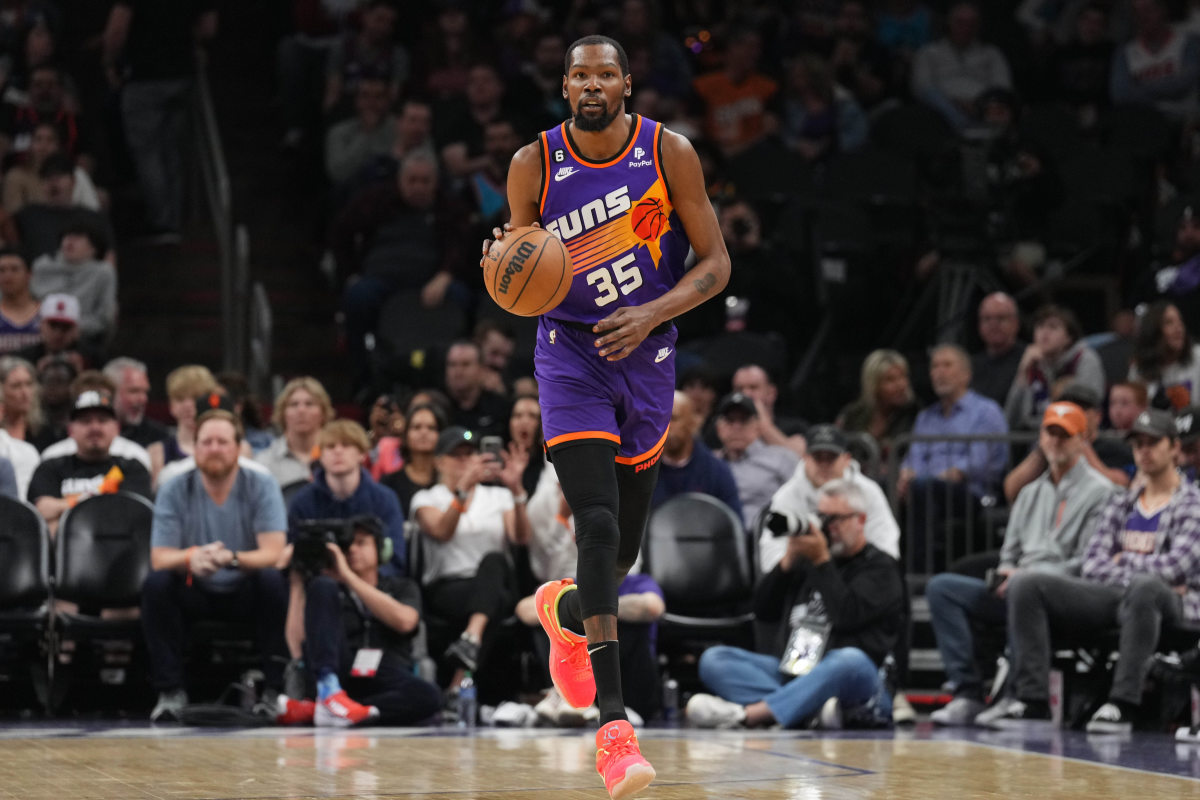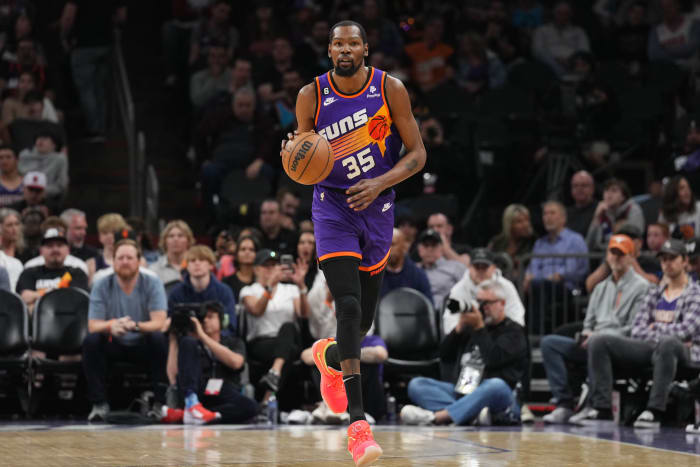 A player of Kevin Durant's abilities should be able to play for a very long time in the modern NBA landscape because he is an elite shooter with a career average of 38.5% from three. As long as he can stand still and shoot, he will be an impact player. That means, in all likelihood, Durant will be able to play until 39 years old.
Unlike other superstars ahead of him in the all-time rankings, Durant seems to have an exceptional career ahead of him after basketball because he is an ambassador for a variety of ventures and also has his investments solid going forward. Considering he will have much to look forward to after retiring, Durant might have four years left in the league before he feels that he has had enough.
---
1. LeBron James – 41 Years Old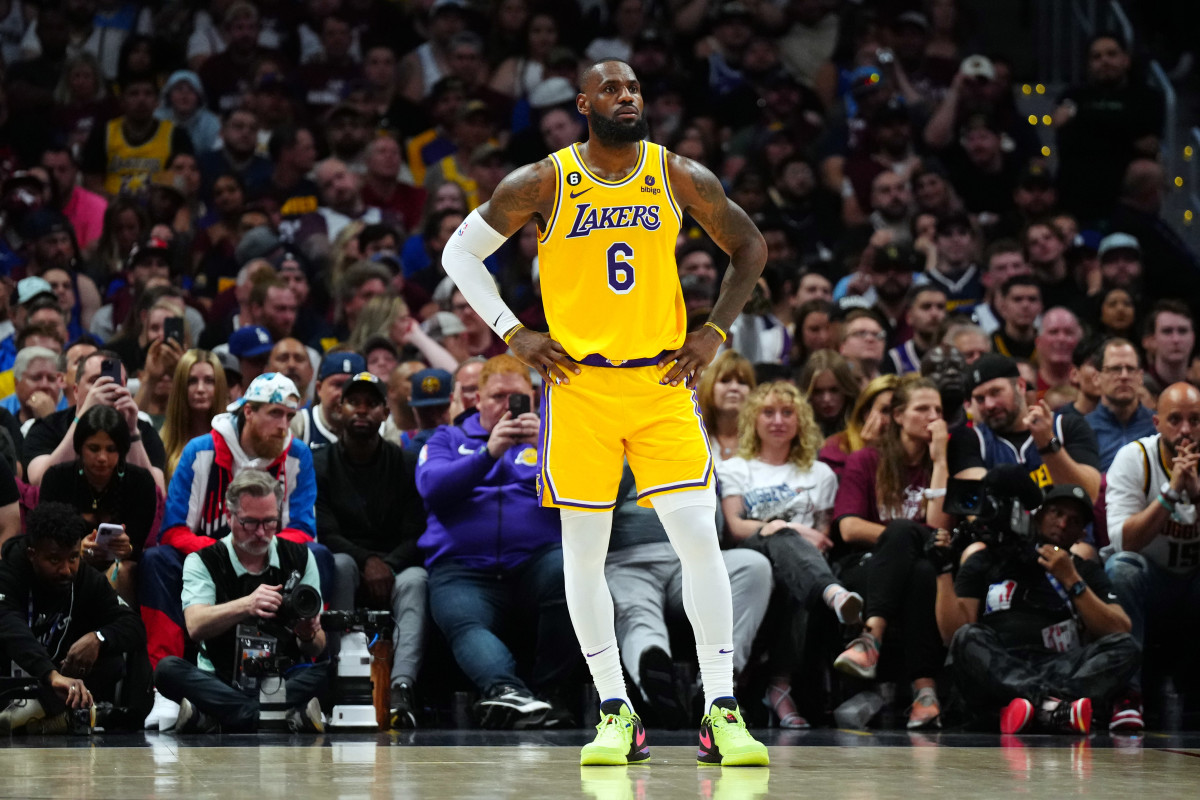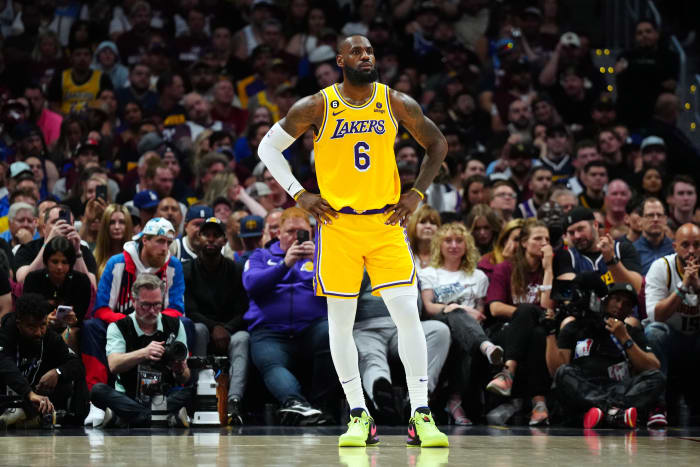 Nobody would have ever predicted that the man with all the pressure and expectations in the world would end up completing 20 seasons in the NBA at the highest level. Even if LeBron is certainly aging, he is still a top-5 player in the world, and he proved it this past season by averaging 28.9 PPG for the Los Angeles Lakers. However, he won't be able to play forever.
LeBron is 38 right now, and while he's returning to the Lakers next season, his future is in doubt. The sudden news about Bronny James has thrown the young player's future in doubt, which means LeBron might not end up forcing his way to a new team after his Lakers contract is complete. Regardless, James is still an elite player, so expect at least two more seasons before The King retires. We will take a guess and actually predict LeBron finishes three seasons, which means the 2024-25 season will be his last.