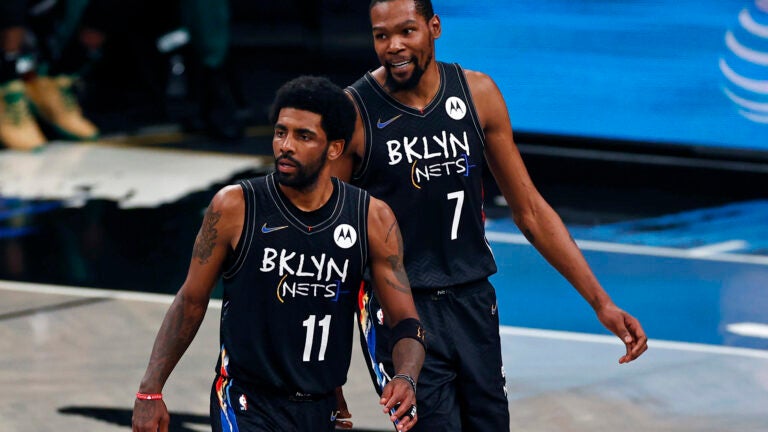 When the NBA schedule dropped Thursday, Nets fans' eyes surely went straight to two matchups: reunions with Kevin Durant and Kyrie Irving.
And both of their former superstars — who demanded trades last season — are back in Brooklyn a week apart.
Durant makes his return on Jan. 31 with his high-powered Phoenix Suns, and Irving comes back to Brooklyn on Feb. 6 with the Dallas Mavericks.
Both will be emotionally charged in Barclays Center.
After both superstars joined the Nets in 2019, titles were expected.
Instead there were troubles, from Durant's injuries limiting him to just 129 games to Irving's controversies — missing two-thirds of 2021-22 due to his refusal to get vaccinated, and getting suspended last season for promoting an anti-Semitic movie.
Irving forced a trade in February, and Durant followed out the door just days later, taking the Nets' championship hopes with him.
The All-Stars' returns will be the most-hyped and scrutinized parts of the schedule — although far from the only highlights.
Brooklyn's slate includes the NBA Paris Game 2024, a regular-season tilt against Cleveland on Jan. 11 (2 p.m. Eastern, NBA TV).
With their stars gone and their ceiling lowered, the Nets are on national television just 11 times, half a dozen of those being on NBA TV.
They were predictably also left off the Christmas Day lineup; but they do have a holiday game, hosting the NBA finalist Miami Heat on Martin Luther King Jr. Day at Barclays Center.
Brooklyn had 26 games on ABC, ESPN or TNT two years ago, and 13 last season — two of which were dumped after the Durant and Irving trades.