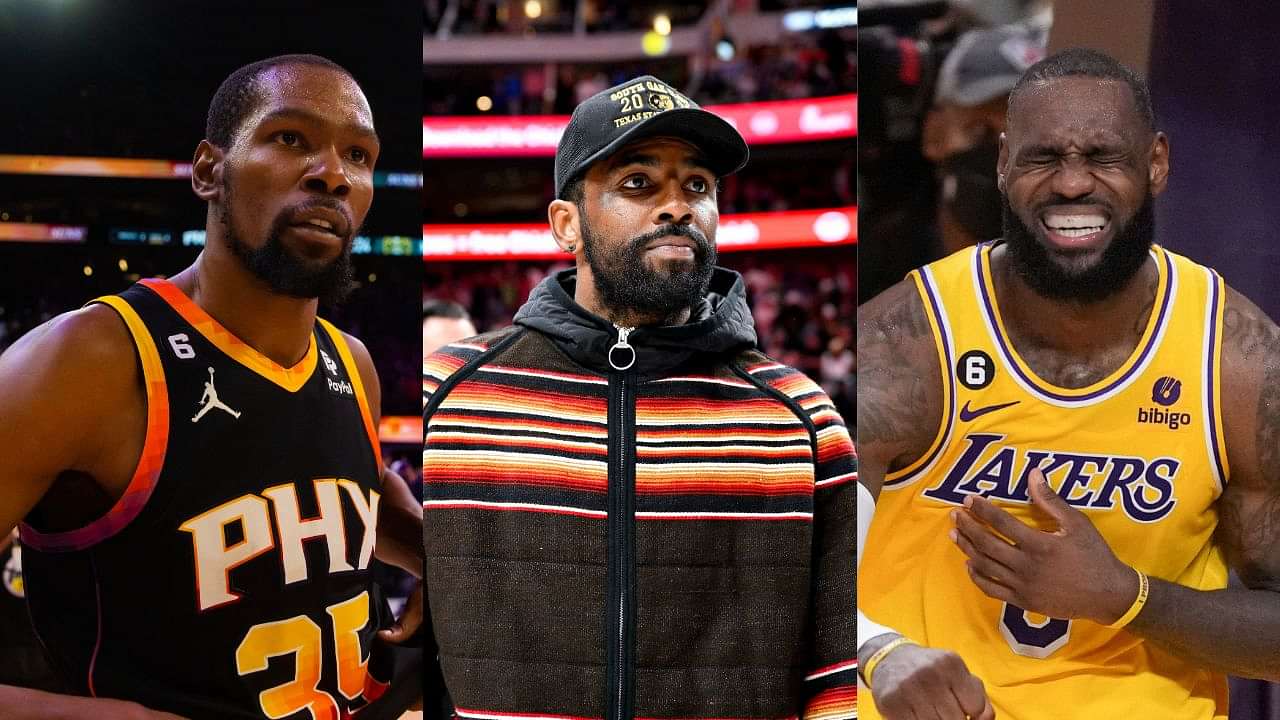 If anything Kyrie Irving has established himself as one of the NBA's most controversial players ever. From taking vacations due to undisclosed reasons and his anti-Semitism remarks, to demanding a trade in the middle of the season, he has done it all. After forcing his way out of Brooklyn, now there is news that he might not want to stay with the Mavericks either. In order to acquire the veteran guard, Dallas almost emptied their entire bench unit. Yet, according to ESPN's reports, Irving is trying to reunite with his old pal Kevin Durant in Phoenix. And the answer to all the queries behind this demand could be a meager $3,000,000.
Earlier, the news of Kyrie and LeBron union had been gaining media attention. Before joining the Mavs during the trade, there were rumors that Uncle Drew might be joining James in the L.A. However, all hopes died when he landed a deal in Dallas. There have also been rumors of LeBron joining his former teammate in Dallas. However, the new scenario for a deal with Phoenix is definitely worth paying attention to.
After news of joining hands with LeBron James, Kyrie Irving wants to reunite with Kevin Durant
Despite the rumors of Irving joining Kevin Durant in Phoenix is picking up, it is a long shot. If the Suns try to sign Irving, they will face a blow-past-second-apron plan for the season. Any big contract for Kyrie would be something akin to impossible for the Suns, as per CBS Sports. This is due to the fact that the franchise only has $7,000,000 left of its $172,000,000 cap space. However, there is a solution here, as you can see in the tweet by @ohnohedidn't24.
Malika Andrews: "How would Kyrie [Irving] and the Suns even work there? Is that even possible?"
Malika Andrews: "How would Kyrie [Irving] and the Suns even work there? Is that even possible?"
Bobby Marks: "Sure. If he wants to take the $3M veteran minimum exception, more power to him!"
Irving could sign a short-term contract with the team or through the veteran minimum exception of $3,000,000. And if he does decide on it, there could be Kevin Durant-driven super team in the West once again.
NBA analyst takes a U-turn and says Kyrie Irving has every right to ask for a trade from Dallas
Acquiring the controversial guard not only forced a well-settled roster to break down but also made them weak. When Irving joined forces with Luka Doncic in Dallas, very few believed that the paring would actually work for the team. Both players are ball dominant and need the ball in their hands to score. Moreover, their glaring problem started to appear during the last few games of the season, perhaps the most important games that would have secured them a playoff spot.
There is not even a single ounce of doubt that Kyrie Irving is a box office superstar in the league. He is without a doubt one of the most creative scorers in the paint and perhaps has the best handles the basketball world has ever seen. After landing in Dallas and having a bad season-ending, perhaps it would be best for Uncle Drew to build a better team around himself and Doncic. However, according to some NBA pundits, Irving should not be blamed for what happened in Dallas. According to Stephen A. Smith if the guard wants a trade he has every right to it because he tried.