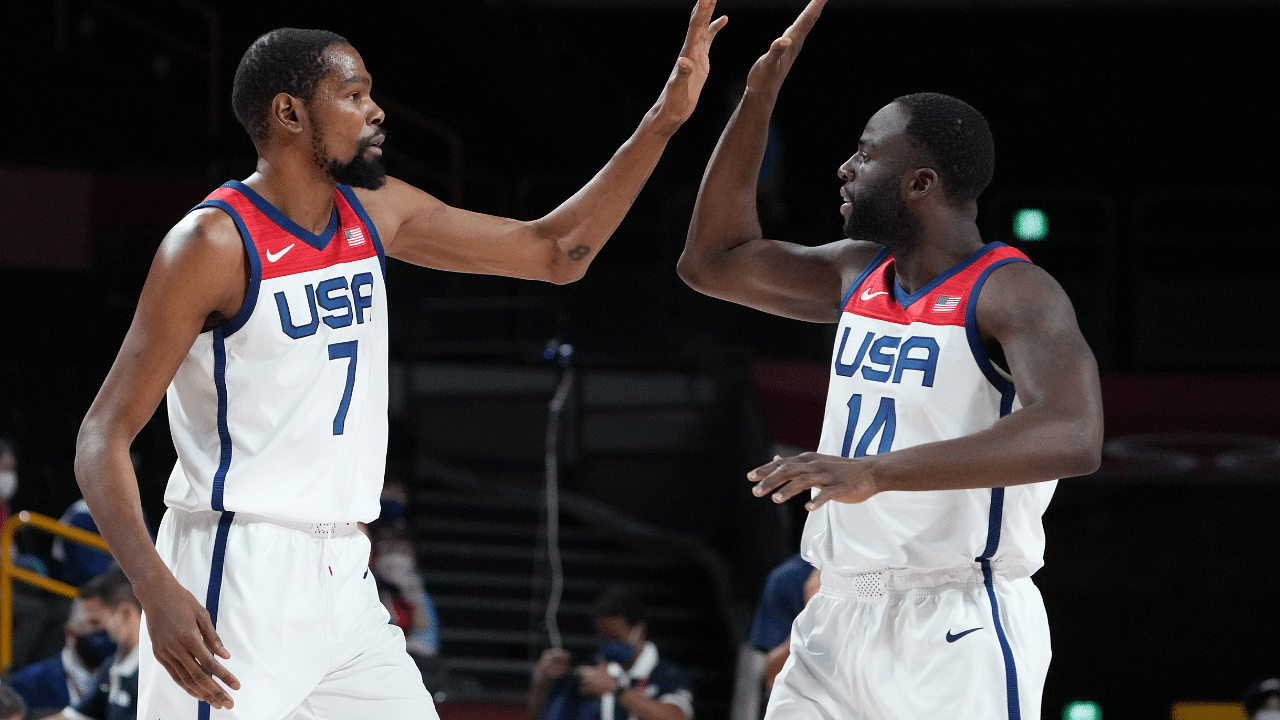 Golden State Warriors' Draymond Green was hilariously fooled by a Twitter parody account earlier today. Initially, the parody account TheNBACentel posted a tweet with a fake quote by Kevin Garnett. The fake quote saw the Celtics' legend challenge Green for a 1 vs 1 fight in response to the incident regarding Jordan Poole. Green had infamously punched Jordan Poole during training ahead of last season. Green, who thought that the quote belonged to Garnett, spoke out against the player. The mistake was exposed by Twitter user @NBACelebsUpdate.
Upon noticing the tweet, Kevin Garnett himself posted a response tagging Elon Musk, and asking the Twitter chief for help. Green's former teammate Kevin Durant also responded to the post. Durant wanted Green to chill and ended up tagging god, asking him for help. The hilarious exchange was a result of Jordan Poole and Green reigniting their feud recently. Green had made some comments suggesting that Poole pushed him to the tipping point, which led to the punch. This led to Jordan's dad, Anthony Poole challenging Draymond Green on Twitter. The recent attention led to Green being pranked by the fake tweet.
Hilarious exchange between Kevin Garnett and Draymond Green leads to Kevin Durant asking for god's help
NBA Twitter often leads to some memorable moments. Jordan Poole and Green's altercation led to a range of parody tweets making the rounds on Twitter.
One of them was mistaken by Draymond for a real Kevin Garnett quote. Garnett was challenging Green for a fight, and ended the quote with "try me." Green had no idea that the quote was not real, and ended up going on a rant of his own.
Draymond claimed that he had "tried" Garnett back during his rookie year, and he had ended up "talking to himself." The insulting response would have been an apt reply had Garnett's quote been real. However, as it wasn't it was Kevin Durant who ended up speaking some sense:
"Nah yo, u gotta chill. Do something bout this @god"
Durant was visibly concerned and seemed to think that only god could help Green out in the situation. Of course, Green eventually deleted the response, and seemed to realize his folly.
Kevin Garnett wants Elon Musk to see what is happening on Twitter
On the other hand, Kevin Garnett saw the funny side of things. He ended up tagging Elon Musk in another tweet, asking him to see what was happening on his platform.
Garnett immediately noticed that the parody account had a slight spelling error. People like Green can be forgiven to be mistaken considering the purchasable blue tick that is now offered by Twitter.
Kevin Garnett, however, did not mind. He has not yet responded to Draymond Green. Garnett might be looking to avoid trouble and might even expect an apology from Green, who was clearly caught in the wrong.