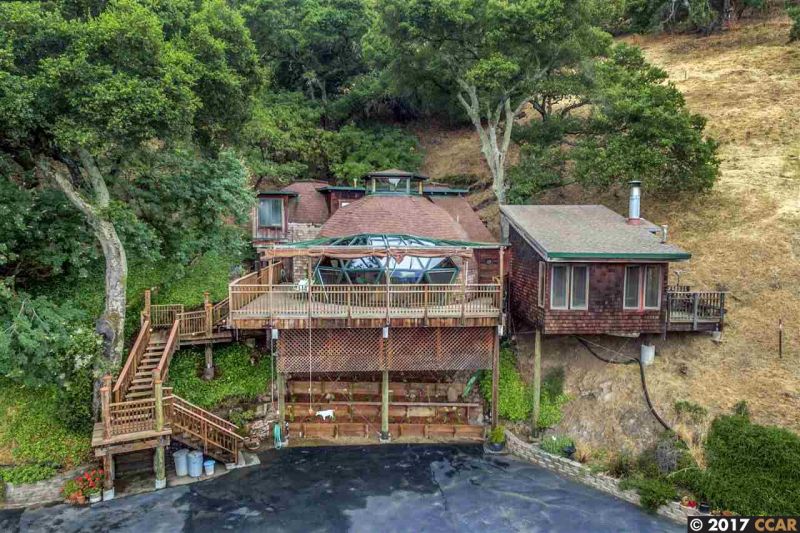 Geodesic dome is a circular structure formed by joining triangles together, and this type of architecture design is popular as an energy efficient and cost-effective building system. Furthermore, there are various possibilities for material and design to make a dream home. We've already acquainted you with various kinds of geodesic dome homes before, and again we have this one constructed by Sheila Williamson and her husband in a time span of about seven years. Located in Lafayette, California, this two-bedroom, two-bathroom home consists of three interconnected geodesic domes.
Inspired by the visionary American architect Buckminster Fuller who developed the geodesic dome, Williamson's husband has recycled waste wood pieces from a nearby warehouse into triangular panels for the home. The exteriors of the dome home are shingled and the interior walls are made from recycled wood. There are large windows and skylights to bring in ample natural light, as well as offer mesmerizing views of the Reliez Valley.
On the inside of the first dome, there is an open kitchen, office, loft and a skylight for stargazing during the night. Furthermore, the house is furnished with rustic furniture and modern kitchen appliances.
A staircase leads to two smaller geodesic domes containing bedrooms and a laundry space. There is also a deck for book-reading or spending some time in the open air. This geodesic dome home is full of modern features, and it also takes advantage of inspiring distant views. Over time, its owners have also made some necessary additions to make it a complete family home. It is a great source of inspiration for all those planning to build a geodesic home.